Abstract
Background
Anastomotic insufficiency and perforations in the gastrointestinal tract are severe complications associated with a high complication rate and mortality. Conventional treatment options (particularly re-operations) are often unsatisfactory. Endoscopic vacuum therapy (EVT) is increasingly being used as a promising alternative.
Problem
The use of EVT requires a high level of competence in interventional flexible endoscopy, which is primarily not available to every surgeon. Special training programs are required here.
Methods
Based on this need the long-proven Tuebingen training system for flexible endoscopy was modified to meet the special requirements of surgeons and is currently being extended by a special training module for EVT.
Results
In addition to the theoretical principles, the training is focused on learning the manual skills for flexible endoscopy. A 2-stage process was developed for this purpose: 1) to become familiar with handling of the flexible endoscope and to learn spatial orientation by means of a didactically optimized abstract phantom ("Tuebingen Orientophant") and 2) learning and training of EVT using a newly developed patient-analogous training model with various insufficiencies and abscess cavities in the upper and lower gastrointestinal tract ("Tuebinger Spongiophant"). The procedure can be trained hands-on step by step exactly as with the patient, whereby the sponge can be applied using different methods, such as overtube and dragging procedures. The consequences of mistakes and complication management can also ideally be trained hands-on using the phantom.
Discussion
Evaluations of the first course series show that surgeons achieve endoscopic competence very quickly and learn to master the new procedure. The structure of such a course must, however, be designed according to long-term experience in an optimal didactic manner. Decision-makers in healthcare policy should give much more support to such courses in order to improve patient care and to increase patient safety.
Zusammenfassung
Hintergrund
Anastomoseninsuffizienzen und Perforationen im Gastrointestinaltrakt stellen schwerwiegende Komplikationen dar, die mit hoher Komplikationsrate und Letalität einhergehen. Bisherige Therapieoptionen (v. a. Reoperationen) verlaufen oft unbefriedigend. Als vielversprechende Alternative kommt mehr und mehr die endoskopische Vakuumtherapie (EVT) zum Einsatz.
Problem
Die EVT erfordert hohe Kompetenz in der interventionellen flexiblen Endoskopie, die primär nicht jedem Chirurgen zur Verfügung steht. Hier sind spezielle Trainingsprogramme erforderlich.
Methoden
Ausgehend von dieser Notwendigkeit wurde das lange bewährte Tübinger Trainingssystem für flexible Endoskopie für die besonderen Erfordernisse von Chirurgen modifiziert und aktuell durch ein spezielles Trainingsmodul für die EVT erweitert.
Ergebnisse
Neben den theoretischen Grundlagen steht vor allem das Erlernen der handwerklichen "skills" der flexiblen Endoskopie im Vordergrund. Dazu wurde ein 2‑stufiges Verfahren entwickelt: 1. Erlernen der Handhabung des flexiblen Endoskops und der Orientierung im Raum anhand eines didaktisch optimierten abstrakten Phantoms (Tübinger Orientophant). 2. Erlernen und Training der EVT anhand eines neu entwickelten patientenanalogen Trainingsmodells (Tübinger Spongiophant) mit verschiedenen Insuffizienzen und Abszesshöhlen im oberen und unteren Gastrointestinaltrakt. Dabei kann schrittweise das Vorgehen genau wie beim Patienten trainiert werden, wobei der Schwamm mit verschiedenen Methoden (Overtube, Nachschleppverfahren etc.) "hands-on" (praktisch) appliziert werden kann. Auch der Umgang mit Fehlern und Komplikationen kann ideal hands-on wiederholt geübt werden.
Diskussion
Auswertungen der ersten Kursserien zeigen, dass Chirurgen bei diesem Vorgehen sehr schnell endoskopische Kompetenz erreichen und das neue Verfahren beherrschen lernen. Die Struktur eines solchen Kurses muss allerdings entsprechend langjähriger Erfahrungen didaktisch optimal gestaltet werden. Von gesundheitspolitischer Seite sollten solche Kurse mehr unterstützt werden, um die Patientenversorgung zu verbessern und die Patientensicherheit zu erhöhen.
Access options
Buy single article
Instant access to the full article PDF.
US$ 39.95
Tax calculation will be finalised during checkout.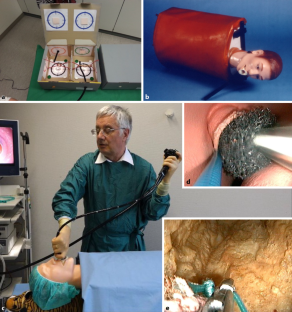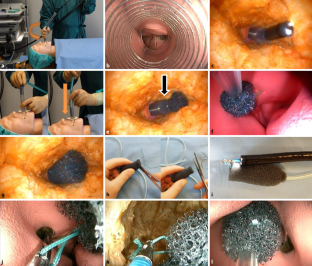 References
1.

Borstlap WAA et al (2018) Vacuum-assisted early transanal closure of leaking low colorectal anastomoses: the CLEAN study. Surg Endosc 32(1):315–327

2.

Kantowski M, Kunze A (2018) Neue Strategien und Materialien bei der endoskopischen Vakuumtherapie im unteren Gastrointestinaltrakt. Chirurg 89(12):960–968

3.

Laukoetter MG et al (2017) Successful closure of defects in the upper gastrointestinal tract by endoscopic vacuum therapy (EVT): a prospective cohort study. Surg Endosc 31(6):2687–2696

4.

Loske G, Schorsch T, Müller C (2010) Endoscopic vacuum sponge therapy for esophageal defects. Surg Endosc 24(10):2531–2535

5.

Schorsch T, Müller C, Loske G (2014) Endoskopische Vakuumtherapie von Perforationen und Anastomoseninsuffizienzen des Ösophagus. Chirurg 85(12):1081–1093

6.

Weidenhagen R, Gruetzner KU, Wiecken T, Spelsberg F, Jauch K‑W (2008) Endoscopic vacuum-assisted closure of anastomotic leakage following anterior resection of the rectum: a new method. Surg Endosc 22(8):1818–1825

7.

de Moura DTH, de Moura BFBH, Manfredi MA, Hathorn KE, Bazarbashi AN, Ribeiro IB, de Moura EGH, Thompson CC (2019) Role of endoscopic vacuum therapy in the management of gastrointestinal transmural defects. World J Gastrointest Endosc 11(5):329–344. https://doi.org/10.4253/wjge.v11.i5.329

8.

Manfredi MA, Clark SJ, Staffa SJ, Ngo PD, Smithers CJ, Hamilton TE, Jennings RW (2018) Endoscopic esophageal vacuum therapy: a novel therapy for esophageal perforations in pediatric patients. J Pediatr Gastroenterol Nutr 67(6):706–712. https://doi.org/10.1097/MPG.0000000000002073

9.

Mastoridis S, Chana P, Singh M, Akbari K, Shalaby S, Maynard ND, Sgromo B (2020) Endoscopic vacuum therapy (EVT) in the management of oesophageal perforations and post-operative leaks. Minim Invasive Ther Allied Technol 10:1–9. https://doi.org/10.1080/13645706.2020.1801753

10.

Grund KE, Schumpelick V (2002) Durch Kompetenz zur chirurgischen Endoskopie. Chirurg 73(1):32–37

11.

Grund K‑E, Zipfel A (2019) Flexible Endoskopie – Ausbildung und Training speziell für Chirurgen. AVC up2date 13(05):403–416

12.

Bloom BS, Englehart MD, Furst EJ, Hill WH, Krathwohl (1956) The taxonomy of educational objectives, handbook I: the cognitive domain. David McKay Co., Inc, New York

13.

Kneebone R (2003) Simulation in surgical training: Educational issues and practical implications. Med Educ 37(3):267–277

14.

Slawomirski L, Auraaen A, Klazinga N (2017) The economics of patient safety: Strengthening a value‐based approach to reducing patient harm at national level. OECD Health Working Papers. https://doi.org/10.1787/5a9858cd-en
Ethics declarations
Conflict of interest
K. E. Grund, U. Schweizer, A. Zipfel, and B. Duckworth-Mothes declare that they have no competing interests.
For this article no studies with human participants or animals were performed by any of the authors. All studies performed were in accordance with the ethical standards indicated in each case.
About this article
Cite this article
Grund, K.E., Schweizer, U., Zipfel, A. et al. Learning of flexible endoscopy, particularly endoscopic vacuum therapy (EVT). Chirurg (2021). https://doi.org/10.1007/s00104-021-01497-4
Keywords
Insufficiency

Abscess cavities

Spongiophant

Training

Vacuum/Sponge therapy
Schlüsselwörter
Insuffizienz

Abszesshöhle

Spongiophant

Training

Vakuum‑/Schwammtherapie