Zusammenfassung
Rekonstruktive Maßnahmen nach onkologischen Eingriffen in der Perianalregion stellen neben der progredienten Weiterentwicklung chirurgisch-onkologischer Techniken bei malignen Tumoren des Rektums, des Analkanals und der Vulva einen wesentlichen Pfeiler der postoperativen Lebensqualität der Patienten dar. Moderne Therapiemodalitäten des Rektumkarzinoms mit neoadjuvanter Radiochemotherapie erhöhen speziell durch die zylindrische extralevatorische Rektumexstirpation die Überlebensrate und senken gleichzeitig das lokale Rezidivrisiko auf 5–10 %. Als Preis für die zunehmende chirurgische Radikalität und die höhere onkologische Sicherheit werden dafür größere Gewebedefekte in Kauf genommen. Der einfache Nahtverschluss von Perinealwunden heilt häufig nicht primär, was zu Wunddehiszenz, -infektion, chronischen Fisteln und Höhlenbildungen führt. Die interdisziplinäre einzeitige/zweizeitige Rekonstruktion der Perianalregion mit gut durchblutetem vaskularisiertem Gewebe hat sich als zuverlässiges Verfahren zur Vorbeugung solcher Komplikationen bewährt.
Abstract
In addition to the progressive development of surgical oncological techniques for malignant tumors of the rectum, anal canal and vulva, reconstructive procedures after oncological interventions in the perianal region represent a cornerstone in the postoperative quality of life of patients. Modern treatment modalities for rectal cancer with neoadjuvant chemoradiotherapy increase the survival rate and simultaneously reduce the risk of local recurrence to 5–10%, especially by cylindrical extralevatory extirpation of the rectum. The price for increased surgical radicality and improved oncological safety is the acceptance of larger tissue defects. Simple suture closure of perineal wounds often does not primarily heal, resulting in wound dehiscence, surgical site infections and formation of chronic fistulas and sinuses. The interdisciplinary one-stage or two-stage reconstruction of the perianal region with well-vascularized tissue has proven to be a reliable procedure to prevent or control such complications.
Access options
Buy single article
Instant access to the full article PDF.
US$ 39.95
Tax calculation will be finalised during checkout.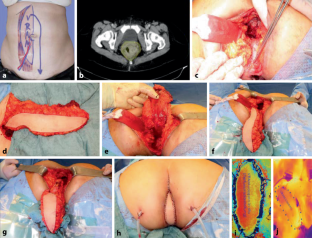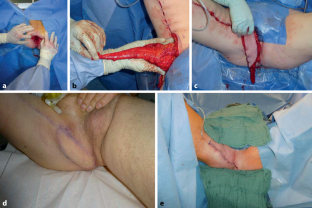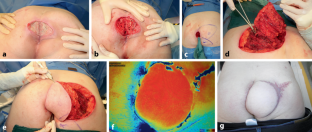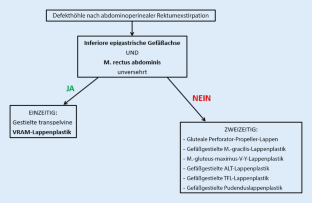 Literatur
1.

Krautz C et al (2017) Cylindric abdominoperineal rectum exstirpation with partial vulvar and vaginal resection as well as perineal and vaginal defect reconstruction by a vertical Rectus Abdominis Myocutaneous (VRAM) flap. Zentralbl Chir 142(6):543–547

2.

Lee DJ et al (2017) Advances in surgical management for locally recurrent rectal cancer: how far have we come? World J Gastroenterol 23(23):4170–4180

3.

Bullard KM et al (2005) Primary perineal wound closure after preoperative radiotherapy and abdominoperineal resection has a high incidence of wound failure. Dis Colon Rectum 48(3):438–443

4.

Beier JP et al (2015) Avoidance of complications in oncological surgery of the pelvic region : combined oncosurgical and plastic reconstruction measures. Chirurg 86(3):242–250

5.

Kemper R et al (2019) Interdisciplinarity in German academic Plastic Surgery—irrelevant or forward-looking? Handchir Mikrochir Plast Chir 51(2):144–150

6.

Horch RE et al (2020) Interdisciplinary surgical approaches in vaginal and perineal reconstruction of advanced rectal and anal female cancer patients. Front Oncol 10:719

7.

Brodbeck R et al (2015) Plastic and reconstructive surgery in the treatment of oncological perineal and genital defects. Front Oncol 5:212

8.

Horch RE et al (2014) A hundred patients with vertical rectus abdominis myocutaneous (VRAM) flap for pelvic reconstruction after total pelvic exenteration. Int J Colorectal Dis 29(7):813–823

9.

Artioukh DY, Smith RA, Gokul K (2007) Risk factors for impaired healing of the perineal wound after abdominoperineal resection of rectum for carcinoma. Colorectal Dis 9(4):362–367

10.

Lefevre JH et al (2016) Effect of interval (7 or 11 weeks) between neoadjuvant radiochemotherapy and surgery on complete pathologic response in rectal cancer: a multicenter, randomized, controlled trial (GRECCAR-6). J Clin Oncol 34(31):3773–3780

11.

Chang CC et al (2019) Risk factors for delayed perineal wound healing and its impact on prolonged hospital stay after abdominoperineal resection. World J Surg Oncol 17(1):226

12.

Blok RD et al (2021) Cumulative 5‑year results of a randomized controlled trial comparing biological mesh with primary perineal wound closure after extralevator abdominoperineal resection (BIOPEX-study). Ann Surg. https://doi.org/10.1097/SLA.0000000000004763

13.

Park IJ, Chang G (2020) Survival and operative outcomes after salvage surgery for recurrent or persistent anal cancer. Ann Coloproctol 36(6):361–373

14.

Touny A et al (2014) Perineal reconstruction using pedicled vertical rectus abdominis myocutaneous flap (VRAM). J Surg Oncol 110(6):752–757

15.

Das Gupta K et al (2004) Plastic reconstructive therapy for postoncologic defect wounds in the pelvis. Chirurg 75(11):1135–1142 (quiz 1143–4.)

16.

Bleiziffer O et al (2009) Solving acne inversa (hidradenitis suppurativa) in Crohn disease with buried chip skin grafts. J Cutan Med Surg 13(3):164–168

17.

Kopp J et al (2004) Buried chip skin grafting in neuropathic diabetic foot ulcers following vacuum-assisted wound bed preparation: enhancing a classic surgical tool with novel technologies. Int J Low Extrem Wounds 3(3):168–171

18.

Gesslein M, Horch RE (2006) Interdisciplinary management of complex chronic ulcers using vacuum assisted closure therapy and "buried chip skin grafts". Zentralbl Chir 131(Suppl 1):S170–S173

19.

Horch RE, Gitsch G, Schultze-Seemann W (2002) Bilateral pedicled myocutaneous vertical rectus abdominus muscle flaps to close vesicovaginal and pouch-vaginal fistulas with simultaneous vaginal and perineal reconstruction in irradiated pelvic wounds. Urology 60(3):502–507

20.

Wille-Jorgensen P, Pilsgaard B, Moller P (2009) Reconstruction of the pelvic floor with a biological mesh after abdominoperineal excision for rectal cancer. Int J Colorectal Dis 24(3):323–325

21.

Dijkstra EA et al (2020) A low incidence of perineal hernia when using a biological mesh after extralevator abdominoperineal excision with or without pelvic exenteration or distal sacral resection in locally advanced rectal cancer patients. Tech Coloproctol 24(8):855–861

22.

Dasenbrock HH et al (2011) Reconstruction of extensive defects from posterior en bloc resection of sacral tumors with human acellular dermal matrix and gluteus maximus myocutaneous flaps. Neurosurgery 69(6):1240–1247

23.

Said HK, Bevers M, Butler CE (2007) Reconstruction of the pelvic floor and perineum with human acellular dermal matrix and thigh flaps following pelvic exenteration. Gynecol Oncol 107(3):578–582

24.

Douglas SR, Longo WE, Narayan D (2013) A novel technique for perineal hernia repair. BMJ Case Rep. https://doi.org/10.1136/bcr-2013-008936

25.

Sapci I, Tiernan JP, Gorgun E (2019) Perineal hernia repair with mesh after robotic abdominoperineal resection. Dis Colon Rectum 62(8):1013

26.

Nyame TT et al (2011) High-throughput assay for bacterial adhesion on acellular dermal matrices and synthetic surgical materials. Plast Reconstr Surg 128(5):1061–1068

27.

Danino MA et al (2019) Preliminary results supporting the bacterial hypothesis in red breast syndrome following postmastectomy acellular dermal matrix- and implant-based reconstructions. Plast Reconstr Surg 144(6):988e–992e

28.

Geierlehner A et al (2020) Limb salvage procedure in immunocompromised patients with therapy-resistant leg ulcers-The value of ultra-radical debridement and instillation negative-pressure wound therapy. Int Wound J 17(5):1496–1507

29.

Horch RE et al (2020) Topical negative-pressure wound therapy: emerging devices and techniques. Expert Rev Med Devices 17(2):139–148

30.

Meyer J et al (2021) The role of perineal application of prophylactic negative-pressure wound therapy for prevention of wound-related complications after abdomino-perineal resection: a systematic review. Int J Colorectal Dis 36(1):19–26

31.

Diehm YF et al (2021) Management of acute and traumatic wounds with negative-pressure wound therapy with instillation and dwell time. Plast Reconstr Surg 147(1S-1):43S–53S

32.

Muenchow S, Horch RE, Dragu A (2019) Effects of topical negative pressure therapy on perfusion and microcirculation of human skin. Clin Hemorheol Microcirc 72(4):365–374

33.

Wong S et al (2009) Reconstruction of pelvic exenteration defects with anterolateral thigh-vastus lateralis muscle flaps. Plast Reconstr Surg 124(4):1177–1185

34.

Devulapalli C et al (2016) Primary versus flap closure of perineal defects following oncologic resection: a systematic review and meta-analysis. Plast Reconstr Surg 137(5):1602–1613

35.

Campbell CA, Butler CE (2011) Use of adjuvant techniques improves surgical outcomes of complex vertical rectus abdominis myocutaneous flap reconstructions of pelvic cancer defects. Plast Reconstr Surg 128(2):447–458

36.

Horch RE et al (2012) Laparoscopic abdominoperineal resection with open posterior cylindrical excision and primary transpelvic VRAM flap. Ann Surg Oncol 19(2):502–503

37.

Butler CE, Gundeslioglu AO, Rodriguez-Bigas MA (2008) Outcomes of immediate vertical rectus abdominis myocutaneous flap reconstruction for irradiated abdominoperineal resection defects. J Am Coll Surg 206(4):694–703

38.

Horch RE, Cai A, Weber K, Grützmann R, Arkudas A (2020) Interdisciplinary surgical approaches in vaginal and perineal reconstruction of advanced rectal and anal female cancer patients. Front Oncol 10:719. https://doi.org/10.3389/fonc.2020.00719

39.

Schellerer VS et al (2021) Donor site morbidity of patients receiving vertical rectus abdominis myocutaneous flap for perineal, vaginal or inguinal reconstruction. World J Surg 45(1):132–140

40.

Salgado CJ et al (2011) Reconstruction of acquired defects of the vagina and perineum. Semin Plast Surg 25(2):155–162

41.

Wei FC et al (2001) Confusion among perforator flaps: what is a true perforator flap? Plast Reconstr Surg 107(3):874–876

42.

Taeger CD et al (2012) Perforator flaps. A new era in reconstructive surgery. Chirurg 83(2):163–171

43.

Ludolph I et al (2019) Enhancing safety in reconstructive microsurgery using Intraoperative Indocyanine green Angiography. Front Surg 6:39

44.

Ludolph I et al (2019) Indocyanine green angiography and the old question of vascular autonomy—Long term changes of microcirculation in microsurgically transplanted free flaps. Clin Hemorheol Microcirc 72(4):421–430

45.

Rozen WM et al (2010) The future in perforator flap imaging: a new technique to substantially reduce radiation dose with computed tomographic angiography. Plast Reconstr Surg 126(2):98–100e

46.

Woods JE et al (1992) Experience with vaginal reconstruction utilizing the modified Singapore flap. Plast Reconstr Surg 90(2):270–274

47.

Gleeson NC et al (1994) Pudendal thigh fasciocutaneous flaps for vaginal reconstruction in gynecologic oncology. Gynecol Oncol 54(3):269–274

48.

Schmauss D et al (2019) The "safe" flap—Preoperative perforator-mapping and intraoperative perfusion assessment to reduce flap-associated morbidity—Consensus statement of the German Speaking Working Group for Microsurgery of the Peripheral Nerves and Vessels. Handchir Mikrochir Plast Chir 51(6):410–417

49.

Rother U et al (2020) Wound closure by means of free flap and arteriovenous loop: development of flap autonomy in the long-term follow-up. Int Wound J 17(1):107–116

50.

Arkudas A et al (2018) Retrospective cohort study of combined approach for trunk reconstruction using arteriovenous loops and free flaps. J Plast Reconstr Aesthet Surg 71(3):394–401

51.

Taeger CD et al (2016) Combined free flaps with arteriovenous loops for reconstruction of extensive thoracic defects after sternal osteomyelitis. Microsurgery 36(2):121–127

52.

Abdou AH et al (2016) Free latissimus dorsi myocutaneous flap for pelvic floor reconstruction following pelvic exenteration. Int J Colorectal Dis 31(2):385–391
Ethics declarations
Interessenkonflikt
Gemäß den Richtlinien des Springer Medizin Verlags werden Autoren und Wissenschaftliche Leitung im Rahmen der Manuskripterstellung und Manuskriptfreigabe aufgefordert, eine vollständige Erklärung zu ihren finanziellen und nichtfinanziellen Interessen abzugeben.
Autoren
R. E. Horch: A. Finanzielle Interessen: Forschungsförderung zur persönlichen Verfügung: DFG(Deutsche Forschungsgemeinschaft)-Gelder zur Forschung SFB TRR225. – Vortrags- und Reisekosten PfM (nicht in den letzten 12 Monaten). – Bezahlter Berater/interner Schulungsreferent/Gehaltsempfänger o. Ä.: Acelity-KCI_Medical, Reise- und Übernachtungskosten anlässlich Scientific-advisory-committee-Tagungen (nicht in den letzten 12 Monaten). – B. Nichtfinanzielle Interessen: Direktor der Plastischen und Handchirurgischen Klinik, Universitätsklinikum Erlangen, Friedrich Alexander Universität Erlangen-Nürnberg | Mitgliedschaften: Deutsche Gesellschaft der Plastischen, Rekonstruktiven und Ästhetischen Chirurgen (ehemaliger Präsident), Deutschsprachige Arbeitsgemeinschaft für Mikrochirurgie der peripheren Nerven und Gefäße (Vorstand). I. Ludolph: A. Finanzielle Interessen: I. Ludolph gibt an, dass kein finanzieller Interessenkonflikt besteht. – B. Nichtfinanzielle Interessen: Geschäftsführender Oberarzt, Plastisch- und Handchirurgische Klinik, Universitätsklinikum Erlangen (Direktor: Prof. Dr. Dr. h.c. R.E. Horch) | Mitgliedschaft: Deutsche Gesellschaft der Plastischen, Rekonstruktiven und Ästhetischen Chirurgen (DGPRÄC). A. Arkudas: A. Finanzielle Interessen: A. Arkudas gibt an, dass kein finanzieller Interessenkonflikt besteht. – B. Nichtfinanzielle Interessen: Leitender Oberarzt/Stellvertretender Klinikdirektor, Plastisch- und Handchirurgische Klinik, Universitätsklinik Erlangen | Mitgliedschaften: DGPRÄC, Senologie, Deutschsprachige Arbeitsgemeinschaft für Mikrochirurgie der peripheren Nerven und Gefäße (DAM), Deutsche Gesellschaft für Handchirurgie (DGH), Plastic Surgery Research Council (PSRC).
Wissenschaftliche Leitung
Die vollständige Erklärung zum Interessenkonflikt der Wissenschaftlichen Leitung finden Sie am Kurs der zertifizierten Fortbildung auf www.springermedizin.de/cme.
Der Verlag
erklärt, dass für die Publikation dieser CME-Fortbildung keine Sponsorengelder an den Verlag fließen.
Für diesen Beitrag wurden von den Autoren keine Studien an Menschen oder Tieren durchgeführt. Für die aufgeführten Studien gelten die jeweils dort angegebenen ethischen Richtlinien.
Additional information
Wissenschaftliche Leitung
M. Betzler, Essen
H.-J. Oestern, Celle
P. M. Vogt, Hannover
CME-Fragebogen
CME-Fragebogen
Was ist zutreffend für onkologische Operationen im Hinblick auf Komplikationen, insbesondere Wunddefekte und deren Weichteilrekonstruktion?
Bei der extralevatorischen abdominoperinealen Exstirpation (APE) nach Holm sind mehr Tumorrezidive zu erwarten als bei anderen Methoden.
Bei der Resektion intraabdomineller Tumoren wird bei perinealen Weichteildefekten meist die zweizeitige Rekonstruktion angestrebt.
Der Primärverschluss nach APE oder pelviner Exenteration geht mit einer hohen Rate an Wundheilungsstörungen einher.
Bei der Resektion sarkomatöser Weichteiltumoren wird die einzeitige Rekonstruktion angestrebt.
Eine lokal angewandte Strahlentherapie führt in ca. 5 % zu Problemen bei der Wundheilung.
Perineale Defekte können nach ihrer Ausdehnung und dem Verlust der betroffenen Strukturen, die ersetzt werden müssen, klassifiziert werden. Welche Aussagen zur Defektklassifikation/-lokalisation treffen in diesem Zusammenhang nicht zu?
Defekte der vulvoperinealen Oberfläche
Kombinierte Defekte des Perineums und der Beckenbodenstrukturen
Defekte der skrotalen und perinealen Haut.
Defekte der Vaginalhöhle
Leisten-Flanken-Defekte
Was trifft für die vertikale Rectus-abdominis-Muskel(VRAM)-Lappenplastik zu?
Die VRAM-Lappenplastik wird an der A./V. epigastrica superior gestielt.
Mithilfe der VRAM-Lappenplastik ist eine einzeitige Rekonstruktion der Scheide und des Perineums möglich.
Der VRAM-Lappen sollte vorrangig von der linken Bauchdecke gehoben werden.
Der VRAM-Lappen ist ein fasziokutaner Lappen.
Falls kein Hautdefekt vorliegt, ist eine Rekonstruktion mittels VRAM-Lappenplastik nicht notwendig.
Was trifft für die Gluteus-maximus-Lappenplastik zu?
Die Gluteus-maximus-Lappenplastik ist eine fasziokutane Lappenplastik.
Eine bilaterale Hebung der Gluteus-maximus-Lappenplastik ist nicht möglich.
Bei alltäglichen Aktivitäten ist nach pelviner Rekonstruktion mittels Gluteus-maximus-Lappen mit erheblichen funktionellen Einbußen zu rechnen.
Die Gluteus-maximus-Lappenplastik ist für die Plombierung tiefliegender Defekte der Perineal‑/Perianalregion die 1. Wahl.
Der Gluteus-maximus-Lappen gilt aufgrund seiner konstanten Anatomie als sichere Lappenplastik.
Sogenannte Perforatorlappen …
gehen mit einer erhöhten Hebemorbidität an der Entnahmestelle einher.
gehen mit einem verringerten Freiheitsgrad einher.
können über Perforatoren der A. glutea inferior zur Rekonstruktion perinealer Defekte als S‑GAP (superiorer Glutealarterienperforator) genutzt werden.
können als sog. "free style flaps" über defektnahe Perforatoren in den Defekt geschwenkt werden.
sind als Lappen 1. Wahl zu sehen.
Was trifft für die Grazilislappenplastik zu?
Die Hautinsel der myokutanen Grazilislappenplastik kann bei der Anwendung im glutealen Bereich störend auftragen, sodass eine sekundäre Korrektur nötig ist.
Die distale Hautinsel ist sicher durchblutet.
Der myokutane Grazilislappen reicht zur Plombierung tiefliegender Defekte des Beckens meistens aus.
Die bilaterale Grazilislappenplastik eignet sich zur Rekonstruktion einer Neovagina.
Die Grazilislappenplastik kann als reine Muskellappenplastik nicht verwendet werden.
Welche Aussage trifft für die ALT("anterolateral thigh")-Lappenplastik zu?
Sie wird häufig in Kombination mit mehreren Muskeln des Oberschenkels zur perinealen Rekonstruktion verwendet.
Sie ist die Lappenplastik der 1. Wahl für tiefliegende Defekte des Beckens.
Sie wird über den Ramus descendens der A. circumflexa femoris lateralis gestielt.
Sie stellt eine relativ unzuverlässige Lappenplastik dar.
Der Rotationsbogen der Lappenplastik ist klein.
Welche Aussage ist im Zusammenhang mit dem Pudenduslappen richtig?
Es handelt sich um eine myokutane Lappenplastik.
Es ist eine freie Lappenplastik, die zur vaginalen Rekonstruktion genutzt wird.
Er eignet sich zur Rekonstruktion des Perineums und der Vulva.
Lappenspitzennekrosen sind selten.
Er wird auch als Hongkong-Lappen bezeichnet.
Welche Aussage zur Rekonstruktion von Beckenbodendefekten trifft zu?
Die VRAM(vertikale Rectus-abdominis-Muskel)-Lappenplastik stellt das Verfahren der 2. Wahl dar.
Bei ausgedehnten Defekten sind Hautlappenplastiken zu bevorzugen.
Es gibt verschiedene Rekonstruktionsmethoden aus der dorsalen Oberschenkelregion.
Nach extralevatorischer abdominoperinealer Exstirpation (APE) hat sich die einzeitige Rekonstruktion als vorteilhaft erwiesen.
Beckenbodendefekte sollten prinzipiell zweizeitig verschlossen werden.
Welche Aussage für die Verwendung freier Lappenplastiken trifft zu?
Freie Lappenplastik können bei gefäßdepletierter Glutealregion und fehlenden Möglichkeiten zur lokalen Rekonstruktion erforderlich sein.
Bei der Verwendung von AV(arteriovenösen)-Loops vor freien Lappenplastiken sollte ein Intervall von 21 Tage vor Lappentransfer eingehalten werden.
Die Thrombosierung von AV-Loops aus der Leiste für Beckenbodendefekte ist vernachlässigbar.
Die Latissimus-dorsi-Lappenplastik stellt keine Option nach Anlage eines AV-Loops dar.
Freie Lappenplastiken stellen für die Beckenbodenrekonstruktion das Verfahren der 1. Wahl dar.
About this article
Cite this article
Horch, R.E., Ludolph, I. & Arkudas, A. Rekonstruktion onkologischer Defekte der Perianalregion. Chirurg (2021). https://doi.org/10.1007/s00104-021-01394-w
Schlüsselwörter
Beckenbodenrekonstruktion

Abdominoperineale Resektion

Beckenbodenexenteration

Perineale Hernie

Wundinfektion
Keywords
Pelvic floor reconstruction

Abdominoperineal resection

Pelvic floor exenteration

Perineal hernia

Wound infection