Zusammenfassung
Die Lebertransplantation ist heute die etablierte Therapie in der Behandlung terminaler Lebererkrankungen. Der Mangel an geeigneten Spenderorganen ist weiterhin der limitierende Faktor dieses Behandlungsverfahrens. Ein Ausweg aus dieser Problematik stellt die Teilorganspende von Gesunden als Lebendspende dar, mit deren Hilfe in einigen Ländern mehr als 90 % der Spenderorgane realisiert werden.
In der Indikationsstellung zur Lebertransplantation gibt es grundsätzlich keinen Unterschied zwischen einer durch eine postmortale oder eine Lebendspende gewonnenes (Teil)Organ. Vor einer Leberlebendspende steht eine gründliche Evaluation des Spenders, um die postoperative Morbidität möglichst zu minimieren. Technisch lehnt sich die Teilleberspende an die onkologische Leberteilresektion an während die Transplantation eine Weiterentwicklung der Split-Lebertransplantation nach postmortaler Organspende darstellt. In spezialisierten Zentren können nach Leberlebendspende inzwischen vergleichbare oder gar bessere Ergebnisse als nach postmortaler Spende erreicht werden.
Abstract
Liver transplantation has become established as a standard procedure in the treatment of end-stage liver diseases. Despite intense efforts by all parties involved up to the amendment of the German Transplantation Act, the lack of suitable donor organs was still one of the limiting factors of this therapeutic procedure. One way out of this problem is to make so-called marginal organs usable, e.g. with the help of machine perfusion or by utilizing living liver donation, which are used in some countries for more than 90% of organ donations. In general, there is no difference in the indications for liver transplantation between a (partial) organ obtained by post-mortem or living donation. Before any living donation, a thorough evaluation of the donor is carried out in order to minimize postoperative morbidity as far as possible. Technically the partial liver donation is based on the oncological liver resection, while the partial liver transplantation is a further development of split liver transplantation after post-mortem liver donation. In specialized centers comparable or even better results can nowadays be achieved using living liver donation instead of post-mortem donation.
This is a preview of subscription content, log in to check access.
Access options
Buy single article
Instant access to the full article PDF.
US$ 39.95
Price includes VAT for USA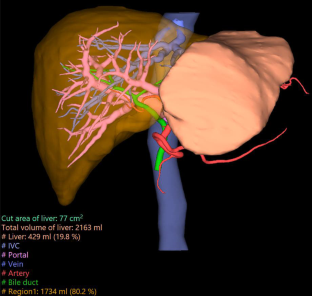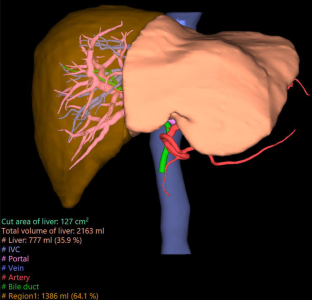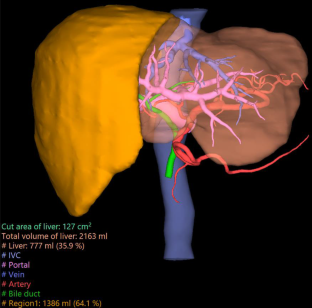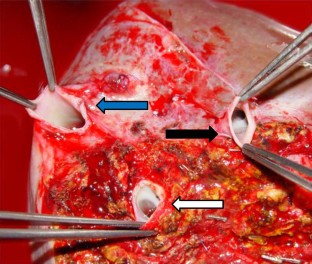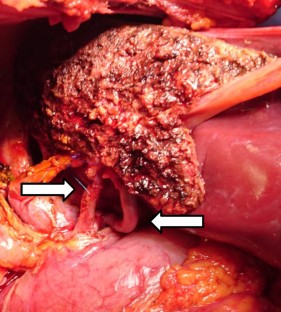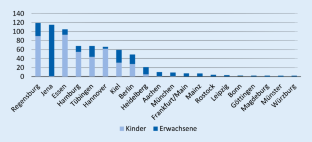 Literatur
1.

Azoulay D, Audureau E, Bhangui P et al (2017) Living or brain-dead donor liver transplantation for hepatocellular carcinoma: a multicenter, western, intent-to-treat cohort study. Ann Surg 266:1035–1044

2.

Bundesärztekammer (2019) Richtlinien zur Organtransplantation gem. § 16 TPG

3.

Butt Z, Dimartini AF, Liu Q et al (2018) Fatigue, pain, and other physical symptoms of living liver donors in the adult-to-adult living donor liver transplantation cohort study. Liver Transpl 24:1221–1232

4.

Cheah YL, Simpson MA, Pomposelli JJ et al (2013) Incidence of death and potentially life-threatening near-miss events in living donor hepatic lobectomy: a world-wide survey. Liver Transpl 19:499–506

5.

Coelho FF, Bernardo WM, Kruger JP et al (2018) Laparoscopy-assisted versus open and pure laparoscopic approach for liver resection and living donor hepatectomy: a systematic review and meta-analysis. HPB 20:687–694

6.

Dew MA, Butt Z, Liu Q et al (2018) Prevalence and predictors of patient-reported long-term mental and physical health after donation in the adult-to-adult living-donor liver transplantation cohort study. Transplantation 102:105–118

7.

Durand F, Antoine C, Soubrane O (2019) Liver transplantation in France. Liver Transpl 25:763–770

8.

Feng Y, Han Z, Wang X et al (2020) Association of graft-to-recipient weight ratio with the prognosis following liver transplantation: a meta-analysis. J Gastrointest Surg. https://doi.org/10.1007/s11605-020-04598-3

9.

Foss A, Adam R, Dueland S (2010) Liver transplantation for colorectal liver metastases: revisiting the concept. Transpl Int 23:679–685

10.

Gavriilidis P, Azoulay D, Sutcliffe RP et al (2019) Split versus living-related adult liver transplantation: a systematic review and meta-analysis. Langenbecks Arch Surg 404:285–292

11.

Ghobrial RM, Freise CE, Trotter JF et al (2008) Donor morbidity after living donation for liver transplantation. Gastroenterology 135:468–476

12.

Goldaracena N, Jung J, Aravinthan AD et al (2019) Donor outcomes in anonymous live liver donation. J Hepatol 71:951–959

13.

Heaton N (2003) Small-for-size liver syndrome after auxiliary and split liver transplantation: donor selection. Liver Transpl 9:S26–S28

14.

Hibi T, Chei WAK, Chan A et al (2020) Current status of liver transplantation in Asia. Int J Surg. https://doi.org/10.1016/j.ijsu.2020.05.071

15.

Hughes CB, Humar A (2020) Liver transplantation: current and future. Abdom Radiol. https://doi.org/10.1007/s00261-019-02357-w

16.

Humar A, Ganesh S, Jorgensen D et al (2019) Adult living donor versus deceased donor liver transplant (LDLT versus DDLT) at a single center: time to change our paradigm for liver transplant. Ann Surg 270:444–451

17.

Humphreville VR, Radosevich DM, Humar A et al (2016) Longterm health-related quality of life after living liver donation. Liver Transpl 22:53–62

18.

Jonas S, Mittler J, Pascher A et al (2005) Extended indications in living-donor liver transplantation: bile duct cancer. Transplantation 80:S101–S104

19.

Kirchner VA, Goldaracena N, Sapisochin G et al (2020) Current status of liver transplantation in North America. Int J Surg. https://doi.org/10.1016/j.ijsu.2020.05.059

20.

Levitsky J, Gordon EJ (2020) Living donor liver transplantation when deceased donor is not possible or timely: case examples and ethical perspectives. Liver Transpl 26:431–436

21.

Malinchoc M, Kamath PS, Gordon FD et al (2000) A model to predict poor survival in patients undergoing transjugular intrahepatic portosystemic shunts. Hepatology 31:864–871

22.

Mazzaferro V, Regalia E, Doci R et al (1996) Liver transplantation for the treatment of small hepatocellular carcinomas in patients with cirrhosis. N Engl J Med 334:693–699

23.

Mazzaferro V, Sposito C, Zhou J et al (2018) Metroticket 2.0 model for analysis of competing risks of death after liver transplantation for Hepatocellular carcinoma. Gastroenterology 154:128–139

24.

Moris D, Kostakis ID, Machairas N et al (2019) Comparison between liver transplantation and resection for hilar cholangiocarcinoma: a systematic review and meta-analysis. PLoS ONE 14:e220527

25.

Park J, Kwon CHD, Choi GS et al (2019) One-year recipient morbidity of liver transplantation using pure laparoscopic versus open living donor right hepatectomy: propensity score analysis. Liver Transpl 25:1642–1650

26.

Petrowsky H, Kim KH, Tokat Y (2019) Editorial: Living-donor liver transplantation: why the Sun rises in the East and sets in the West? Curr Opin Organ Transplant 24:620–622

27.

Pichlmayr R, Ringe B, Gubernatis G et al (1988) Transplantation of a donor liver to 2 recipients (splitting transplantation)—a new method in the further development of segmental liver transplantation. Langenbecks Arch Chir 373:127–130

28.

Pomposelli JJ (2013) Liver remnant volume after living donor liver transplantation: how low should we go? Liver Transpl 19:796–797

29.

Rauchfuss F, Bauschke A, Bärthel E et al (2016) Living donor liver transplantation—past and present. Zentralbl Chir 141:559–564

30.

Raza MH, Kim MH, Ding L et al (2020) Long-term financial, psychosocial, and overall health-related quality of life after living liver donation. J Surg Res 253:41–52

31.

Roll GR, Parekh JR, Parker WF et al (2013) Left hepatectomy versus right hepatectomy for living donor liver transplantation: shifting the risk from the donor to the recipient. Liver Transpl 19:472–481

32.

Rössler F, Sapisochin G, Song G et al (2016) Defining benchmarks for major liver surgery: a multicenter analysis of 5202 living liver donors. Ann Surg 264:492–500

33.

Trotter JF (2000) Selection of donors and recipients for living donor liver transplantation. Liver Transpl 6:S52–S58

34.

Wong TC, Fung JYY, Cui TYS et al (2020) The risk of going small: lowering GRWR and overcoming small-for-size syndrome in adult living donor liver transplantation. Ann Surg. https://doi.org/10.1097/SLA.0000000000003824

35.

Wong TCL, Ng KKC, Fung JYY et al (2019) Long-term survival outcome between living donor and deceased donor liver transplant for Hepatocellular carcinoma: intention-to-treat and propensity score matching analyses. Ann Surg Oncol 26:1454–1462
Ethics declarations
Interessenkonflikt
H.-M. Tautenhahn, F. Rauchfuß, A. Ali Deeb, A. Bauschke und U. Settmacher geben an, dass kein Interessenkonflikt besteht.
Alle Patienten, die über Bildmaterial oder anderweitige Angaben innerhalb des Manuskripts zu identifizieren sind, haben hierzu ihre schriftliche Einwilligung gegeben. Dieser Beitrag beinhaltet keine laufenden Studien an Menschen oder Tieren.
Additional information
Redaktion
U. Settmacher, Jena
About this article
Cite this article
Tautenhahn, H., Rauchfuß, F., Ali Deeb, A. et al. Lebertransplantation durch Lebendspende. Chirurg (2020). https://doi.org/10.1007/s00104-020-01268-7
Schlüsselwörter
Leberlebendspende

Indikation

Risiken

Outcome

Relevanz für Deutschland
Keywords
Living liver donation

Indication

Risk

Outcome

Relevance for Germany