Zusammenfassung
Künstliche Intelligenz (KI) ist ein sehr relevantes Thema für die Medizin der Zukunft. Dieser Artikel beleuchtet das Thema KI im Kontext der Orthopädie und Unfallchirurgie. Im Schwerpunkt werden KI-Potenziale bei der Analyse von Symptomen, radiologischen Bildern, klinischen Datensätzen, der Verwendung in Klinik und im Operationssaal sowie für die Aus- und Weiterbildung beleuchtet. KI ist für die Orthopädie und Unfallchirurgie der Zukunft weit mehr als reine Fiktion. Es ist aber noch ein weiter Weg, um das Potenzial einer optimierten und individualisierten Patientenversorgung zu nutzen. Interdisziplinäre und internationale Ansätze unter Einbezug personeller, ökonomischer, rechtlicher und ethischer Aspekte werden hierzu von entscheidender Bedeutung sein.
Abstract
Artificial intelligence (AI) is a very relevant topic for the medicine of the future. This article focuses on the field of AI in the context of orthopedics and trauma surgery. The main focus is on the potentials of AI in the analysis of symptoms, radiological images, clinical data sets, use in hospitals and operating theaters as well as for training and education. For the orthopedics and trauma surgery of the future AI is much more than pure fiction; however, there is still a long way to go before the potential of an optimized and individualized patient care can be utilized. Interdisciplinary and international approaches, including personnel, economic, legal and ethical aspects will play a decisive role in this respect.
Access options
Buy single article
Instant access to the full article PDF.
US$ 39.95
Tax calculation will be finalised during checkout.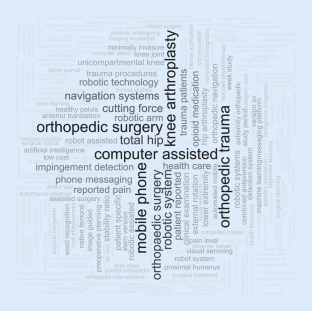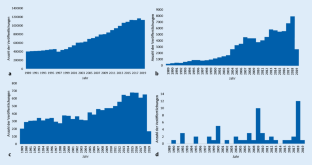 Literatur
1.

Bhandari M, Zeffiro T, Reddiboina M (2019) Artificial intelligence and robotic surgery: current perspective and future directions. Curr Opin Urol. https://doi.org/10.1097/MOU.0000000000000692

2.

Chung SW, Han SS, Lee JW et al (2018) Automated detection and classification of the proximal humerus fracture by using deep learning algorithm. Acta Orthop 89:468–473

3.

Ciolacu M, Tehrani AF, Binder L et al (2018) Education 4.0—artificial intelligence assisted higher education: early recognition system with machine learning to support students' success. 2018 IEEE 24th International Symposium for Design and Technology in Electronic Packaging (SIITME), Iasi, Romania, 25-28 Oct. 2018

4.

Elkin PL, Schlegel DR, Anderson M et al (2018) Artificial intelligence: bayesian versus heuristic method for diagnostic decision support. Appl Clin Inform 9:432–439

5.

Gyftopoulos S, Lin D, Knoll F et al (2019) Artificial intelligence in musculoskeletal imaging: current status and future directions. Ajr Am J Roentgenol 213:506–513

6.

Jungmann SM, Klan T, Kuhn S et al (2019) Accuracy of a chatbot (Ada) in the diagnosis of mental disorders: comparative case study with lay and expert users. JMIR Form Res 3:e13863. https://doi.org/10.2196/13863

7.

Karnuta JM, Navarro SM, Haeberle HS et al (2019) Bundled care for hip fractures: a machine-learning approach to an untenable patient-specific payment model. J Orthop Trauma 33:324–330

8.

Kendale S, Kulkarni P, Rosenberg AD et al (2018) Supervised machine-learning predictive analytics for prediction of postinduction hypotension. Anesthesiology 129:675–688

9.

Koren G, Souroujon D, Shaul R et al (2019) "A patient like me"—an algorithm-based program to inform patients on the likely conditions people with symptoms like theirs have. Medicine (Baltimore) 98:e17596

10.

Lindsey R, Daluiski A, Chopra S et al (2018) Deep neural network improves fracture detection by clinicians. Proc Natl Acad Sci U S A 115:11591–11596

11.

Mcculloch WS, Pitts W (1943) A logical calculus of the ideas immanent in nervous activity. Bulletin of Mathematical Biophysics 5:115–133

12.

Nilsson NJ (2009) The quest for artificial intelligence

13.

Ramkumar PN, Haeberle HS, Bloomfield MR et al (2019) Artificial intelligence and arthroplasty at a single institution: real-world applications of machine learning to big data, value-based care, mobile health, and remote patient monitoring. J Arthroplasty 34:2204–2209

14.

Staub BN, Sadrameli SS (2019) The use of robotics in minimally invasive spine surgery. J Spine Surg 5:S31–S40

15.

Tarpada SP, Morris MT, Burton DA (2016) E‑learning in orthopedic surgery training: a systematic review. J Orthop 13:425–430

16.

Weng SF, Reps J, Kai J et al (2017) Can machine-learning improve cardiovascular risk prediction using routine clinical data? PLoS ONE 12:e174944

17.

Zhao JX, Li C, Ren H et al (2019) Evolution and current applications of robot-assisted fracture reduction: a comprehensive review. Ann Biomed Eng. https://doi.org/10.1007/s10439-019-02332-y
Ethics declarations
Interessenkonflikt
R. Lohmann ist Geschäftsführer bei Lohmann & Birkner Software Solutions GmbH, Berlin. T. Tjardes, R. A. Heller, D. Pförringer, D. A. Back und die AG Digitalisierung der DGOU geben an, dass kein Interessenkonflikt besteht.
Für diesen Beitrag wurden von den Autoren keine Studien an Menschen oder Tieren durchgeführt. Für die aufgeführten Studien gelten die jeweils dort angegebenen ethischen Richtlinien.
About this article
Cite this article
Tjardes, T., Heller, R.A., Pförringer, D. et al. Künstliche Intelligenz in der Orthopädie und Unfallchirurgie. Chirurg 91, 201–205 (2020). https://doi.org/10.1007/s00104-019-01091-9
Schlüsselwörter
Robotik im Operationsaal

Algorithmengestützte Analyse

Weiterbildung

Große Datenmengen

Rechtliche Rahmenbedingungen
Keywords
Robotics in the operating theater

Algorithm-based analysis

Professional education

Big Data

Legal framework conditions