Zusammenfassung
Die nekrotisierende Fasziitis gehört als lebensbedrohliche Infektion zur Gruppe der aggressiv verlaufenden nekrotisierenden Haut- und Weichgewebeinfektionen. Die Diagnose wird primär klinisch gestellt. Anfänglich können eher unspezifische Symptome ohne wegweisende kutane Veränderungen auftreten. Der weitere Verlauf ist gekennzeichnet durch außergewöhnliche Schmerzen, typische kutane Manifestationen (z. B. landkartenartige Nekrosezonen) sowie eine hohe systemische Toxizität. Um die Prognose durch eine Zeitverzögerung nicht weiter zu verschlechtern, sollte keine extensive Diagnostik durchgeführt werden. Die betroffenen Patienten bedürfen eines radikalen chirurgischen Débridements und Redébridements, um eine Fokussanierung zu erreichen. Parallel muss eine hochdosierte Breitspektrumantibiotikatherapie initiiert und eine differenzierte Intensivtherapie durchgeführt werden. Der Wert adjunktiver Maßnahmen (hyperbare Oxygenation, Gabe von Immunglobulinen) ist nicht gesichert, weswegen der Routineeinsatz dieser Therapieansätze derzeit nicht empfohlen werden kann. Eine enge interdisziplinäre Zusammenarbeit ist erforderlich, um das Leben und die Extremität der betroffenen Patienten zu retten.
Abstract
Necrotizing fasciitis (NF) is a disease of a group of entities with an aggressive course summarized under the term necrotizing skin and soft-tissue infections (NSTI). It is a life-threatening and often disabling infection and is primarily clinically diagnosed. Initially, clinical signs of infection can be insidious and confounded by absence of fever and typical cutaneous lesions. The later course is characterized by soft tissue lesions, excessive pain and systemic toxicity. As the infection can spread rapidly, and as a delay in treatment is associated with increased mortality, additional diagnostic imaging should be confined to a minimum. Prompt and radical surgical debridement (including repeated debridement after 24 h) is a prerequisite for survival in NF. Also, prompt administration of high-dose broad-spectrum antibiotics and a differentiated intensive treatment are necessary. The role of immunoglobulins and hyperbaric oxygenation remains controversial, therefore, the routine use of these measures cannot be recommended at the moment. Close interdisciplinary collaboration is required in order to optimize the treatment and to save life and limb of patients suffering from this life-threatening infection.
Access options
Buy single article
Instant access to the full article PDF.
USD 39.95
Price excludes VAT (USA)
Tax calculation will be finalised during checkout.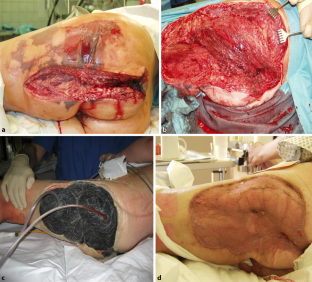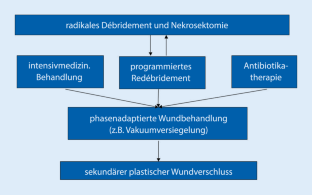 Literatur
Anaya DA, McMahon K, Nathens AB et al (2005) Predictors of mortality and limb loss in necrotizing soft tissue infections. Arch Surg 140:151–157

Audureau E, Hua C, de Prost NN et al (2017) Mortality of necrotising fasciitis: relative influence of individual and hospital-level factors, a nationwide multi-level study, France, 2007–2012. Br J Dermatol 177:1575–1582

Bandyopadhyay D, Jacobs JV, Panchabhai TS (2016) What's new in emergencies, trauma and shock? The tortuous path in the management of necrotizing fasciitis: Is early surgical intervention critical. J Emerg Trauma Shock 9:1–2

Bernal NP, Latenser BA, Born JM et al (2012) Trends in 393 necrotizing acute soft tissue infection patients 2000–2008. Burns 38:252–260

Cranendonk DR, van Vught LA, Wiewel MA et al (2017) Clinical characteristics and outcomes of patients with cellulitis requiring intensive care. JAMA Dermatol 153:578–582

Chao WN, Tsai CF, Chang HR et al (2013) Impact of timing of surgery on outcome of Vibrio vulnificus-related necrotizing fasciitis. Am J Surg 206:32–39

DiNubile MJ, Lipsky BA (2004) Complicated infections of skin and skin structures: when the infections is more than skin deep. J Antimicrob Chemother 53(Suppl 2):37–50

Eckmann C (2009) Schwere Haut- und Weichgewebeinfektionen. Intensivmed 46:480–485

Eckmann C (2016) The importance of source control in the management of severe skin and soft tissue infections. Curr Opin Infect Dis 29:139–144

Endorf FW, Supple KG, Gamelli RL (2005) The evolving characteristics and care of necrotizing soft-tissue infections. Burns 31:269–273

Engel C, Brunkhorst FM, Bone HG et al (2007) Epidemiology of sepsis in Germany: results from a national prospective multicenter study. Intensive Care Med 33:606–618

Fernando SM, Tran A, Cheng W et al (2019) Necrotizing soft tissue infection: diagnostic accuracy of physical examination, imaging, and LRINEC score: a systematic review and meta-analysis. Ann Surg 269:58–65

Goh T, Goh LG, Ang CH et al (2014) Early diagnosis of necrotizing fasciitis. Br J Surg 101:e119–e125

Gunter OL, Guillamondegui OD, May AK et al (2008) Outcome of necrotizing skin and soft tissue infections. Surg Infect 9:443–450

Hadeed GJ, Smith J, O'Keeffe T et al (2016) Early surgical intervention and its impact on patients presenting with necrotizing soft tissue infections: a single academic center experience. J Emerg Trauma Shock 9:22–27

Huang KC, Weng HH, Yang TY et al (2016) Distribution of fatal vibrio vulnificus necrotizing skin and soft-tissue infections: a systematic review and meta-analysis. Medicine 95:e2627

Jung N, Eckmann C (2019) Essentials in the management of necrotizing soft-tissue infections. Infection 47:677–679

Kaiser RE, Cerra FB (1981) Progressive necrotizing surgical infections—a unified approach. J Trauma 21:345–355

Kao LS, Lew DF, Arab SN, Todd SR, Awad SS, Carrick MM, Corneille MG, Lally KP (2011) Local variations in the epidemiology, microbiology, and outcome of necrotizing soft-tissue infections: a multicenter study. Am J Surg 202:139–145

Kha P, Colot J, Gervolino S et al (2017) Necrotizing soft-tissue infections in New Caledonia: epidemiology, clinical presentation, microbiology, and prognostic factors. Asian J Surg 40:290–294

Kim KT, Kim YJ, Won LJ et al (2011) Can necrotizing infectious fasciitis be differentiated from nonnecrotizing infectious fasciitis with MR imaging. Radiology 259:816–824

Kujath P, Eckmann C (1995) Diagnose und Therapie der nekrotisierenden Fasziitis. Dtsch Med Wochenschr 120:965–968

Lee JY, Jung H, Kwon H, Jung SN (2014) Extended negative pressure wound therapy-assisted dermatotraction for the closure of large open fasciotomy wounds in necrotizing fasciitis patients. World J Emerg Surg 9:29

Levett D, Bennett MH, Millar I (2015) Adjunctive hyperbaric oxygen for necrotizing fasciitis. Cochrane Database Syst Rev 1:CD7937

Madsen MB, Hjortrup PB, Hansen MB et al (2017) Immunoglobulin G for patients with necrotising soft tissue infection (INSTINCT): a randomised, blinded, placebo-controlled trial. Intensive Care Med 43:1585–1593

Nichols RL, Florman S (2001) Clinical presentation of soft tissue infections and surgical site infections. Clin Infect Dis 33:S83–S93

Peetermans M, de Prost N, Eckmann C et al (2019) Necrotizing skin and soft-tissue infections in the intensive care unit. Clin Microbiol Infect. https://doi.org/10.1016/j.cmi.2019.06.031 (epub ahead of print)

Stevens DL, Bryant AE (2017) Necrotizing soft-tissue infections. N Engl J Med 377:2253–2265

Stevens DL, Bisno AL, Chambers HF et al (2014) Practice guidelines for the diagnosis and management of skin and soft tissue infections: 2014 update by the infectious diseases society of America. Clin Infect Dis 59:147–159

Zhao JC, Zhang BR, Shi K et al (2017) Necrotizing soft tissue infection: clinical characteristics and outcomes at a reconstructive center in Jilin Province. BMC Infect Dis 17:792
Ethics declarations
Interessenkonflikt
C. Eckmann gibt an, Vortragshonorare von folgenden Firmen erhalten zu haben: Angelini, Menarini, MSD, Nabriva, Pfizer. S. Maier gibt an, dass kein Interessenkonflikt besteht.
Für diesen Beitrag wurden von den Autoren keine Studien an Menschen oder Tieren durchgeführt. Für die aufgeführten Studien gelten die jeweils dort angegebenen ethischen Richtlinien.
About this article
Cite this article
Eckmann, C., Maier, S. Nekrotisierende Fasziitis der Extremitäten und des Stamms. Chirurg 91, 301–306 (2020). https://doi.org/10.1007/s00104-019-01082-w
Published:

Issue Date:

DOI: https://doi.org/10.1007/s00104-019-01082-w
Schlüsselwörter
Keywords