Zusammenfassung
Die Hyperspektralbildgebung ("HyperSpectral Imaging" [HSI]) erlaubt quantitative Gewebeanalysen über die Limitationen des menschlichen Auges hinaus. Somit dient es als neues Diagnostikinstrument der optischen Eigenschaften verschiedener Gewebe. Im Gegensatz zu anderen intraoperativen bildgebenden Methoden ist HSI kontaktlos, nichtinvasiv und bedarf keiner Kontrastmittelapplikation. Die Messungen nehmen nur wenige Sekunden in Anspruch und stören somit die Operationsabläufe unwesentlich. Erste HSI-Anwendungen in der Viszeralchirurgie sind vielversprechend mit dem Potenzial optimierter Ergebnisse. Aktuelle Konzepte, Möglichkeiten und neue Perspektiven der HSI-Technologie sowie deren Limitationen werden in dieser Arbeit diskutiert.
Abstract
HyperSpectral Imaging (HSI) technology enables quantitative tissue analyses beyond the limitations of the human eye. Thus, it serves as a new diagnostic tool for optical properties of diverse tissues. In contrast to other intraoperative imaging methods, HSI is contactless, noninvasive, and the administration of a contrast medium is not necessary. The duration of measurements takes only a few seconds and the surgical procedure is only marginally disturbed. Preliminary HSI applications in visceral surgery are promising with the potential of optimized outcomes. Current concepts, possibilities and new perspectives regarding HSI technology together with its limitations are discussed in this article.
This is a preview of subscription content, log in to check access.
Access options
Buy single article
Instant access to the full article PDF.
US$ 39.95
Tax calculation will be finalised during checkout.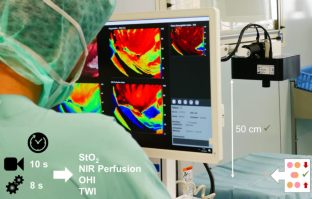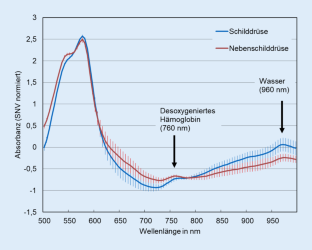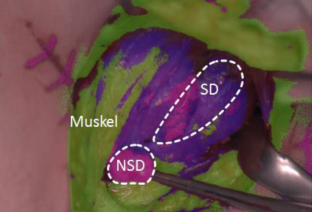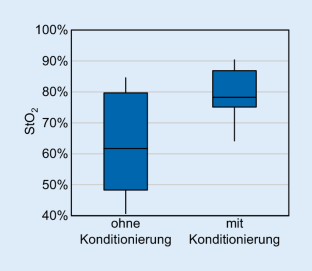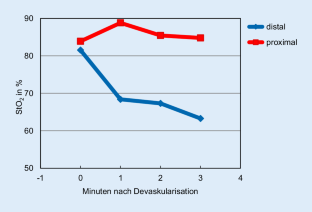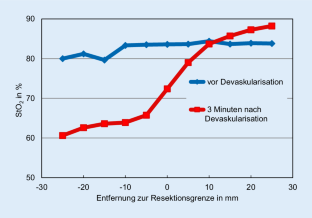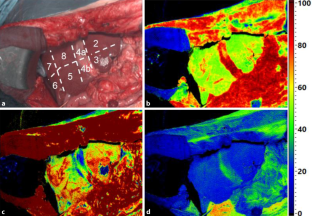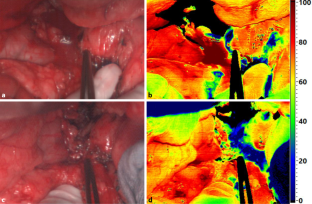 Literatur
1.

Al Furajii H, Cahill RA (2015) Laparoscopic and endoscopic near-infrared perfusion assessment of in situ ileoileal, ileocolic, colocolic, colorectal and ileoanal anastomosis during intestinal operation for benign and malignant disease: a video vignette. Colorectal Dis 17(Suppl 3):37. https://doi.org/10.1111/codi.13090

2.

Andersen HS, Gögenur I (2014) Optimized assessment of intestinal perfusion may reduce the risk of anastomotic leakage in the gastrointestinal tract. Ugeskr Laeg 176:1437–1441

3.

Baltussen EJM, Kok END, Brouwer de Koning SG et al (2019) Hyperspectral imaging for tissue classification, a way toward smart laparoscopic colorectal surgery. J Biomed Opt 24:1–9. https://doi.org/10.1117/1.JBO.24.1.016002

4.

Barberio M, Maktabi M, Gockel I et al (2018) Hyperspectral based discrimination of thyroid and parathyroid during surgery. Curr Dir Biomed Eng 4:399–402. https://doi.org/10.1515/cdbme-2018-0095

5.

Bartels H, Siewert JR (2008) Therapie der Mediastinitis am Beispiel des Ösophaguskarzinoms. Chirurg 79:30–37. https://doi.org/10.1007/s00104-007-1441-2

6.

Brisling S, Gögenur I (2015) Fluorescence angiography can change the operative strategy in performing colorectal anastomosis. Ugeskr Laeg Ugeskr Laeg 177:(36). pii: V12140720.

7.

Brouwer de Koning SG, Baltussen EJM, Karakullukcu MB et al (2018) Toward complete oral cavity cancer resection using a handheld diffuse reflectance spectroscopy probe. J Biomed Opt 23:1. https://doi.org/10.1117/1.JBO.23.12.121611

8.

Carus T, Lienhard H (2009) Laparoscopic fluorescence angiography with indocyanine green to control the perfusion of colorectal anastomoses intraoperatively. In: Schumpelick V, Bruch H‑P, Schackert HK (Hrsg) Chirurgisches Forum und DGAV Forum 2009. Springer, Berlin Heidelberg, S 331–333

9.

Degett TH, Andersen HS, Gögenur I (2016) Indocyanine green fluorescence angiography for intraoperative assessment of gastrointestinal anastomotic perfusion: a systematic review of clinical trials. Langenbecks Arch Surg 401:767–775. https://doi.org/10.1007/s00423-016-1400-9

10.

Falco J, Dip F, Quadri P et al (2017) Increased identification of parathyroid glands using near infrared light during thyroid and parathyroid surgery. Surg Endosc 31:3737–3742. https://doi.org/10.1007/s00464-017-5424-1

11.

Holmer A, Marotz J, Wahl P et al (2018) Hyperspectral imaging in perfusion and wound diagnostics—methods and algorithms for the determination of tissue parameters. Biomed Eng 63:547–556. https://doi.org/10.1515/bmt-2017-0155

12.

Jafari MD, Wexner SD, Martz JE et al (2015) Perfusion assessment in laparoscopic left-sided/anterior resection (PILLAR II): a multi-institutional study. J Am Coll Surg 220(e1):82–92. https://doi.org/10.1016/j.jamcollsurg.2014.09.015

13.

Jansen SM, de Bruin DM, van Berge Henegouwen MI et al (2018) Optical techniques for perfusion monitoring of the gastric tube after esophagectomy: a review of technologies and thresholds. Dis Esophagus. https://doi.org/10.1093/dote/dox161

14.

Jansen-Winkeln B, Holfert N, Köhler H et al (2019) Determination of the transection margin during colorectal resection with hyperspectral imaging (HSI). Int J Colorectal Dis. https://doi.org/10.1007/s00384-019-03250-0

15.

Jansen-Winkeln B, Maktabi M, Takoh JP et al (2018) Hyperspektral-Imaging bei gastrointestinalen Anastomosen. Chirurg 89:717–725. https://doi.org/10.1007/s00104-018-0633-2

16.

Khouj Y, Dawson J, Coad J, Vona-Davis L (2018) Hyperspectral imaging and K‑means classification for histologic evaluation of ductal carcinoma in situ. Front Oncol. https://doi.org/10.3389/fonc.2018.00017

17.

Köhler H, Jansen-Winkeln B, Maktabi M et al (2019) Evaluation of hyperspectral imaging (HSI) for the measurement of ischemic conditioning effects of the gastric conduit during esophagectomy. Surg Endosc. https://doi.org/10.1007/s00464-019-06675-4

18.

Lu G, Fei B (2014) Medical hyperspectral imaging: a review. J Biomed Opt 19:10901. https://doi.org/10.1117/1.JBO.19.1.010901

19.

McWade MA, Paras C, White LM et al (2014) Label-free intraoperative parathyroid localization with near-infrared autofluorescence imaging. J Clin Endocrinol Metab 99:4574–4580. https://doi.org/10.1210/jc.2014-2503

20.

Puhl G, Schaser K‑D, Pust D et al (2005) Initial hepatic microcirculation correlates with early graft function in human orthotopic liver transplantation. Liver Transpl 11:555–563. https://doi.org/10.1002/lt.20394

21.

Rayes N, Seehofer D, Neuhaus P (2014) The surgical treatment of bilateral benign nodular goiter. Dtsch Arzteblatt Online. https://doi.org/10.3238/arztebl.2014.0171

22.

Tummers QRJG, Schepers A, Hamming JF et al (2015) Intraoperative guidance in parathyroid surgery using near-infrared fluorescence imaging and low-dose methylene blue. Surgery 158:1323–1330. https://doi.org/10.1016/j.surg.2015.03.027

23.

Veeramootoo D, Shore AC, Wajed SA (2012) Randomized controlled trial of laparoscopic gastric ischemic conditioning prior to minimally invasive esophagectomy, the LOGIC trial. Surg Endosc 26:1822–1829. https://doi.org/10.1007/s00464-011-2123-1
Ethics declarations
Interessenkonflikt
Die verwendeten Hyperspektralsysteme wurden von Diaspective Vision GmbH entwickelt. H. Köhler ist Angestellter dieser Firma. Langfristig hat Diaspective Vision GmbH wirtschaftliches Interesse an der Entwicklung von Hyperspektralsystemen für den klinischen Einsatz. I. Gockel, B. Jansen-Winkeln, N. Holfert, N. Rayes, R. Thieme, M. Maktabi, R. Sucher, D. Seehofer, M. Barberio, M. Diana, S.M. Rabe, M. Mehdorn, Y. Moulla, S. Niebisch, D. Branzan, K. Rehmet, J.P. Takoh, T.-O. Petersen, T. Neumuth, A. Melzer und C. Chalopin geben an, dass kein Interessenkonflikt besteht.
Für diesen Beitrag wurden von den Autoren keine Studien an Menschen oder Tieren durchgeführt. Für die aufgeführten Studien gelten die jeweils dort angegebenen ethischen Richtlinien (Ethikvotum 393-16ek der Ethik-Kommission an der Medizinischen Fakultät der Universität Leipzig).
Additional information
Die Autoren I. Gockel und B. Jansen-Winkeln teilen sich die Erstautorenschaft. Die Autoren C. Chalopin und H. Köhler teilen sich die Letztautorenschaft.
About this article
Cite this article
Gockel, I., Jansen-Winkeln, B., Holfert, N. et al. Möglichkeiten und Perspektiven der Hyperspektralbildgebung in der Viszeralchirurgie. Chirurg 91, 150–159 (2020). https://doi.org/10.1007/s00104-019-01016-6
Schlüsselwörter
Bildgestützte Chirurgie

Hyperspektralbildgebung

Viszeralchirurgie

Nichtinvasive Gewebeanalyse

Optimierte chirurgische Ergebnisse
Keywords
Image-guided surgery

Hyperspectral imaging

Visceral surgery

Noninvasive tissue analysis

Optimized surgical results