Zusammenfassung
Hintergrund
Psychische Belastungen am Arbeitsplatz sind mit erheblichen Folgen für Beschäftigte und deren Gesundheit verbunden.
Fragestellung
In dieser Studie werden die wichtigsten Stressfaktoren und die Ressource Handlungsspielraum am Arbeitsplatz von Chirurgen in Deutschland sowie deren psychisches Befinden untersucht und mit Benchmarkwerten einer großen Referenzstichprobe verglichen.
Methode
Die Datenbasis bildet eine repräsentative Onlinebefragung von Chirurgen in Deutschland, die über den Berufsverband der Deutschen Chirurgen angesprochen wurden. Insgesamt haben 643 Chirurgen aus unterschiedlichen Häusern und sämtlichen Fachgebieten an der Befragung, die aus validierten Messinstrumenten erstellt wurde, teilgenommen.
Ergebnisse
Für Chirurgen ist Zeitdruck generell ein hoch ausgeprägter Stressor. Darüber hinaus ergeben sich besonders für Assistenz- und Fachärzte ungünstige Belastungskombinationen aus hoher Unsicherheit bei der Zielerreichung und fehlenden Handlungsspielräumen, gepaart mit sehr hohen Erschöpfungswerten und niedriger Arbeitszufriedenheit. Zudem zeigt sich, dass Chirurgen aus Einzel- sowie Gemeinschaftspraxen sowie auch Medizinischen Versorgungszentren weniger Stressoren ausgesetzt sind und über mehr Ressourcen verfügen.
Schlussfolgerungen
Die Ergebnisse der Befragung legen nahe, dass in Deutschland von einem hohen Maß an Burn-out-Gefährdung bei Chirurgen ausgegangen werden muss, insbesondere bei Assistenz- und Fachärzten aus großen Häusern. Eine konzertierte Maßnahme aller Akteure des Gesundheitswesens ist notwendig, um eine hohe Qualität in den operativen Disziplinen aufrechtzuerhalten.
Abstract
Background
Psychological stress at work is associated with detrimental and health-impairing consequences for employees.
Objective
In this study major stress factors and the resource job control at the workplace of surgeons and facets of mental health were examined and compared to benchmark results of a large reference sample.
Method
Data were collected by a representative online survey among surgeons throughout Germany who were contacted via the Professional Association of German Surgeons. In total 643 surgeons from different organizations and different disciplines completed the questionnaire that was developed using well-validated instruments.
Results
Time pressure was the most meaningful stress factor for surgeons. Moreover, the results for medical assistants showed adverse stress combinations of high goal uncertainty and low job control as well as high emotional exhaustion and low job satisfaction. In addition, the results indicated that surgeons in single and group practices as well as in outpatient healthcare centers have less stressors and more job resources.
Conclusion
The survey results suggest high levels of burnout risk for German surgeons, especially among medical assistants and medical specialists from large hospitals. In order to maintain a high quality in the surgical disciplines, a concerted effort by all players in the healthcare system is necessary.
Access options
Buy single article
Instant access to the full article PDF.
US$ 39.95
Tax calculation will be finalised during checkout.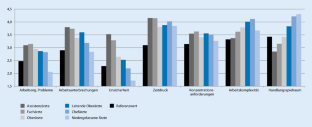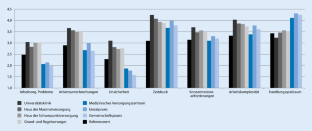 Literatur
1.

Angerer P, Gündel H, Siegrist K (2014) Stress: Psychosoziale Arbeitsbelastung und Risiken für kardiovaskuläre Erkrankungen sowie Depression. Dtsch Med Wochenschr 139:1315–1319. https://doi.org/10.1055/s-0034-1370112

2.

Ayanian JZ, Markel H (2016) Donabedian's lasting framework for health care quality. N Engl J Med 375:205–207. https://doi.org/10.1056/NEJMp1605101

3.

Bakker AB, Demerouti E (2007) The job demand-resources model: state of the art. J Manage Psychol 22:309–328. https://doi.org/10.1108/02683940710733115

4.

Bauer J, Groneberg DA (2015) Ärztliche Arbeitsbedingungen im Krankenhaus. Dtsch Med Wochenschr 37:150–158. https://doi.org/10.1055/s-0041-103165

5.

Bernburg M, Vitzthum K, Groneberg DA, Mache S (2016) Physicians' occupational stress, depressive symptoms and work ability in relation to their working environment: a cross-sectional study of differences among medical residents with various specialties working in German hospitals. BMJ 6:e11369. https://doi.org/10.1136/bmjopen-2016-011369

6.

Bohrer T, Koller M, Schlitt HJ, Bauer H (2011) Workload and quality of life of surgeons: results and implications of a large-scale survey by the German Society of Surgery. Langenbecks Arch Surg 396:669–676. https://doi.org/10.1007/s00423-011-0791-x

7.

Borgelt S, Metz A, Langer D (2016) Kulturwandel im Krankenhaus. Passion Chir 3:13–17

8.

Busse R, Ganten D, Huster S et al (2016) Leopoldina Gutachten. Deutsche Akademie der Naturforscher Leopoldina, Halle

9.

Büssing A, Glaser J (1998) Managerial stress und burnout. A collaborative international study (CISMS). Die deutsche Untersuchung. Berichte aus dem Lehrstuhl für Psychologie der TU München, Bd. 44. Technische Universität, München

10.

Cohen J (1988) Statistical power analysis for the behavioral sciences, 2. Aufl. L. Erlbaum Associates, Hillsdale https://doi.org/10.4324/9780203771587

11.

Conry MC, Humphries N, Morgan K et al (2012) A 10 year (2000–2010) systematic review of interventions to improve quality of care in hospitals. Bmc Health Serv Res 12(275). https://doi.org/10.1186/1472-6963-12-275

12.

DeCaporale-Ryan L, Sakran JV, Grant SB et al (2017) The undiagnosed pandemic: burnout and depression within the surgical community. Curr Probl Surg 54:453–502. https://doi.org/10.1067/j.cpsurg.2017.07.001

13.

Geurts SAE, Rutte C, Peeters M (1999) Antecedents and consequences of work-home interference among medical residents. Soc Sci Med 48:1135–1148

14.

Irmer JP, Kern M, Schermelleh-Engel K, Semmer NK, Zapf D (in press) The Instrument for Stress-Oriented Task Analysis ISTA: A meta-analysis. Zeitschrift für Arbeits- und Organisationspsychologie.

15.

Klein J, Frie KG, Blum K, Von Dem Knesebeck O (2011) Psychosocial stress at work and perceived quality of care among clinicians in surgery. Bmc Health Serv Res 11:109. https://doi.org/10.1186/1472-6963-11-109

16.

Von Dem Knesebeck O, Klein J, Grosse Frie K et al (2010) Psychosocial stress among hospital doctors in surgical fields: results of a nationwide survey Germany. Dtsch Arztebl Int 107:248–253

17.

Kohn LT, Corrigan JM, Donaldson MS (2000) To err is human. Epidemiol Infect. https://doi.org/10.1017/S095026880100509X

18.

Kunin T (1955) The construction of a new type of attitude measure. Pers Psychol 8:65–77. https://doi.org/10.1111/j.1744-6570.1955.tb01189.x

19.

Lee J, Lim N, Yang E, Lee SM (2011) Antecedents and consequences of three dimensions of burnout in psychotherapists: a meta-analysis. Prof Psychol Res Pr 42:252–258

20.

Lemaire JB, Wallace JE (2017) Burnout among doctors: a system level problem requiring a system level response. BMJ 358(j3360). https://doi.org/10.1136/bmj.j3360

21.

Maslach C, Jackson S (1984) Burnout in organizational settings. Appl Soc Psychol Annu 5:133–153

22.

Mohr G (1986) Die Erfassung psychischer Befindensbeeinträchtigungen bei Industriearbeitern. Peter Lang, Internationonaler Verlag der Wissenschaften, Frankfurt/Main

23.

Ryan RM, Deci EL (2000) Intrinsic and extrinsic motivations: classic definitions and new directions. Contemp Educ Psychol 25:54–67. https://doi.org/10.1006/ceps.1999.1020

24.

Schmid K, Drexler H, Fischmann W et al (2011) Welche Berufsgruppen an einem Klinikum sind besonders beansprucht? Dtsch Med Wochenschr 136:1517–1522. https://doi.org/10.1055/s-0031-1281547

25.

Semmer N, Zapf D, Dunckel H (1999) Instrument zur streßbezogenen Tätigkeitsanalyse ISTA. In: Dunckel H (Hrsg) Handb. Psychol. Arbeitsanalyseverfahren. VdF Hochschulverlag, Zürich, S 179–204

26.

Semmer NK, Beehr TA (2014) Job control and social aspects of work. In: Peeters MCW, de Jonge JTTW (Hrsg) An Introd. to Contemp. Work Psychol. Wiley-Blackwell, Chichester, S 171–195

27.

Semmer NK, Zapf D (2018) Theorien der Stressentstehung und -bewältigung. In: Fuchs R, Gerber M (Hrsg) Handb. Stress. und Sport. Springer, Berlin, Heidelberg, S 23–50

28.

Shanafelt TD, Balch CM, Bechamps GJ et al (2009) Burnout and career satisfaction among American surgeons. Ann Surg 250:463–471

29.

Shanafelt TD, Hasan O, Dyrbye LN et al (2015) Changes in burnout and satisfaction with work-life balance in physicians and the general US working population between 2011 and 2014. Mayo Clin Proc 90:1600–1613. https://doi.org/10.1016/j.mayocp.2015.08.023

30.

Shrime MG, Daniels KM, Meara JG (2015) How much surgery is enough? Aligning surgical delivery with best-performing health systems. Lancet 385(S13). https://doi.org/10.1016/S0140-6736(15)60808-X

31.

Thomas LR, Ripp JA, West CP (2018) Charter on physician well-being. JAMA 319:1541–1542. https://doi.org/10.1001/jama.2018.1331

32.

Vandenbroucke JP, von Elm E, Altman DG et al (2007) Strengthening the reporting of observational studies in epidemiology (STROBE): explanation and elaboration. Plos Med 4:1628–1654

33.

Wallace JE, Lemaire JB, Ghali WA (2009) Physician wellness: a missing quality indicator. Lancet:1714–1721. https://doi.org/10.1016/S0140-6736(09)61424-0

34.

Walther F, Küster D, Schmitt J (2018) Die Messung von Struktur‑, Prozess- und Ergebnisqualität. Zusammenhang und Interventionsmöglichkeiten der Qualitätsdimensionen in der Routineversorgung – Ein systematisches Review. Monit Versorgungsforsch:34–40. https://doi.org/10.24945/MVF.02.18.1866-0533.2071

35.

Wright AA, Katz IT (2018) Beyond burnout: redesigning care to restore meaning and sanity for physicians. N Engl J Med 378:309–311. https://doi.org/10.1056/NEJMp1716845

36.

Zapf D, Semmer NK (2004) Stress und Gesundheit in Organisationen. In: Schuler H (Hrsg) Organ. – Grundlagen und Pers. Enzyklopädie der Psychol. Themenbereich D, Ser. III, Bd. 3, S 1007–1112

37.

Zis P, Anagnostopoulos F, Sykioti P (2014) Burnout in medical residents: a study based on the job demands-resources model. Sci World J:1–10. https://doi.org/10.1155/2014/673279
Ethics declarations
Interessenkonflikt
M. Kern, A. Buia, C. Tonus, T.F. Weigel, R. Dittmar, E. Hanisch und D. Zapf geben an, dass kein Interessenkonflikt besteht.
Dieser Beitrag beinhaltet eine von den Autoren durchgeführte und vollständig anonymisierte Befragung von Personen und keine direkt an Menschen oder Tieren durchgeführte Studie.
About this article
Cite this article
Kern, M., Buia, A., Tonus, C. et al. Psychische Belastungen, Ressourcen und Wohlbefinden von Chirurgen in Deutschland. Chirurg 90, 576–584 (2019). https://doi.org/10.1007/s00104-018-0780-5
Schlüsselwörter
Psychische Belastung

Stress

Burn-out

Arbeitsbedingungen

Chirurgen
Keywords
Psychological stress

Strain

Burnout

Working conditions

Surgeons