Zusammenfassung
Retroperitoneale Paragangliome sind seltene Tumoren mit den Eigenschaften adrenaler Phäochromozytome. Sie kommen entweder sporadisch oder im Zusammenhang hereditärer Syndrome vor. Ihre Diagnostik umfasst endokrinologische Methoden und bildgebende Verfahren. Primäre Therapieoption ist die Operation, wobei aus unserer Sicht die minimal-invasiven Methoden als die Verfahren der ersten Wahl gelten. Dabei sollten infrarenale Paragangliome transperitoneal laparoskopisch entfernt werden und suprarenale Tumoren retroperitoneoskopisch angegangen werden.
Abstract
Retroperitoneal paragangliomas are rare tumors with the characteristics of adrenal pheochromocytomas. They may occur sporadically or in conjunction with hereditary syndromes. Diagnostic methods in paragangliomas include testing of catecholamine secretion and imaging procedures. The first choice treatment is surgical removal, which in the author's opinion is preferably by minimally invasive approaches. Infrarenal paragangliomas should be excised using a laparoscopic transabdominal procedure. For suprarenal tumors the retroperitoneoscopic approach should be used.
This is a preview of subscription content, log in to check access.
Access options
Buy single article
Instant access to the full article PDF.
US$ 39.95
Price includes VAT for USA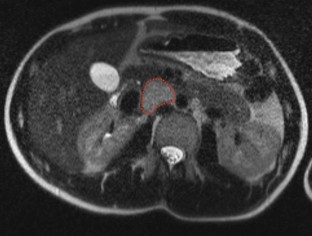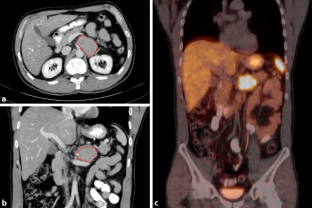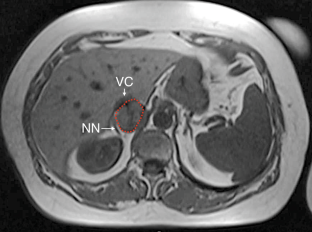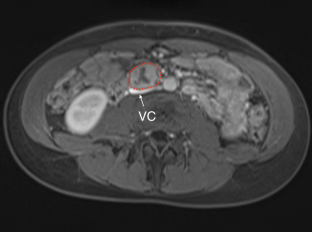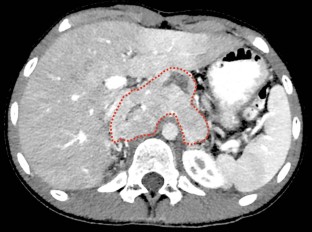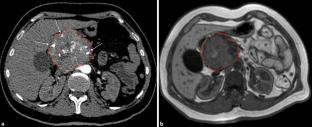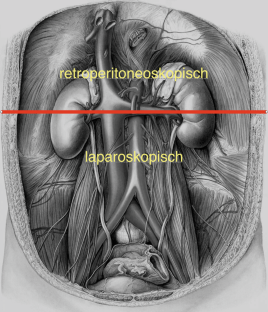 Literatur
1.

Babic B, Patel D, Aufforth R et al (2017) Pediatric patients with pheochromocytoma and paraganglioma should have routine preoperative genetic testing for common susceptibility genes in addition to imaging to detect extra-adrenal and metastatic tumors. Surgery 161:220–227

2.

Cochetti G, Barillaro F, Boni A et al (2014) Robot assisted laparoscopic excision of a paraganglioma: new therapeutic approach. Int Braz J Urol 40:279–280

3.

Di Daniele N, Canale MP, Tesauro M et al (2012) Preoperative embolization reduces the risk of cathecolamines release at the time of surgical excision of large pelvic extra-adrenal sympathetic paraganglioma. Case Rep Endocrinol 2012:481328

4.

Groeben H, Nottebaum BJ, Alesina PF et al (2017) Perioperative alpha-receptor blockade in phaeochromocytoma surgery: an observational case series. Br J Anaesth 118:182–189

5.

Houari N, Touzani S, Salhi H et al (2018) Retroperitoneal paraganglioma-induced cardiogenic shock rescued by preoperative arterial embolization. Case Rep Crit Care 2018:4058046

6.

Kumar S, Pragatheeswarane M, Sharma AP et al (2017) Expanding the horizon of robotic surgery to large pelvic paraganglioma. J Robot Surg 11:247–250

7.

Lenders JW, Duh QY, Eisenhofer G et al (2014) Pheochromocytoma and paraganglioma: an endocrine society clinical practice guideline. J Clin Endocrinol Metab 99:1915–1942

8.

Mitchell J, Siperstein A, Milas M et al (2011) Laparoscopic resection of abdominal paragangliomas. Surg Laparosc Endosc Percutan Tech 21:e48–e53

9.

Noda E, Ishikawa T, Maeda K et al (2008) Laparoscopic resection of periadrenal paraganglioma: a report of 2 cases. Surg Laparosc Endosc Percutan Tech 18:310–314

10.

O'riordain DS, Young WF Jr., Grant CS et al (1996) Clinical spectrum and outcome of functional extraadrenal paraganglioma. World J Surg 20:916–921

11.

Petersenn S, Unger N, Walz MK et al (2006) Diagnostic value of biochemical parameters in the differential diagnosis of an adrenal mass. Ann N Y Acad Sci 1073:348–357

12.

Walz MK (1998) Minimal-invasive Nebennierenchirurgie. Chirurg 69:613–620

13.

Walz MK, Alesina PF, Wenger FA et al (2006) Laparoscopic and retroperitoneoscopic treatment of pheochromocytomas and retroperitoneal paragangliomas: results of 161 tumors in 126 patients. World J Surg 30:899–908

14.

Walz MK, Iova LD, Deimel J et al (2018) Minimally invasive surgery (MIS) in children and adolescents with Pheochromocytomas and Retroperitoneal Paragangliomas: experiences in 42 patients. World J Surg 42:1024–1030

15.

Walz MK, Metz KA, Gorges R et al (2000) Endoscopic excision of extra-adrenal pheochromocytomas (paragangliomas). Chirurg 71:1504–1508

16.

Walz MK, Metz KA, Hellinger A et al (1997) Die Chirurgie primärer unilateraler Nebennierentumoren – Ergebnisse von 154 Patienten. Zentralbl Chir 122:481–486

17.

Walz MK, Peitgen K, Hoermann R et al (1996) Posterior retroperitoneoscopy as a new minimally invasive approach for adrenalectomy: results of 30 adrenalectomies in 27 patients. World J Surg 20:769–774

18.

Walz MK, Peitgen K, Neumann HP et al (2002) Endoscopic treatment of solitary, bilateral, multiple, and recurrent pheochromocytomas and paragangliomas. World J Surg 26:1005–1012

19.

Walz MK, Peitgen K, Walz MV et al (2001) Posterior retroperitoneoscopic adrenalectomy: lessons learned within five years. World J Surg 25:728–734

20.

Wang J, Li Y, Xiao N et al (2014) Retroperitoneoscopic resection of primary paraganglioma: single-center clinical experience and literature review. J Endourol 28:1345–1351

21.

Xia L, Xu T, Wang X et al (2016) Robot-assisted laparoscopic resection of large retroperitoneal paraganglioma—initial experience from China. Int J Med Robot 12:686–693

22.

Xu W, Li H, Ji Z et al (2015) Comparison of retroperitoneoscopic versus transperitoneoscopic resection of retroperitoneal paraganglioma: a control study of 74 cases at a single institution. Medicine (Baltimore) 94:e538
Ethics declarations
Interessenkonflikt
M.K. Walz gibt an, dass kein Interessenkonflikt besteht.
Dieser Beitrag beinhaltet keine von den Autoren durchgeführten Studien an Menschen oder Tieren.
Caption Electronic Supplementary Material
Video: "Minimal-invasive Chirurgie retroperitonealer Paragangliome" (© M.K. Walz, Essen)
About this article
Cite this article
Walz, M.K. Minimal-invasive Chirurgie retroperitonealer Paragangliome. Chirurg 90, 23–28 (2019). https://doi.org/10.1007/s00104-018-0752-9
Schlüsselwörter
Stresshormone

Operative Therapie

Nachbehandlung

Laparoskopie

Retroperitoneoskopie
Keywords
Stress hormones

Surgical treatment

Follow-up treatment

Laparoscopy

Retroperitonoscopy