Zusammenfassung
Die mikroskopische Identifikation von residuellem Tumor im Bereich des oralen oder aboralen Resektionsrandes im Resektat nach onkologischer Ösophagusresektion beim Ösophaguskarzinom (R1-Resektion) erhöht das Rezidivrisiko und die krankheitsbezogene Mortalität. Die Ösophagusresektion mit assoziierten Risiken macht somit nur Sinn, wenn sicher eine R0-Situation erzielt werden kann. Die Relevanz des mikroskopischen Befalls des "circumferential resection margin" (CRM) beim Ösophaguskarzinom in seinen unterschiedlichen Definitionen der britischen und der amerikanischen Gesellschaft für Pathologie wurde bisher in keiner prospektiven Studie untersucht. Gemäß deutscher S3-Leitlinie sollte bei postoperativ nachgewiesener R1-Situation, die nicht durch eine kurative Nachresektion in eine R0-Situation zu konvertieren ist, bzw. bei ungünstigen Bedingungen für eine Nachresektion unabhängig von einer neoadjuvanten Therapie eine Radiochemotherapie erfolgen. Liegt eine R1-Situation im Bereich des CRM vor, ist aufgrund der anatomischen Gegebenheiten mit entsprechenden Limitierungen durch Aorta und Wirbelsäule eine Nachresektion nicht einfach möglich im Gegensatz zu Ausweitungen der Resektionen nach oral oder aboral.
Abstract
The microscopic identification of residual tumor tissue in the oral or aboral resection margins (R1 resection) of esophageal specimens following oncologic esophageal resection, increases the risk of tumor recurrence and disease-related morbidity. Esophageal resection with its associated risks is only meaningful, if an R0 situation can be safely achieved. The relevance of microscopic involvement of the circumferential resection margin (CRM) in esophageal carcinoma in its different definitions by the British and the American Societies of Pathology has up to now never been investigated in a prospective study. According to the German S3 guideline, radiochemotherapy should be performed in a postoperatively proven R1 situation, which cannot be converted by a curative extended re-resection into an R0 situation or in unfavorable conditions for an extended re-resection, independent of neoadjuvant therapy. In the case of an R1 situation in the region of the CRM, an extended re-resection is not simply possible on account of the anatomical conditions with corresponding limitations by the aorta and the spinal column, in contrast to extensions of the re-resection orally or aborally.
Access options
Buy single article
Instant access to the full article PDF.
USD 39.95
Price includes VAT (USA)
Tax calculation will be finalised during checkout.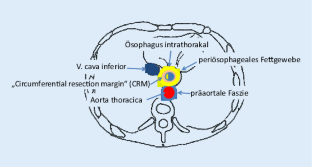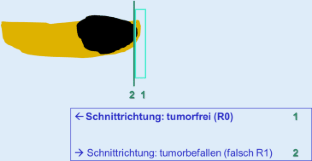 Literatur
1.

Porschen R, Buck A, Fischbach W, Gockel I, Görling U, Grenacher L, Hollerbach S, Hölscher A, Körber J, Messmann H, Meyer HJ, Miehlke A, Möhler M, Nöthlings U, Pech O, Schmidberger H, Schmidt M, Stahl M, Stuschke M, Thuss-Patience P, Trojan J, Vanhoefer U, Weimann A, Wenz F, Wullstein C (2015) S3-Leitlinie Diagnostik und Therapie der Plattenepithelkarzinome und Adenokarzinome des Ösophagus (Langversion 1.0 – September 2015, AWMF-Registriernummer: 021/023OL). Z Gastroenterol 53:1288–1347

2.

Markar SR, Gronnier C, Duhamel A, Pasquer A, Théreaux J, Chalret du Rieu M, Lefevre JH, Turner K, Luc G, Mariette C, FREGAT Working Group-FRENCH-AFC (2016) Significance of microscopically incomplete resection margin after esophagectomy for esophageal cancer. Ann Surg 263:712–718

3.

Wu J, Chen QX, Teng LS, Krasna MJ (2014) Prognostic significance of positive circumferential resection margin in esophageal cancer: a systematic review and meta-analysis. Ann Thorac Surg 97:446–453

4.

Law S, Arcilla C, Chu KM, Wong J (1998) The significance of histologically infiltrated resection margin after esophagectomy for esophageal cancer. Am J Surg 176:286–290

5.

Park JS, Huh JW, Park YA, Cho YB, Yun SH, Kim HC, Lee WY, Chun HK (2014) A circumferential resection margin of 1 mm is a negative prognostic factor in rectal cancer patients with and without neoadjuvant chemoradiotherapy. Dis Colon Rectum 57:933–940

6.

Gravante G, Hemingway D, Stephenson JA, Sharpe D, Osman A, Haines M, Pirjamali V, Sorge R, Yeung JM, Norwood M, Miller A, Boyle K (2016) Rectal cancers with microscopic circumferential resection margin involvement (R1 resections): survivals, patterns of recurrence, and prognostic factors. J Surg Oncol 114:642–648

7.

Sagar PM, Johnston D, McMahon MJ, Dixon MF, Quirke P (1993) Significance of circumferential resection margin involvement after oesophagectomy for cancer. Br J Surg 80:1386–1388

8.

Mapstone NP, on behalf of the RCPath Cancer Services Working Group (2007) Dataset for the histopathological reporting of oesophageal carcinoma, 2. Aufl. Royal College of Pathologists, London

9.

Brierley JD, Gospodarowciz MK, Wittekind C (2017) UICC TNM Classification of Malignant Tumours, 8. Aufl. Wiley-Blackwell, Oxford (Deutsche Übersetzung: Wittekind C (2017) TNM-Klassifikation maligner Tumoren, 8. Aufl. Wiley–VCH, Weinheim)

10.

American Joint Committee on Cancer (AJCC), Amin MB, Edge SB, Greene FL et al (Hrsg) (2017) Cancer staging manual, 8. Aufl. Springer, New York

11.

Wittekind C (2007) Problems with residual tumor classification, particularly R1. Chirurg 78:785–791

12.

Andreyev HJ, Norman AR, Oates J, Cunningham D (1998) Why do patients with weight loss have a worse outcome when undergoing chemotherapy for gastrointestinal malignancies? Eur J Cancer 34:503–509

13.

Mariette C, De Botton ML, Piessen G (2012) Surgery in esophageal and gastric cancer patients: What is the role for nutrition support in your daily practice? Ann Surg Oncol 19:2128–2134

14.

Orringer MB, Marshall B, Chang AC, Lee J, Pickens A, Lau CL (2007) Two thousand transhiatal esophagectomies: changing trends, lessons learned. Ann Surg 246:363–372 (discussion: 372–374)

15.

Lewis I (1946) The surgical treatment of carcinoma of the esophagus with special reference to a new operation for growths of the middle third. Br J Surg 34:18–31

16.

McKeown KC (1976) Total three-stage oesophagectomy for cancer of the oesophagus. Br J Surg 63:259–262

17.

Papachristou DN, Agnanti N, D'Agostino H, Fortner JG (1980) Histologically positive esophageal margin in the surgical treatment of gastric cancer. Am J Surg 139:711–713

18.

Bozzetti F, Bignami P, Bertario L, Fissi S, Eboli M (2000) Surgical treatment of gastric cancer invading the oesophagus. Eur J Surg Oncol 26:810–814

19.

Sakaguchi T, Watanabe A, Sawada H, Yamada Y, Tatsumi M, Fujimoto H, Emoto K, Nakano H (1998) Characteristics and clinical outcome of proximal-third gastric cancer. J Am Coll Surg 187:352–357

20.

Hulscher JB, van Sandick JW, de Boer AG, Wijnhoven BP, Tijssen JG, Fockens P, Stalmeier PF, ten Kate FJ, van Dekken H, Obertop H, Tilanus HW, van Lanschot JJ (2002) Extended transthoracic resection compared with limited transhiatal resection for adenocarcinoma of the esophagus. N Engl J Med 347:1662–1669

21.

Omloo JM, Lagarde SM, Hulscher JB, Reitsma JB, Fockens P, van Dekken H, Ten Kate FJ, Obertop H, Tilanus HW, van Lanschot JJ (2007) Extended transthoracic resection compared with limited transhiatal resection for adenocarcinoma of the mid/distal esophagus: five-year survival of a randomized clinical trial. Ann Surg 246:992–1000 (discussion: 1000–1001)

22.

Barbour AP, Rizk NP, Gonen M, Tang L, Bains MS, Rusch VW, Coit DG, Brennan MF (2007) Adenocarcinoma of the gastroesophageal junction. Influence of esophageal resection margin and operative approach on outcome. Ann Surg 246:1–8

23.

Fok M, Sham JS, Choy D, Cheng SW, Wong J (1993) Postoperative radiotherapy for carcinoma of the esophagus: a prospective, randomized controlled study. Surgery 113:138–147

24.

Teniere P, Hay JM, Fingerhut A, Fagniez PL (1991) Postoperative radiation therapy does not increase survival after curative resection for squamous cell carcinoma of the middle and lower esophagus as shown by a multicenter controlled trial. French University Association for Surgical Research. Surg Gynecol Obstet 173:123–130

25.

Qiu B, Li J, Wang B, Wang Z, Liang Y, Cai P, Chen Z, Liu M, Fu J, Yang H, Liu H (2017) Adjuvant therapy for a microscopically incomplete resection margin after an esophagectomy for esophageal squamous cell carcinoma. J Cancer 8:249–257

26.

Cabau M, Luc G, Terrebonne E, Belleanne G, Vendrely V, Sa Cunha A, Collet D (2013) Lymph node invasion might have more prognostic impact than R status in advanced esophageal adenocarcinoma. Am J Surg 205:711–717

27.

Mariette C, Piessen G, Briez N, Gronnier C, Triboulet JP (2011) Oesophagogastric junction adenocarcinoma: which therapeutic approach? Lancet Oncol 12:296–305

28.

Harvin JA, Lahat G, Correa AM, Lee J, Maru D, Ajani J, Marom EM, Welsh J, Bhutani MS, Walsh G, Roth J, Mehran R, Vaporciyan A, Rice D, Swisher S, Hofstetter W (2012) Neoadjuvant chemoradiotherapy followed by surgery for esophageal adenocarcinoma: significance of microscopically positive circumferential radial margins. J Thorac Cardiovasc Surg 143:412–420

29.

Pultrum BB, Honing J, Smit JK, van Dullemen HM, van Dam GM, Groen H, Hollema H, Plukker JT (2010) A critical appraisal of circumferential resection margins in esophageal carcinoma. Ann Surg Oncol 17:812–820

30.

O'Neill JR, Stephens NA, Save V, Kamel HM, Phillips HA, Driscoll PJ, Paterson-Brown S (2013) Defining a positive circumferential resection margin in oesophageal cancer and its implications for adjuvant treatment. Br J Surg 100:1055–1063

31.

O'Farrell NJ, Donohoe CL, Muldoon C, Costelloe JM, King S, Ravi N, Reynolds JV (2013) Lack of independent significance of a close (<1 mm) circumferential resection margin involvement in esophageal and junctional cancer. Ann Surg Oncol 20:2727–2733

32.

Gertler R, Richter J, Stecher L, Nitsche U, Feith M (2016) What to do after R1-resection of adenocarcinomas of the esophagogastric junction? J Surg Oncol 114:428–433

33.

Makino T, Yamasaki M, Miyata H, Tanaka K, Takahashi T, Kurokawa Y, Nakajima K, Takiguchi S, Mori M, Doki Y (2016) Solitary lymph node recurrence of esophageal squamous cell carcinoma: surgical failure or systemic disease? Ann Surg Oncol 23:2087–2093

34.

Bao Y, Liu S, Zhou Q, Cai P, Anfossi S, Li Q, Hu Y, Liu M, Fu J, Rong T, Li Q, Liu H (2013) Three-dimensional conformal radiotherapy with concurrent chemotherapy for postoperative recurrence of esophageal squamous cell carcinoma: clinical efficacy and failure pattern. Radiat Oncol 8:241

35.

Ma DY, Tan BX, Liu M, Li XF, Zhou YQ, Lu Y (2014) Concurrent three-dimensional conformal radiotherapy and chemotherapy for postoperative recurrence of mediastinal lymph node metastases in patients with esophageal squamous cell carcinoma: a phase 2 single-institution study. Radiat Oncol 9:28

36.

Fakhrian K, Gamisch N, Schuster T, Thamm R, Molls M, Geinitz H (2012) Salvage radiotherapy in patients with recurrent esophageal carcinoma. Strahlenther Onkol 188:136–142

37.

Sudo K, Taketa T, Correa AM, Campagna MC, Wadhwa R, Blum MA, Komaki R, Lee JH, Bhutani MS, Weston B, Skinner HD, Maru DM, Rice DC, Swisher SG, Hofstetter WL, Ajani JA (2013) Locoregional failure rate after preoperative chemoradiation of esophageal adenocarcinoma and the outcomes of salvage strategies. J Clin Oncol 31:4306–4310
Ethics declarations
Interessenkonflikt
I. Gockel und C. Wittekind geben an, dass kein Interessenkonflikt besteht.
Dieser Beitrag beinhaltet keine von den Autoren durchgeführten Studien an Menschen oder Tieren.
About this article
Cite this article
Gockel, I., Wittekind, C. R1-Resektion beim Ösophaguskarzinom. Chirurg 88, 748–755 (2017). https://doi.org/10.1007/s00104-017-0469-1
Schlüsselwörter
Ösophagektomie

Nachresektion

Radiochemotherapie

Lokalrezidiv

Prognose
Keywords
Esophagectomy

Re-resection

Radiochemotherapy

Local recurrence

Prognosis