Zusammenfassung
Hintergrund
Für die Virtual-reality-Laparoskopie-Simulation (VRL) wurde ein neues, hochimmersives Simulationsmodul entwickelt. Ziel der Pilotstudie war es zu untersuchen, ob Kinetosen oder andere negative vegetative Effekte durch ein totales virtuelles Trainingssetup (TVRL) hervorgerufen werden.
Methoden
Zwanzig Studienteilnehmer unterschiedlicher Ausbildungsstufen führten 3 Übungen (Ringtausch, feine Dissektion, Cholezystektomie) im regulären VRL und im immersiven Modus (TVRL; "head mounted displays", HMDs) am Laparoskopiesimulator durch. Neben der Leistungsanalyse wurde die Herzfrequenz erfasst und das Auftreten von Bewegungsschwindel validiert erfragt.
Ergebnisse
Die operative Leistung war vom Modus der VRL unabhängig. Die Herzfrequenz der Probanden war in der TVRL-Umgebung kontinuierlich erhöht, ohne statistische Signifikanz zu erreichen. Bei 2 Probanden (10 %) mit einer Vorbelastung hinsichtlich Kinetosen traten vegetative Nebenwirkungen auf.
Schlussfolgerung
Mit einer praxisorientierten hochimmersiven VR-Umgebung ergeben sich neue Perspektiven für die chirurgische Weiterbildung. Das total virtuelle Laparoskopietraining in audiovisuell realitätsnaher Atmosphäre kann bei anfälligen Anwendern Kinetosen hervorrufen.
Abstract
Background
For virtual reality laparosopic simulation we developed a new, highly immersive simulation mode. The goal of the current pilot study was to investigate if kinetosis or other negative vegetative side effects can be caused by a total virtual training set-up (TVRL).
Methods
In this study 20 participants with varying degrees of expertise in laparoscopy performed 3 tasks (i.e. ring exchange, fine dissection and cholecystectomy) in regular (VRL) and immersive mode (TVRL) with a head-mounted display (HMD) on a laparoscopic simulator. Aside from performance scores, the heart rate was recorded and the occurrence of vertigo was investigated.
Results
Surgical performance was independent of the VR mode (VRL or TVRL). Participants' heart rate was higher in TVRL without reaching statistical significance. Kinetosis occurred in two participants (10%) with a history of motion sickness.
Conclusion
Laparoscopic training can take place in a total virtual environment with limited nagative vegetative side effects. Special attention should be paid to participants with a history of motion sickness. The development of TVRL enables new perspectives for surgical training.
This is a preview of subscription content, log in to check access.
Access options
Buy single article
Instant access to the full article PDF.
US$ 39.95
Tax calculation will be finalised during checkout.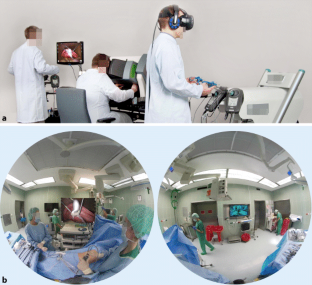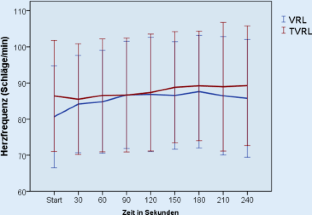 Literatur
1.

Huber T, Paschold M, Bartsch F, Lang H, Kneist W (2016) Weiterbildungseingriff Appendektomie. Chirurg 87(4):326–331. doi:10.1007/s00104-015-0122-9

2.

Nickel F, Kowalewski K‑F, Müller-Stich BP (2015) Risikobewusstsein und Training zur Prävention von Komplikationen in der minimal-invasiven Chirurgie. Chirurg 86(12):1121–1127. doi:10.1007/s00104-015-0097-6

3.

Huber T, Kirschniak A, Johannink J (2017) Umfrage zum Training laparoskopischer Fertigkeiten in Deutschland. Zentralbl Chir 142(1):67–71. doi:10.1055/s-0042-116327

4.

Feußner H, Ostler D, Kohn N, Vogel T, Wilhelm D, Koller S, Kranzfelder M (2016) Umfassende Systemintegration und Vernetzung im Operationssaal. Chirurg 87(12):1002–1007. doi:10.1007/s00104-016-0324-9

5.

Satava RM (1993) 3‑D vision technology applied to advanced minimally invasive surgery systems. Surg Endosc 7(5):429–431

6.

Nararro-Haro MV, Hoffman HG, Garcia-Palacios A, Sampaio M, Alhalabi W, Hall K, Linehan M (2016) The use of virtual reality to facilitate mindfulness skills training in dialectical behavioral therapy for borderline personality disorder: a case study. Front Psychol 7:1573. doi:10.3389/fpsyg.2016.01573

7.

Schmitt YS, Hoffman HG, Blough DK, Patterson DR, Jensen MP, Soltani M, Carrougher GJ, Nakamura D, Sharar SR (2011) A randomized, controlled trial of Immersive virtual reality analgesia during physical therapy for pediatric burn injuries. Burns 37(1):61–68. doi:10.1016/j.burns.2010.07.007

8.

Huber T, Paschold M, Hansen C, Wunderling T, Lang H, Kneist W (2017) New dimensions in surgical training: immersive virtual reality laparoscopic simulation exhilarates surgical staff. Surg Endosc. doi:10.1007/s00464-017-5500-6

9.

Madary M, Metzinger TK (2016) Real Virtuality: a code of ethical conduct. recommendations for good scientific practice and the consumers of VR-technology. Front Robot AI. doi:10.3389/frobt.2016.00003

10.

Keshavarz B, Hecht H (2011) Validating an efficient method to quantify motion sickness. Hum Factors 53(4):415–426. doi:10.1177/0018720811403736

11.

Paschold M, Huber T, Kauff DW, Buchheim K, Lang H, Kneist W (2014) Preconditioning in laparoscopic surgery – results of a virtual reality pilot study. Langenbecks Arch Surg 399(7):889–895. doi:10.1007/s00423-014-1224-4

12.

Nichols S, Haldane C, Wilson JR (2000) Measurement of presence and its consequences in virtual environments. Int J Hum Comput Stud 52(3):471–491. doi:10.1006/ijhc.1999.0343

13.

Nagendran M, Gurusamy KS, Aggarwal R, Loizidou M, Davidson BR (2013) Virtual reality training for surgical trainees in laparoscopic surgery. Cochrane Database Syst Rev 8:CD006575. doi:10.1002/14651858.CD006575.pub3

14.

Arora S, Tierney T, Sevdalis N, Aggarwal R, Nestel D, Woloshynowych M, Darzi A, Kneebone R (2010) The Imperial Stress Assessment Tool (ISAT): a feasible, reliable and valid approach to measuring stress in the operating room. World J Surg 34(8):1756–1763. doi:10.1007/s00268-010-0559-4

15.

Schuetz M, Gockel I, Beardi J, Hakman P, Dunschede F, Moenk S, Heinrichs W, Junginger T (2008) Three different types of surgeon-specific stress reactions identified by laparoscopic simulation in a virtual scenario. Surg Endosc 22(5):1263–1267. doi:10.1007/s00464-007-9605-1

16.

Palter VN, Grantcharov TP (2014) Individualized deliberate practice on a virtual reality simulator improves technical performance of surgical novices in the operating room: a randomized controlled trial. Ann Surg 259(3):443–448. doi:10.1097/SLA.0000000000000254

17.

Koslucher F, Haaland E, Malsch A, Webeler J, Stoffregen TA (2015) Sex differences in the incidence of motion sickness induced by linear visual oscillation. Aerosp Med Hum Perform 86(9):787–793. doi:10.3357/AMHP.4243.2015
Danksagung
Die Autoren danken A. Poplawski, Institut für Medizinische Biometrie, Epidemiologie und Informatik, Johannes Gutenberg-Universität, Mainz, und H. Hecht, Psychologisches Institut, Abteilung für Allgemeine und experimentelle Psychologie, Johannes Gutenberg-Universität, Mainz, für ihre wertvollen Hinweise.
Förderung
Die Arbeit wurde im Rahmen eines MAICUM-Projekts (Mainzer Curriculum Medizin) sowie durch eine inneruniversitäre Forschungsförderung finanziell von der Universitätsmedizin Mainz unterstützt. Finanzielle Mittel wurden auch durch die Universität Magdeburg im Rahmen eines Lehrprojektes bereitgestellt.
Ethics declarations
Interessenkonflikt
T. Huber, M. Paschold, C. Hansen, H. Lang und W. Kneist geben an, dass kein Interessenkonflikt besteht.
Alle beschriebenen Untersuchungen am Menschen wurden mit Zustimmung der zuständigen Ethik-Kommission, im Einklang mit nationalem Recht sowie gemäß der Deklaration von Helsinki von 1975 (in der aktuellen, überarbeiteten Fassung) durchgeführt. Die teilnehmenden Probanden gaben nach einer Information über den Studienablauf ihr Einverständnis. Die Studie wurde durch die Ethikkommission der Landesärztekammer Rheinland-Pfalz genehmigt.
Caption Electronic Supplementary Material
Das Kurzvideo verdeutlicht den Aufbau eines hochimmersiven VR-Simulationsmoduls. In eine 360°-Operationsumgebung wird eine Simulationsübung zur laparoskopischen Cholezystektomie integriert.
About this article
Cite this article
Huber, T., Paschold, M., Hansen, C. et al. "Ich laparoskopier' dann woanders weiter". Chirurg 88, 956–960 (2017). https://doi.org/10.1007/s00104-017-0465-5
Schlüsselwörter
Virtuelle Realität

Immersion

Laparoskopie

Minimalinvasive Chirurgie

Chirurgische Weiterbildung
Keywords
Virtual reality

Immersion

Laparoscopy

Minimally invasive surgical procedures

Surgical education