Zusammenfassung
Die gefäßchirurgische Versorgung des alten Menschen stellt uns heutzutage vor neue, große Herausforderungen. Dem demographischen Wandel folgend werden auch die Patienten in der Gefäßchirurgie immer älter und kränker. Neben der eigentlichen gefäßchirurgischen Pathologie bringt der Durchschnittspatient meist noch eine ganze Reihe von Nebendiagnosen mit, welche entscheidenden Einfluss auf die perioperative Planung, die Operation und das Outcome des Patienten haben. Die Therapieplanung wird immer mehr zur Herausforderung, denn einerseits ist vor allem durch den Fortschritt der endovaskulären Chirurgie dem Machbaren bald keine Grenze mehr gesetzt. Andererseits stellt sich die Frage: Ist das Mögliche auch sinnvoll? Im Rahmen dieses Artikels sollen die Probleme bei der Behandlung alter Patienten dargestellt werden sowie Strategien zur Planung und Festlegung einer individualisierten optimalen Therapie vorgestellt werden.
Abstract
Nowadays vascular treatment of the elderly is a great challenge. Following the demographic change patients in the field of vascular surgery are becoming older and sicker. In addition to the actual main vascular pathology, the average patient arrives with a series of additional diagnoses that have an impact on the perioperative strategy, surgery and outcome of patients. This strategy becomes more and more challenging because on one hand there will be soon be no limits to treatment, which is attributable to the progress in endovascular surgery and on the other hand the question arises whether the feasible is reasonable? Within the scope of this article the problems of treatment of the elderly are presented and strategies and decisions for an individualized optimal therapy are proposed.
This is a preview of subscription content, log in to check access.
Access options
Buy single article
Instant access to the full article PDF.
US$ 39.95
Tax calculation will be finalised during checkout.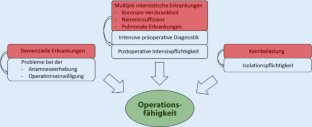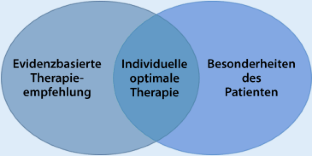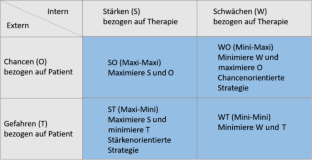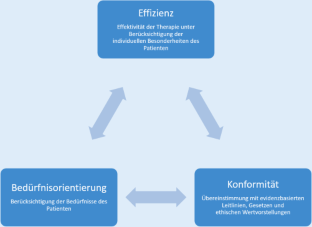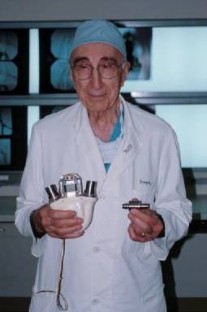 Literatur
1.

http://www.gbe-bund.de/gbe10/i?i=524:20558768D. Zugegriffen: 20.12.2016

2.

Böhm K, Tesch-Römer C, Ziese T (2009) Gesundheit und Krankheit im Alter: Beiträge zur Gesundheitsberichterstattung des Bundes. Robert Koch-Institut, Berlin

3.

Eckstein HH, Knipfer E, Trenner M et al (2014) Epidemiologie und Behandlung der PAVK und der akuten Extremitätenischämie in deutschen Krankenhäusern von 2005 bis 2012. Gefässchirurgie 19:117–126. doi:10.1007/s00772-013-1267-9

4.

Statistisches Bundesamt (2015) Gesundheit – Fallpauschalenbezogene Krankenhausstatistik (DRG-Statistik) Diagnosen, Prozeduren, Fallpauschalen und Case Mix der vollstationären Patientinnen und Patienten in Krankenhäusern. Destatis 12(2):1–88

5.

Statistisches Bundesamt (2003) Bevölkerung Deutschlands bis 2050. 10. koordinierte Bevölkerungsvorausberechnung. Statistisches Bundesamt, Wiesbaden

6.

Bickel H (2002) Stand der Epidemiologie. In: Hallauer JF, Kurz A (Hrsg) Weißbuch Demenz. Versorgungssituation relevanter Demenzerkrankungen in Deutschland. Thieme, Stuttgart, S 10–14

7.

Bickel H (2005) Epidemiologie und Gesundheitsökonomie. In: Wallesch CW, Förstl H (Hrsg) Demenzen. Referenzreihe Neurologie. Thieme, Stuttgart, S 1–15

8.

Ott E, Saathoff S, Graf K et al (2013) Prävalenz von nosokomialen und mitgebrachten Infektionen in einer Universitätsklinik: Eine Beobachtungsstudie. Dtsch Ärztebl Int 110:533–540. doi:10.3238/arztebl.2013.0533

9.

Robert Koch-Institut, Statistisches Bundesamt (2002) Gesundheitsberichterstattung des Bundes Heft 8 – Nosokomiale Infektionen. RKI, Berlin doi:10.1007/s00063-005-1036-y

10.

Cowie SE, Ma I, Lee SK, Smith RM, Hsiang YN (2005) Nosocomial MRSA infection in vascular Nosocomial MRSA infection in vascular surgery patients: impact on patient outcome. Vasc Endovascular Surg 39(4):327–334. doi:10.1177/153857440503900404

11.

Mohanty S, Rostenthal RA, Russell MM et al (2016) Optimal preoperative mangement of the geriatric patient: best practices guideline from ACS NSQIP®/American Geriatrics Society. American College of Surgeons, Chicago

12.

Spies CD, Breuer JP, Gust R et al (2003) Präoperative Nahrungskarenz: Ein update. Anaesthesist 52:1039–1045. doi:10.1007/s00101-003-0573-0

13.

Luhmann N (2001) Legitimation durch Verfahren, 6. Aufl. Suhrkamp, Frankfurt am Main. ISBN 3518280430

14.

Buttery AK, Busch MA, Gaertner B et al (2015) Prevalence and correlates of frailty among older adults: findings from the German health interview and examination survey. BMC Geriatr 15:22. doi:10.1186/s12877-015-0022-3

15.

Partridge JSL, Fuller M, Harari D et al (2015) Frailty and poor functional status are common in arterial vascular surgical patients and affect postoperative outcomes. Int J Surg 18:57–63. doi:10.1016/j.ijsu.2015.04.037

16.

Lin H‑S, Watts JN, Peel NM, Hubbard RE (2016) Frailty and post-operative outcomes in older surgical patients: a systematic review. BMC Geriatr 16:157. doi:10.1186/s12877-016-0329-8

17.

Buigues C, Juarros-Folgado P, Fernández-Garrido J et al (2015) Frailty syndrome and pre-operative risk evaluation: a systematic review. Arch Gerontol Geriatr 61:309–321. doi:10.1016/j.archger.2015.08.002

18.

http://geriatricresearch.medicine.dal.ca/clinical_frailty_scale.htm. Zugegriffen: 20.12.2016

19.

Kim S‑W, Han H‑S, Jung H‑W et al (2014) Multidimensional frailty score for the prediction of postoperative mortality risk. JAMA Surg 149:633–640. doi:10.1001/jamasurg.2014.241

20.

Schopenhauer A (1851) Kapitel 1: Grundeinteilung. In: Aphorismen zur Lebensweisheit. Parerga und Paralipomena, Bd. 1. A. W. Hayn, Berlin, S 1788–1860

21.

von Kodolitsch Y, Bernhardt AM, Kölbel T et al (2015) Maximizing therapeutic success: the key concepts of individualized medical strategy (IMS). Cogent Med 2:1109742. doi:10.1080/2331205X.2015.1109742

22.

Sachweh A, von Kodolitsch Y, Kölbel T et al (2016) I‑SWOT als Instrument zur individuell optimierten Therapie bei thorakoabdominalem Aortenaneurysma. Gefässchirurgie 21:307–316. doi:10.1007/s00772-016-0178-y

23.

Tsilimparis N, Perez S, Dayama A, Ricotta JJ (2012) Age-stratified results from 20,095 aortoiliac aneurysm repairs: should we approach octogenarians and nonagenarians differently? J Am Coll Surg 215:690–701. doi:10.1016/j.jamcollsurg.2012.06.411

24.

Debus ES, Torsello G, Behrendt C‑A et al (2015) Perioperative Letalität bei der Versorgung abdomineller Aortenaneurysmen in Deutschland. Chirurg 86:1041–1050. doi:10.1007/s00104-015-0087-8

25.

Rieß HC, Kölbel T, Rohlffs F et al (2016) Der Patient über 90 Jahre: Behnadlungsstrategien bei intakten und rupturierten Aortenaneurysma. Chir Allg 17(9):1–5

26.

Rockwood K (2009) Clinical Frailty Scale. Dalhousie University, Halifax
Ethics declarations
Interessenkonflikt
M. Kaschwich, Y. von Kodolitsch, N. Tsilimparis, C. A. Behrendt, A. Sachweh und E. S. Debus geben an, dass kein Interessenkonflikt besteht.
Dieser Beitrag beinhaltet keine von den Autoren durchgeführten Studien an Menschen oder Tieren.
About this article
Cite this article
Kaschwich, M., von Kodolitsch, Y., Tsilimparis, N. et al. Gefäßchirurgie bei alten Menschen. Chirurg 88, 116–122 (2017). https://doi.org/10.1007/s00104-016-0341-8
Schlüsselwörter
Geriatrie

individualisierte Therapie

Komorbidität

Atherosklerose

I-SWOT
Keywords
Geriatrics

individualized Therapy

Comorbidities

Atherosclerosis

I-SWOT