Zusammenfassung
Patienten mit Hochrisikoweichteilsarkomen (FNCLCC-Grad 2–3, > 5 cm und tief gelegen) haben ein hohes Risiko sowohl für das Auftreten eines Lokalrezidivs als auch von Fernmetastasen trotz bestmöglicher Tumorresektion. Es sollte daher ein multimodales Vorgehen für die Therapie dieser prognostisch ungünstigen Tumoren gewählt werden. Neben Chirurgie, Strahlentherapie und Chemotherapie bildet die Hyperthermie die 4. Säule im Kontext multimodaler Behandlungskonzepte. Hyperthermie meint dabei die über Mikrowelleneinstrahlung möglichst selektive Erwärmung der tumortragenden Region auf Temperaturen von 40–43 °C für eine Zeitdauer von 60 min in Ergänzung zu einer simultanen Chemotherapie oder Strahlentherapie. In einer randomisierten Phase-III-Studie konnte durch die Hinzunahme der Hyperthermie zu einer neoadjuvanten Chemotherapie eine deutliche Verbesserung des Tumoransprechens verbunden mit einem sehr niedrigen Risiko der Frühprogression gegenüber alleiniger Chemotherapie gezeigt werden. Die Hinzunahme der Hyperthermie zu einer multimodalen Therapie bei Patienten mit Hochrisikoweichteilsarkomen, bestehend aus Chirurgie, Strahlentherapie und Chemotherapie, entweder neoadjuvant oder auch adjuvant nach einer unvollständigen bzw. marginalen Tumorresektion, führten zu einer signifikanten Verbesserung des lokalrezidiv- und krankheitsfreien Überlebens. Basierend auf diesen Ergebnissen und in Verbindung mit der nur moderaten zusätzlichen Belastung des Patienten durch eine Hyperthermiebehandlung sollte der Einsatz dieses Verfahrens in Kombination mit einer Chemotherapie im Rahmen multimodaler Therapieansätze als Standardtherapieoption erwogen werden.
Abstract
Patients with high-risk soft tissue sarcomas (FNCLCC grades 2–3, > 5 cm and deep lying) are at a high risk of local recurrence or distant metastases despite optimal surgical tumor resection. Therefore, multimodal treatment should be considered for this difficult to treat patient group. Besides surgery, radiation therapy and chemotherapy, hyperthermia has become a valid, complementary treatment option within multimodal treatment concepts. Hyperthermia in this context means the selective heating of the tumor region to temperatures of 40–43 °C for 60 min by microwave radiation in addition to simultaneous chemotherapy or radiation therapy. A randomized phase III study demonstrated that the addition of hyperthermia to neoadjuvant chemotherapy improved tumor response and was associated with a minimal risk of early disease progression as compared to chemotherapy alone. The addition of hyperthermia to a multimodal treatment regimen for high-risk soft tissue sarcoma consisting of surgery, radiation therapy and chemotherapy, either in the neoadjuvant or adjuvant setting after incomplete or marginal tumor resection, significantly improved local progression-free and disease-free survival. Based on these results and due to the generally good tolerability of hyperthermia, this treatment method in combination with chemotherapy should be considered as a standard treatment option within multimodal treatment approaches for locally advanced high-risk soft tissue sarcoma.
This is a preview of subscription content, log in to check access.
Access options
Buy single article
Instant access to the full article PDF.
US$ 39.95
Price includes VAT for USA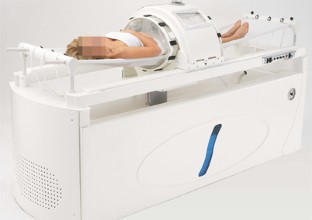 Literatur
1.

ESMO/European Sarcoma Network Working Group (2012) Soft tissue and visceral sarcomas: ESMO clinical practice guidelines for diagnosis, treatment and follow-up. Ann Oncol 23(Suppl 7):92–99

2.

http://www.dgho-onkopedia.de/de/onkopedia/leitlinien/weichteilsarkome

3.

Pisters PWT, Patel SR, Varma DGK (1997) Preoperative chemotherapy for stage IIIB extremity soft tissue sarcoma: long-term results from a single institution. J Clin Oncol 15:3481–3487

4.

Meric F, Hess KR, Varma DGK (2002) Radiographic response to neoadjuvant chemotherapy is a predictor of local control and survival in soft tissue sarcomas. Cancer 95:1120–1126

5.

Gortzak E, Azzarelli A, Buesa J (2001) A randomized phase II study on neo-adjuvant chemotherapy in high risk adult soft tissue sarcoma. Eur J Cancer 37:1096–1103

6.

Kraybill WG, Harris J, Spiro IJ (2006) Phase II study of neoadjuvant chemotherapy and radiation therapy in the management of high-risk, high-grade, soft tissue sarcomas of the extremities and body wall: radiation Therapy Oncology Group Trial 9514. J Clin Oncol 24:619–625

7.

Lewis JJ, Leung D, Woodruff JM, Brennan MF (1998) Retroperitoneal soft-tissue sarcoma: analysis of 500 patients treated and followed at a single institution. Ann Surg 228:355–365

8.

o A (1997) Adjuvant chemotherapy for localised resectable soft-tissue sarcoma of adults: meta-analysis of individual data. Sarcoma Meta-analysis Collaboration. Lancet 350:1647–1654

9.

Pervaiz N, Colterjohn N, Farrokhyar F et al (2008) A systematic meta-analysis of randomized controlled trials of adjuvant chemotherapy for localized resectable soft-tissue sarcoma. Cancer 113:573–581

10.

Frustaci S, Gherlinzoni F, De Paoli A et al (2001) Adjuvant chemotherapy for adult soft tissue sarcomas of the extremities and girdles: results of the Italian randomized cooperative trial. J Clin Oncol 19:1238–1247

11.

Frustaci S, Berretta M, Comandone A et al (2006) Adjuvant treatment of high-risk adult soft tissue sarcomas: a survey by the Italian Sarcoma Group. Tumori 92:92–97

12.

Gronchi A, Frustaci S, Mercuri M et al (2012) Short, full-dose adjuvant chemotherapy in high-risk adult soft tissue sarcomas: a randomized clinical trial from the Italian Sarcoma Group and the Spanish Sarcoma Group. J Clin Oncol 30:850–856

13.

Woll PJ, Reichardt P, Le Cesne A et al (2012) Adjuvant chemotherapy with doxorubicin, ifosfamide, and lenograstim for resected soft-tissue sarcoma (EORTC 62931): a multicentre randomised controlled trial. Lancet Oncol 13:1045–1054

14.

Italiano A, Delva F, Mathoulin-Pelissier S et al (2010) Effect of adjuvant chemotherapy on survival in FNCLCC grade 3 soft tissue sarcomas: a multivariate analysis of the French Sarcoma Group Database. Ann Oncol 21:2436–2441

15.

Issels RD (2008) Hyperthermia adds to chemotherapy. Eur J Cancer 44:2546–2554

16.

Issels RD, Lindner LH, Verweij J et al (2010) Neo-adjuvant chemotherapy alone or with regional hyperthermia for localised high-risk soft-tissue sarcoma: a randomised phase 3 multicentre study. Lancet Oncol 11:561–670

17.

Angele M, Albertsmeier M, Hohenberger P et al (2014) Comparative effectiveness of chemotherapy with or without regional hyperthermia for high-risk visceral soft tissue sarcoma after complete resection: a randomized phase 3 multicentre study. European Surgical Association, Meeting Abstract Nr. 131, 24.–26.04.2014 in Athens

18.

Wust P, Hildebrandt B, Sreenivasa G et al (2002) Hyperthermia in combined treatment of cancer. Lancet Oncol 3:487–497

19.

Aubele PO, Kampmann E, Schuebbe G et al (2012) Comparison of two chemotherapy regimens (AI vs. EIA) combined with regional hyperhermia (RHT) in high-risk soft-tissue sarcoma (HR-STS). Ann Oncol 23(Suppl 9):1505P (Abstract ESMO 2012)
Einhaltung ethischer Richtlinien
Interessenkonflikt. L.H. Lindner, M. Angele, H.R. Dürr, J. Rauch und C. Bruns geben an, dass kein Interessenkonflikt besteht. Dieser Beitrag beinhaltet keine Studien an Menschen oder Tieren.
About this article
Cite this article
Lindner, L., Angele, M., Dürr, H. et al. Systemische Therapie und Hyperthermie beim lokal fortgeschrittenen Weichteilsarkom. Chirurg 85, 398–403 (2014). https://doi.org/10.1007/s00104-013-2687-5
Schlüsselwörter
Weichteilsarkom

Hyperthermie

Multimodale Behandlung

Neoadjuvant

Chemotherapie
Keywords
Soft tissue sarcoma

Hyperthermia

Multimodal treatment

Neoadjuvant

Chemotherapy