Zusammenfassung
Der deutliche Zuwachs der älteren Bevölkerung der westlichen Welt bedeutet in den kommenden Jahren konsekutiv einen steigenden Anteil an Patienten mit der Diagnose Pankreaskarzinom. Bis zum Jahr 2020 ist mit einer 20%igen Zunahme an Patienten jenseits des 65. Lebensjahrs zu rechnen. Damit rückt das Management alter bzw. hochbetagter Patienten auch in der Chirurgie immer mehr in den Mittelpunkt, was ein strategisches Umdenken chirurgischer Behandlungsindikationen unter Berücksichtigung der Machbarkeit und der Sinnhaftigkeit erfordert. Das duktale Adenokarzinom des Pankreas hat eine äußerst schlechte Prognose mit einer insgesamten 5-Jahres-Überlebensrate < 5 % trotz sukzessivem Fortschritt in der interdisziplinären Behandlung. Die chirurgische Resektion bietet nach wie vor die einzige Chance auf ein verlängertes Überleben, ist jedoch technisch anspruchsvoll und weiterhin mit deutlicher Morbidität verbunden. Insbesondere für die Qualität der chirurgischen Therapie der mittlerweile interdisziplinären Behandlung des Pankreaskarzinoms ist die Anbindung an ein Zentrum mit nachweisbar besseren Ergebnissen verbunden. Wenige retrospektive Datenanalysen haben sich bis heute mit dem perioperativen und dem Langzeitverlauf ausgedehnter Pankreastumorresektionen im höheren Alter befasst. Verfügbare Daten sprechen jedoch für ein radikales chirurgisches Vorgehen auch jenseits des 75. Lebensjahres.
Abstract
The considerable increase of the aged population in western civilisation within the next years will result in a rising incidence of pancreatic cancer. Until the year 2020 an increment of 20  % of patients beyond 65 years old can be anticipated. Therefore, the focus will be on management of old and geriatric surgical patients leading to strategical re-evaluation of surgical indications under critical consideration of feasibility and purpose. Even under modern interdisciplinary therapy concepts the prognosis of ductal adenocarcinoma of the pancreas remains poor with an overall 5-year survival rate of less than 5  %. The surgical resection is still considered as the only potential curative treatment option with extended life expectancy; however, it is technically demanding and furthermore associated with significant morbidity. In particular, the quality of surgery of the now interdisciplinary therapy of pancreatic cancer is markedly improved when performed at a high-volume centres. Until now only a few retrospective data analyses evaluating the perioperative and long-term outcome after pancreatic tumor resections in geriatric patients exist. The available results, however, support radical surgical procedures even beyond the age of 75 years.
Access options
Buy single article
Instant access to the full article PDF.
US$ 39.95
Tax calculation will be finalised during checkout.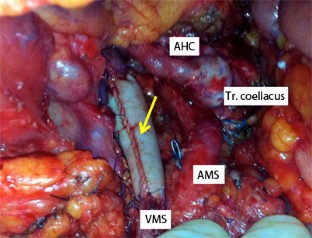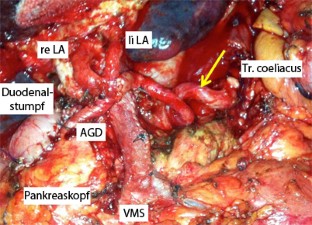 Literatur
1.

Robert Koch-Institut, die Gesellschaft der epidemiologischen Krebsregister in Deutschland e. V. (Hrsg) (2012) Krebs in Deutschland 2007/2008. Berlin

2.

Adler G, Seufferlein T, Bischoff SC et al (2007) S3-Guidelines "Exocrine pancreatic cancer" 2007. Z Gastroenterol 45:487–523

3.

Bachellier P, Nakano H, Oussoultzoglou PD et al (2001) Is pancreaticoduodenectomy with mesentericoportal venous resection safe and worthwhile? Am J Surg 182:120–129

4.

Ballarin R, Spaggiari M, Di Benedetto F et al (2009) Do not deny pancreatic resection to elderly patients. J Gastrointest Surg 13:341–348

5.

Birkmeyer JD, Sun Y, Wong SL et al (2007) Hospital volume and late survival after cancer surgery. Ann Surg 245:777–783

6.

Brozzetti S, Mazzoni G, Miccini M et al (2006) Surgical treatment of pancreatic head carcinoma in elderly patients. Arch Surg 141:137–142

7.

Bruns CJ, Jauch KW (2007) Surgical treatment of pancreatic cancer. Dtsch Med Wochenschr 132:798–802

8.

Butturini G, Stocken DD, Wente MN et al (2008) Influence of resection margins and treatment on survival in patients with pancreatic cancer: meta-analysis of randomized controlled trials. Arch Surg 143:75–83

9.

Casadei R, Zanini N, Morselli-Labate AM et al (2006) Prognostic factors in periampullary and pancreatic tumor resection in elderly patients. World J Surg 30:1992–2002

10.

Christein JD, Kendrick ML, Iqbal CW et al (2005) Distal pancreatectomy for resectable adenocarcinoma of the body and tail of the pancreas. J Gastrointest Surg 9:922–927

11.

Cioc AM, Ellison EC, Proca DM et al (2002) Frozen section diagnosis of pancreatic lesions. Arch Pathol Lab Med 126:1169–1173

12.

DiCarlo V, Balzano G, Zerbi A et al (1998) Pancreatic cancer resection in elderly patients. Br J Surg 85:607–610

13.

Diener MK, Knaebel HP, Heukaufer C et al (2007) A systematic review and meta-analysis of pylorus-preserving versus classical pancreaticoduodenectomy for surgical treatment of periampullary and pancreatic carcinoma. Ann Surg 245:187–200

14.

Esposito I, Kleeff J, Bergmann F et al (2008) Most pancreatic cancer resections are R1 resections. Ann Surg Oncol 15:1651–1660

15.

Fong Y, Blumgart LH, Fortner JG et al (1995) Pancreatic or liver resection for malignancy is safe and effective for the elderly. Ann Surg 222:426–434

16.

Fuhrman GM, Leach SD, Staley CA et al (1996) Rationale for en bloc vein resection in the treatment of pancreatic adenocarcinoma adherent to the superior mesenteric-portal vein confluence. Pancreatic Tumor Study Group. Ann Surg 223:154–162

17.

Glanemann M, Shi B, Liang F et al (2008) Surgical strategies for treatment of malignant pancreatic tumors: extended, standard or local surgery? World J Surg Oncol 6:123

18.

Kang CM, Kim JY, Choi GH et al (2007) Pancreaticoduodenectomy of pancreatic ductal adenocarcinoma in the elderly. Yonsei Med J 48:488–494

19.

Kleeff J, Reiser C, Hinz U et al (2007) Surgery for recurrent pancreatic ductal adenocarcinomA. Ann Surg 245:566–572

20.

Kleespies A, Rentsch M, Seeliger H et al (2009) Blumgart anastomosis for pancreaticojejunostomy minimizes severe complications after pancreatic head resection. Br J Surg 96:741–750

21.

Lahat G, Sever R, Lubezky N et al (2011) Pancreatic cancer: surgery is a feasible therapeutic option for elderly patients. World J Surg Oncol 9:10

22.

Li B, Chen FZ, Ge XH et al (2004) Pancreatoduodenectomy with vascular reconstruction in treating carcinoma of the pancreatic head. Hepatobiliary Pancreat Dis Int 3:612–615

23.

Lightner AM, Glasgow RE, Jordan TH et al (2004) Pancreatic resection in the elderly. J Am Coll Surg 198:697–706

24.

Luttges J, Zamboni G, Kloppel G (1999) Recommendation for the examination of pancreaticoduodenectomy specimens removed from patients with carcinoma of the exocrine pancreas. A proposal for a standardized pathological staging of pancreaticoduodenectomy specimens including a checklist. Dig Surg 16:291–296

25.

Makary MA, Winter JM, Cameron JL et al (2006) Pancreaticoduodenectomy in the very elderly. J Gastrointest Surg 10:347–356

26.

Mangano DT, Goldman L (1995) Preoperative assessment of patients with known or suspected coronary disease. N Engl J Med 333:1750–1756

27.

Riall TS (2009) What is the effect of age on pancreatic resection? Adv Surg 43:233–249

28.

Sakata E, Shirai Y, Yokoyama N et al (2006) Clinical significance of lymph node micrometastasis in ampullary carcinomA. World J Surg 30:985–991

29.

Schnelldorfer T, Ware AL, Sarr MG et al (2008) Long-term survival after pancreatoduodenectomy for pancreatic adenocarcinoma: is cure possible? Ann Surg 247:456–462

30.

Scurtu R, Bachellier P, Oussoultzoglou E et al (2006) Outcome after pancreaticoduodenectomy for cancer in elderly patients. J Gastrointest Surg 10:813–822

31.

Seeliger H, Christians S, Angele MK et al (2010) Risk factors for surgical complications in distal pancreatectomy. Am J Surg 200:311–317

32.

Shimada K, Sakamoto Y, Sano T et al (2006) Prognostic factors after distal pancreatectomy with extended lymphadenectomy for invasive pancreatic adenocarcinoma of the body and tail. Surgery 139:288–295

33.

Shoup M, Conlon KC, Klimstra D et al (2003) Is extended resection for adenocarcinoma of the body or tail of the pancreas justified? J Gastrointest Surg 7:946–952

34.

Siegel R, Naishadham D, Jemal A (2012) Cancer statistics, 2012. CA Cancer J Clin 62:10–29

35.

Siriwardana HP, Siriwardena AK (2006) Systematic review of outcome of synchronous portal-superior mesenteric vein resection during pancreatectomy for cancer. Br J Surg 93:662–673

36.

Sohn TA, Yeo CJ, Cameron JL et al (1998) Should pancreaticoduodenectomy be performed in octogenarians? J Gastrointest Surg 2:207–216

37.

Spencer MP, Sarr MG, Nagorney DM (1990) Radical pancreatectomy for pancreatic cancer in the elderly. Is it safe and justified? Ann Surg 212:140–143

38.

Takada T, Yasuda H, Amano H et al (1997) Simultaneous hepatic resection with pancreato-duodenectomy for metastatic pancreatic head carcinoma: does it improve survival? Hepatogastroenterology 44:567–573

39.

Wagner M, Redaelli C, Lietz M et al (2004) Curative resection is the single most important factor determining outcome in patients with pancreatic adenocarcinoma. Br J Surg 91:586–594

40.

Yekebas EF, Bogoevski D, Cataldegirmen G et al (2008) En bloc vascular resection for locally advanced pancreatic malignancies infiltrating major blood vessels: perioperative outcome and long-term survival in 136 patients. Ann Surg 247:300–309
Interessenkonflikt
Der korrespondierende Autor gibt für sich und seine Koautoren an, dass kein Interessenkonflikt besteht.
About this article
Cite this article
Nieß, H., Kleespies, A., Andrassy, J. et al. Pankreaskarzinom im hohen Alter. Chirurg 84, 291–295 (2013). https://doi.org/10.1007/s00104-012-2455-y
Schlüsselwörter
Leitlinien

Chirurgisches Management

Pankreaskarzinom

Duktales Adenokarzinom

Altersabhängiges Risiko
Keywords
Guidelines

Surgical management

Pancreatic cancer

Ductal adenocarcinoma

Age-related risk