Zusammenfassung
Osteomyelitis ist im Erwachsenenalter eine seltene Krankheit. In diesem Beitrag werden die diagnostischen und therapeutischen Prinzipien der Behandlung der chronischen Osteomyelits der langen Röhrenknochen bei Erwachsenen erörtert. Der wichtigste Behandlungsschritt ist die Bestimmung der beteiligten Bakterien. Hierzu sollte Gewebe und Flüssigkeit aus dem tiefen Wundbereich entnommen werden. Oberflächliche Abstriche und Fistelabstriche sollten nicht zur Keimbestimmung herangezogen werden. Ursächlich für die Entstehung einer chronischen Osteomyelitis sind nekrotisches und schlecht versorgtes Knochengewebe. Die Therapie umfasst die radikale Exzision des kranken Knochens und des entzündlich veränderten Weichteilgewebes, den Verschluss der Wunde mit gut durchblutetem Gewebe einschließlich (Muskel-)Lappen, die Stabilisierung einer instabilen Situation mit Fixateur externe und der Einsatz geeigneter Antibiotika. Verbleibendes nekrotisches Knochengewebe ist die häufigste Ursache für wiederkehrende Infektionen.
Abstract
Osteomyelitis in the adult is a rare disease. In this review we present the diagnostic and therapeutic principles for treatment of chronic osteomyelitis of long bones in adults. The most important step in treating osteomyelitis is the detection of the offending bacteria. The diagnostics should be performed with tissue and fluids from the depth of the wound. Superficial samples and swaps from fistulas should not be used to determine the offending bacteria. The defining criteria of chronic osteomyelitis are necrotic and non vascularized bony tissue. The appropriate therapy includes radical excision of the diseased bone and infected scar tissue, closure of the wound with well vascularized tissue including (muscle) flaps, stabilization of instable situations by external fixation and administration of adequate antibiotics. Remaining necrotic bone tissue is one of the most relevant sources for recurrent infection.
Access options
Buy single article
Instant access to the full article PDF.
USD 39.95
Price includes VAT (USA)
Tax calculation will be finalised during checkout.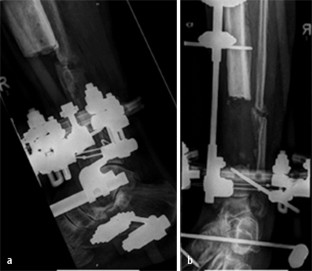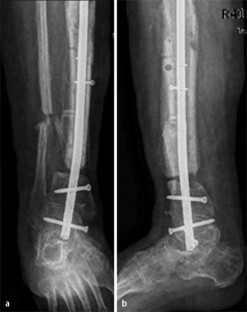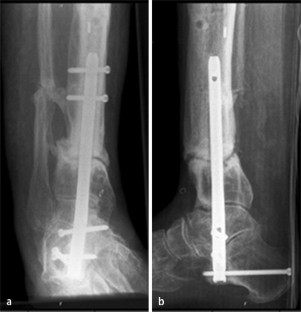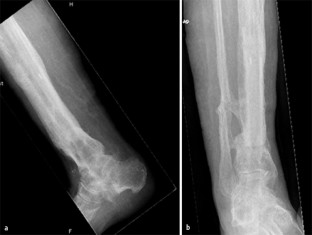 Literatur
1.

Forsberg JA, Potter BK, Cierny G 3rd, Webb L (2011) Diagnosis and management of chronic infection. J Am Acad Orthop Surg 19(Suppl 1):8–19

2.

Schmidt HG, Tiemann AH, Braunschweig R et al (2011) Zur Definition der Diagnose Osteomyelitis – Osteomyelitis-Diagnose-Score (ODS). Z Orthop Unfall 149:449–460

3.

O'May GA, Brady RA, Prabhakara R et al (2011) Osteomyelitis. Biofilm Infect 111–137

4.

Lipsky BA, Berendt AR (2010) XVI Osteomyelitis. American College of Physicians Medicine. Inf Dis 7:1–20

5.

Darouiche RO (2004) Treatment of infections associated with surgical implants. N Engl J Med 350:1422–1429

6.

Trampuz A, Zimmerli W (2005) Prosthetic joint infections: update in diagnosis and treatment. Swiss Med Wkly 135:243–251

7.

Mader JT, Cripps MW, Calhoun JH (1999) Adult posttraumatic osteomyelitis of the tibia. Clin Orthop Relat Res 360:14–21

8.

Suedkamp NP, Barbey N, Veuskens A et al (1993) The incidence of osteitis in open fractures: an analysis of 948 open fractures (a review of the Hannover experience). J Orthop Trauma 7:473–482

9.

Kindsfater K, Jonassen EA (1995) Osteomyelitis in grade II and III open tibia fractures with late débridement. J Orthop Trauma 9:121–127

10.

Gustilo RB, Merkow RL, Templeman D (1990) The management of open fractures. J Bone Joint Surg Am 72:299–304

11.

Trampuz A, Zimmerli W (2006) Diagnosis and treatment of infections associated with fracture-fixation devices. Injury 37(Suppl 2):59–66

12.

Hofmann G (2004) Chronische Osteitis. Infektionen der Knochen und Gelenke. Jena Urban & Fischer, München, S 59–83

13.

Haidar R, Der Boghossian A, Atiyeh B (2010) Duration of post-surgical antibiotics in chronic osteomyelitis: empiric or evidence-based? Int J Infect Dis 14:e752–e758

14.

Schmelz A, Kinzl L, Einsiedel T (2007) Osteitis. Infektionen des Bewegungsapparates. Unfallchirurg 110:1039–1058

15.

Rao N, Ziran BH, Lipsky BA (2011) Treating osteomyelitis: antibiotics and surgery. Plast Reconstr Surg 127(Suppl 1):177–187

16.

Holtom PD, Smith AM (1999) Introduction to adult posttraumatic osteomyelitis of the tibia. Clin Orthop Relat Res 360:6–13

17.

Conterno LO, Silva Filho CR da (2009) Antibiotics for treating chronic osteomyelitis in adults. Cochrane Database Syst Rev 3:CD004439

18.

Lew DP, Waldvogel FA (2004) Osteomyelitis. Lancet 364:369–379

19.

Miller MB, Bassler BL (2001) Quorum sensing in bacteria. Annu Rev Microbiol 55:165–199

20.

Rumbaugh KP, Diggle SP, Watters CM et al (2009) Quorum sensing and the social evolution of bacterial virulence. Curr Biol 19:341–345

21.

Costerson JW (2005) Biofilm theroy can guide the treatment of device related orthopaedic infetions. Clin Orthop Relat Res 437:7–11

22.

Frommelt L (2004) Prinzipien der Antibiotikabehandlung bei periprothetischen Infektionen. Orthopäde 33:822–828

23.

Lazzarini L, Lipsky BA, Mader JT (2005) Antibiotic treatment of osteomyelitis: what have we learned from 30 years of clinical trials? Int J Infect Dis 9:127–138

24.

Cierny G, Mader JT, Penninck JJ (2003) A clinical staging system for adult osteomyelitis. Clin Orthop Relat Res 414:7–24

25.

Mackowiak PA, Jones SR, Smith JW (1978) Diagnostic value of sinus-tract cultures in chronic osteomyelitis. JAMA 239:2772–2775

26.

Termaat MF, Raijmakers PG, Scholten HJ et al (2005) The accuracy of diagnostic imaging for the assessment of chronic osteomyelitis: a systematic review and meta-analysis. J Bone Joint Surg Am 87:2464–2471

27.

Davey P, Brown E, Charani E et al (2013) Interventions to improve antibiotic prescribing practices for hospital inpatients. Cochrane Database Syst Rev 4:CD003543

28.

Perlroth J, Kuo M, Tan J et al (2008) Adjunctive use of rifampin for the treatment of Staphylococcus aureus infections: a systematic review of the literature. Arch Intern Med 168:805–819

29.

Drancourt M, Stein A, Argenson JN et al (1997) Oral treatment of Staphylococcus spp. infected orthopaedic implants with fusidic acid or ofloxacin in combination with rifampicin. J Antimicrob Chemother 39:235–240

30.

Simpson AH, Deakin M, Latham JM (2001) Chronic osteomyelitis. The effect of the extent of surgical resection on infection-free survival. J Bone Joint Surg Br 83:403–407

31.

Tu YK, Yen CY (2007) Role of vascularized bone grafts in lower extremity osteomyelitis. Orthop Clin North Am 38:27–49

32.

Gerlach UJ, Seide K, Weinrich N et al (2007) Segmenttransport. Trauma Berufskrankheit 9:117–121

33.

Kocaoglu M, Eralp L (2006) Reconstruction of segmental bone defects due to chronic osteomyelitis with the use of an external fixator and an intramedullary nail. J Bone Joint Surg Am 88:2137

34.

Heppert V, Wagner C, Glatzel U, Wentzensen A (2002) Prinzipien der operativchirurgischen Therapie der Osteitis. Trauma Berufskrankheit 4:321–328

35.

Beals RK, Bryant RE (2005) The treatment of chronic open osteomyelitis of the tibia in adults. Clin Orthop Relat Res 433:212–217
Einhaltung ethischer Richtlinien
Interessenkonflikt. D. Behrendt und C. Josten geben an, dass kein Interessenkonflikt besteht. Dieser Beitrag beinhaltet keine Studien an Menschen oder Tieren.
About this article
Cite this article
Behrendt, D., Josten, C. Osteomyelitis im Erwachsenenalter. Chirurg 85, 261–272 (2014). https://doi.org/10.1007/s00104-012-2393-8
Schlüsselwörter
Chronische Osteomyelitis

Röhrenknochen

Keimbelastung

Nekrotisches Knochengewebe

Weichteile
Keywords
Chronic osteomyelitis

Long bones

Microbial burden

Necrotic bone

Soft tissues