Zusammenfassung
Die akute mesenteriale Ischämie ist ätiologisch, therapeutisch und prognostisch von der chronischen viszeralen Ischämie zu trennen. Die akute Ischämie des Intestinums ist ein vaskulärer Notfall mit einer Letalität von 60–80%. Ursächlich hierfür sind die schwere Erkennbarkeit und die rasche Progredienz des ischämischen Gewebezerfalls. Weiterhin haben sich Defizite in der Behandlungsorganisation und im therapeutischen Prozedere herausgestellt, von deren Beseitigung die Prognose dieser Erkrankung entscheidend abhängt.
Die symptomauslösende Viszeralarterie ist die A. mesenterica superior, die in 85% aller Krankheitsfälle beteiligt ist. Bei Progredienz der Minderdurchblutung entstehen Ruhebauchschmerzen und Gewebsläsionen. Alle symptomatischen Stadien der viszeralen Ischämie stellen eine invasive Behandlungsindikation dar. Diagnostisch ist die CT-Angiographie mit Rekonstruktion das bildgebende Verfahren der Wahl. Die klassische Angiographie findet ihren Einsatz nur noch bei interventionellen Therapieplanungen (Pharmako-Spülperfusion, Lysetherapie, Stent-PTA). Die Duplexsonographie sollte primär zur Anwendung kommen, da mit dieser Technik die hämodynamische Relevanz einer Stenose beurteilt werden kann. Allerdings ist die Aussagefähigkeit dieser Untersuchung bei adipösen Patienten und bei Verluftung der Darmschlingen eingeschränkt.
Abstract
Etiologically, therapeutically and prognostically, acute mesenteric ischemia is distinguished from chronic splanchnic ischemia. Acute mesenteric ischemia always is a case of emergency and associated with a 60–80% letality. Difficult diagnosis, combined rapid progression of ischemic tissue loss and bacterial translocation are the main reasons for this depressing situation. Furthermore, obvious deficits in management and professional treatment are concomitant reasons. Only by intervening these factors prognosis of this deleting disease can be optimized.
The main vessel, causing symptoms in 85%, is the superior mesenteric artery. Severe courses are characterized by abdominal rest pain and tissue lesions. In all symptomatic cases we see an indication for invasive treatment. CT-angiography with 3D-reconstruction is the diagnostic tool of choice. Today, conventional angiography only plays a role in combination with endovascular treatment (catheter-derived infusion therapy, lysis, PTA, stent). Duplexsonography should be performed, since this technique reveals relevant insight in hemodynamic severity of the lesion. However, diagnostic accuracy often is restricted due to air-filled bowels.
This is a preview of subscription content,
to check access.
Access this article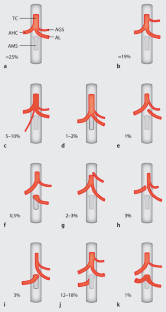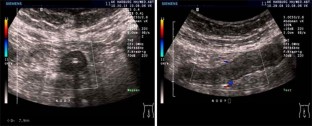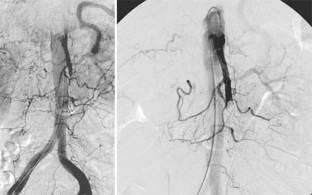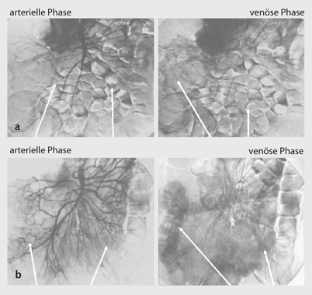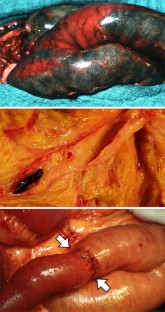 Literatur
Czerny M, Trubel W, Claeys L et al (1997) Die akute mesenteriale Ischämie. Zentralbl Chir 122(7):538–544

Eckstein HH (2003) Die akute mesenteriale Ischämie: Resektion oder Rekonstruktion? Chirurg 74:419–431

Edwards MS, Cherr GS, Craven TE et al (2003) Acute occlusive mesenteric ischemia: surgical management and outcomes. Ann Vasc Surg 17:72–79

Griffiths JD (1956) Surgical anatomy of the blood supply of the distal colon. Ann R Coll Surg 19:241–256

Klempnauer J, Grethues F, Behtas H, Pichlmayr R (1997) Long term results after surgery for acute mesenteric ischemia. Surgery 121(3):239–242

Kortmann B, Klar E (2005) Warum wird die mesenteriale Ischämie zu spät erkannt? Zentralbl Chir 130:223–226

Kougias P, Lau D, El Sayed HF et al (2007) Determinants of mortality and treatment outcome following surgical interventions for acute mesenteric ischemia. J Vasc Surg 46:467–474

Kruger AJ, Walker PJ, Foster WJ et al (2007) Open surgery for atherosclerotic chronic mesenteric ischemia. J Vasc Surg 46:941–945

Lee RW, Bakken AM, Palchik E et al (2008) Long-term outcomes of endoluminal therapy for chronic atherosclerotic occlusive mesenteric disease. Ann Vasc Surg 22:541–546

Leke MA, Hood DB, Rowe VL et al (2002) Technical consideration in the management of chronic mesenteric ischemia. Am Surg 68:1088–1092

Luther B (2001) Akute intestinale Ischämie. In: Luther B (Hrsg) Intestinale Durchblutungsstörungen. 1. Aufl. Steinkopff, Darmstadt, S 29–103

Luther B (2006) Akute viszerale Ischämie. Gefässchirurgie 11:167–172

Nebesar RA, Kornblith PL, Pollard JJ et al (1969) Celiac and superior mesenteric arteries. A correlation between angiograms and dissections. Little, Brown and Company, Boston, pp 43–178

Rosenblum JD, Bloyle CM, Schwartz LB (1977) The mesenteric circulation. Anatomy and physiology. Surg Clin North Am 77:289–306

Schoots IG, Levi MM, Teekers JA et al (2005) Thrombolytic therapy for acute superior mesenteric artery occlusion. J Vasc Interv Radiol 16:317–329

Schwilden E (2006) Anatomie und Physiologie im Splanchnikusgebiet. Gefässchirurgie 11:148–158

Lippert H, Pabst R (1985) Arterial variations in man. Classification and frequency. Bergmann, München, pp 30–35

Tillmann B (2004) Atlas der Anatomie des Menschen, Springer, Berlin Heidelberg New York

Luther B (Hrsg) (2007) Kompaktwissen Gefäßchirurgie. Differenzierte Diagnostik und Therapie. Springer, Heidelberg
Interessenkonflikt
Der Autor gibt an, dass kein Interessenkonflikt besteht.
About this article
Cite this article
Debus, E., Diener, H. & Larena-Avellaneda, A. Akute intestinale Ischämie. Chirurg 80, 375–388 (2009). https://doi.org/10.1007/s00104-009-1699-7
Published:

Issue Date:

DOI: https://doi.org/10.1007/s00104-009-1699-7
Schlüsselwörter
Keywords