Zusammenfassung
"Fast Track" ist in der Herzchirurgie ein noch nicht genau definierter Begriff. In der Vergangenheit wurde der Extubationszeitpunkt eines Patienten gern als Marker angegeben. Dieser Parameter allein reicht jedoch nicht aus. Neben der kardiorespiratorischen Stabilität ist zusätzlich auch die des Kreislaufs und der Hämostase zu fordern. Somit wird das Konzept in der Herzchirurgie so definiert, dass nach einer postoperativen intensiven Überwachungsphase keine weitere intensivmedizinische Behandlung erforderlich wird. Moderne chirurgische Verfahren in Verbindung mit entsprechender Narkoseführung werden in Zukunft zu einer Ausweitung des Fast-Track-Konzepts in der Herzchirurgie führen.
Abstract
Fast track in cardiac surgery is not well defined. In the past early or immediate extubation was used as a marker. After cardiac surgery this parameter is not sufficient. In addition to cardiorespiratory stability, circulatory and haemostatic homeostasis are also required. Therefore the current Fast Track concept includes a period of intensive monitoring of the patient postoperatively to establish stability. Thereafter intensive care medicine should not be required. Evolving new surgical concepts in combination with appropriate anaesthesiologic management will lead to wide application of fast track cardiac surgery in the future.
Access options
Buy single article
Instant access to the full article PDF.
USD 39.95
Price includes VAT (USA)
Tax calculation will be finalised during checkout.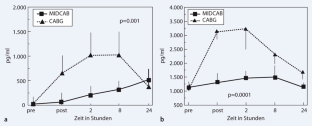 Literatur
1.

Castiglioni A, Verzini A, Colangelo N et al (2009) Comparison of minimally invasive closed circuit versus standard extracorporeal circulation for aortic valve replacement: a randomized study. Interact Cardiovasc Thorac Surg

2.

Cheng DC (1998) Fast-track cardiac surgery: economic implications in postoperative care. J Cardiothorac Vasc Anesth 12:72–79

3.

Constantinides VA, Tekkis PP, Fazil A et al (2006) Fast-track failure after cardiac surgery: development of a prediction model. Crit Care Med 34:2875–2882

4.

Cremer J, Strüber M, Wittwer T et al (1997) Off-bypass coronary bypass grafting via minithoracotomy using mechanical epicardial stabilization. Ann Thorac Surg 63 [Suppl 6]:79–83

5.

Cribier A, Eltchaninoff H, Tron C et al (2004) Early experience with percutaneous transcatheter implantation of heart valve prosthesis for the treatment of end-stage inoperable patients with calcific aortic stenosis. J Am Coll Cardiol 43:698–703

6.

Davidavicius G, Van Praet F, Mansour S et al (2005) Hybrid revascularization strategy: a pilot study on the association of robotically enhanced minimally invasive direct coronary artery bypass surgery and fractional-flow-reserve-guided percutaneous coronary intervention. Circulation 112 [ Suppl 9]:I317–I322

7.

Ender J, Borger MA, Scholz M (2008) Cardiac surgery "Fast Track" treatment in a postanesthetic care unit: six-month results of the Leipzig fast-track concept. Anesthesiology 109:61–66

8.

Fassl J, Walther T, Groesdonk HV et al (2009) Anesthesia management for transapical transcatheter aortic valve implantation: a case series. J Cardiothorac Vasc Anesth 23:286–291

9.

Fraund S, Behnke H, Boening A, Cremer J (2002) Immediate postoperative extubation after minimally invasive direct coronary artery surgery (MIDCAB). Interact Cardiovasc Thorac Surg 1:41–45

10.

Hemmerling TM, Le N, Olivier JF et al (2005) Immediate extubation after aortic valve surgery using high thoracic epidural analgesia or opioid-based analgesia. J Cardiothorac Vasc Anesth 19:176–181

11.

Horswell JL (2006) Is the mass an abnormal left atrial appendage? J Cardiothorac Vasc Anesth 20:119–120

12.

Just SS, Müller T, Hartrumpf M, Albes JM (2006) First experience with closed circuit/centrifugal pump extracorporeal circulation: cellular trauma, coagulatory, and inflammatory response. Interact Cardiovasc Thorac Surg 5:646–648

13.

Montes FR, Sanchez SI, Giraldo JC et al (2000) The lack of benefit of tracheal extubation in the operating room after coronary artery bypass surgery. Anesth Analg 91:776–780

14.

Nesher N, Frolkis I, Vardi M et al (2006) Higher levels of serum cytokines and myocardial tissue markers during on-pump versus off-pump coronary artery bypass surgery. J Card Surg 21:395–402

15.

Noiseux N, Prieto I, Bracco D et al (2008) Coronary artery bypass grafting in the awake patient combining high thoracic epidural and femoral nerve block: first series of 15 patients. PeriCARG Group, Cardiac Surgery, University of Montreal, Quebec, Canada. Br J Anaesth 100:184–189

16.

Sharony R, Autschbach R, Porat E et al (2002) Right heart support during off-pump coronary artery bypass surgery – a multi-center study. Heart Surg Forum 5:13–16

17.

Slogoff S, Keats AS (1989) Randomized trial of primary anesthetic agents on outcome of coronary artery bypass operations. Anesthesiology 70:179–188

18.

Struber M, Cremer JT, Gohrbandt B et al (1999) Human cytokine responses to coronary artery bypass grafting with and without cardiopulmonary bypass. Ann Thorac Surg 68:1330–1335

19.

Wallace AW (2003) Is it time to get on the "Fast Track" or stay on the slow track? Anesthesiology 99:774

20.

Winterhalter M, Brandl K, Rahe-Meyer N et al (2008) Endocrine Stress response and inflammatory activation during CABG surgery. A randomised trial comparing supplementation with remifentanil infusion to intermittent fentanyl. Eur J Anaesthesiol 25:326–335

21.

Wippermann J, Albes JM, Hartrumpf M et al (2005) Comparison of minimally invasive closed circuit extracorporeal circulation with conventional cardiopulmonary bypass and with off-pump technique in CABG patients: selected parameters of coagulation and inflammatory system. Eur J Cardiothorac Surg 28:127–132

22.

Wittwer T, Haverich A, Cremer J et al (2000) Follow-up experience with coronary hybrid-revascularisation. Thorac Cardiovasc Surg 48:356–359
Interessenkonflikt
Der korrespondierende Autor gibt an, dass kein Interessenkonflikt besteht.
About this article
Cite this article
Strüber, M., Winterhalter, M. Fast Track in der Herzchirurgie. Chirurg 80, 724–729 (2009). https://doi.org/10.1007/s00104-009-1681-4
Schlüsselwörter
Minimal-invasive, direkte koronare Bypassoperation

OPCAB

Extrakorporale Zirkulation

Hybridverfahren
Keywords
MIDCAB

Off pump coronary artery bypass

Extracorporeal circulation

Hybrid procedure