Zusammenfassung
Zehn Prozent aller Mammakarzinome entstehen auf der Grundlage hereditärer Faktoren, darunter die Hälfte durch Mutationen in den Genen BRCA1 oder BRCA2, die mit einer Erkrankungswahrscheinlichkeit für Brustkrebs von 60–80% und für Eierstockkrebs von 20–40% einhergehen. Seit der Beschreibung der BRCA-Gene in den 1990er Jahren wurden in Deutschland Richtlinien für ein interdisziplinäres Konzept etabliert, um Hochrisikofamilien zu identifizieren und hinsichtlich präventiver Möglichkeiten zu betreuen. Eine Früherkennung ab dem 25. Lebensjahr mittels Mammasonographie, Mammographie und MRT erlaubt eine Diagnose im frühen Stadium. Prophylaktische Operationen an der Brust und den Adnexen bewirken eine drastische Reduktion der Erkrankungswahrscheinlichkeit für das Mamma- und Ovarialkarzinom. In 12 spezialisierten Zentren in Deutschland wird eine Evaluation der angebotenen präventiven Möglichkeiten sowie die Etablierung und Prüfung spezieller therapeutischer Strategien beim BRCA-assoziierten Mammakarzinom unter Studienbedingungen vorangetrieben. Ein Meilenstein ist die Entdeckung eines ersten molekularen Targets, eines PARP-Inhibitors, welcher gezielt BRCA-defiziente Tumorzellen angreift und hervorragend verträglich ist. Die Teilnahme an einer weltweiten Phase-II-Studie im metastasierten Stadium wird über die spezialisierten Zentren angeboten.
Abstract
Ten per cent of all breast cancer cases have a strong hereditary component in which half carry a deleterious mutation in the high penetrance genes BRCA1 or BRCA2. These genes confer a lifetime risk of 60–80% for breast cancer and 20–40% for ovarian cancer. Since the identification of these genes in the mid-1990s, an interdisciplinary approach was established in 12 specialized university-based centres in Germany for identifying high-risk families that enables genetic testing and preventive clinical options. It could be demonstrated that ultrasound, mammography, and breast MRI allow the identification of early breast cancer stages. Prophylactic mastectomy and salpingo-oophorectomy reduce breast and ovarian cancer incidence considerably. New therapeutic and preventive strategies are being validated in ongoing clinical studies. Most recently a new molecular target, a PARP inhibitor, was developed that targets specifically BRCA-deficient tumour cells. Participation in a phase II study for metastatic breast and ovarian cancer is available through the centres. Accompanying scientific studies of over 4,500 DNA samples from BRCA1/2-negative high-risk families are moreover being examined for other predisposing genes.
Access options
Buy single article
Instant access to the full article PDF.
US$ 39.95
Tax calculation will be finalised during checkout.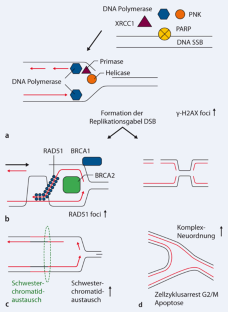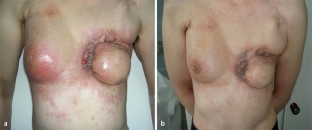 Literatur
1.

Antoniou A, Pharoah PD, Narod S et al. (2003) Average risk of breast and ovarian cancer associated with BRCA1 or BRCA2 mutations detected in case series unselected für family history: a combined analysis of 22 studies. Am J Hum Genet 72: 1117–1130

2.

Bosse K, Rhiem K, Wappenschmidt B et al. (2006) Screening for ovarian cancer by tranyvaginal ultrasound and serum CA125 measurement in woman with familial predisposition; a prospective cohort study. Gynecol Oncol 1033: 1077–1072

3.

Bryant HE, Schultz N, Thomas HD, Parker KM et al. (2005) Specific killing of BRCA2-deficient tumours with inhibitors of poly (ADP-ribose) polymerase. Nature 434(7035): 913–917

4.

Carlson JW, Miron A, Jarboe EA et al. (2008) Serous tubal intraepithelial carcinoma: its potential role in primary peritoneal serous carcinoma and serous cancer prevention. J Clin Oncol. 26(25): 4160–4165

5.

Domchek SM, Friebel TM, Neuhausen SL et al. (2006) Mortality after bilateral salpingo-oophorectomy in BRCA1 and BRCA2 mutation carriers: a prospective cohort study. Lancet 7: 223–229

6.

Easton DF, Pooley KA, Dunning AM, Pharoah PD et al. (2007) Genome-wide association study identifies novel breast cancer susceptibility loci. Nature 447(7148): 1087–1093

7.

Farmer H, McCabe N, Lord CJ, Tutt AN et al. (2005) Targeting the DNA repair defect in BRCA mutant cells as a therapeutic strategy. Nature 434(7035): 917–921

8.

Fong PC, Boss DS, Carden CP et al. (2008) AZD2281 (KU-0059436), a PARP (poly ADP-ribose polymerase) inhibitor with single agent anticancer activity in patients with BRCA deficient ovarian cancer: Results from a phase I study. J Clin Oncol 26 [Suppl] Abstr 5510

9.

Hartmann LC, Schaid DJ, Woods JE et al. (1999) Efficacy of bilateral prophylactic mastectomy in women with a family history of breast cancer. N Engl J Med 340: 77–84

10.

Hartmann LC, Sellers TA, Schadi DJ et al. (2001) Efficacy of bilateral prophylactic mastectomy in BRCA1 and BRCA2 gene mutation carriers. J Natl Cancer Inst 93(21): 1633–1637

11.

Jones LP, Li M, Halama ED et al. (2005) Promotion of mammary cancer development by tamoxifen in a mouse model of BRCA1-mutation-related breast cancer. Oncogene 24: 3554–3562

12.

Kauff ND, Satagopan JM, Robson ME et al. (2002) Risk reducing salpingo-oophorectomy in women with a BRCA1 and BRCA2 mutation. N Engl J Med 346: 1609–1615

13.

Kauff ND, Domchek SM, Friebel TM et al. (2008) Risk reducing Salpingo-oophorectomy for the prevention of BRCA1- and BRCA2-associated Breast and Gynecologic Cancer: A multicenter, prospective Study. J Clin Oncol 26(8): 1331–1337

14.

King MC, Wieand S, Hale K et al. (2001) Tamoxifen and breast cancer incidence among women with inherited mutations in BRCA1 and BRCA2: National Surgical Adjuvant Breast and Bowel Project (NSABP-P1) Breast Cancer Prevention Trial. JAMA 286: 2251–2256

15.

Lafarge S, Sylvain V, Ferrara M, Bignon YJ (2001) Inhibition of BRCA1 leads to increased chemoresistance to microtubule-interfering agents, an effect that involves the JNK pathway. Oncogene 20(45): 6597–606

16.

Madalinska LB, Hollenstein J, Bleiker EM et al. (2005) Quality-of-life effects of prophylactic salpingo-oophorectomy versus gynecologic screening among women at increased risk of hereditary ovarian cancer. J Clin Oncol 23(28): 6890–6898

17.

McDonnell SK, Schaid DJ, Myers JL et al. (2001) Efficacy of contralateral prophylactic mastectomy in women with a personal and family history of breast cancer. J Clin Oncol 19(19): 3938–3943

18.

Meijers-Heijboer H, van Geel B, van Putten WL et al. (2001) Breast cancer after prophylactic bilateral mastectomy in women with BRCA1 and BRCA2 mutation. N Engl J Med 345: 159–164

19.

Meijers-Hejboer H, van den Ouweland A, Klijn J et al. (2002) Low penetrance susceptibility to breast cancer due to CHEK2 del1100delC in noncarriers of BRCA1 and BRCA2 mutations. Nat Genet 31: 55–59

20.

Metcalfe K, Lynch HT, Ghadirian P et al. (2004) Contralateral breast cancer in BRCA1 and BRCA2 mutation carriers. J Clin Oncol 22: 2328–2335

21.

Narod SA, Foulkes WD (2004) BRCA1 and BRCA2: 1994 and beyond. Nat Rev Cancer 4: 665–676

22.

Pierce LJ, Levin AM, Rebbeck TR, Ben-David MA et al. (2006) Ten-year multi-institutional results of breast-conserving surgery and radiotherapy in BRCA1/2-associated Stage I/II Breast Cancer. J Clin Oncol 24(16): 2437–2443

23.

Quinn JE, Kennedy RD, Mullan PB et al. (2003) BRCA1 functions as a differential modulator of chemotherapy-induced apoptosis. Cancer Res 63(19): 6221–6222

24.

Rebbeck TR, Lynch HT, Neuhausen SL et al. (2002) Prophylactic oophorectomy in carriers of BRCA1 and BRCA2 mutations. N Engl J Med 346: 1616–1622

25.

Rebbeck TR, Friebel T, Wagner T et al. (2005) Effect of short-term hormone replacement therapy on breast cancer risk reduction after bilateral prophylactic oophorectomy in BRCA1 and BRCA2 mutation carriers: the PROSE Study Group. J Clin Oncol 23(31): 7804–7810

26.

Risch HA, Mc Laughlin JR, Cole DE et al. (2001) Prevalence and penetrance of germline BRCA1 and BRCA2 mutations in a population series of 649 women with ovarian cancer. Am J Hum Genet 68: 700–710

27.

Robson ME, Chappuis PO, Satagopan J et al. (2003) A combined analysis of outcome following breast cancer: differences in survival based on BRCA1/BRCA2 mutation status and administration of adjuvant treatment. Breast Cancer Res 6: R8–R17

28.

Seal S, Thompson D, Renwick A et al. (2006) Truncating mutations in the Fanconi anemia J gene BRIP1 are low-penetrance breast cancer susceptibility alleles. Nat Genet 38(11): 1239–1241

29.

Spear SL, Schwarz KA, Venturi ML et al. (2008) Prophylactic mastectomy and reconstruction: clinical outcomes and patient satisfaction. Plast Reconstr Surg 122(1): 1–9

30.

Stufe-3-Leitlinien, Brustkrebsfrüherkennung in Deutschland (2008) In: Albert US (Hrsg) 1. Aktualisierung. W. Zuckschwerdt, München Wien New York

31.

van Sprundel TC, Schmidt MK, Rookus MA et al. (2005) Tollenaar RARisk reduction of contralateral breast cancer and survival after contralateral prophylactic mastectomy in BRCA1 or BRCA2 mutation carriers.Br J Cancer 93(3): 287–292

32.

Tassone P, Tagliaferri P, Perricelli A et al. (2003) BRCA1 expression modulates chemosensitivity of BRCA1-defective HCC1937 human breast cancer cells. Br J Cancer 88(8): 1285–1291

33.

Teraoka SN, Malone KE, Doody DR et al. (2001) Increased frequency of ATM mutations in breast carcinoma patients with early onset disease and ovarian cancer. Cancer 93: 479–487

34.

Thompson D, Easton DF (2002) Breast Cancer Linkage Consortium Cancer incidence in BRCA1 mutation carriers. J Natl Cancer Inst 94: 1358–1365

35.

Ventikaraman AR (2004) Tracing the network connecting BRCA and Fanconi anaemia proteins. Nat Rev Cancer 4: 266–267

36.

The Breast Cancer Linkage Consortium (1999) Cancer risks in BRCA2 mutation carriers. J Natl Cancer Inst 91(15): 1310–1316
Interessenkonflikt
Der korrespondierende Autor gibt an, dass kein Interessenkonflikt besteht.
About this article
Cite this article
Schlehe, B., Schmutzler, R. Hereditäres Mammakarzinom. Chirurg 79, 1047 (2008). https://doi.org/10.1007/s00104-008-1556-0
Schlüsselwörter
Hereditäres Mammakarzinom

Lebenszeitrisiko

BRCA-Mutation

Prophylaktische Operationen

Früherkennung
Keywords
Hereditary breast cancer

Lifetime risk

BRCA mutation

Prophylactic surgery

Early cancer detection