Zusammenfassung
Benigne Lebertumoren und tumorähnliche Läsionen beinhalten ein breites differenzialdiagnostisches Spektrum, welches von dysontogentischen Zysten bis zu Pseudoläsionen reicht. Im klinischen Alltag spielen die fokal noduläre Hyperplasie (FNH), das Adenom und Regeneratknoten die größte Rolle. Bildmorphologisch bietet sich eine Klassifikation in zystische oder solide, solitäre oder multiple, hyper- oder hypovaskularisierte Läsionen an. Das Hämangiom, die FNH, das steroidassoziierte Adenom, das Zystadenom und Echinokokkuszysten lassen sich mit bildgebenden Verfahren zuverlässig diagnostizieren. Gleiches gilt für Pseudoläsionen, die insbesondere in der dynamischen Computertomographie nicht selten sind. Andere Entitäten wie das Adenom in Zirrhose, das Angiomyolipom, Regeneratknoten oder der Echinococcus alveolaris sind nicht hinreichend sicher zuzuordnen und verlangen die bioptische Klärung. Die morphologischen und funktionellen Charakteristika der häufigsten Läsionen in den verschiedenen Modalitäten werden diskutiert. Wenn möglich, wird eine zielführende diagnostische Strategie vorgeschlagen.
Abstract
Benign liver tumors and tumor-like lesions cover a broad spectrum of differential diagnoses, varying from dysontogenetic cysts to pseudolesions. Focal nodular hyperplasia, adenoma and regenerating nodules play a major role in clinical practice. Based on imaging findings, these lesions can be classified as cystic or solid, solitary or multiple, and hyper- or hypovascular. Haemangioma, FNH, steroid-associated adenoma, cystadenoma and echinococcus cysts can be reliably diagnosed using imaging techniques. The same is true for pseudolesions, which are found in particular on dynamic computed tomography. Other entities such as adenoma in cirrhotic livers, angiomyolipoma, regenerating nodules or Echinococcus alveolaris cannot be safely diagnosed by imaging and require biopsy. Morphological and functional characteristics of the most common lesions in the different imaging modalities will be discussed. Where possible, a diagnostic strategy will be presented.
Access options
Buy single article
Instant access to the full article PDF.
USD 39.95
Price excludes VAT (USA)
Tax calculation will be finalised during checkout.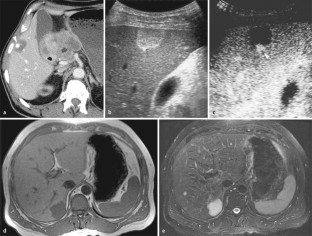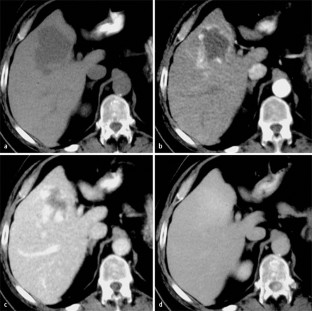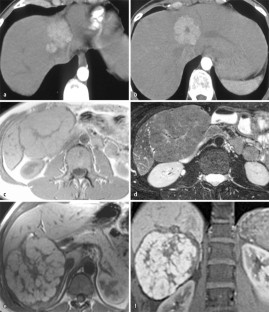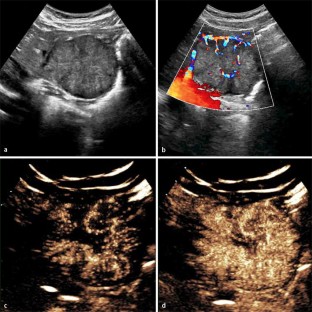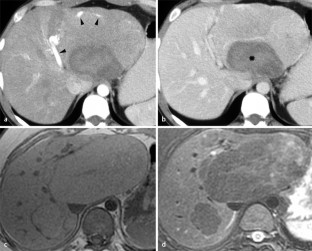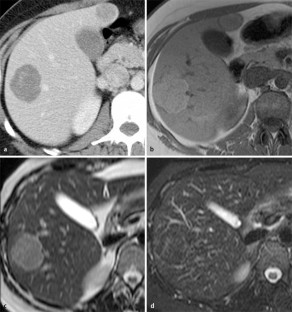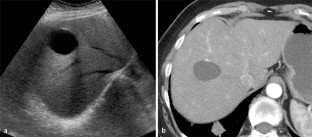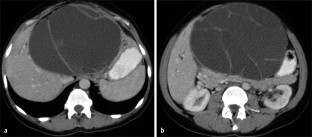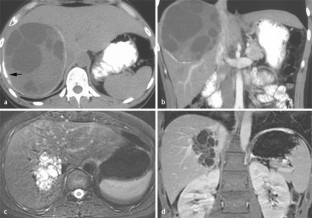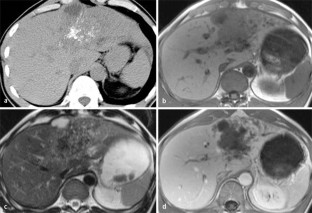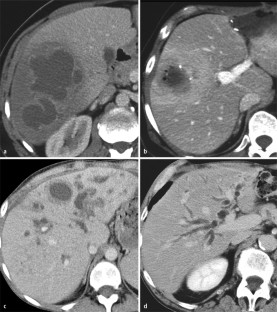 Literatur
Abesehra M, Vilgrain V, Belghiti J et al. (1995) Inflammatory pseudotumor of the liver: radiologic-pathologic correlation. J Comput Assist Tomogr 19: 80–83

Balci NC, Sirvanci M (2002) MR Imaging of infectious liver lesions. Magn Reson Imaging Clin N Am 10: 121–135

Blonski W, Reddy R (2006) Evaluation of non-malignant liver masses. Curr Gastroenterol Rep 8: 38–45

Champetier J, Yver R, Letoublon C, Vigneu B (1985) A general review of abnormalities of heptic morphology and their clinical implications. Anat Clin 7: 285–299

Chiche L, Dao T, Salame E et al. (2000) Liver adenomatosis: reappraisal, diagnosis, and surgical management: 8 new cases and review of the literature. Ann Surg 231: 74–81

Choi BY, Nguyen MH (2005) The diagnosis and management of benign hepatic tumors. J Clin Gastroenterol 39: 401–410

Coffin CM, Diche T, Mahfouz AE et al. (1999) Benign and malignant HCC: evaluation of tumoral enhancement after manganfodipir trisodium injection on MR imaging. Eur Radiol 9: 444–449

Delorme S (2000) Radiologische Diagnostik der Leber. Radiologe 40: 904–915

Fischer HP, Zhou H (2006) Leberparenchymknoten bei pathologischer hepatischer Vaskularisation/Perfusion. Pathologe 27: 273–283

Flemming P, Lehmann U, Steinemann D et al (2006) Leberzelladenom – Entartungspotenzial und Abgrenzung vom HCC. Pathologe 27: 238–243

Fries P, Caccia P, Bondioni MP et al. (2003) Primary benign liver tumors. In: Schneider G, Grazioli L, Saini S (eds) MRI of the liver. Springer, Berlin Heidelberg New York, pp 105–170

Fukukura Y, Nakashima O, Kusaba A et al (1998) Angioarchitecture and blood circulation in focal nodular hyperplasia of the liver. J Hepatol 29: 470–475

Grazioli L, Federle MP, Ichikawa T et al. (2000) Liver adenomatosis: clinical, pathologic, and imaging findings in 15 patients. Radiology 216: 395–402

Grazioli L, Federle MP, Brancatelli G et al. (2001) Hepatic adenomas: imaging and pathologic findings. Radiographics 21: 877–894

Hammerstingl RM, Marquardt F, Schwarz W, Vogl TJ (2003) Benign liver tumors. In: Vogl TJ, Lencioni R, Hammerstingl RM, Bartolozzi C (eds) Magnetic resonance imaging in liver disease. Thieme, Stuttgart New York, pp 115–161

Högemann D, Flemming P, Kreipe H et al. (2001) Correlation of MRI and CT findings with histopathology in hepatic angiomyolipoma. Eur Radiol 11: 1389–1395

Hosch W, Junghanss T, Werner J et al. (2004) Bildgebende Verfahren in der Diagnostik und Therapie der zystischen Echinokokkose. Rofo Fortschr Roentgenstr 176: 679–687

Hussain SM, Bos IC van den, Dwarkasing RS et al (2006) Hepatocellular adenoma: findings at state-of-the-art magnetic resonance imaging, ultrasound, computed tomography and pathologic analysis. Eur Radiol 16: 1873–1886

Itai Y, Moss AA, Goldberg HI (1982) Transient hepatic attenuation difference of lobar and segmental distribution detected by dynamic CT. Radiology 144: 835–839

King LJ, Burkill GJ, Scurr ED et al. (2002) MnDPDP enhanced magnetic resonance imaging of focal liver lesions. Clin Radiol 57: 1047–1057

Kondo F, Koshima Y, Ebara M (2004) Nodular lesions associated with abnormal liver circulation. Intervirology 47: 277–287

Konno K, Ishida H, Sato M et al. 2000. Macronodular deformity on normal liver. Abdom Imaging 25: 592–595

Lipman JC, Tumeh SS (1990) The radiology of cavernous hemangioma of the liver. Crit Rev Diagn Imaging 30: 1–18

Marti-Bonmati L, Menor F, Vizcaino I et al. (1989) Lipoma of the liver. Gastrointest Radiol 14: 155–157

Mergo PJ, Ros PR (1998) Benign liver neoplasms and tumor-like conditions. In: Gazelle GS, Saini S, Mueller PR (eds) Hepatobiliary and pancreatic radiology – Imaging and intervention. Thieme, New York·Stuttgart, pp 363–384

Mortelé KJ, Ros R (2001) Cystic focal liver lesions in the adult: differential CT and MR imaging features. Radiographics 21: 895–910

Palacios E, Shannon M, Solomon C et al. (1990) Biliary cystadenoma: ultrasound, CT, and MRI. Gastrointest Radiol 15: 313–316

Prasad SR, Wang H, Rosas H et al (2005) Fat-containing lesions of the liver: radiologic-pathologic correlation. Radiographics 25: 321–331

Strobel D, Bernatik T (2006) Diagnostik bei fokalen Leberläsionen – Stellenwert der Kontrastmittelsonografie. Dtsch Arztebl 103: A 789–A 793

Vilgrain V, Boulos L, Vullierme MP et al. (2000) Imaging of atypical hemangiomas of the liver with pathologic correlation. Radiographics 20: 379–397

WHO Informal Working Group (2003) International classification of ultrasound images in cystic echinococcosis for application in clinical and field epidemiological settings. Acta Trop 85: 253–261

Yoshimura H, Murakami T, Kim T et al. (2002) Angiomyolipoma of the liver with least amount of fat component: imaging features of CT, MRT, and angiography. Abdom Imaging 27: 184–187

Zamir D, Jarchowsky J, Singer C et al (1998) Imflammatory pseudotumor of the liver – a rare entity and a diagnostic challenge. Am J Gastroenterol 93: 1538–1540
Interessenkonflikt
Der korrespondierende Autor gibt an, dass kein Interessenkonflikt besteht.
About this article
Cite this article
Galanski, M., Jördens, S. & Weidemann, J. Diagnose und Differenzialdiagnose benigner Lebertumoren und tumorähnlicher Läsionen. Chirurg 79, 707–721 (2008). https://doi.org/10.1007/s00104-008-1522-x
Published:

Issue Date:

DOI: https://doi.org/10.1007/s00104-008-1522-x
Schlüsselwörter
Keywords