Zusammenfassung
Bei ausgewählten Indikationen wurden exzellente Ergebnisse nach Lebertransplantation berichtet. Die Ergebnisse in unserem Zentrum wurden über 23 Jahre mit 2114 konsekutiven Lebertransplantationen in 1773 Patienten untersucht (Epochen I–III jeweils 5,5 Jahre, Epoche IV 6,5 Jahre). Nach 20 Jahren erreichte das Gesamtüberleben 29,8%. Die häufigsten führenden Todesursachen waren Infektionen unterschiedlicher Genese (30%), Tumorrezidive (14,2%) und Pneumonie (8,4%). Die häufigsten führenden Ursachen für den Transplantatverlust waren Infektionen unterschiedlicher Genese (19,6%), initiale Nichtfunktion des Transplantates (14,6%) und Tumorrezidive (9,6%). Das Patientenüberleben und das Transplantatüberleben waren beide signifikant besser nach primärer Transplantation als nach erster Retransplantation (p<0,001). Das Patienten- und Transplantatüberleben haben sich über die 4 konsekutiven Epochen signifikant verbessert (p<0,001). In der jüngsten Epoche IV erreichte das 5-Jahres-Überleben bei primärer biliärer Zirrhose (PBC) 96%, bei primärer sklerosierender Cholangitis (PSC) 89,4%, bei Gallengangsatresie 78,5%, bei akutem Leberversagen 70%, bei Hepatitis-B (HBV)-assoziierter Leberzirrhose 69,1%, bei hepatozellulärem Karzinom 61,3% und bei Hepatitis-C (HCV)-assoziierter Leberzirrhose 56%.
Abstract
Liver transplantation has been reported to reach excellent results for selected indications. We analysed the results of liver transplantation in our centre over a period of 23 years, with a total of 2,114 consecutive liver transplants in 1,773 patients (eras I–III 5.5 years each, era IV 6.5 years). Overall 20-year survival after liver transplantation was 29.8%. The most frequent leading causes of death were infections of various origins (30%), tumour recurrence (14.2%), and pneumonia (8.4%). The most frequent leading causes for graft loss were infection of various origins (19.6%), initial nonfunction of the graft (14.6%), and tumour recurrence (9.6%). Both long-term patient and graft survival were significantly better after primary liver transplantation than after first retransplantation (P<0.001). Patient and graft long-term survival improved significantly across all four consecutive eras (P<0.001). In era IV, the most recent, 5-year patient survival reached 96% for PBC, 89.4% for PSC, 78.5% for biliary atresia, 70% for acute liver failure, 69.1% for HBV-related cirrhosis, 61.3% for hepatocellular carcinoma, and 56% for HCV-related cirrhosis.
This is a preview of subscription content,
to check access.
Access this article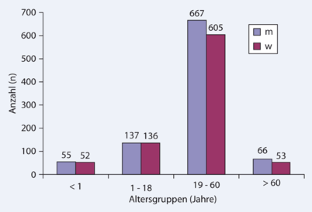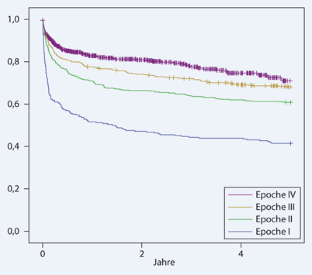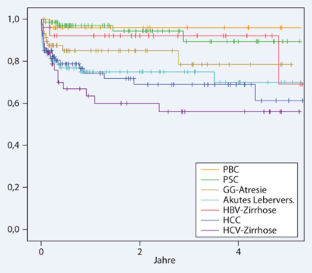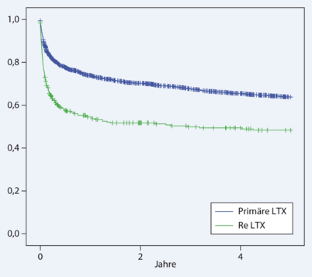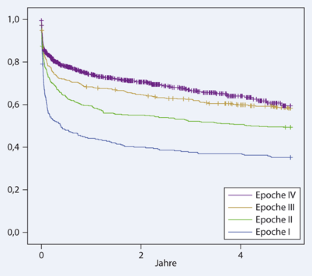 Literatur
Belli LS, Burroughs AK, Burra P et al. (2007) Liver transplantation for HCV cirrhosis: improved survival in recent years and increased severity of recurrent disease in female recipients: results of a long term retrospective study. Liver Transpl 13: 733–740

Blair JE, Kusne S (2005) Bacterial, mycobacterial an protozoal infections after liver transplantation-part I. Liver Transpl 11: 1452–1459

Busuttil RW, Farmer DG, Yersiz H et al. (2005) Analysis of long-term outcomes of 3200 liver transplantations over two decades: a single-center experience. Ann Surg 241: 905–916

Chin LT, D'Alessandro AM, Knechtle SJ et al. (2004) Liver transplantation for biliary atresia: 19-year, single-center experience. Exp Clin Transplant 2: 178–182

D'Alessandro AM, Knechtle SJ, Chin LT et al. (2007) Liver transplantation in pediatric patients: twenty years of experience at the University of Wisconsin. Pediatr Transplant 11: 661–670

Farmer DG, Anselmo DM, Ghobrial RM et al. (2003) Liver transplantation for fulminant hepatic failure: experience with more than 200 patients over a 17-year period. Ann Surg 237: 666–675

Fisher LR, Henley KS, Lucey MR (1995) Acute cellular rejection after liver transplantation: variability, morbidity and mortality. Liver Tranpl Surg 1: 10–15

Gane EJ, Angus PW, Strasser S et al. Australasian Liver Transplant Study Group (2007) Lamivudine plus low-dose hepatitis B immunoglobulin to prevent recurrent hepatitis B following liver transplantation. Gastroenterology 132: 931–937; Epub 2007 Jan 5

Goss JA, Shackleton CR, McDiarmid SV et al. (1998) Long-term results of pediatric liver transplantation: an analysis of 569 transplants. Ann Surg 228: 411–420

Jain A, Mazariegos G, Kashyap R et al. (2002) Pediatric liver transplantation. A single center experience spanning 20 years. Transplantation 73: 941–947

Jain A, Reyes J, Kashyap R et al. (2000) Long-term survival after liver transplantation in 4,000 consecutive patients at a single center. Ann Surg 232: 490–500

Kim JS, Grotelüschen R, Mueller T et al. (2005) Pediatric transplantation: the Hamburg experience. Transplantation 79: 1206–1209

Klempnauer J, Schrem H, Becker T et al. (2002) Liver transplantation today. Transplant Proc 33: 3433–3435

Kotlyar DS, Campbell MS, Reddy KR (2006) Recurrence of diseases following orthotopic liver transplantation. Am J Gastroenterol 101: 1370–1378

Kusne S, Blair JE (2006) Viral and fungal infections after liver transplantation-part II. Liver Transpl 12: 2–11

Maheshwari A, Yoo HY, Thuluvath PJ (2004) Long-term outcome of liver transplantation in patients with PSC: a comparative analysis with PBC. Am J Gastroenterol 99: 538–542

Markmann JF, Markmann JW, Markmann DA et al. (2002) Preoperative factors associated with outcome and their impact on resource use in 1148 consecutive primary liver transplants. Transplantation 72: 1113–1122

Moore DE, Feurer ID, Speroff T et al. (2005) Impact of donor, technical and recipient risk factors on survival and quality of life after liver transplantation. Arch Surg 140: 273–277

Neumann UP, Berg T, Bahra M et al. (2004) Long-term outcome of liver transplants for chronic hepatitis C: a 10-year follow-up. Transplantation 77: 226–231

Nio M, Ohi R, Miyano T et al. Japanese Biliary Atresia Registry (2003) Five- and 10-year survival rates after surgery for biliary atresia: a report from the Japanese Biliary Atresia Registry. J Pediatr Surg 38: 997–1000

Pfitzmann R, Nüssler NC, Hippler-Benscheidt M et al. (2008) Long-term results after liver transplantation. Transpl Int Nov 21: Epub ahead of print

Pichlmayr R, Ringe B, Gubernatis G et al. (1988) Transplantation einer Spenderleber auf zwei Empfänger (SplittingTransplantation): Eine neue Methode in der Weiterentwicklung der Lebersegment-Transplantation. Langenbecks Arch Chir 373: 127–130

Pruthi J, Medkiff KA, Esrason KT et al. (2001) Analysis of causes of death in liver transplant recipients who survived more than 3 years. Liver Transpl 7: 811–815

Schrem H, Becker T, Klempnauer J (2007) Lebertransplantation. In: Krukemeyer MG, Lison AE (Hrsg) Transplantationsmedizin. Walter de Gruyter, Berlin New York, S 183–205

Schrem H, Lück R, Becker T et al. (2004) Update on liver transplantation using cyclosporine. Transplant Proc 36: 2525–2531

Therapondos G, Flapan AD, Plevris JN, Hayes PC (2004) Cardiac morbidity and mortality related to orthotopic liver transplantation. Liver Transpl 10: 1441–1453

Thuluvath PJ, Yoo HY, Thompson RE (2003) A model to predict survival at one month, one year and five years after liver transplantation based on pretransplant clinical characteristics. Liver Transpl 9: 527–532

Vallejo GH, Romero CJ, De Vicente JC (2005) Incidence and risk factors for cancer after liver transplantation. Crit Rev Oncol Hematol 56: 87–99

Yamauchi Y, Wettergren A, Yamashita Y et al. (2007) Retransplantation of the liver in adults: long-term outcome and prognostic modeling. Hepatogastroenterology 54: 1181–1186

Yao FY, Gautam M, Palese C et al. (2006) De novo malignancies following liver transplantation: a case-control study with long-term follow-up. Clin Transplant 20: 617–623
Interessenkonflikt
Der korrespondierende Autor gibt an, dass kein Interessenkonflikt besteht.
About this article
Cite this article
Schrem, H., Till, N., Becker, T. et al. Langzeit-Outcome nach Lebertransplantation. Chirurg 79, 121–129 (2008). https://doi.org/10.1007/s00104-007-1457-7
Published:

Issue Date:

DOI: https://doi.org/10.1007/s00104-007-1457-7
Schlüsselwörter
Keywords