Zusammenfassung
Das Pleuraempyem ist eine häufige Erkrankung, die mit einer hohen Morbidität und Letalität assoziiert ist. Aufgrund meist uncharakteristischer Beschwerden werden Patienten oftmals erst verspätet einer gezielten Diagnostik und adäquaten Therapie zugeführt. Behandlungsaufwand und Morbidität steigen, je später die Therapie einsetzt. Eine frühzeitige, stadiengerechte und situationsadaptierte Therapie ist anzustreben. Im Stadium I ("exsudatives Stadium") ist eine Ableitung des Pleuraproduktes in Kombination mit einer Antibiotikatherapie Erfolg versprechend. Für das Stadium II ("fibrinopurulentes Stadium) bietet die videoassistierte Thorakoskopie (VATS) als variantenreiches Verfahren die besten therapeutischen Vorraussetzungen. Sie ermöglicht die Eröffnung sämtlicher Kammerungen und Befreiung der Pleurablätter von meist fesselnden Fibrinbelägen. Darüber hinaus erlaubt die VATS eine gezielte Drainageneinlage als Voraussetzung für eine effektive Spülbehandlung. Das definitive Stadium III ("Stadium der Organisation") bleibt der technisch anspruchsvollen Empyemektomie bzw. Dekortikation vorbehalten.
Abstract
Pleural empyema remains a frequently encountered clinical problem and is responsible for significant morbidity and mortality worldwide. Its diagnosis may be difficult; delays in diagnosis and treatment may contribute to morbidity, complications, and mortality. The management of parapneumonic effusion and empyema depends on timely, stage-dependent therapy and the underlying etiology. Thoracentesis and antibiotics remain the cornerstones of treatment in stage I disease. In the early fibrinopurulent phase (stage II) thoracoscopic methods should be considered. As treatment strategy for this stage, fibrinopurulent pleural empyema entails thorough debridement of multiloculated collections from the pleural cavity by video-assisted thoracic surgery. After evacuation of multilocular effusions and the removal of fibrin deposits with drainage by two intercostal chest tubes, irrigation treatment helps to achieve clarity of the pleural discharge. Open thoracotomy and decortication are reserved for organized, multiloculated empyema with lung entrapment (stage III disease). Early drain removal may lead to rapid symptomatic recovery and complete resolution.
Access options
Buy single article
Instant access to the full article PDF.
USD 39.95
Price excludes VAT (USA)
Tax calculation will be finalised during checkout.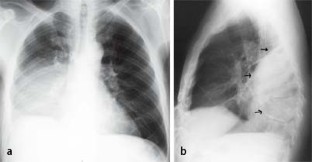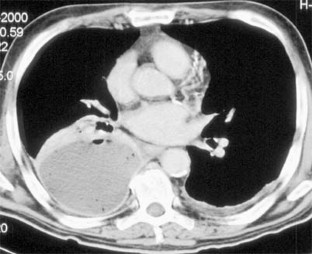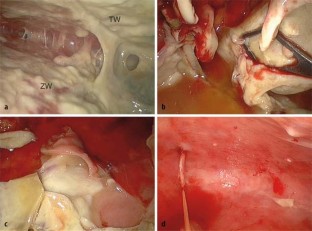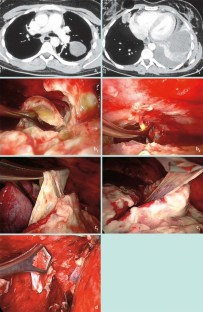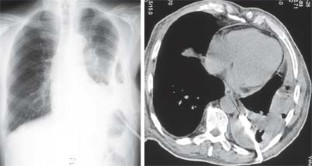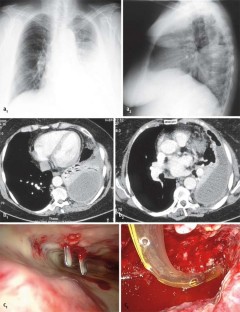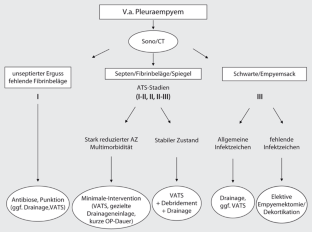 Literatur
Andrews NC, Shaw RR, Wilson NJ, Webb WR (1962) Management of nontuberculous empyema. A statement of the ATS subcomittee on surgery. Am Rev Respir Dis 85: 935–936

Brook I, Frazier EH (1993) Aerobic and anaerobic microbiology of empyema. A retrospective review in two military hospitals. Chest 103: 1502–1507

Cameron RJ (2002) Management of complicated parapneumonic effusions and thoracic empyema. Intern Med J 32: 408–414

Chapman SJ, Davies RJ (2004) Recent advances in parapneumonic effusion and empyema. Curr Opin Pulm Med 10: 299–304

Chapman SJ, Davies RJ (2004) The management of pleural space infections. Respirology 9: 4–11

Colice GL, Curtis A, Deslauriers J et al. (2000) Medical and surgical treatment of parapneumonic effusions: an evidence-based guideline. Chest 118: 1158–1171

Davies CW, Gleeson FV, Davies RJ (2003) BTS guidelines for the management of pleural infection. Thorax [Suppl 2] 58: ii18–28

Dienemann H (2000) Offene Empyemektomie und Dekortikation. Deutsche Gesellschaft für Chirurgie Kongressband: 490–493

Ferguson MK (1999) Surgical management of intrapleural infections. Semin Respir Infect 14: 73–81

Heffner JE, Brown LK, Barbieri C, DeLeo JM (1995) Pleural fluid chemical analysis in parapneumonic effusions. A meta-analysis. Am J Respir Crit Care Med 151: 1700–1708

Hurtgen M, Witte B, Friedel G, Toomes H (1999) [Video-assisted thoracoscopic access in pleural empyema compared with mere chest tube drainage]. Chirurg 70: 464–468

Kearney SE, Davies CW, Davies RJ, Gleeson FV (2000) Computed tomography and ultrasound in parapneumonic effusions and empyema. Clin Radiol 55: 542–547

Kim BY, Oh BS, Jang WC et al. (2004) Video-assisted thoracoscopic decortication for management of postpneumonic pleural empyema. Am J Surg 188: 321–324

Klopp M, Dienemann H (2005) [Pleural empyema: surgical treatment]. Dtsch Med Wochenschr 130: 530–533

Klopp M, Dienemann H, Hoffmann H (2007) Treatment of pneumothorax. Chirurg 78: 655–668

LeMense GP, Strange C, Sahn SA (1995) Empyema thoracis. Therapeutic management and outcome. Chest 107: 1532–1537

Light RW (1995) A new classification of parapneumonic effusions and empyema. Chest 108: 299–301

Lohe F, Furst H, Muller C et al. (1998) Treatment of advanced pleural empyema. Chirurg 69: 1369–1375

Maskell NA, Davies CW, Nunn AJ et al. (2005) U.K. Controlled trial of intrapleural streptokinase for pleural infection. N Engl J Med 352: 865–874

Muers MF (1997) Streptokinase for empyema. Lancet 349: 1491–1492

Roberts JR (2003) Minimally invasive surgery in the treatment of empyema: intraoperative decision making. Ann Thorac Surg 76: 225–230; discussion 229–230

Selcuk T, Santiago E, Berndt L (2004) Parapneumonic effusion and empyema – current diagnostic and therapeutic strategies. Dtsch Ärztebl 10: 532–539

Simmers TA, Jie C, Sie B (1999) Minimally invasive treatment of thoracic empyema. Thorac Cardiovasc Surg 47: 77–81

Swoboda L LG, Dohrmann, Friedel G, Schirren J (2000) Pleuraempyem. In: Thoraxchirurgie LdDGf (ed) AWMF online

Wagner U, Vogelmeier C (2005) [Parapneumonic effusion and pleural empyema – diagnosis and conservative therapy]. Dtsch Med Wochenschr 130: 525–529
Interessenkonflikt
Der korrespondierende Autor gibt an, dass kein Interessenkonflikt besteht.
About this article
Cite this article
Klopp, M., Pfannschmidt, J. & Dienemann, H. Behandlung des Pleuraempyems. Chirurg 79, 83–96 (2008). https://doi.org/10.1007/s00104-007-1429-y
Published:

Issue Date:

DOI: https://doi.org/10.1007/s00104-007-1429-y
Schlüsselwörter
Keywords