Zusammenfassung
Die Abhängigkeit der Operationsletalität vom Hospitalvolumen ist für die Thoraxchirurgie wissenschaftlich gesichert. Aufgrund der Strukturqualität und der Prozessqualität sind Rückschlüsse auf die Ergebnisqualität möglich. Mindestmengen in der Thoraxchirurgie sind 300 resezierende Eingriffe an den thorakalen Organen ohne Mediastinoskopie, Eingriffe mit der Herz-Lungen-Maschine und Thoraxdrainagen. Mindestmengen sind notwendig, um über den entsprechenden Übungs- und Erfahrungseffekt ein ausreichendes Komplikationsmanagement vorhalten zu können, um somit niedere Operationsletalitäten zu erzielen. Sie sind auch erforderlich, um den Personalaufwand (mindestens 2 vollzeittätige Fachärzte für Thoraxchirurgie) finanzieren zu können. Eine Zentrierung von thoraxchirurgischen Leistungen an Schwerpunktkliniken (Minimum 300 Operationen pro Jahr) und Organzentren (Minimum 500 resezierende Operationen an den thorakalen Organen pro Jahr) sind für Deutschland bei 45.500 zu erwartenden Eingriffen sinnvoll.
Abstract
The dependence of operation lethality on hospital volume has been scientifically determined for thoracic surgery. Conclusions on the quality of the results are possible based on the structure and quality of the procedure. Minimum quantities for specialized centers in thoracic surgery have been established as 300 resectional operations on thoracic organs without mediastinoscopy, operations with the heart-lung machine, and thoracic drainage. Minimum quantities are necessary to uphold sufficient complication management by appropriate practice and experience and to keep operation lethality down. They are also needed for financing staff (at least two full-time active specialists in thoracic surgery). The concentration of thoracic surgical services at main hospitals (minimum 300 operations per year) and organ centers (minimum 500 resectional operations on thoracic organs per year) is reasonable for the 45,500 operations expected in Germany.
Access options
Buy single article
Instant access to the full article PDF.
USD 39.95
Price excludes VAT (USA)
Tax calculation will be finalised during checkout.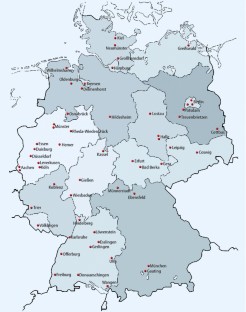 Literatur
Bach PB, Cramer LD, Schrag D et al. (2001) The influence of hospital volume on survival after resection for lung cancer. N Engl J Med 345: 181–188

Beschluss des gemeinsamen Bundesaussschusses über eine Änderung der Richtlinie Methoden vertragliche Versorgung in Anlage I und Anlage II Positronen-Emissions-Tomographie (PET) (2007) Dtsch Ärztebl 104: 1193–1194

Birkmeyer JD, Siewers AE, Finlayson EVA et al. (2002) Hospital volume and surgical mortality in the United States. N Engl J Med 346: 1128–1164

Birkmeyer JD, Stukel TA, Siewers AE et al. (2003) Surgeon volume and operative mortality in the United States. N Engl J Med 349: 2217–2127

Bruckenberger E (2003) Analyse der Vorgabe von Mindestmengen planbarer Leistungen nach dem Fallpauschalengesetz. Krankenhaus-Umschau, http://www.bruckenberger.de

Dienemann H (2005) Chirurgische Therapie des Bronchialkarzinoms. Klinikarzt 34: 206–210

Flöhl R, Siewert JR (1991) Benjamin Franklin Lecture 1999, 23. Symposium aktuelle Chirurgie, Berlin

Friedel G, Graeter T, Haas V et al. (2004) Qualitätssicherung in der Thoraxchirurgie anhand von Eingriffen beim Bronchialkarzinom. Eine Pilotstudie mit Unterstützung der Deutschen Gesellschaft für Thoraxchirurgie und des Vereins für Qualitätsmanagement in der Pneumologie und Thoraxchirurgie. Thoracic Surgical Science 1: Doc02, provisional PDF

Halm EA, Lee C, Chassin MR (2002) Is volume related to outcome in health care: A systematic review and methodologic critique of the literature. Ann Intern Med 137: 511–519

Kaiser D (2006) Technik und Limitationen bei Lungentumoren. J Anaesthesie Intensivmed 4: 26–27

Kaiser D (2006) Fragen des Chirurgen an die PET/CT am Beispiel des Bronchialkarzinoms. In: Mohnike W (Hrsg) PET/CT als therapiesteuerendes Instrument in der onkologischen Diagnostik. ipse communication, s.thuerk@ipse.de S 14–15

Kaiser D (2005) Einfluss der Mindestmenge auf die Ergebnisse der Thoraxchirurgie. In: Bolschweiler E, Hölscher A (Hrsg) Berichte aus der Medizin – Mindestmengen in der Chirurgie. Shaker, Aachen, S 87–97

Kaiser D (2006) Planning of requirements/minimum quantities for thoracic surgical centers in Germany. Eur Surg [Suppl 210] 38: 31–32

Klepetko W, Torkel HJ, Aberg A et al. (2001) Structure of general thoracic surgery in Europe: By the EACTS/ESTS Working Group on Structures in Thoracic Surgery. Eur J Cardiothorac Surg 20: 663–668

Mansky T (2007) Qualitätssicherung mit Routinedaten. Chirurg BDC 7: 233–234

Martin-Ucar AE, Waller DA, Atkins JL et al. (2004) The beneficial effects of specialist thoracic surgery on the resection rate for non small-cell lung cancer. Lung Cancer 46: 227–232

Silvestri GA, Handy J, Lackland D et al. (1998) Specialists achieve better outcomes than generalists for lung cancer surgery. Chest 114: 675–680

Toomes H (1990) Entwicklung, Voraussetzungen und spezielle Aufgaben der allgemeinen Thoraxchirurgie. Thorac Cardiovasc Surg 38: 325–334

Toomes H (2002) General thoracic surgery as a monospeciality a realistic vision? Eur J Cardiothorac Surg 21: 1–4
Interessenkonflikt
Keine Angaben
About this article
Cite this article
Kaiser, D. Mindestmengen aus thoraxchirurgischer Sicht. Chirurg 78, 1012–1017 (2007). https://doi.org/10.1007/s00104-007-1418-1
Published:

Issue Date:

DOI: https://doi.org/10.1007/s00104-007-1418-1
Schlüsselwörter
Keywords