Zusammenfassung
Die Datenbank "Wissen für gesunde Lebenswelten" wurde durch das GKV-Bündnis für Gesundheit, eine gemeinsame Initiative der gesetzlichen Krankenversicherung (GKV) zur Weiterentwicklung und Umsetzung von Gesundheitsförderung und Prävention in Lebenswelten, entwickelt. Sie soll Krankenkassen und weitere Fachkräfte und Beteiligte in der Praxis bei der Planung und Umsetzung evidenzbasierter Maßnahmen der Gesundheitsförderung und Prävention in Lebenswelten unterstützen. In Ergänzung zu bestehenden Interventionsdatenbanken stellt sie Erkenntnisse aus systematischen Übersichtsarbeiten zur Verfügung. Ziel dieses Beitrags ist es, die Datenbank vorzustellen, Nutzungsmöglichkeiten zu beschreiben sowie Weiterentwicklungsmöglichkeiten zu diskutieren.
Die Datenbank beinhaltet Erkenntnisse zu Wirksamkeit und Umsetzungsstrategien lebensweltbezogener Maßnahmen der Gesundheitsförderung und Prävention. Sie enthält strukturierte Zusammenfassungen von 3 Arten Übersichtsarbeiten: systematische Reviews, Scoping-Reviews und Rapid-Reviews. Die Datenbankeinträge (aktuell n = 13) können mit verschiedenen Suchfunktionen (u. a. Freitextsuche, Schlagwortsuche und Suchfilter) recherchiert werden. Die Erstellung der Datenbankeinträge erfolgt qualitätsgesichert mittels eines standardisierten Formulars und im Vieraugenprinzip. Zentrale Informationen sind kurz dargestellt und Fachbegriffe erläutert, um einen niedrigschwelligen Zugang zu ermöglichen. Expertinnen und Experten der gesetzlichen Krankenkassen werden fortlaufend in den Entwicklungsprozess der Datenbank eingebunden.
Im Rahmen der Weiterentwicklung ist geplant, die Datenbank um Erkenntnisse aus neuen Übersichtsarbeiten des GKV-Bündnisses für Gesundheit sowie aus weiteren Quellen zu ergänzen. Zudem werden zukünftig Qualitätsbewertungen der eingeschlossenen Übersichtsarbeiten dargestellt und begleitende Maßnahmen zur Förderung des Wissenschafts-Praxis-Transfers entwickelt.
Abstract
The database "Insights for healthy settings" was developed by the GKV-Bündnis für Gesundheit, a joint initiative of all health insurance funds for developing and implementing setting-based health promotion and prevention measures. It aims to support health insurance funds and other practice partners in planning and implementing evidence-based health promotion and prevention measures in different settings. The database complements existing intervention databases by providing insights based on findings from systematic reviews. This article aims to present the database, describe possible applications, and discuss options for further development.
The database contains findings on the effectiveness and strategies for implementation of setting-based health promotion and prevention measures. In addition to structured summaries of systematic reviews, it includes summaries of scoping reviews and rapid reviews. Different search options (e.g., free text search, subject headings, and search filters) can be used to find database entries (currently n = 13). Quality-assured database entries are created by means of a standardized form and based on the four-eyes principle. To allow for easy access, key findings are presented briefly, and technical terms are clarified. Experts from health insurance funds are continuously involved in the development process of the database.
As part of the database's further development, new reviews of the GKV-Bündnis für Gesundheit as well as from other sources will be added. Additionally, quality assessments of included reviews will be depicted and supporting activities developed to further encourage translation of scientific knowledge into practice.
Access options
Buy single article
Instant access to the full article PDF.
US$ 39.95
Tax calculation will be finalised during checkout.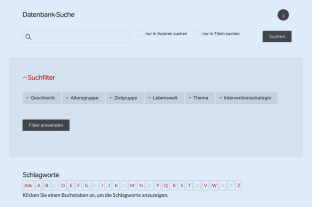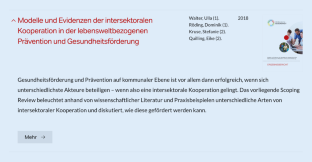 Danksagung
Das Autorenteam bedankt sich insbesondere bei den Mitgliedern der AG Forschung des GKV-Bündnisses für Gesundheit für ihr Engagement bei der Entwicklung und Testung der Datenbank sowie bei den Programmbüros des GKV-Bündnisses für Gesundheit für ihre Beteiligung an der Testung der Datenbank.
Förderung
Die Entwicklung der Datenbank wurde mit Mitteln der gesetzlichen Krankenkassen nach §20a Abs. 3 und 4 SGB V gefördert. Die Aufgaben des GKV-Bündnisses für Gesundheit setzt die Bundeszentrale für gesundheitliche Aufklärung (BZgA) mit Mitteln der gesetzlichen Krankenkassen im Auftrag des GKV-Spitzenverbandes gemäß §20a Abs. 3 und 4 SGB V um. Der GKV-Spitzenverband ist die zentrale Interessenvertretung der gesetzlichen Kranken- und Pflegekassen in Deutschland.
Ethics declarations
Interessenkonflikt
A.F. G. Alayli, C. Witte, W. Haß, H. Zeeb, T.L. Heise und J. Hupfeld geben an, dass kein Interessenkonflikt besteht.
Für diesen Beitrag wurden von den Autoren keine Studien an Menschen oder Tieren durchgeführt. Für die aufgeführten Studien gelten die jeweils dort angegebenen ethischen Richtlinien.
Die Inhalte der Datenbank "Wissen für gesunde Lebenswelten" basieren ausschließlich auf Erkenntnissen aus systematischen Übersichtsarbeiten. Teilnehmende der Nutzerbefragungen haben im Rahmen ihrer beruflichen Funktion ein Feedback zu den Datenbankinhalten gegeben. Ein Ethikvotum war für dieses Projekt daher nicht erforderlich.
About this article
Cite this article
Alayli, A.F.G., Witte, C., Haß, W. et al. Wissen für gesunde Lebenswelten: Eine Datenbank zum Praxistransfer von Erkenntnissen aus systematischen Übersichtsarbeiten. Bundesgesundheitsbl 64, 552–559 (2021). https://doi.org/10.1007/s00103-021-03309-w
Received:

Accepted:

Published:

Issue Date:
Schlüsselwörter
Wissenschafts-Praxis-Transfer

Lebensweltansatz

Gesetzliche Krankenkassen

Rapid Review

Scoping Review

Wirksamkeit
Keywords
Knowledge translation

Setting approach

Health insurance funds

Rapid review

Scoping review

Effectiveness