Zusammenfassung
Hintergrund
Zur Surveillance der hitzeassoziierten Morbidität werden neben Sterbedaten auch Krankenhausentlassungsdaten oder Daten der Inanspruchnahme von Notaufnahmen oder Notfalltelefonen genutzt. In diesem Beitrag wird über die hitzeassoziierte Morbidität in Frankfurt am Main 2014–2018 unter Nutzung des webbasierten Systems "Interdisziplinärer Versorgungsnachweis" (IVENA) berichtet.
Material und Methoden
In dem IVENA-System werden alle rettungsdienstlich oder notärztlich versorgten Patienten in Echtzeit erfasst. Ausgewertet wurden die Rettungsdiensteinsätze in den Sommermonaten (Juni–August) 2014–2018. Die Auswertungen wurden für die Rettungsdiensteinsätze insgesamt, aber auch für verschiedene hitzeassoziierte Diagnosen getrennt vorgenommen. Die Temperaturdaten der Messstelle Frankfurt Ost wurden der Internetseite der Hessischen Landesanstalt für Naturschutz, Umwelt und Geologie online als Stundenwerte entnommen. Als Hitzewelle wurden Temperaturmaxima ≥32 ℃ an mindestens 5 aufeinanderfolgenden Tagen definiert.
Ergebnisse
In den Jahren 2014–2018 ereigneten sich drei Hitzewellen nach o. g. Definition, 2015, 2016 und 2018, wobei 2018 eine extrem lange Hitzeperiode zu verzeichnen war (17 Tage insgesamt; 5 Tage Hitzewelle nach o. g. Definition und weitere 12 Tage mit hohen Temperaturen). Während der Hitzewelle 2015 wurde die höchste Übersterblichkeit (Exzessmorbidität) festgestellt: +17 % Rettungsdiensteinsätze insgesamt und +198 % Rettungsdiensteinsätze wegen hitzeassoziierter Erkrankungen. Die Auswertung der langen Hitzeperiode 2018 zeigte, dass mit zunehmender Dauer der Hitzeperiode die Rettungsdiensteinsätze wegen Exsikkose und unklaren Fiebers noch zunahmen, obwohl die Einsätze wegen hitzeassoziierter Morbidität insgesamt konstant blieben.
Schlussfolgerung
Die mittels IVENA erhobenen Daten ermöglichen sehr rasch ein vollständiges Bild über schwere akute Krankheitsbilder in der Stadt. Gesundheitliche Auswirkungen von Hitzeereignissen können so in Echtzeit untersucht werden. Das System kann zudem als Frühwarnsystem für die Präventionsarbeit genutzt werden.
Abstract
Background
In addition to mortality data, hospital admission, emergency department visits, and emergency service calls data are used for the surveillance of heat-related morbidity. We report on heat-associated morbidity in Frankfurt am Main from 2014–2018 using the web-based care capacity proof system (IVENA) of the rescue service operations.
Material and methods
In the web-based IVENA system, all patients with prehospital emergency care are recorded in real time. The rescue service operations were evaluated in the summer months (June–August) from 2014–2018 in Frankfurt am Main as a whole and separately according to various heat-related diagnoses. The current temperature data of the Frankfurt East measuring station were obtained online as hourly values from the website of the Hessian Institute for Nature Conservation, Environment and Geology (www.hlnug.de). Temperature maxima ≥32 ℃ for at least 5 days were defined as a "heatwave."
Results
From 2014–2018, three heatwaves occurred according to the definition above: in 2015, 2016, and 2018, with an extremely long heat period in 2018 (17 days). During the heatwave in 2015, the highest excess morbidity was noted: +17% total ambulance service operations and +198% emergency service operations due to heat-related disease disorders. The evaluation of the long heat period in 2018 showed that with increasing duration of the heat period, the emergency rescue service operations due to total heat-associated morbidity remained high with increasing emergency service operations due to exsiccosis and unclear fever.
Conclusion
The data obtained by the IVENA system enable a current and complete assessment of severe acute diseases in the city or in the respective rescue service area in real time. Health effects of heat events can thus be investigated in real time and the system can be used as an early warning system for prevention.
Access options
Buy single article
Instant access to the full article PDF.
USD 39.95
Price excludes VAT (USA)
Tax calculation will be finalised during checkout.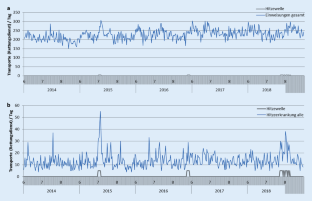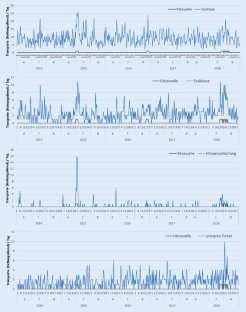 Notes
In der Physiologie ist der Begriff "Fieber" definitionsgemäß mit einer Sollwertverschiebung verbunden, hervorgerufen durch die Wirkung endogener Pyrogene im Hypothalamus. Bei einer erhöhten Körpertemperatur durch Hitzestress und/oder schwerer körperlicher Arbeit liegt eine Sollwertverschiebung in der Regel nicht vor. Deswegen müsste es statt "unklares Fieber" eigentlich "erhöhte Körperkerntemperatur" heißen. Da in IVENA der Begriff "unklares Fieber" genutzt wird, wird dieser Begriff auch in diesem Beitrag genutzt, wohl wissend, dass er im physiologischen Sinne nicht ganz korrekt ist.

Eine weitere Messstelle der HLNUG in einem Wohngebiet in einem westlichen Stadtteil von Frankfurt zeigt im Wesentlichen identische Temperaturwerte (Korrelation 0,99), während die dritte Messstelle in einem Waldgebiet südlich eines Frankfurter Stadtteils mit deutlich niedrigeren Tagesminimaltemperaturen und auch leicht geringeren Tagesmitteltemperaturen als Bezug für diese Auswertung nicht in Betracht zu ziehen war, da dort keine Menschen leben.
Literatur
Bouchama A (2004) The 2003 European heat wave. Intensive Care Med 30:1–3

Brücker G (2005) Vulnerable populations: lessons learnt from the summer 2003 heat waves in Europe. Eurosurveillance 10(7):147

Borrell C, Marí-Dell'Olmo M, Rodríguez-Sanz M et al (2006) Socioeconomic position and excess mortality during the heat wave of 2003 in Barcelona. Eur J Epidemiol 21(9):633–640

Davido A, Patzak A, Dart T et al (2006) Risk factors for heat related death during the August 2003 heat wave in Paris, France, in patients evaluated at the emergency department of the Hôpital Européen Georges Pompidou. Emerg Med J 23(7):515–518

Zielo B, Matzarakis A (2018) Relevance of heat health action plans for preventive public health in Germany. Gesundheitswesen 80(4):e34–e43. https://doi.org/10.1055/s-0043-107874

Filleul L, Cassadou S, Médina S et al (2006) The relation between temperature, ozone, and mortality in nine French cities during the heat wave of 2003. Environ Health Perspect 114(9):1344–1347

Laaidi K, Zeghnoun A, Dousset B et al (2012) The impact of heat islands on mortality in Paris during the August 2003 heat wave. Environ Health Perspect 120(2):254–259

Bittner MI (2014) Auswirkungen von Hitzewellen auf die Mortalität in Deutschland. Gesundheitswesen 76(8):508–512

Heudorf U, Meyer C (2005) Gesundheitliche Auswirkungen extremer Hitze – am Beispiel der Hitzewelle und der Mortalität in Frankfurt am Main im August 2003. Gesundheitswesen 67:369–374

Matthies F, Bickler G, Crdenose Marin N, Hales S (2008) Heat-health-action-plans. Guidance. World Health Organization Regional Office for Europe. http://www.euro.who.int/__data/assets/pdf_file/0006/95919/E91347.pdf. Zugegriffen: 3. Nov. 2018

Bittner MI, Matthies EF, Dalbokova D, Menne B (2014) Are European countries prepared for the next big heat-wave? Eur J Public Health 24(4):615–619

Koppe C, Jendritzky G (2005) Inclusion of short-term adaptation to thermal stresses in a heat load warning procedure. Meteorol Z 14:271–278

Bund/Länder Ad-hoc Arbeitsgruppe Gesundheitliche Anpassung an die Folgen des Klimawandels (GAK) (2017) Bundesgesundheitsbl Gesundheitsforsch Gesundheitsschutz 60:662–672

Grewe HA, Heckenhahn S, Blättner B (2014) Gesundheitsschutz bei Hitzewellen. Z Gerontol Geriatr 47:483–489

Blättner B, Heckenhahn M, Gerorgy S, Grewe HA, Kupski S (2010) Wohngebiete mit hitzeabhängigen Gesundheitsrisiken ermitteln. Soziodemographische und klimatische Kartierung als Planungsinstrument gezielter Prävention. Bundesgesundheitsbl Gesundheitsforsch Gesundheitsschutz 53:75–81

Heudorf U, Schade M (2014) Heat waves and mortality in Frankfurt am Main, Germany, 2003–2013: what effect do heat-health action plans and the heat warning system have? Z Gerontol Geriatr 47:475–482

Steul K, Schade M, Heudorf U (2018) Mortality during heatwaves 2003–2015 in Frankfurt-Main – the 2003 heatwave and its implications. Int J Hyg Environ Health 221(1):81–86. https://doi.org/10.1016/j.ijheh.2017.10.005

Heudorf U, Stark S (2004) Gesundheitsgefahren durch extreme Hitze – Prävention ist notwendig – Konsequenzen aus der Hitzeperiode im August 2003. Hess Arztebl 65:420

Püllen R, Heudorf U (2005) Bedeutung und Prävention Hitze-assoziierter Erkrankungen. Hess Arztebl 66:379–380

Muthers S, Laschewski G, Matzarakis A (2017) The summers 2003 and 2015 in South-West Germany: Heat waves and heat-related mortality in the context of climate change. Atmosphere (Basel) 8:224–237

Boeckmann M, Rohn I (2014) Is planned adaptation to heat reducing heat-mortality and illness? A systematic review. BMC Public Health 14:1112–1125

Jung HG, Schweigkofler U (2012) Interdisziplinärer Versorgungsnachweis "IVENA" Erfahrungen aus 2 Jahren Routinebetrieb. NotIT 2012 – Tagungsband

Auhuber T, Schweigkofler U, Mangelmann M, Hoffmann R (2012) Das Unplanbare planen. Notfallmanagement: Instrumente zur Schnittstellenoptimierung zwischen Präklinik und Klinik. Ku Gesundheitsmanagement 10:26–29

Blau J (2012) Ärztliche Verantwortung in der Leitstelle: Geht es überhaupt noch ohne? Bos-Leitstelle Aktuell 2:112–116

Hessisches Sozialministerium (2013) Qualitätssicherung im Rettungsdienst in Hessen; Einführung des Patientenzuweisungscodes (PZC) als Bestandteil der Rückmeldezahl. Erlass vom 24.05.2005; Az: V7b-18c 12. Juli 2008. Erlass vom 11. Juli 2013

Hessisches Landesamt für Naturschutz, Umwelt und Geologie Luftmesswerte. www.hlnug.de. Zugegriffen: 3. Nov. 2018

D'Ippoliti D, Michelozzi P, Marino C et al (2010) The impact of heat waves on mortality in 9 European cities: results from the EuroHEAT project. Environ Health 9:37

Scortichini M, de'Donato F, De Sario M (2018) The inter-annual variability of heat-related mortality in nine European cities (1990–2010). Environ Health 17(1):66 (Aug)

Choudhary E, Vaidyanathan A (2014) Heat stress illness hospitalizations—environmental public health tracking program, 20 States, 2001–2010. MMWR Surveill Summ 63(13):1–10

Hess JJ, Saha S, Luber G (2014) Summertime acute heat illness in U.S. emergency departments from 2006 through 2010: analysis of a nationally representative sample. Environ Health Perspect 122(11):1209–1215 (Erratum in: Environ Health Perspect. 2014 Nov; 122(11):A293)

Harduar Morano L, Bunn TL, Lackovic M et al (2015) Occupational heat-related illness emergency department visits and inpatient hospitalizations in the southeast region, 2007–2011. Am J Ind Med 58(10):1114–1125

Harduar Morano L, Watkins S, Kintziger K (2016) A comprehensive evaluation of the burden of heat-related illness and death within the florida population. Int J Environ Res Public Health 13(6):551

Fechter-Leggett ED, Vaidyanathan A, Choudhary E (2016) Heat stress illness emergency department visits in national environmental public health tracking states, 2005–2010. J Community Health 41(1):57–69

Fuhrmann CM, Sugg MM, Konrad CE 2nd, Waller A (2016) Impact of extreme heat events on emergency department visits in North Carolina (2007–2011). J Community Health 41(1):146–156

Chen T, Sarnat SE, Grundstein AJ, Winquist A, Chang HH (2017) Time-series analysis of heat waves and emergency department visits in Atlanta, 1993 to 2012. Environ Health Perspect 125(5):57009

Calkins MM, Isaksen TB, Stubbs BA, Yost MG, Fenske RA (2016) Impacts of extreme heat on emergency medical service calls in King County, Washington, 2007–2012: relative risk and time series analyses of basic and advanced life support. Environ Health 15:13

DeVine AC, Vu PT, Yost MG, Seto EYW, Busch Isaksen TM (2017) A geographical analysis of emergency medical service calls and extreme heat in king county, WA, USA (2007–2012). Int J Environ Res Public Health. https://doi.org/10.3390/ijerph14080937

Winquist A, Grundstein A, Chang HH, Hess J, Sarnat SE (2016) Warm season temperatures and emergency department visits in Atlanta, Georgia. Environ Res 147:314–323

Michelozzi P, Accetta G, De Sario M et al (2009) High temperature and hospitalizations for cardiovascular and respiratory causes in 12 European cities. Am J Respir Crit Care Med 179(5):383–389

Harduar Morano L, Waller AE (2017) Evaluation of the components of the North Carolina Syndromic surveillance system heat syndrome case definition. Public Health Rep 132(1_suppl):40S–47S

Lall R, Abdelnabi J, Ngai S (2017) Advancing the use of emergency department syndromic surveillance data, New York City, 2012–2016. Public Health Rep 132(1_suppl):23S–30S

Westheimer E, Paladini M, Balter S, Weiss D, Fine A, Nguyen TQ (2012) Evaluating the New York City emergency department syndromic surveillance for monitoring influenza activity during the 2009–10 influenza season. Plos Curr 4:e500563f3ea181

Mathes RW, Ito K, Matte T (2011) Assessing syndromic surveillance of cardiovascular outcomes from emergency department chief complaint data in New York City. PLoS ONE 6(2):e14677–14

Gemeinsamer Bundesausschuss ESEG – Erkennung und Steuerung epidemiologischer Gefahrenlagen (2018) https://innovationsfonds.g-ba.de/projekte/versorgungsforschung/eseg-erkennung-und-steuerung-epidemiologischer-gefahrenlagen.151. Zugegriffen: 3. Nov. 2018

Steul KS, Latasch L, Jung H‑G, Heudorf U (2018) Morbidität durch Hitze – eine Analyse der Krankenhauseinweisungen per Rettungsdiensteinsatz während einer Hitzewelle 2015 in Frankfurt/Main. Gesundheitswesen 80:353–359

Wittekind C, Gradistanac T (2018) Obduktionen als Instrument der Qualitätssicherung. Dtsch Arztebl 115:653–658
Ethics declarations
Interessenkonflikt
K. Steul, H.-G. Jung und U. Heudorf geben an, dass kein Interessenkonflikt besteht.
Für diesen Beitrag wurden von den Autoren keine Studien an Menschen oder Tieren durchgeführt. Für die aufgeführten Studien gelten die jeweils dort angegebenen ethischen Richtlinien.
About this article
Cite this article
Steul, K., Jung, HG. & Heudorf, U. Hitzeassoziierte Morbidität: Surveillance in Echtzeit mittels rettungsdienstlicher Daten aus dem Interdisziplinären Versorgungsnachweis (IVENA). Bundesgesundheitsbl 62, 589–598 (2019). https://doi.org/10.1007/s00103-019-02938-6
Published:

Issue Date:

DOI: https://doi.org/10.1007/s00103-019-02938-6
Schlüsselwörter
Hitze

Hitzewelle

Exzessmorbidität

Einweisung

Rettungsdiensteinsatz
Keywords
Heat

Heatwave

Excess-morbidity

Hospitalization

Rescue operation