Zusammenfassung
Hintergrund
E-Zigaretten und Tabakerhitzer sind neue Produkte, die alternativ oder komplementär zum herkömmlichen Tabakrauchen verwendet werden.
Ziel der Arbeit
Aktuelle Daten der Deutschen Befragung zum Rauchverhalten (DEBRA-Studie) zur Nutzung von E‑Zigaretten und Tabakerhitzern sollen in Abhängigkeit von Tabakrauchstatus und sozioökonomischen Merkmalen ausgewertet werden. Gründe für die E‑Zigarettennutzung und die Risikoeinschätzung von Tabakerhitzern sollen dargestellt werden.
Material und Methoden
DEBRA ist eine fortlaufende, repräsentative, persönlich-mündliche Haushaltsbefragung von Personen über 14 Jahren. In der vorliegenden Arbeit wurden Daten der ersten neun Befragungswellen analysiert (Juni/Juli 2016 bis Oktober/November 2017; n = 18.415).
Ergebnisse
Im Beobachtungszeitraum konsumierten 1,9 % (95 %-Konfidenzintervall (KI) = 1,7–2,2 %) der Bevölkerung E‑Zigaretten (2,8 % der 14- bis 17-Jährigen). 74,5 % (95 %-KI = 69,4–79,2 %) der aktuellen E‑Zigarettennutzer rauchten gleichzeitig Tabak. Drei Viertel der Jugendlichen nutzten E‑Zigaretten überwiegend "aus Spaß", Erwachsene eher aus Gründen, die mit dem Tabakrauchen zusammenhängen (u. a. weniger schädlich, Rauchstoppmethode). 0,3 % (95 %-KI = 0,09–0,64 %) der aktuellen Tabakraucher und neuen Ex-Tabakraucher (<12 Monate rauchfrei) nutzten aktuell Tabakerhitzer, und 6,0 % (95 % KI = 5,0–7,2 %) waren Jemals-Nutzer. Die Nutzung von Tabakerhitzern stieg mit zunehmender Bildung und zunehmendem Einkommen. Die Mehrheit schätzte Tabakerhitzer als etwas (41,0 %, n = 25) oder viel weniger schädlich (14,8 %, n = 9) ein. 37,7 % (n = 23) hielten sie für genauso schädlich wie Tabakzigaretten.
Diskussion
E-Zigaretten werden in Deutschland überwiegend zusätzlich zu Tabak(zigaretten) konsumiert. Unter aktuellen Tabakrauchern und neuen Ex-Tabakrauchern ist der Gebrauch von Tabakerhitzern noch sehr niedrig, aber relativ häufiger bei Personen mit besserer Bildung und höherem Einkommen zu finden. Ein kontinuierliches Monitoring von Konsummustern bei diesen Produkten in der Gesamtbevölkerung und in relevanten Subgruppen bleibt notwendig.
Abstract
Background
Electronic cigarettes (ECs) and heat-not-burn (HNB) devices are relatively new products that are increasingly used alternatively or complementary to ordinary tobacco products.
Objectives
To analyse current data from the German Study on Tobacco Use (DEBRA) regarding the prevalence of EC and HNB device use and associated socioeconomic factors and smoking behaviour; compare reasons for EC use between adolescents and adults; describe the self-perceived risk of HNB devices.
Material and methods
DEBRA is an ongoing, representative, face-to-face household survey of the population aged 14 years and older. We analysed data from the first nine waves (June/July 2016 to October/November 2017; n = 18,415) for the current study.
Results
During the observation period, 1.9% (95% confidence interval (CI) = 1.7–2.2%) of the German population used ECs (2.8% of the 14- to17-year-olds) and 74.5% (95% CI = 69.4–79.2%) of current EC users also smoked tobacco ("dual use"). Three-quarters of adolescents used ECs mainly "for fun", whereas reasons for use among adults related more to smoking tobacco (e. g., less harmful, to quit smoking). Among current smokers and recent ex-smokers (<12 months smoke-free), 0.3% (95% CI = 0.09–0.64%) currently used HNB devices, and 6.0% (95% CI = 5.0–7.2%) had ever used them. Consumption of HNB products increased with increasing education and income. The majority perceived HNB products as somewhat (41.0%, n = 25) or much (14.8%, n = 9) less harmful, and 37.7% (n = 23) as equally harmful compared with tobacco cigarettes.
Conclusions
In Germany, ECs are mainly consumed as "dual use" together with tobacco. Consumption of HNB products currently occurs at a very low rate and is relatively more common among smokers with higher education and income. It remains important to monitor the use of new electronic inhalation products in the total population and in relevant subgroups.
Access options
Buy single article
Instant access to the full article PDF.
US$ 39.95
Tax calculation will be finalised during checkout.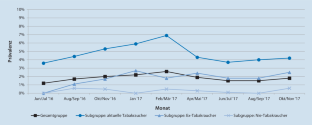 Literatur
1.

Hartmann-Boyce J, Begh R, Aveyard P (2018) Electronic cigarettes for smoking cessation. BMJ 360:j5543

2.

Auer R, Concha-Lozano N, Jacot-Sadowski I, Cornuz J, Berthet A (2017) Heat-not-burn tobacco cigarettes: smoke by any other name. Jama Intern Med 177(7):1050–1052

3.

Deutsches Krebsforschungszentrum (DKFZ), Aktionsbündnis Nichtrauchen e. V. (ABNR) (2015) Memorandum zur gesetzlichen Regulierung von nikotinhaltigen und nikotinfreien E‑Zigaretten. https://www.dkfz.de/de/tabakkontrolle/download/Publikationen/Memorandum/Memorandum_2015_E-Zigarette.pdf. Zugegriffen: 12. Apr. 2018

4.

Deutsches Krebsforschungszentrum (2013) Elektrische Zigaretten – ein Überblick. https://www.dkfz.de/de/tabakkontrolle/download/Publikationen/RoteReihe/Band_19_e-zigaretten_ein_ueberblick.pdf. Zugegriffen: 12. Apr. 2018

5.

Hajek P, Etter J‑F, Benowitz N, Eissenberg T, McRobbie H (2014) Electronic cigarettes: review of use, content, safety, effects on smokers and potential for harm and benefit. Addiction 109:1801–1810

6.

Goniewicz ML, Knysak J, Gawron M et al (2014) Levels of selected carcinogens and toxicants in vapour from electronic cigarettes. Tob Control 23:133–139

7.

McNeill A, Brose LS, Calder R, Hitchman S (2015) E‑cigarettes: an evidence update. Public Health, England

8.

Benowitz NL, Burbank AD (2016) Cardiovascular toxicity of nicotine: Implications for electronic cigarette use. Trends Cardiovasc Med 26:515–523

9.

Willemsen MC, Croes EA, Kotz D, van Schayck OC (2015) De elektronische sigaret. Gebruik, gezondheidsrisico's, en effectiviteit als stopmethode. [Electronic cigarettes: use, health risks, and effectiveness as a cessation method. Ned Tijdschr Geneeskd 159:A9259

10.

Hartmann-Boyce J, McRobbie H, Bullen C, Begh R, Stead LF, Hajek P (2016) Electronic cigarettes for smoking cessation. Cochrane Database Syst Rev 9:CD10216

11.

Brown J, Beard E, Kotz D, Michie S, West R (2014) Real-world effectiveness of e‑cigarettes when used to aid smoking cessation: a cross-sectional population study. Addiction 109:1531–1540

12.

Etter JF (2017) Gateway effects and electronic cigarettes. Addiction 113(10):1776–1783

13.

Mayet A, Lavagna C (2018) Electronic cigarettes: harm reduction tool or new substance use behavior? Addiction 113(10):1786–1788

14.

Soneji S, Barrington-Trimis JL, Wills TA et al (2017) Association between initial use of e‑cigarettes and subsequent cigarette smoking among adolescents and young adults: a systematic review and meta-analysis. JAMA Pediatr 171:788–797

15.

Morgenstern M, Nies A, Goecke M, Hanewinkel R (2018) E‑Zigaretten und der Einstieg in den Konsum konventioneller Zigaretten. Eine Kohortenstudie bei Jugendlichen der Klasse 10. Dtsch Arztebl Int 115:243–248

16.

Levy DT, Cummings KM, Villanti AC et al (2016) A framework for evaluating the public health impact of e‑cigarettes and other vaporized nicotine products. Addiction 112:8–17

17.

Eichler M, Blettner M, Singer S (2016) The use of e‑cigarettes—a population-based cross-sectional survey of 4002 individuals in 2016 [Nutzung elektronischer Zigaretten. Eine bevölkerungsrepräsentative Querschnittsbefragung unter 4 002 Personen aus dem Jahr 2016. Dtsch Ärztebl Int 113:847–854

18.

Kotz D, Böckmann M, Kastaun S (2018) The use of tobacco, e‑cigarettes, and methods to quit smoking in Germany—a representative study using 6 waves of data over 12 months (the DEBRA study). Dtsch Ärztebl Int 115:235–242

19.

Schneider S, Görig T, Schilling L, Diehl K (2017) E‑Zigaretten in aller Munde? – Aktuelle repräsentative Daten zur Nutzung unter Jugendlichen und Erwachsenen. Dtsch Med Wochenschr 142:e156–e166

20.

Braun S, Schaller K, Viarisio V, Kahnert S, Pötschke-Langer M (2014) E‑Zigaretten: Bekanntheit und Konsum in Deutschland 2012–2014. https://www.dkfz.de/de/tabakkontrolle/download/Publikationen/AdWfP/AdWfdP_E-Zigaretten_Bekanntheit_und_Konsum_in_Deutschland_20122014.pdf. Zugegriffen: 12. Apr. 2018

21.

Official Journal of the European Union (2014) Directive 2014/40/EU of the European Parliament and the Council of 3 April 2014 on the approximation of the laws, regulations and administrative provisions of the Member States. http://eur-lex.europa.eu/legal-content/EN/TXT/?uri=OJ%3AJOL_2014_127_R_0001. Zugegriffen: 13.2018 (concerning the manufacture, presentation and sale of tobacco and related products and repealing Directive 2001/37/EC)

22.

Deutsche Befragung zum Rauchverhalten (DEBRA) www.debra-study.info [Zugriff 12. April 2018].

23.

Kastaun S, Brown J, Brose LS et al (2017) Study protocol of the German Study on Tobacco Use (DEBRA): a national household survey of smoking behaviour and cessation. BMC Public Health 17:378

24.

Kish L (1949) A procedure for objective respondent selection within the household. J Am Stat Assoc 44:380–387

25.

European Commission (2017) Special Eurobarometer 458. Attitudes of Europeans towards tobacco and electronic cigarettes. https://data.europa.eu/euodp/en/data/dataset/S2146_87_1_458_ENG. Zugegriffen: 27. Nov. 2017

26.

Brose LS, Simonavicius E, Cheeseman H (2018) Awareness and use of 'heat-not-burn' tobacco products in Great Britain. Tob Regul Sci 4:44–50

27.

Tabuchi T, Gallus S, Shinozaki T, Nakaya T, Kunugita N, Colwell B (2017) Heat-not-burn tobacco product use in Japan: its prevalence, predictors and perceived symptoms from exposure to secondhand heat-not-burn tobacco aerosol. Tob Control 27(e1):e25–e33

28.

Liu X, Lugo A, Spizzichino L, Tabuchi T, Pacifici R, Gallus S (2018) Heat-not-burn tobacco products: concerns from the Italian experience. Tob Control. https://doi.org/10.1136/tobaccocontrol-2017-054054

29.

Pampel FC (2005) Diffusion, cohort change, and social patterns of smoking. Soc Sci Res 34:117–139
Danksagung
Wir bedanken uns bei: Kantar Health (Constanze Cholmakow-Bodechtel und Linda Scharf) für die Datenerhebung und das Datenmanagement.
Förderung
Die DEBRA-Studie wird vom Ministerium für Kultur und Wissenschaft des Landes Nordrhein-Westfalen gefördert im Rahmen des "NRW Rückkehrprogramms".
Ethics declarations
Interessenkonflikt
D. Kotz und S. Kastaun geben an, dass kein Interessenkonflikt besteht.
Alle beschriebenen Untersuchungen am Menschen wurden mit Zustimmung der zuständigen Ethik-Kommission (Ethik-Kommission der Heinrich-Heine-Universität geprüft; ID 5386/R), im Einklang mit nationalem Recht sowie gemäß der Deklaration von Helsinki von 1975 (in der aktuellen, überarbeiteten Fassung) durchgeführt. Die DEBRA-Studie wurde im Deutschen Register klinischer Studien registriert (DRKS00011322). Von allen beteiligten Patienten liegt eine Einverständniserklärung vor. Die Aufklärung und Zustimmung läuft über das von uns beauftragte Marktforschungsinstitut im Rahmen ihrer Mehrthemenbefragung.
Caption Electronic Supplementary Material
About this article
Cite this article
Kotz, D., Kastaun, S. E-Zigaretten und Tabakerhitzer: repräsentative Daten zu Konsumverhalten und assoziierten Faktoren in der deutschen Bevölkerung (die DEBRA-Studie). Bundesgesundheitsbl 61, 1407–1414 (2018). https://doi.org/10.1007/s00103-018-2827-7
Schlüsselwörter
E-Zigaretten

Tabakerhitzer

Rauchen

Sozioökonomische Merkmale

Nationale Befragung
Keywords
E-cigarettes

Heat-not-burn products

Smoking

Socioeconomic factors

National survey