Zusammenfassung
Hintergrund
Tabakkonsum ist der wichtigste beeinflussbare Risikofaktor für Krebserkrankungen. In Deutschland können etwa 15 % aller Krebsneuerkrankungen auf das Rauchen zurückgeführt werden. Ziel der vorliegenden Arbeit ist es, die Entwicklung tabakassoziierter Krebserkrankungen in Deutschland über die letzten 20 Jahre darzustellen.
Methoden
Zur Analyse der zeitlichen Trends wurden die altersstandardisierten Neuerkrankungs- und Sterberaten für Tumoren der oberen Atem- und Verdauungsorgane sowie der ableitenden Harnwege für den Zeitraum 1995 bis 2014/2015 berechnet. Zusätzlich wurde mittels Joinpoint-Regression die durchschnittliche jährliche Veränderung der Raten ermittelt. Für Lungenkrebs wurde die Trendentwicklung der Neuerkrankungs- und Sterberaten stratifiziert, für verschiedene Altersgruppen untersucht sowie die Mortalität nach Geburtskohorten dargestellt.
Ergebnisse
Die Raten bei den Männern sind bei allen betrachteten Krebserkrankungen, außer beim Speiseröhrenkrebs, rückläufig. Der größte Rückgang zeigte sich bei der Lungenkrebssterblichkeit mit −1,9 % pro Jahr. Die Erkrankungsraten bei den Frauen stiegen bei allen tabakassoziierten Krebserkrankungen mit Ausnahme der bösartigen Tumoren der Harnwege an, am deutlichsten beim Lungenkrebs mit 3,3 % pro Jahr. Bei den Männern zeigte sich über alle Geburtsjahrgänge ein kontinuierlicher Rückgang der Wahrscheinlichkeit, in einem bestimmten Alter an Lungenkrebs zu versterben. Bei den Frauen stieg die Wahrscheinlichkeit hingegen über alle Geburtsjahrgänge bis etwa 1960 an.
Schlussfolgerungen
Die vorliegenden Ergebnisse zum tabakassoziierten Krebsgeschehen in Deutschland spiegeln die veränderten Raucherprävalenzen in der Bevölkerung mit einer Verzögerung von mehreren Jahrzehnten wider.
Abstract
Background and Objectives
Tobacco consumption is the most important cancer risk factor. In Germany, about 15% of all new cancer cases can be attributed to smoking. The aim of this paper is to analyze the incidence and mortality trends in tobacco-associated cancer cases in Germany for the last two decades.
Materials and Methods
Age standardized incidence and mortality rates were calculated for tumors of the upper aerodigestive tract and lower urinary tract for the period from 1995 to 2014/2015. In addition, average annual percentage changes were calculated with joinpoint regression analysis. Regarding lung cancer, trends in incidence and mortality rates were also stratified by different age groups and trends in mortality rates were analyzed by birth cohorts.
Results
The incidence and mortality rates among men are declining for all tobacco-associated cancers except esophageal cancer. Lung cancer mortality rates showed the greatest decrease with −1.9% on average per year. The incidence rates among women increased for all tobacco-associated cancers except lower urinary tract cancers. The increase in lung cancer incidence was greatest with 3.3% on average per year. Among men there was a continuous decline over all birth cohorts regarding the chance of dying of lung cancer at a certain age. Among women, the chance of dying of lung cancer increased for all birth cohorts until 1960.
Conclusions
The present analyses regarding tobacco-associated cancers in Germany reflect the changes in smoking prevalence with a deferment of multiple decades.
Access options
Buy single article
Instant access to the full article PDF.
USD 39.95
Price includes VAT (USA)
Tax calculation will be finalised during checkout.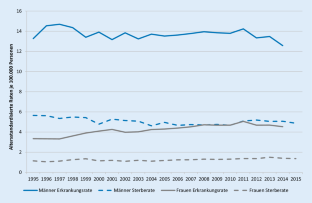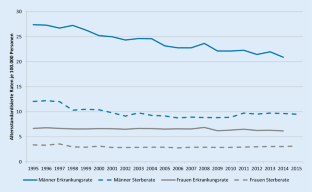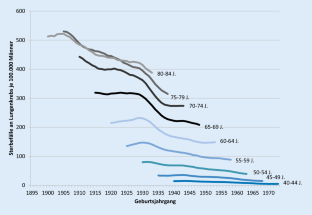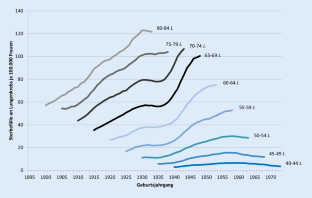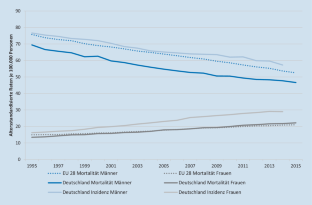 Literatur
1.

WHO (2012) Global Report: Mortality attributable to tobacco. World Health Organization (ed), Genua. http://apps.who.int/iris/bitstream/handle/10665/44815/9789241564434_eng.pdf;jsessionid=AF1625CB7879EA708B4477F7CA60D9EC?sequence=1. Zugegriffen: 8. Mai 2018

2.

Wienecke A, Barnes B, Lampert T, Kraywinkel K (2014) Changes in cancer incidence attributable to tobacco smoking in Germany, 1999–2008. Int J Cancer 134:682–691

3.

Statistisches Bundesamt, Destatis (2018) Amtliche Todesursachenstatistik Deutschland. www.gbe-bund.de. Zugegriffen: 8. Mai 2018

4.

Kuntz B, Zeiher J, Lange C, Lampert T (2017) Zeitliche Entwicklung des Absatzes von Tabakwaren in Deutschland. J Health Monit 2:82–89

5.

Kuntz B, Waldhauer J, Moor I et al (2018) Zeitliche Entwicklung von Bildungsunterschieden im Rauchverhalten von Jugendlichen in Deutschland. Ergebnisse aus vier bevölkerungsweiten Studien. Bundesgesundheitsblatt Gesundheitsforschung Gesundheitsschutz 61:7–19

6.

Orth B (2016) Die Drogenaffinität Jugendlicher in der Bundesrepublik Deutschland 2015. Rauchen, Alkoholkonsum und Konsum illegaler Drogen: aktuelle Verbreitung und Trends. BZgA-Forschungsbericht. Bundeszentrale für gesundheitliche Aufklärung, Köln

7.

Zeiher J, Kuntz B, Lange C (2017) Rauchen bei Erwachsenen in Deutschland. J Health Monit 2:59–65

8.

Kraywinkel K, Barnes B, Dahm S, Haberland J, Nennecke A, Stabenow R (2014) Von regeionalen Daten zu bundesweiten Aussagen. Methoden im Zentrum für Krebsregisterdaten. Bundesgesundheitsblatt Gesundheitsforschung Gesundheitsschutz 57:13–21

9.

Robert Koch-Institut (2017) Krebs in Deutschland für 2013/2014. Zentrum für Krebsregisterdaten, Gesellschaft der epidemiologischen Krebsregister in Deutschland e. V., Berlin

10.

Kim H‑J, Fay MP, Feuer EJ, Midthune DN (2000) Permutation tests for joinpoint regression with applications to cancer rates. Stat Med 19:335–351

11.

Waterhouse J, Muir CS, Correa P, Powell J (1976) Cancer incidence in five continents. IARC Scientific Publications, Bd. III. IARC, Lyon, S 456

12.

Zeiher J, Finger JD, Kuntz B, Hoebel J, Lampert T, Starker A (2018) Zeitliche Trends beim Rauchverhalten Erwachsener in Deutschland. Ergebnisse sieben bundesweiter Gesundheitssurveys 1991–2015. Bundesgesundheitsblatt Gesundheitsforschung Gesundheitsschutz. https://doi.org/10.1007/s00103-018-2817-9

13.

TNS Opinion & Social, Request of Directorate-General Health and Consumers (2012) Attitudes of Europeans towards tobacco. In: European Commission (ed) Special Eurobarometer 385. https://ec.europa.eu/health/sites/health/files/tobacco/docs/eurobaro_attitudes_towards_tobacco_2012_en.pdf. Zugegriffen: 8. Mai 2018

14.

IARC (2007) Reversal of risk after quitting smoking. In: International Agency for Research on Cancer (Hrsg) IARC handbook of cancer prevention. Tobacco Control, Lyon

15.

Pesch B, Kendzian B, Gustavsson P et al (2012) Cigarette smoking and lung cancer – relative risk estimates for the major histological types from a pooled analysis of case-control studies. Int J Cancer 131:1210–1219

16.

Lampert T, Von Der Lippe E, Müters S (2013) Verbreitung des Rauchens in der Erwachsenenbevölkerung in Deutschland. Ergebnisse der Studie zur Gesundheit Erwachsener in Deutschland. Bundesgesundheitsblatt Gesundheitsforschung Gesundheitsschutz 56:802–808

17.

Lopez-Campos JL, Ruiz-Ramos M, Fernandez E, Soriano JB (2017) Recent lung cancer mortality trends in Europe: effect of national smoke-free legislation strengthening. Eur J Cancer Prev https://doi.org/10.1097/CEJ.0000000000000354

18.

Robert Koch-Institut (Hrsg) (2016) Bericht zum Krebsgeschehen in Deutschland 2016. RKI, Berlin

19.

Nordcan (2017) Trends by birth cohort. In: Association of the Nordic Cancer Registries. http://www-dep.iarc.fr/NORDCAN/english/frame.asp. Zugegriffen: 8. Mai 2018

20.

Lange C, Finger JD (2017) Gesundheitsverhalten in Europa – Vergleich ausgewählter Indikatoren für Deutschland und die Europäische Union. J Health Monit 2:3–20

21.

Gaertner B, Freyer-Adam J, Meyer C, John U (2015) Alkohol – Zahlen und Fakten zum Konsum. In: Deutsche Hauptstelle für Suchtfragen e. V. (Hrsg) Jahrbuch Sucht 2015. Pabst, Lengerich, S 39–71

22.

Chaturvedi AK, Anderson WF, Lortet-Tieulent J et al (2013) Worldwide trends in incidence rates for oral cavity and oropharyngeal cancers. J Clin Oncol 31:4550–4559

23.

Jansen L, Buttmann-Schweiger N, Listl S et al (2018) Differences in incidence and survival of oral cavity and pharyngeal cancers between Germany and the United States depend on the HPV-association of the cancer site. Oral Oncol 76:8–15

24.

Hoeppner J, Glatz T, Claus R, Fischer A, Kraywinkel K, Brunner T (2017) Das Adenokarzinom des Ösophagus – Bestandsaufnahme einer drastisch zunehmenden Erkrankung. Dtsch Med Wochenschr 142:1453–1460

25.

Pohl H, Welch HG (2005) The role of overdiagnosis and reclassification in the marked increase of esophageal adenocarcinoma incidence. J Natl Cancer Inst 97:142–146

26.

Robert Koch-Institut (2015) Welche Faktoren beeinflussen die Gesundheit – Übergewicht und Adipositas. In: Robert Koch-Institut, Destatis (Hrsg) Gesundheit in Deutschland. Robert Koch-Institut, Berlin, S 201–208

27.

Van Hemelrijck MJJ, Michaud DS, Connolly GN, Kabir Z (2009) Tobacco use and bladder cancer patterns in three western European countries. J Public Health (Bangkok) 31:335–344
Danksagung
Die Autoren danken den Mitarbeiterinnen und Mitarbeitern der bevölkerungsbezogenen Krebsregister in allen Bundesländern, die die hier vorgelegten Analysen erst ermöglicht haben.
Ethics declarations
Interessenkonflikt
A. Wienecke und K. Kraywinkel geben an, dass kein Interessenkonflikt besteht.
Die Arbeit beruht auf den nach landes- und bundesgesetzlichen Vorgaben erhobenen und übermittelten Daten der bevölkerungsbezogenen Krebsregister und der amtlichen Todesursachenstatistik. Darüber hinaus wurden keine Forschungsdaten erhoben.
About this article
Cite this article
Wienecke, A., Kraywinkel, K. Tabakassoziierte Krebserkrankungen in Deutschland – Entwicklung der Inzidenz und Mortalität seit 1995. Bundesgesundheitsbl 61, 1399–1406 (2018). https://doi.org/10.1007/s00103-018-2821-0
Schlüsselwörter
Lungenkrebs

Prozentuale jährliche Veränderung

Tabakkonsum

Geburtskohorten

Krebsregisterdaten
Keywords
Lung cancer

Annual percentage changes

Tobacco consumption

Birth cohorts

Cancer registry data