Zusammenfassung
Hintergrund
Seit 2007 arbeitet die Weltgesundheitsorganisation (WHO) an der 11. Revision zur Internationalen Klassifikation der Erkrankungen (ICD). Die ICD-11 unterscheidet sich in Umfang und Struktur deutlich von der ICD-10. Vor der Verabschiedung hatte die WHO daher Feldtests mit Kodierung von Diagnosen und Fallbeschreibungen vorgesehen.
Ziel der Arbeit
In der Arbeit sollen Hintergrund und Umsetzung der Feldtests in Deutschland beschrieben werden.
Material und Methoden
Über die Arbeitsgemeinschaft der Wissenschaftlichen Medizinischen Fachgesellschaften (AWMF) wurden interessierte Mitglieder zu Projektanträgen aufgefordert. Die Koordination erfolgte durch die Technologie- und Methodenplattform für die vernetzte medizinische Forschung e. V. (TMF) mit Unterstützung des Deutschen Instituts für Medizinische Dokumentation und Information (DIMDI). Zu untersuchen war eine Betaversion ("draft for quality assurance") der ICD-11 for Mortality and Morbidity Statistics (ICD-11-MMS), einer Fassung der ICD-11 zur Abbildung von Mortalität und Morbidität.
Ergebnisse
Von März bis August 2017 konnten 11 Feldtests durchgeführt werden. Mit Ausnahme eines Tests über die Diagnosenbezeichnungen aus dem Alphabetischen Verzeichnis zur ICD-10-GM fokussierten die Feldtests auf jeweils ein medizinisches Fachgebiet. Über die 11 Feldtests wurden insgesamt 8 verschiedene Gütekriterien untersucht und 22 der 27 Kapitel der ICD-11-MMS zumindest anteilig einbezogen.
Diskussion
Trotz engem Zeitrahmen ließen sich die Feldtests in Deutschland erfolgreich umsetzen. Weitestgehend wurde auf die Kodierwerkzeuge der WHO zurückgegriffen. Ein Großteil der Kapitel der ICD konnte anteilig abgedeckt werden. Erstmalig wurde demonstriert, dass Feldtests einen wertvollen Ansatz zu einer die Entwicklung begleitenden Evaluation der ICD darstellen. Die Feldtests sind allerdings noch in einen Methodenrahmen einzufügen, um alle relevanten Anforderungen bei einer Evaluation berücksichtigen zu können.
Abstract
Background
The World Health Organization (WHO) has been developing the 11th revision of the International Classification of Diseases (ICD) since 2007. ICD-11 is different from the ICD-10 in volume and structure. Therefore, the WHO planned field tests with a coding of diagnoses and cases.
Objectives
To describe the background of the field tests and their implementation in Germany.
Materials and methods
Interested parties were invited to submit proposals through a call to the Association of the Scientific Medical Societies (AWMF). The Technology, Methods, and Infrastructure for Networked Medical Research (TMF) was responsible for the coordination, supported by the German Institute for Medical Documentation and Information (DIMDI). The target was a beta version of the ICD-11 for Mortality and Morbidity Statistics (ICD-11-MMS), denoted as "draft for quality assurance".
Results
Eleven field tests were maintained between March and September 2017. With the exception of one field test analyzing diagnoses terms from the thesaurus of the ICD-10-GM, all field tests focused on a specific medical field. Eight different quality criteria were investigated over the 11 field tests, and 22 of the 27 chapters of the ICD-11-MMS were at least partially covered.
Conclusions
Despite the strict time frame, the field tests were successfully implemented and concluded in Germany. Mostly, the ICD-11 tools from the WHO were used. A high percentage of the ICD chapters were partially covered. In summary, it has been demonstrated for the first time that field tests are a valuable approach to evaluate the ICD in parallel to its development. However, a methodological framework integrating the field tests should be developed, taking into account all relevant requirements.
This is a preview of subscription content, log in to check access.
Access options
Buy single article
Instant access to the full article PDF.
US$ 39.95
Price includes VAT for USA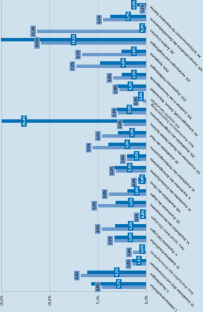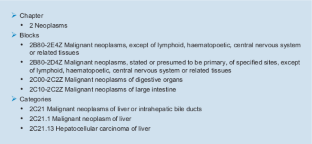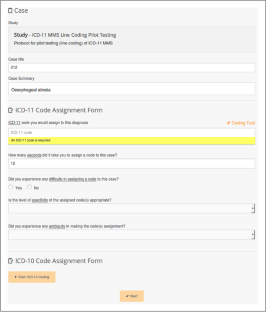 Literatur
1.

Graubner B (2007) ICD and OPS. Historical development and current situation. Bundesgesundheitsblatt Gesundheitsforschung Gesundheitsschutz 50:932–943

2.

Gersenovic M (1995) The ICD family of classifications. Methods Inf Med 34:172–175

3.

ICD Revision Process (2013) Beta phase and finalization. JHA annual report 2013—ANNEX 1. http://www.who.int/classifications/icd/revision/icdrevisionprocess.pdf. Zugegriffen: 28. Dez. 2017

4.

World Health Organization (2007) Letter. Geneva, 8. August 2007. https://dxrevisionwatch.files.wordpress.com/2010/01/exhibit-1-who-letter-aug-07.pdf. Zugegriffen: 28. Dez. 2017

5.

Jakob R, Üstün B, Madden R et al (2007) The WHO family of international classifications. Bundesgesundheitsblatt Gesundheitsforschung Gesundheitsschutz 50:924–931

6.

WHOFIC Network, Üstün TB, Jakob R, Çelik C et al (2007) Production of ICD-11: the overall revision process. March 2007. www.who.int/classifications/icd/ICDRevision.pdf. Zugegriffen: 28. Febr. 2018

7.

World Health Organization Collaborating Centre for Classification, Terminology and Standards (2015) ICD-11 field trial: code-recode ICD-11 training materials

8.

World Health Organization (2017) ICD-11 reference guide draft

9.

Campbell JR, Carpenter P, Sneiderman C et al (1997) Phase II evaluation of clinical coding schemes: completeness, taxonomy, mapping, definitions, and clarity. CPRI Work Group on Codes and Structures. J Am Med Inform Assoc 4:238–251

10.

Cornet R, de Keizer BF, Abu-Hanna A (2006) A framework for characterizing terminological systems. Methods Inf Med 45:253–266

11.

Elkin PL, Brown SH, Carter J et al (2002) Guideline and quality indicators for development, purchase and use of controlled health vocabularies. Int J Med Inform 68:175–186

12.

Donada M, Kostanjsek N, Della Mea V et al (2017) Piloting a collaborative web-based system for testing ICD-11. Stud Health Technol Inform 235:466–470

13.

Dept of Maths & Computer Science, University of Udine, Italy (2015) ICD-FiT—web based field trials: user manual

14.

Evans SC, Roberts MC, Keeley JW et al (2015) Vignette methodologies for studying clinicians' decision-making: validity, utility, and application in ICD-11 field studies. Int J Clin Health Psychol 15:160–170

15.

Koch H, Graubner B, Brenner G (1998) Erprobung der Diagnosenverschlüsselung mit der ICD-10 in der Praxis des niedergelassenen Arztes. Deutscher Ärzte-Verlag, Köln

16.

Stausberg J, Zaiß A, Fuchs J, Berke A (2000) Using ICD-10 for case groups. In: Hasmann A, Blobel B, Dudeck J, Engelbrecht R, Gell G, Prokosch HU (Hrsg) Medical Infobahn for Europe. Proceedings of MIE2000 and GMDS2000. IOS Press, Amsterdam, S 359–363

17.

Roeder N, Rochell B, Müller M, Stausberg J, Raskop A (2000) Deutschland gruppiert australisch. Führen Wirtsch Krankenhaus 17:466–471

18.

Stausberg J (2002) Gestaltung von Diagnosen- und Prozedurenklassifikationen in einem DRG-System. Gesundheitsökon Qualitätsmanage 7:297–303

19.

Stausberg J, Dahmen B, Drösler SE (2005) A methodological framework for the conversion of procedure classifications. Methods Inf Med 44:57–65

20.

Southern DA, Pincus HA, Romano PS et al (2016) World Health Organization ICD-11 Revision Topic Advisory Group on Quality & Safety; World Health Organization ICD-11 Revision Topic Advisory Group on Quality & Safety; Enhanced capture of healthcare-related harms and injuries in the 11th revision of the International Classification of Diseases (ICD-11). Int J Qual Health Care 28:136–142
Danksagung
Die Feldtests wurden durch das BMG unter dem Förderkennzeichen ZMV I 1–2517 FSB 002 finanziell unterstützt. Für die Möglichkeit und Kurzfristigkeit der Bereitstellung dieser Mittel ist allen Beteiligten beim BMG zu danken. Ohne die Beteiligung und engagierte Unterstützung des DIMDI wären die Projekte so nicht durchführbar gewesen. Der Dank gilt weiterhin den Fachgesellschaften, den Projektleitern und allen an den Feldtests beteiligten Personen für Ihr großes Engagement. Die Durchführung der Feldtests war nur mit einem zum Teil erheblichen Eigenanteil möglich.
Ethics declarations
Interessenkonflikt
J. Stausberg, A. Pollex-Krüger, S. C. Semler, U. Vogel und H. Reinecke geben an, dass kein Interessenkonflikt besteht.
Dieser Beitrag beinhaltet keine von den Autoren durchgeführten Studien an Menschen oder Tieren.
About this article
Cite this article
Stausberg, J., Pollex-Krüger, A., Semler, S.C. et al. Feldtests zur Betaversion der ICD-11-MMS in Deutschland: Hintergrund und Methodik. Bundesgesundheitsbl 61, 836–844 (2018). https://doi.org/10.1007/s00103-018-2751-x
Schlüsselwörter
Kodierung

Diagnosen

ICD-11

Internationale Klassifikation der Krankheiten

Klassifikation
Keywords
Koding

Diagnoses

ICD-11

International Classification of Diseases

Classification