Zusammenfassung
Beim 16. Deutschen Kongress für Versorgungsforschung (DKVF), der vom 4.–6. Oktober 2017 in der Urania Berlin stattfand, wurde ein neuer Besucherrekord erreicht: 859 Akteure aus der Versorgungsforschung, Versorgungspraxis und Gesundheitspolitik kamen an den 3 Kongresstagen in Berlin zusammen, um aktuelle Ergebnisse aus der Versorgungsforschung zu diskutieren und sich über neue Entwicklungen zu informieren. Denn das Gesundheitswesen in Deutschland steht vor großen Herausforderungen – die Deutschen werden älter, das Krankheitsgeschehen komplexer und gleichzeitig sinkt die Zahl von Fachkräften in der Krankenversorgung.
Wie eine gute regionale Versorgung funktionieren kann, wurde an den 3 Kongresstagen in 95 Sitzungen anhand von 322 Vorträgen und 239 Postern präsentiert. Topthemen waren dabei innovative sektorenübergreifende Versorgungskonzepte, Patientensicherheit, neue Formen der Arbeitsteilung im Gesundheitswesen, Entwicklungen und Anwendungen im Bereich Telemedizin und E‑Health sowie die Projekte des Innovationsfonds und der Strukturausschreibungen des Bundesministeriums für Bildung und Forschung.
Eine Quintessenz des diesjährigen DKVF ist, dass die Versorgungsforschung ein wichtiger Partner der Patienten, der Gesundheitspolitik und der Selbstverwaltung ist. Die Experten stellen fest, dass zukünftige Versorgung regional und sektorenübergreifend ist sowie alle Gesundheitsberufe miteinbeziehen muss, und sie formulieren eine Vielzahl von Forderungen an die neue Legislaturperiode.
Abstract
The German congress for healthcare research reached a new historic record of 859 participants from healthcare research, practice, and policy who visited the congress from 4–6 October 2017 to discuss developments, results, and innovations in healthcare research.
The German healthcare system will face key challenges over the coming years. As the German population is getting older and disease incidence will become more complex, the number of healthcare professionals will simultaneously decrease.
The experts provided solutions and innovations in 322 lectures and in 239 poster presentations.
Hot topics included innovative and cross-sectoral healthcare concepts, patient safety, new forms of division of labor, telemedicine, eHealth as well as projects of the innovation fund and the Federal Ministry for Education and Research.
Healthcare experts state that healthcare research is a key partner of patients, health policy, and self-government. The experts declare that future healthcare should be regional, cross-sectoral, and should include all healthcare professions. They formulate several demands on health policy for the new legislative period.
This is a preview of subscription content, log in to check access.
Access options
Buy single article
Instant access to the full article PDF.
US$ 39.95
Price includes VAT for USA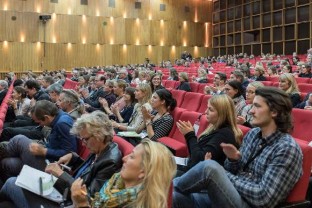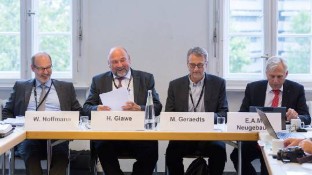 Ethics declarations
Interessenkonflikt
W. Hoffmann, I. Zwingmann, N. van den Berg und J. Biermann geben an, dass kein Interessenkonflikt besteht.
Dieser Beitrag beinhaltet keine von den Autoren durchgeführten Studien an Menschen oder Tieren.
About this article
Cite this article
Hoffmann, W., Zwingmann, I., van den Berg, N. et al. Deutscher Kongress für Versorgungsforschung. Bundesgesundheitsbl 61, 367–370 (2018). https://doi.org/10.1007/s00103-018-2698-y
Schlüsselwörter
Versorgungsforschung

Regionale Versorgung

Patientensicherheit

Arbeitsteilung

Telemedizin
Keywords
Health care research

Regional health care

Patient safety

Division of labor

Telemedicine