Zusammenfassung
Hintergrund
Evidenzbasiertes Wissen zählt zu den wichtigsten Ressourcen in der Gesundheitsversorgung. Relevantes Wissen wird jedoch oft nicht umgesetzt. Für diese "Wissen-Praxis-Lücke" existieren rund 100 verschiedene Begriffe.
Fragestellung/Ziel
Vorgestellt werden die häufigsten Konzepte, die zur Beschreibung und Überwindung dieses Zustandes zur Anwendung kommen: die Implementierungsforschung und die Wissenstranslation oder Wissenszirkulation.
Material und Methoden
Initial erfolgte eine systematische Recherche in den Datenbanken Cinahl, Embase, ERIC, Medline, PsychInfo, Scopus, Cochrane Library und Web of Science ohne zeitliche oder sprachliche Einschränkungen. Aufgrund der Vielzahl der gefundenen Artikel und deren Heterogenität entschied sich das Autorenteam jedoch für eine Fokussierung und infolgedessen für eine narrative Übersicht.
Ergebnisse
Implementierungsforschung beschreibt die wissenschaftliche Untersuchung von Methoden, die systematisch die Übertragung aktueller Forschungsergebnisse und evidenzbasierter Praktiken in die Versorgung unterstützen und das Ziel verfolgen, die Qualität und Effektivität des Gesundheitssystems zu verbessern. Bereits aus dieser Definition wird die Nähe zur Versorgungsforschung deutlich. Wissenstranslation ist umfassender und schließt die Wissenssynthese mit ein. Besser erscheint der Begriff Wissenszirkulation, um den Charakter des Teilens von Wissen zwischen Wissenschaft und Praxis deutlich zu machen.
Diskussion
Implementierungsforschung und Wissenszirkulation sind ähnliche Forschungskonzepte, die versuchen auf der Mikro‑, Meso- und Makroebene des Gesundheitswesens Strategien zu entwickeln, um Wissen in die Praxis zu bringen. Hieraus ergeben sich meist komplexe Forschungsfragen, die interdisziplinär zu bearbeiten sind.
Abstract
Background
Evidence-based knowledge is among the most important resources in health care. However, relevant knowledge is often not implemented. There are about 100 different concepts for the "knowledge-to-practice gap".
Objectives
We conducted this review to identify relevant concepts that describe and try to overcome this situation: implementation research and knowledge translation or circulation.
Materials and methods
We initially conducted a systematic search in the databases CINAHL, Embase, ERIC, Medline, PsycINFO, Scopus, Cochrane Library and Web of Science without time or language restrictions. Owing to the huge number of relevant articles and their heterogeneity, we decided to focus on the most important concepts thus perform a narrative review.
Results
Implementation research is the scientific study of methods of systematically promoting the uptake of current research findings and other evidence-based practices into routine practice, with the aim of improving the quality and effectiveness of health services. From this definition, the affinity with health services research seems to be clear. Knowledge translation has a wider spectrum and includes the synthesis of knowledge. The term "knowledge circulation" seems to fit better, because it underlines the sharing of knowledge between research and practice.
Conclusion
Implementation research and knowledge circulation are similar research approaches, which try to develop micro-, meso-, and macro-level strategies for health services to bring knowledge into practice. This results in often complex research questions, which should be processed in interdisciplinary teams.
Access options
Buy single article
Instant access to the full article PDF.
US$ 39.95
Tax calculation will be finalised during checkout.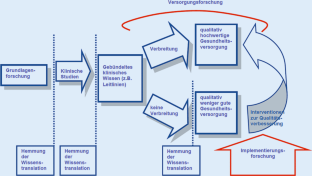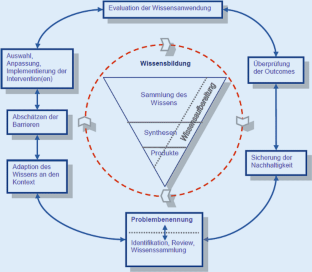 Literatur
1.

Antes G, Galandi D, Bouillon B (1999) What is evidence-based medicine? Langenbecks Arch Surg 384:409–416

2.

Gray M (2009) Evidence-based healthcare and public health, 3. Aufl. Elsevier, Edinburgh

3.

Institute of Medicine (IOM) (2001) Crossing the quality chasm: a new health system for the 21st century. National Academy Press, Washington DC

4.

Morris ZS, Wooding S, Grant J (2011) The answer is 17 years, what is the question: understanding time lags in translational research. J R Soc Med 104:510–520

5.

Lomas J (1993) Diffusion, dissemination, and implementation: Who should do what? Ann N Y Acad Sci 703:226–237

6.

McKibbon KA, Lokker C, Wilczynski NL et al (2010) A cross-sectional study of the number and frequency of terms used to refer to knowledge translation in a body of health literature in 2006: a Tower of Babel? Implement Sci 5:16

7.

Eccles MP, Mittman BS (2006) Welcome to implementation science. Implement Sci. doi:10.1186/1748-5908-1-1

8.

Straus SE, Tetroe J, Graham ID (2009) Knowledge translation in health care: moving from evidence to practice. Wiley-Blackwell, Oxford

9.

Rubenstein LV, Pugh J (2006) Strategies for promoting organizational and practice change by advancing implementation research. J Gen Intern Med 21:S58–S64

10.

Grenz-Farenholtz B, Schmidt A, Verheyen F, Pfaff H (2012) The future issues of health services research: What do experts say? Gesundheitswesen 74:605–611

11.

Green BN, Johnson CD, Adams A (2001) Writing narrative literature reviews for peer-reviewed journals: secrets of the trade. J Sports Chiropr Rehabil 15:5–19

12.

Brach C, Lenfestey N, Roussel A, Amoozegar J, Sorenson A (2008) Will it work here? A decisionmaker's guide to adopting innovations. Agency for Healthcare Research and Quality (AHRQ), Rockville

13.

Grol R, Wensing M, Eccles M (2005) Improving patient care. Elsevier, Edinburgh

14.

Korzcak D, Schöffmann C (2010) Medizinische Wirksamkeit und Kosten-Effektivität von Präventions- und Kontrollmaßnahmen gegen Methicillinresistente Staphylococcus aureus (MRSA)-Infektionen im Krankenhaus. In: DIMDI (Hrsg) Health Technology Assessment (HTA) in der Bundesrepublik Deutschland. Deutsches Institut für Medizinische Dokumentation und Information (DIMDI), Köln

15.

Larson JH, Peterson DJ, Heath VA, Birch P (2000) The relationship between perceived dysfunctional family-of-origin rules and intimacy in young adult dating relationships. J Sex Marital Ther 26:161–175

16.

Haggard M (2011) Poor adherence to antibiotic prescribing guidelines in acute otitis media – obstacles, implications, and possible solutions. Eur J Pediatr 170:323–332

17.

Cabana MD, Rand CS, Powe NR et al (1999) Why don't physicians follow clinical practice guidelines? A framework for improvement. JAMA 282:1458–1465

18.

Fixsen DL, Naoom SF, Blase KA, Friedman RM, Wallace F (2005) Implementation research: a synthesis of the literature. University of South Florida, Louis de la Parte Florida Mental Health Institute, The National Implementation Research Network, Tampa

19.

Davis D (2000) Clinical practice guidelines and the translation of knowledge: the science of continuing medical education. CMAJ 163:1278–1279

20.

Grol R, Grimshaw J (2003) From best evidence to best practice: effective implementation of change in patients' care. Lancet 362:1225–1230

21.

Grimshaw JM, Thomas RE, MacLennan G et al (2004) Effectiveness and efficiency of guideline dissemination and implementation strategies. Health Technol Assess 8(6):iii–iv (1–72)

22.

Ollenschläger G, Kirchner H, Fiene M (2001) Leitlinien in der Medizin – scheitern sie an der praktischen Umsetzung? Internist 42:473–483

23.

Vollmar H, Gerlach FM, Szecsenyi J, Butzlaff M (2008) Wissenstransfer: DEGAM-Serie "Betreuung von Menschen mit chronischen Krankheiten". Z Allg Med 84:214–217

24.

Bero LA, Grilli R, Grimshaw JM, Harvey E, Oxman AD, Thomson MA (1998) Closing the gap between research and practice: an overview of systematic reviews of interventions to promote the implementation of research findings. BMJ 317:465–468

25.

Canadian Institutes of Health Research (2008) About knowledge translation. CHIR, Ottawa

26.

Straus SE, Tetroe J, Graham I (2009) Defining knowledge translation. CMAJ 181:165–168

27.

Graham ID, Logan J, Harrison MB et al (2006) Lost in knowledge translation: time for a map? J Contin Educ Health Prof 26:13–24

28.

Bartholomeyczik S, Halek M, Müller-Hergl C et al (2008) Institut für Forschung und Transfer in der Pflege und Behandlung von Menschen mit Demenz: Konzept. Pflege Ges 13:337–349

29.

Rycroft-Malone J (2004) The PARIHS framework – a framework for guiding the implementation of evidence-based practice. J Nurs Care Qual 19:297–304

30.

HBO-Raad (2004) Innovation agenda of universities of professional education: maximum participation and knowledge circulation. Netherlands Association of Universities of Applied Sciences, Den Haag

31.

Serbânicâ C (2011) Knowledge circulation between universities, public research organizations and business in the EU 27. Drivers, barriers, actions to be put forward. Eur J Interdiscip Stud 3:43–54

32.

Crites GE, McNamara MC, Akl EA, Richardson WS, Umscheid CA, Nishikawa J (2009) Evidence in the learning organization. Health Res Policy Syst 7:4

33.

Van Achterberg T, Schoonhoven L, Grol R (2008) Nursing implementation science: How evidence-based nursing requires evidence-based implementation. J Nurs Scholarsh 40:302–310

34.

Schrappe M, Pfaff H (2016) Versorgungsforschung vor neuen Herausforderungen: Konsequenzen fur Definition und Konzept. Gesundheitswesen 78:689–694

35.

Campbell M, Fitzpatrick R, Haines A et al (2000) Framework for design and evaluation of complex interventions to improve health. BMJ 321:694–696

36.

Pfaff H, Glaeske G, Neugebauer EA et al (2009) Memorandum III: "methods for health services research" (part 1). Gesundheitswesen 71:505–510

37.

Craig P, Dieppe P, Macintyre S, Michie S, Nazareth I, Petticrew M (2008) Developing and evaluating complex interventions: the new Medical Research Council guidance. BMJ 337:a1655

38.

Moore GF, Audrey S, Barker M et al (2015) Process evaluation of complex interventions: Medical Research Council guidance. BMJ 350:h1258

39.

Nilsen P (2015) Making sense of implementation theories, models and frameworks. Implement Sci 10:53

40.

Pinnock H, Barwick M, Carpenter CR et al (2017) Standards for reporting implementation studies (StaRI) statement. BMJ 356:i6795

41.

European Science Foundation (2011) Forward look: implementation of medical research in clinical practice. European Science Foundation, Strasbourg

42.

Fisher ES, Shortell SM, Savitz LA (2016) Implementation science: a potential catalyst for delivery system reform. JAMA 315:339–340

43.

Wallin L (2009) Knowledge translation and implementation research in nursing. Int J Nurs Stud 46:576–587

44.

Madon T, Hofman KJ, Kupfer L, Glass RI (2007) Public health. Implementation science. Science 318:1728–1729

45.

Sanders D, Haines A (2006) Implementation research is needed to achieve international health goals. PLoS Med 3:0719–0722

46.

Graham ID, Logan J (2004) Innovations in knowledge transfer and continuity of care. Can J Nurs Res 36:89–103

47.

Schneider K, Brinker-Meyendriesch E, Schneider A (2005) Pflegepädagogik. Springer, Heidelberg

48.

Schrappe M, Scriba PC (2006) Health services research: innovation transfer in clinical research. Z Arztl Fortbild Qualitatssich 100:571–580

49.

Gifford DR, Holloway RG, Frankel MR et al (1999) Improving adherence to dementia guidelines through education and opinion leaders. A randomized, controlled trial. Ann Intern Med 131:237–246

50.

Segal L, Dalziel K, Bolton T (2008) A work force model to support the adoption of best practice care in chronic diseases – a missing piece in clinical guideline implementation. Implement Sci 3:35

51.

Green LW, Ottoson JM, Garcia C, Hiatt RA (2009) Diffusion theory and knowledge dissemination, utilization, and integration in public health. Annu Rev Public Health 30:151–174

52.

Meiland FJ, Droes RM, De Lange J, Vernooij-Dassen MJ (2004) Development of a theoretical model for tracing facilitators and barriers in adaptive implementation of innovative practices in dementia care. Arch Gerontol Geriatr Suppl 38:279–290. doi:10.1016/j.archger.2004.04.038
Danksagung
Die Autoren danken Karla Bergerhoff von der Düsseldorfer Cochrane Group für die Durchführung der systematischen Recherche. Weiterhin danken sie den Mitgliedern der Integrierten Arbeitsgruppe Wissenszirkulation und Implementierungsforschung der Universität Witten/Herdecke sowie den Mitarbeitern der gleichnamigen Arbeitsgruppe am Deutschen Zentrum für Neurodegenerative Erkrankungen (DZNE) für die fruchtbaren Diskussionen in den Jahren 2006–2012.
Ethics declarations
Interessenkonflikt
H.C. Vollmar, S. Santos, A. de Jong, G. Meyer und S. Wilm geben an, dass kein Interessenkonflikt besteht.
Dieser Beitrag beinhaltet keine von den Autoren durchgeführten Studien an Menschen oder Tieren.
About this article
Cite this article
Vollmar, H.C., Santos, S., de Jong, A. et al. Wie gelangt Wissen in die Versorgung?. Bundesgesundheitsbl 60, 1139–1146 (2017). https://doi.org/10.1007/s00103-017-2612-z
Schlüsselwörter
Implementierungsforschung

Wissenszirkulation

Wissenstranslation

Versorgungsforschung

Übersichtsarbeit
Keywords
Implementation research

Knowledge circulation

Knowledge translation

Health services research

Review