Zusammenfassung
Hintergrund
Patienten mit den sexualmedizinisch relevanten ICD-10 Diagnosen F52, F64, F65 und F66 werden durch verschiedene medizinische Disziplinen behandelt. Bisher fehlen Daten dazu, welche dieser sexuellen Störungen stationär in Krankenhäusern versorgt werden und ob sich Veränderungen über die Zeit zeigen.
Fragestellung
Ziel der Studie ist es zu untersuchen, wie häufig als psychisch gekennzeichnete sexuelle Störungsbilder aus dem Kapitel V (F) der ICD-10 stationär behandelt werden.
Methode
Analysiert wurden die Diagnosedaten aus der seit 2000 jährlich veröffentlichten Krankenhausstatistik des Statistischen Bundesamts (Destatis).
Ergebnisse
Die Zahl der stationär behandelten Patienten mit einer Störung der Geschlechtsidentität (F64) hat seit dem Jahr 2000 um das 2,6-Fache zugenommen. Bei den sexuellen Funktionsstörungen (F52) als Hauptdiagnose zeigt sich ein Rückgang der stationären Behandlungen, wobei eine weitaus höhere Zahl an Krankenhauspatienten eine F52-Nebendiagnose aufweist. Patienten mit F64 werden überwiegend in den urologischen, gynäkologischen und chirurgischen Fächern behandelt, 76,0–81,1 % der Fälle mit F52 in der Urologie. Paraphile Störungen (F65) und psychische und Verhaltensstörung in Verbindung mit der sexuellen Entwicklung und Orientierung (F66) werden nur sehr selten und nahezu ausschließlich psychiatrisch oder psychotherapeutisch stationär versorgt.
Diskussion
Die Daten deuten darauf hin, dass es sich bei den stationären Behandlungen aufgrund einer sexuellen Störung als Hauptdiagnose größtenteils um körpermedizinische Behandlungen der Erektionsstörungen (F52.2) und des Transsexualismus (F64.0) handelt. Insbesondere in den chirurgischen Fächern ist durch die stetig steigenden Fallzahlen aufgrund von F64.0 sexualmedizinische Kompetenz gefragt. Diskutiert werden Ursachen für die Verteilung und Fallzahlentwicklung. Weiterer Forschung bedarf es insbesondere hinsichtlich der stationären Patienten mit F52- und F64-Nebendiagnosen.
Abstract
Background
Patients with the ICD-10 sexual disorders F52, F64, F65, and F66 are treated by a variety of medical disciplines. Until now, there has been a paucity of data regarding which sexual disorders are treated by means of in-patient hospital care and whether changes have occurred over time.
Objectives
The aim of this study is to examine how many patients with sexual disorders that are classified by ICD-10 chapter V (F) as "mental" are treated as in-patients.
Methods
Diagnosis data regarding German hospital care, which have been published annually since 2000 by the German Federal Statistical Office (Destatis), are analysed.
Results
Since 2000, the number of in-patients with disorders of gender identity (F64) has increased 2.6-fold. Hospital treatment of sexual dysfunctions (F52) as a primary diagnosis is decreasing, whereas a significantly higher number of in-patients are treated with F52 as a secondary diagnosis. In-patients with F64 are mostly treated in urology and gynaecology departments or by surgeons, and 76.0–81.1% of F52 cases in urology. In-patients with paraphilic disorders (F65) or psychological and behavioral disorders associated with sexual development and orientation (F66) are rarely but almost exclusively treated in psychiatric or psychotherapeutic departments.
Discussion
The data indicate that most in-patient hospital treatment for primary diagnoses of sexual disorders are somatic treatments for erectile dysfunction (F52.2) and transsexualism (F64.0). Owing to a steady increase in cases with F64.0 diagnoses, a growth in demand for competence in sexual medicine can be noted, especially in the surgical disciplines. Causes of the distribution and the increase in in-patient numbers are discussed. Further research is required, particularly concerning the treatment of in-patients with F52 and F64 secondary diagnoses.
Access options
Buy single article
Instant access to the full article PDF.
USD 39.95
Price excludes VAT (USA)
Tax calculation will be finalised during checkout.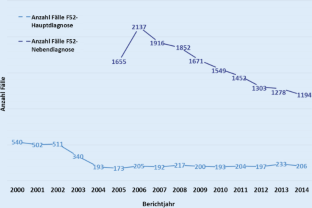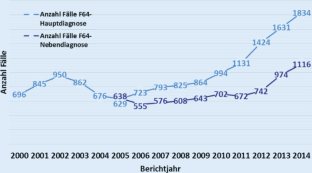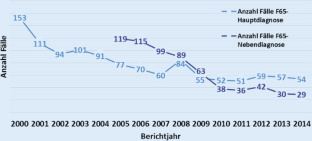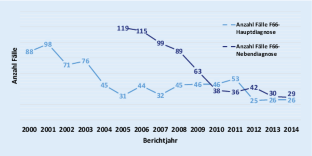 Notes
Die Autoren weisen explizit darauf hin, dass die Formulierung Patient, Arzt, Behandler u. a. jeweils alle Geschlechter einschließt.

Bei Bedarf kann die für die Aggregation vorgenommene Zuteilung der Fachabteilungen für die Berichtjahre 2000, 2007 und 2014 von der Erstautorin zur Verfügung gestellt werden.

Da es im Erfassungszeitraum (2000–2014) relevante Urteile des Bundesverfassungsgerichts zum Transsexuellengesetz (TSG) gegeben hat, die die Voraussetzungen zur Personenstandsänderung verändert haben (u. a., dass eine Personenstandsänderung auch ohne genitalangleichende Operation möglich ist), lässt sich nicht ausschließen, dass es sich bei der Veränderung des Geschlechterverhältnis um eine Konsequenz dieser Urteile handelt und nicht einer realen Änderung des Geschlechterverhältnisses entspricht.
Literatur
Briken P, Dekker A (2012) Sexualwissenschaft: Das sexuelle Elend existiert weiter. Dtsch Arztebl 109:119–121

Heiman JR (2002) Sexual dysfunction: Overview of prevalence, etiological factors, and treatments. J Sex Res 39:73–78

Mitchell KR, Mercer CH, Ploubidis GB et al (2013) Sexual function in Britain: findings from the third National Survey of Sexual Attitudes and Lifestyles (Natsal-3). Lancet 382:1817–1829

Simons JS, Carey MP (2001) Prevalence of sexual dysfunctions: results from a decade of research. Arch Sex Behav 30:177–219

McCabe MP, Sharlip ID, Lewis R et al (2016) Incidence and prevalence of sexual dysfunction in women and men: a consensus statement from the fourth international consultation on sexual medicine 2015. J Sex Med 13:144–152

Korda JB (2008) Weibliche sexuelle Dysfunktion. Urologe 47:77–91

Nicolosi A, Buvat J, Glasser DB, Hartmann U, Laumann EO, Gingell C (2006) Sexual behaviour, sexual dysfunctions and related help seeking patterns in middle-aged and elderly Europeans: the global study of sexual attitudes and behaviors. World J Urol 24:423–428

Englert H, Schaefer G, Roll S, Ahlers C, Beier K, Willich S (2007) Prevalence of erectile dysfunction among middle-aged men in a metropolitan area in Germany. Int J Impot Res 19:183–188

Braun M, Klotz T, Reifenrath B, Mathers M, Wassmer G, Schoenenberger A, Engelmann U (2000) Die Prävalenz von männlichen Erektionsstörungen in Deutschland heute und in der Zukunft. Aktuelle Urol 31:302–307

Arcelus J, Bouman WP, Van Den Noortgate W, Claes L, Witcomb G, Fernandez-Aranda F (2015) Systematic review and meta-analysis of prevalence studies in transsexualism. Eur Psychiatry 30:807–815

Berner W, Briken P, Hill A, Kraus C, Lietz K (2007) Behandlungsleitlinie Störungen der sexuellen Präferenz: Diagnose, Therapie und Prognose. In: Deutsche Gesellschaft für Psychiatrie, Psychotherapie und Nervenheilkunde (DGPPN), Deutsche Gesellschaft für Sexualfroschung (DGfS) (Hrsg) Praxisleitlinien in Psychiatrie und Psychotherapie. Steinkopff, Darmstadt

Fromberger P, Jordan K, Müller JL (2013) Pädophilie: Ätiologie, Diagnostik und Therapie. Nervenarzt 84:1123–1135

Cohen S, Kühn KU, Sträter B, Scherbaum N, Weig W (2010) Beeinträchtigung der Sexualfunktion durch Psychopharmaka und psychotrope Substanzen. Nervenarzt 81:1129–1139

Kinzel U, Weig W (2004) Medikamente und ihre Nebenwirkungen auf die Sexualität. Psychoneuro 30:53–56

Goecker D, Rösing D, Beier KM (2006) Der Einfluss neurologischer Erkrankungen auf Partnerschaft und Sexualität. Urologe 45:992–998

Hoyer J (2013) Sexuelle Funktionsstörungen und ambulante Psychotherapie. Psychotherapeut 58:371–378

Buddeberg C, Jecker E, Klaghofer R, Götzmann L (2012) Sexualmedizin in der Grundversorgung: Entwicklungen 1980–1990–2004. Praxis 96:721–725

Cedzich DA, Bosinski HAG (2010) Sexualmedizin in der hausärztlichen Praxis: Gewachsenes Problembewusstsein bei nach wie vor unzureichenden Kenntnissen. Sexuologie 17:135–147

Turner D, Driemeyer W, Nieder TO, Scherbaum N, Briken P (2014) "Wie viel Sex braucht das Studium der Medizin?" – Eine Erhebung des Wissens und Interesses Medizinstudierender zum Thema Sexualmedizin. Psychother Psychosom Med Psychol 64:452–457

Berner M, Schmidt E, Weinhäupl C, Günzler C, Kriston L, Zahradnik H‑P (2010) Prävalenz, Diagnostik und Therapie weiblicher sexueller Funktionsstörungen in der gynäkologischen Praxis – Eine deutschlandweite Repräsentativbefragung. Geburtshilfe Frauenheilkd 70:281–287

Turner D, Jopt K, Nieder TO, Briken P (2014) German Medical Students' Interest in and Knowledge about Human Sexuality in 1972 and 2012. J Sex Med 11:1914–1926

Platano G, Margraf J, Alder J, Bitzer J (2008) Original research-education: frequency and focus of sexual history taking in male patients – a pilot study conducted among swiss general practitioners and urologists. J Sex Med 5:47–59

Aschka C, Himmel W, Ittner E, Kochen MM (2001) Sexual problems of male patients in family practice. J Fam Pract 50:773–778

Goldstein I, Tseng LJ, Creanga D, Stecher V, Kaminetsky JC (2016) Efficacy and safety of Sildenafil by age in men with erectile dysfunction. J Sex Med 13:852–859

Weig W (2000) Die Rolle von Psychiatrie und Psychotherapie in der Sexualmedizin nach der Markteinführung von Viagra. Nervenarzt 71:218–221

Rosen RC (1998) Über Viagra. Z Sexualforsch 11:271–280

Briken P (2012) Totale, kritische oder praktische Sexualmedizin? Z Sexualforsch 25:373–385

Nieder TO, Briken P, Richter-Appelt H (2014) Transgender, Transsexualität und Geschlechtsdysphorie: Aktuelle Entwicklungen in Diagnostik und Therapie. Psychother Psychosom Med Psychol 64:232–245

Hendricks ML, Testa RJ (2012) A conceptual framework for clinical work with transgender and gender nonconforming clients: An adaptation of the minority stress model. Prof Psychol 43:460–467

Yoon D, Motekallemi S, Rettenberger M, Briken P (2013) Ambulante Behandlung von Sexualstraftätern. Forens Psychiatr Psychol Kriminol 7:177–182

Bockshammer T, Rettenberger M (2015) Eine empirische Untersuchung der dezentralen therapeutischen Versorgung entlassener Sexualstraftäter. Recht Psychiatrie 33:183–192

Turner D, Basdekis-Jozsa R, Briken P (2013) Prescription of testosterone-lowering medications for sex offender treatment in German forensic-psychiatric institutions. J Sex Med 10:570–578

Statistisches Bundesamt (2015) Stafvollzugsstatistik: Im psychiatrischen Krankenhaus und in der Entziehungsanstalt aufgrund strafrichterlicher Anordnung Untergebrachte (Maßregelvollzug) 2013/2014. www.destatis.de/DE/Publikationen/Thematisch/Rechtspflege/StrafverfolgungVollzug/KrankenhausMassregelvollzug5243202149004.pdf?__blob=publicationFile. Zugegriffen: 30. Juni 2016

Cochran SD, Drescher J, Kismodi E et al (2014) Proposed declassification of disease categories related to sexual orientation in the International Statistical Classification of Diseases and Related Health Problems (ICD-11). Bull World Health Organ 92:672–679

World Medical Association (WMA) (2013) WMA statement on natural variations of human sexuality. www.wma.net/en/30publications/10policies/s13/index.html.pdf?print-media-type&footer-right=[page]/[toPage]. Zugegriffen: 30. Juni 2016

Maß R (2014) Der Indikationsbereich des Hamburger Modells der Sexualtherapie. Z Sexualforsch 27:150–160

Maß R, Bauer R, Briken P (2014) Das Hamburger Modell der Sexualtherapie. Z Sexualforsch 27:352–370

Berner M, Briken P (Hrsg) (2013) Praxisbuch Sexuelle Störungen: Sexuelle Gesundheit, Sexualmedizin, Psychotherapie sexueller Störungen. Thieme, Stuttgart

Brunner F, Klein V, Reed GM, Briken P (2017) Die Feldstudien zur Internationalen statistischen Klassifikation der Krankheiten und verwandter Gesundheitsprobleme (ICD)–Version 11 und die zukünftige Klassifikation sexueller Störungen. Z Sexualforsch 30:74–81

Reed GM, Drescher J, Krueger RB et al (2016) Disorders related to sexuality and gender identity in the ICD-11: evising the ICD-10 classification based on current scientific evidence, best clinical practices, and human rights considerations. World Psychiatry 15:205–221
Förderung
Die Autoren bedanken sich bei der Bundeszentrale für gesundheitliche Aufklärung (BZgA) für die Projektförderung.
Ethics declarations
Interessenkonflikt
F. Brunner, T. Koops, T.O. Nieder, G.M. Reed und P. Briken geben an, dass kein Interessenkonflikt besteht.
Dieser Beitrag beinhaltet keine von den Autoren durchgeführten Studien an Menschen oder Tieren.
About this article
Cite this article
Brunner, F., Koops, T., Nieder, T.O. et al. Stationäre Krankenhausbehandlungen ausgewählter sexueller Störungen. Bundesgesundheitsbl 60, 987–998 (2017). https://doi.org/10.1007/s00103-017-2592-z
Published:

Issue Date:

DOI: https://doi.org/10.1007/s00103-017-2592-z
Schlüsselwörter
Patientenversorgung

Sexualmedizin

Sexuelle Störungen

Transsexualität

Krankenhaus
Keywords
Patient care

Sexual medicine

Sexual disorders

Transsexuality

Hospital