Zusammenfassung
Der Kongress Armut und Gesundheit, der jährlich von Gesundheit Berlin-Brandenburg e. V. in Kooperation mit unterschiedlichsten Partnern ausgerichtet wird, gehört inzwischen zu den größten Public-Health-Veranstaltungen in Deutschland. Der Kongress stellt eine Plattform für den Austausch zwischen Wissenschaft, Praxis und Politik bereit. Unter dem Motto "Gesundheit solidarisch gestalten" wurde in diesem Jahr die gesamtgesellschaftliche Verantwortung und Solidarität zwischen gesellschaftlichen Gruppen als eine wichtige Voraussetzung für die Gewährleistung gesundheitlicher Chancengleichheit betont. In insgesamt 121 Veranstaltungen mit mehr als 500 Referierenden und Moderierenden wurde ein breites Spektrum an Themen und Fragestellungen diskutiert, u. a. zu regionalen Unterschieden in Bezug auf das Armutsrisiko, zeitlichen Entwicklungen bei gesundheitlicher Ungleichheit, Gesundheit und Gesundheitsversorgung von Flüchtlingen und Asylsuchenden, Situation von wohnungslosen und nichtversicherten Menschen, Ethik in Public Health und zu aktuellen Entwicklungen und Herausforderungen im Zusammenhang mit dem Präventionsgesetz.
Abstract
The annual congress Armut und Gesundheit (Poverty and Health), which is organized by Gesundheit Berlin-Brandenburg e. V. and takes place at the Technical University of Berlin has become one of the biggest public health events in Germany. It constitutes an exchange platform for sciences, practice, and politics. This year's congress topic was solidarity in health, aiming to emphasize the responsibility that society and its actors have to bear in order to warrant health equity. Overall, 121 activities took place, with more than 500 experts and moderators discussing a wide range of subjects and questions including regional disparities in poverty, ethics in public health, the current situation of homeless and people without insurance, time trends in health inequalities, health and healthcare of refugees and asylum seekers, and the current progress and challenges in connection with the German prevention act.
Access options
Buy single article
Instant access to the full article PDF.
US$ 39.95
Tax calculation will be finalised during checkout.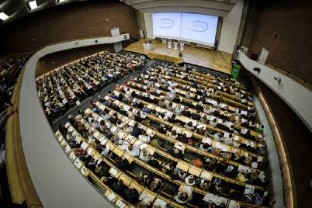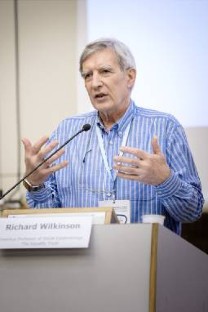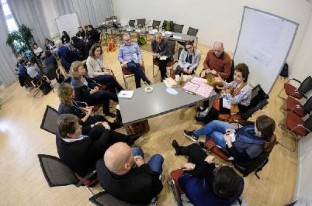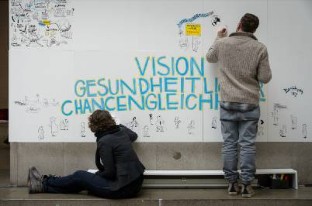 Ethics declarations
Interessenkonflikt
J. Waldhauer, M. Amler, N. Böhme, M. Janella, S. Pospiech und T. Lampert geben an, dass kein Interessenkonflikt besteht.
Dieser Beitrag beinhaltet keine von den Autoren durchgeführten Studien an Menschen oder Tieren.
About this article
Cite this article
Waldhauer, J., Amler, M., Böhme, N. et al. Gesundheit solidarisch gestalten. Tagungsbericht vom Kongress Armut und Gesundheit 2017. Bundesgesundheitsbl 60, 873–878 (2017). https://doi.org/10.1007/s00103-017-2582-1
Schlüsselwörter
Armut

Soziale Ungleichheit

Gesundheit

Gesundheitliche Chancengleichheit

Solidarität
Keywords
Poverty

Social inequality

Health

Health equity

Solidarity