Zusammenfassung
Angesichts der bestehenden Knappheit an humanen Spenderorganen und -geweben kann die Entwicklung xenogener Zelltherapeutika (xZT) eine adäquate Behandlungsalternative sein. Insbesondere porcine Pankreasinseln und -inselzellen haben bereits zum jetzigen Zeitpunkt Eingang in die experimentelle Therapie von Typ 1 Diabetes mellitus (T1DM)-Patienten gefunden. Dabei stellen xZT sowohl aus medizinischer als auch aus ethischer und regulatorischer Sicht eine Herausforderung dar. So ist infolge der speziesübergreifenden Transplantation (Xenotransplantation) neben dem Risiko der immunologischen Abstoßung auch das Infektionsrisiko durch Übertragung von mikrobiellen und viralen Erregern zu berücksichtigen. Letzteres ist bidirektional und betrifft sowohl die Transmission vom Transplantat auf den Empfänger als auch die Transmission vom Empfänger auf das Transplantat. Die Überschreitung der Speziesbarriere erfordert eine kritische Nutzen-Risiko-Bewertung und nach Abschluss der Behandlung eine sorgfältige und langfristige Überwachung der Patienten. Die internationalen rechtlichen und regulatorischen Anforderungen an xZT basieren u. a. auf den von der Weltgesundheitsorganisation (WHO) 2008 im Changsha Kommuniqué formulierten Kriterien, die in Europa nach Inkraftsetzen der EU-Verordnung über Arzneimittel für neuartige Therapien (ATMP) im Leitfaden für xenogene Zelltherapeutika seitens der Europäischen Arzneimittelbehörde EMA mit abgebildet sind.
Abstract
In view of the existing shortage of human donor organs and tissues, xenogeneic cell therapeutics (xCT) offer an alternative for adequate treatment. In particular, porcine pancreatic islets and islet cells have already entered the field of experimental therapy for type-1 diabetes mellitus (T1DM) patients. Thereby, xCT depict challenging products with a glance on medical, ethical, and regulatory questions. With cross-species transplantation (xenotransplantation), the risk of immunological graft rejection as well as the risk of infectious transmission of microbial and viral pathogens must be considered. This includes the bidirectional transmission of microorganisms from graft to host as well as from host to graft. Crossing the border of species requires a critical risk-benefit evaluation as well as a thorough longtime surveillance of transplant recipients after treatment. The international legal and regulatory requirements for xCT are inter alia based on the World Health Organization criteria summarized in the Changsha Communiqué (2008). In the European Union, they were reflected by the European Medicines Agency (EMA) Guideline on Xenogeneic Cell-based Medicinal Products following the implementation of the Regulation on Advanced Therapies (ATMP). On the basis of this regulation, the first non-clinical and clinical experiences were obtained for porcine islets. The results suggest that supportive treatment of T1DM risk patients with xCT may be an alternative to established allogeneic organ transplantation in the future.
Access options
Buy single article
Instant access to the full article PDF.
USD 39.95
Price includes VAT (USA)
Tax calculation will be finalised during checkout.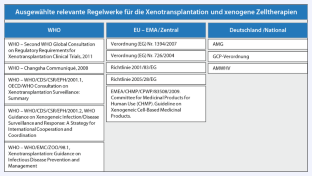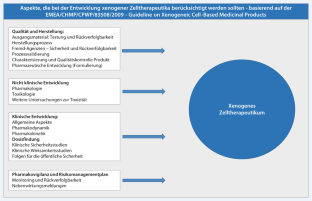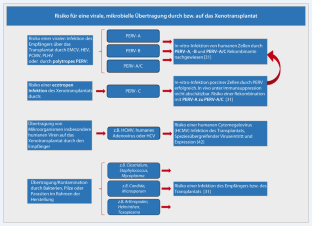 Literatur
1.

Atkinson MA, Eisenbarth GS, Michels AW (2014) Type 1 diabetes. Lancet 383:69–82

2.

Ludwig B, Barthel A, Reichel A et al (2014) Modulation of the pancreatic islet-stress axis as a novel potential therapeutic target in diabetes mellitus. Vitam Horm 95:195–222

3.

Achenbach P, Bonifacio E, Koczwara K, Ziegler AG (2005) Natural history of type 1 diabetes. Diabetes 54:25–31

4.

Reichart B, Niemann H, Chavakis T et al (2015) Xenotransplantation of porcine islet cells as a potential option for the treatment of type 1 diabetes in the future. Horm Metab Res 47:31–35

5.

Gale EAM (2002) The rise of childhood type 1 diabetes in the 20th century. Diabetes 51:3353–3361

6.

Patterson CC, Dahlquist GG, Gyürüs E, Green A, Soltész G, EURODIAB Study Group (2009) Incidence trends for childhood type 1 diabetes in Europe during 1989–2003 and predicted new cases 2005–20: a multicentre prospective registration study. Lancet 373:2027–2033

7.

Robert Koch-Institut (2011) Diabetes mellitus in Deutschland. Beiträge zur Gesundheitsberichterstattung des Bundes. RKI, Berlin. GBE kompakt 3/2011

8.

Jacqueminet S, Masseboeuf N, Rolland M, Grimaldi A, Sachon C (2005) Limitations of the so-called "intensified" insulin therapy in type 1 diabetes mellitus. Diabetes Metab 31:4S45–4S50

9.

Ludwig B, Reichel A, Kruppa A et al (2015) Islet transplantation at the Dresden diabetes center: five years' experience. Horm Metab Res 47:4–8

10.

Meier JJ (2008) Beta cell mass in diabetes: a realistic therapeutic target? Diabetologia 51:703–713

11.

Bouwens L (2006) Beta cell regeneration. Curr Diabetes Rev 2:3–9

12.

Weir GC, Cavelti-Weder C, Bonner-Weir S (2011) Stem cell approaches for diabetes: towards beta cell replacement. Genome Med 3:61

13.

Takahashi K, Yamanaka S (2006) Induction of pluripotent stem cells from mouse embryonic and adult fibroblast cultures by defined factors. Cell 126:663–676

14.

McCall M, Shapiro AM (2012) Update on islet transplantation. Cold Spring Harb Perspect Med 2(7):a007823

15.

Ludwig B, Ludwig S, Steffen A, Saeger HD, Bornstein SR (2010) Islet versus pancreas transplantation in type 1 diabetes: competitive or complementary? Curr Diab Rep 10:506–511

16.

Eurotransplant. Annual Report 2013. Eurotransplant International Foundation. https://www.eurotransplant.org/cms/

17.

Deutsche Stiftung Organtransplantation (DSO) (2013) Organspende und Transplantation in Deutschland. www.dso.de

18.

Deutscher Bundestag. Zweiter Bericht der Bundesregierung über die Situation der Versorgung der Bevölkerung mit Geweben und Gewebezubereitungen. Drucksache 18/2261

19.

Wynyard S, Nathu D, Garkavenko O, Denner J, Elliott R (2014) Microbiological safety of the first clinical pig islet xenotransplantation trial in New Zealand. Xenotransplantation 21:309–323

20.

Dolgin E (2014) Encapsulate this. Nat Med 20:9–11

21.

Neufeld T, Ludwig B, Barkai U et al (2013) The efficacy of an immunoisolating membrane system for islet xenotransplantation in minipigs. PLoS One 8:e70150

22.

Ludwig B, Reichel A, Steffen A et al (2013) Transplantation of human islets without immunosuppression. Proc Natl Acad Sci U S A 110:19054–19058

23.

Regulation (EC) No 1394/2007 of the European Parliament and of the Council of 13 November 2007 on Advanced Therapy Medicinal Products and Amending Directive 2001/83/EC Regulation (EC) No 726/2004

24.

Directive 2001/83/EC of the European Parliament and of the Council of 6 November 2001 on the Community Code Relating to Medicinal Products for Human Use

25.

Regulation (EC) No 726/2004 of The European Parliament and of the Council of 31 March 2004 Laying Down Community Procedures for the Authorisation and Supervision of Medicinal Products for Human and Veterinary Use and Establishing a European Medicines Agency

26.

EMEA/CHMP/CPWP/83508/2009. Committee for Medicinal Products for Human Use (CHMP). Guideline on Xenogeneic Cell-Based Medicinal Products

27.

Paul-Ehrlich-Institut, Bundesinstitut für Impfstoffe und biomedizinische Arzneimittel (2012) Arzneimittel für neuartige Therapien ATMP – Advanced Therapy Medicinal Products Regulatorische Anforderungen und praktische Hinweise. http://www.pei.de/SharedDocs/Downloads/pu/innovationsbuero/broschuere-atmp-anforderungen-hinweise.pdf?__blob=publicationFile&v=1

28.

Drucksache 16/12256; Entwurf eines Gesetzes zur Änderung arzneimittelrechtlicher und anderer Vorschriften; 16.03.2009 http://dipbt.bundestag.de/dip21/btd/16/122/1612256.pdf

29.

Schüßler-Lenz M, Schneider CK (2010) Klinische Prüfung mit Arzneimitteln für Neuartige Therapien. Bundesgesundheitsbl Gesundheitsforsch Gesundheitsschutz 53:68–74

30.

Schriever J, Schwarz G, Steffen C, Krafft H (2009) Das Genehmigungsverfahren 31. klinischer Prüfungen von Arzneimitteln bei den Bundesoberbehörden. Bundesgesundheitsbl Gesundheitsforsch Gesundheitsschutz 52:377–386

31.

Denner J, Tönjes RR (2012) Infection barriers to successful xenotransplantation focusing on porcine endogenous retroviruses. Clin Microbiol Rev 25:318–343

32.

Fishman JA (2014) Assessment of infectious risk in clinical xenotransplantation: the lessons for clinical allotransplantation. Xenotransplantation 21:307–308

33.

Fishman JA, Scobie L, Takeuchi Y (2012) Xenotransplantation-associated infectious risk: a WHO consultation. Xenotransplantation 19:72–81

34.

Noel L (2012) Global regulatory requirements for xenotransplantation clinical trials. Xenotransplantation 19:71

35.

World Health Organization (1998) Xenotransplantation: guidance on infectious disease prevention and management. Ref: WHO/EMC/ZOO/98.1. http://apps.who.int/iris/bitstream/10665/65511/1/WHO_EMC_ZOO_98.1.pdf. Zugegriffen: 30. April 2015

36.

World Health Organization (2001) OECD/WHO consultation on Xenotransplantation surveillance: summary. Ref: CDS/CSR/EPH/2001.1. http://apps.who.int/iris/bitstream/10665/68890/1/WHO_CDS_CSR_EPH_2001.1.pdf. Zugegriffen: 30. April 2015

37.

World Health Organization (2001) WHO guidance on xenogeneic infection/disease surveillance and response: a strategy for international cooperation and coordination. Ref: WHO/CDS/CSR/EPH/2001.2. http://www.who.int/transplantation/publications/OECD_WHO2.pdf?ua=1. Zugegriffen: 30. April 2015

38.

o A (2009)First WHO Global Consultation on Regulatory Requirements for Xenotransplantation Clinical Trials: Changsha, China, 19–21 November 2008. The Changsha Communique. Xenotransplantation 16:61–63

39.

Second WHO Global Consultation on Regulatory Requirements for Xenotransplantation Clinical Trials; October 17–19 2011, WHO, Geneva, Switzerland; http://www.who.int/transplantation/xeno/en/

40.

Hering BJ, Cooper DK, Cozzi E et al (2009) The International Xenotransplantation Association consensus statement on conditions for undertaking clinical trials of porcine islet products in type 1 diabetes– executive summary. Xenotransplantation 16:196–202

41.

Semaan M, Rotem A, Barkai U, Bornstein S, Denner J (2013) Screening pigs for xenotransplantation: prevalence and expression of porcine endogenous retroviruses in Göttingen minipigs. Xenotransplantation 20:148–156

42.

Taveira A, Ponroy N, Mueller NJ, Millard AL (2014) Entry of human cytomegalovirus into porcine endothelial cells depends on both the cellular vascular origin and the viral strain. Xenotransplantation 21:324–340

43.

Elliott RB, Escobar L, Tan PL, Muzina M, Zwain S, Buchanan C (2007) Live encapsulated porcine islets from a type 1 diabetic patient 9.5 yr after xenotransplantation. Xenotransplantation 14:157–161

44.

Ludwig B, Rotem A, Schmid J et al (2012) Improvement of islet function in a bioartificial pancreas by enhanced oxygen supply and growth hormone releasing hormone agonist. Proc Natl Acad Sci USA 109:5022–5027

45.

Ludwig B, Zimerman B, Steffen A et al (2010) A novel device for islet transplantation providing immune protection and oxygen supply. Horm Metab Res 42:918–922
Ethics declarations
Interessenkonflikt
Frau Dr. Antonia W. Godehardt wird gefördert durch die Mittel der Deutschen Forschungsgemeinschaft, DFG, SFB TRR CRC 127, Bonn, Deutschland.
Seitens der Autoren Frau Dr. Dagmar Schilling-Leiß und Herr Dr. Ralf Sanzenbacher besteht kein Interessenkonflikt.
Herr Prof. Dr. Ralf R. Tönjes ist Projektleiter des Projekts Z2 der DFG, SFB TRR CRC 127, Bonn, Deutschland.
About this article
Cite this article
Godehardt, A., Schilling-Leiß, D., Sanzenbacher, R. et al. Xenogene Zelltherapeutika. Bundesgesundheitsbl. 58, 1281–1288 (2015). https://doi.org/10.1007/s00103-015-2246-y
Schlüsselwörter
Xenogene Zelltherapeutika (xZT)

Xenotransplantation

Porcine Pankreasinseln

Xenozoonosen

Typ 1 Diabetes mellitus
Keywords
Xenogeneic cell therapeutics (xCT)

Xenotransplantation

Porcine pancreatic islets

Xenozoonosis

Type 1 diabetes mellitus