Abstract
Historically, the issue of sexual health has been largely considered with respect to the associated negative health outcomes. The dangers of sexual activity such as sexually transmitted infections (STIs), HIV/AIDS, unintended pregnancy, sexual coercion, and sexual violence have dominated the attention of those working in the field. Over the last 20 years, and particularly in the last decade, an increasing number of people from a variety disciplines that address issues of sexual health have developed a new discourse concerning the positive aspects of sexuality. This review of the literature explores this emerging discourse. The results indicate that sexual health, physical health, mental health, and overall well-being are all positively associated with sexual satisfaction, sexual self-esteem, and sexual pleasure. The beneficial effects of sexual satisfaction should be integrated into programs that seek to improve these diverse health outcomes through service delivery, prevention, and sexuality education.
Zusammenfassung
In der Vergangenheit wurde das Thema sexuelle Gesundheit vor allem mit Blick auf die möglichen negativen Folgen für die Gesundheit gesehen. Die Gefahren sexueller Aktivitäten wie sexuell übertragbare Infektionen ("sexually transmitted infections", STIs), HIV/Aids, ungewollte Schwangerschaft, sexuelle Nötigung und sexuelle Gewalt standen im Zentrum der Aufmerksamkeit. In den letzten 20 Jahren, vor allem aber im letzten Jahrzehnt, entwickelte sich jedoch in verschiedenen, mit den Themen der sexuellen Gesundheit befassten Disziplinen ein neuer Diskurs, der stärker die positiven Aspekte in den Fokus rückt. Die vorliegende Übersicht über die dazu veröffentlichte Literatur geht diesem neuen Diskurs auf den Grund. Die Ergebnisse deuten darauf hin, dass sexuelle Gesundheit, körperliche Gesundheit, mentale Gesundheit und allgemeines Wohlbefinden positiv mit sexueller Befriedigung, sexuellem Selbstwertgefühl und sexueller Lust assoziiert sind. Die positiven Auswirkungen einer sexuellen Befriedigung sollten in Programmen, die darauf abzielen, die gesundheitliche Situation durch Angebote, Prävention und sexuelle Aufklärung zu verbessern, berücksichtigt werden.
Access options
Buy single article
Instant access to the full article PDF.
USD 39.95
Price excludes VAT (USA)
Tax calculation will be finalised during checkout.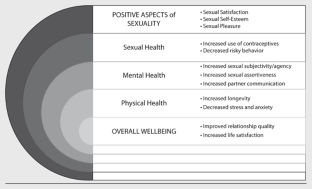 References
Carpenter LM (2010) Toward a social science of sexual satisfaction: commentary on "virginity lost, satisfaction gained? physiological and psychological sexual satisfaction at heterosexual debut". J Sex Res 47(4):395–398

Dixon-Mueller R (1994) The sexuality connection in reproductive health. Stud Family Plann 24(5):269–282

Higgins JA, Hirsch JS (2007) The pleasure deficit: revisiting the "sexuality connection" in reproductive health. Int Fam Plan Perspec 33(3):133–139

Philpott A, Knerr W, Boydell V (2006) Pleasure and prevention: when good sex is safer sex. Reprod Health Matters 14(28):23–31.d

Pick S, Givaudan M, Kline K (2005) Sexual pleasure as a key component of integral sexual health. Fem Psychol 15(1):44–49

Schwartz P, Young L (2009) Sexual satisfaction in committed relationships. Sex Res Social Policy 6(1):1–17

Knerr W, Philpott A (2009) Promoting safer sex through pleasure: lessons from 15 countries. Development 52(1):95–100

World Health Organization, Topics, Sexual Health. Retrieved from: http://www.who.int/topics/sexual_health/en/on. Accessed 14 April 2012

Gagnon J, Simon W (1973) Sexual conduct: the social origins of human sexuality, Aldine, Chicago

Galinksy A, Sonenstein F (2011) The association between development assets and sexual enjoyment among emerging adults. J Adolescent Health 48:610–615

Young M, Denny G, Young T (2000) Sexual satisfaction among married women age 50 and older. Psychol Rep 86:1107–1122

Young M, Denny G, Luquis R, Young T (1998) Correlates of sexual satisfaction in marriage. CDHS 7(2):115–127

Lawrance K, Byers ES (1995) Sexual satisfaction in heterosexual long-term relationships; the interpersonal exchange model of sexual satisfaction. Pers Relationship 2:267–285

Boul L, Hallam-Jones R, Wylie KR (2009) Sexual pleasure and motivation. J Sex Marital Ther 35:25–29

Ott MA, Millstein SG, Ofner S, Halpern-Felsher BL (2006) Greater expectations: adolescents' positive motivations for sex. Perspect Sex Repro H 38(2):84–89

Pinkerton SA, Cecil H, Bogart LM, Abramson PR (2003) The pleasures of sex: an empirical investigation. Cognition Emotion 17:341–353

Higgins JA, Hirsch JS (2008) Pleasure, power and inequality: incorporating sexuality into research on contraceptive use. Am J Public Health 98(10):1803–1813

Higgins JA, Hirsch JS, Trussell J (2008) Pleasure, prophylaxis and procreation: a qualitative analysis of intermittent contraceptive use and unintended pregnancy. Perspect Sex Repro H 40(3):130–137

Higgins JA, Hoffman S, Graham CA, Sanders SA (2008) Relationships between condoms, hormonal methods, and sexual pleasure and satisfaction: an exploratory analysis from the women's well-being and sexuality study. Sex Health 5(4):321–330

Grady WR, Klepinger DH, Nelson-Wally A (1993) Contraceptive characteristics: the perceptions and priorities of men and women. Fam Plann Perspect 31(4):168–175

Philpott A, Knerr W, Maher D (2006) Promoting protection and pleasure: amplifying the effectiveness of barriers against sexually transmitted infections and pregnancy. Lancet 368(9551):2028–2031

Knerr W, Philpott A (2006) Putting the sexy back into safer sex: the pleasure project. IDS Bull 37(5):105–109

Harper GW, Hosek SG, Contreras R, Doll, M (2003) Psychosocial factors impacting condom use among adolescents: a review and theoretical integration. J HIV/AIDS Prev Edu Adol Child 5(3/4):33–69

Hoffman S, Morrow KM, Mantell JE et al (2010) Covert use, vaginal lubrication and sexual pleasure: a qualitative study of urban U.S. women in a vaginal microbicide clinical trial. Arch Sex Behav 39:748–760

Herbenick D, Reece MR, Hensel D et al (2011) Association of lubricant use with women's sexual pleasure, sexual satisfaction, and genital symptoms: a prospective daily diary study. J Sex Med 8(1):202–212

Herbenick D, Reece MR, Dodge B et al (2010) Women's vibrator use in sexual partnerships: results from a nationally representative survey. J Sex Marital Ther 36:49–65

Galinksy A, Sonenstein FL (2011) The association between developmental assets and sexual enjoyment among emerging adults. J Adolescent Health 48:610–615

Menard D, Offman A (2009) The interrelationships between sexual self-esteem, sexual assertiveness and sexual satisfaction. CJHS 18(1/2):35–45 (J Adolescent Health 34:675–684)

Higgins J, Mullinax M, Trussell J et al (2011) Sexual satisfaction and sexual health among university students in the united states. Am J Pub Health 101(9):1643–1654

Gagong K, Larson E (2011) Intimacy and belonging: the association between sexual activity and depression among older adults. Society Mental Health 1:153–172

Hensel D, Fortenberry J, O'Sullivan, Orr D (2011) The developmental association of sexual self-concept with sexual behavior among adolescent women

Rostosky S, Dekhtyar O, Cupp P, Anderman E (2008) Sexual self-concept and sexual self-efficacy in adolescents: a possible clue to promoting sexual health. J Sex Res 45(3):277–286

Lewis LJ (2004) Examining sexual health discourses in a racial/ethnic context. Arch Sex Behav 33(3):223–234

Hull T (2010) Sexual pleasure and wellbeing. Int J Sex Health 20(1–2):133–145

Diamond LM, Huebner DM (2012) Is good sex good for you? rethinking sexuality and health. SPPC 6/1:54–69

Woloski-Wruble A, Oliel Y, Leefsma M, Hocher-Celnikier D (2010) Sexual activities, sexual and life satisfaction, and successful aging in women. J Sex Med 7:2401–2410

Brody S, Costa RM (2009) Satisfaction (sexual, life, relationship, and mental health) is associated directly with penile-vaginal intercourse but inversely with other sexual behavior frequencies. J Sex Med 6(7):1947–1954

Schick V, Herbenick D, Reece M et al (2010) Sexual behaviors, condom use and sexual health of americans over 50: implications for sexual health promotion for older adults. J Sex Med 7:315–329

Dennerstein L, Hayes R, Sand M, Lehert P (2009) Attitudes toward and frequency of partner interactions among women reporting decreased sexual desire. J Sex Med 6:1668–1673

Haavio-Mannila E, Kontula O (1997) Correlates of increased satisfaction. Arch Sex Behav 26(4):399–419
Conflict of interest
The author states that there are no conflicts of interest.
About this article
Cite this article
Anderson, R. Positive sexuality and its impact on overall well-being. Bundesgesundheitsbl. 56, 208–214 (2013). https://doi.org/10.1007/s00103-012-1607-z
Published:

Issue Date:

DOI: https://doi.org/10.1007/s00103-012-1607-z
Keywords
Schlüsselwörter