Zusammenfassung
Obwohl der genetische Einfluss eine wichtige Rolle für die Entwicklung von Adipositas spielt, lässt der dramatische Anstieg ihrer Prävalenz in den letzten Jahren vermuten, dass die Lebensumwelt einen ebenso großen Einfluss hat. In der vorliegenden Arbeit werden die Ergebnisse einer Literaturübersicht über Möglichkeiten und Barrieren in der Lebensumwelt für ein gesundes Ernährungs- und Bewegungsverhalten – beides Faktoren, die die Adipositasepidemie unter Kindern und Jugendlichen beeinflussen – aufgezeigt. Obwohl es deutliche Belege für den Einfluss der Lebensumwelt auf den Lebensstil und damit auf die Ausprägung von Adipositas gibt, liegen nur wenige Hinweise über effektive Strategien zur Veränderung dieser obesogenen Umweltbedingungen vor. Interventionsprogramme, die umweltbedingte Einflussfaktoren verändern wollen, um kindlicher Adipositas entgegenzuwirken, könnten auf zusätzliche Angebote von Sporteinrichtungen und gesunden Mahlzeiten in der Schule (zum Beispiel auf ein Obstangebot), auf die Sicherheit und Verfügbarkeit von Fuß- und Fahrradwegen sowie auf mehr Spielflächen zielen oder die gesellschaftliche Wertung von Gewicht, Ernährung oder Bewegung beeinflussen. Um die gewünschten Veränderungen der Lebensumwelt langfristig aufrechtzuerhalten (zum Beispiel das Verbot von Softdrinks an Schulen), ist jedoch ein gewisser Grad an Institutionalisierung unterstützender Einrichtungen erforderlich. Das Design und die Durchführung von Studien zur genauen Bestimmung umweltbedingter Einflussfaktoren auf obesogenes Verhalten müssen verbessert werden, um den Erfolg großflächig angelegter Interventionsprogramme sicherzustellen.
Abstract
While genetic factors play a role in the development of obesity, its dramatic increase in prevalence over the past few years strongly suggests an important environmental role. The results of a review on environmental opportunities and barriers for physical activity and dietary intake influencing the obesity epidemic among children and adolescents are presented. Although evidence clearly shows the impact of the environment on obesity-related lifestyle factors among children, evidence for effective strategies combating this obesogenic environment is scarce. Interventions aiming to change environmental factors to reduce childhood obesity may include providing extra sporting facilities and healthy foods/meals at school (e.g., provision of fruit), efforts to improve safety and accessibility of walking, cycling, and play areas, while at the same time attempting to influence social values attached to weight, food, or physical activity. Some level of institutionalization of systems that support the desired changes is required to sustain long-term environmental changes (e.g., ban of softdrinks at school). Better-designed and -conducted research on the true importance of environmental factors for obesogenic behavioral change is needed to achieve success of large-scale environmental change interventions.
Access options
Buy single article
Instant access to the full article PDF.
US$ 39.95
Tax calculation will be finalised during checkout.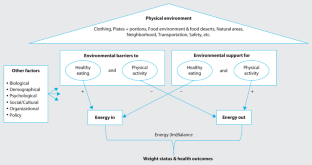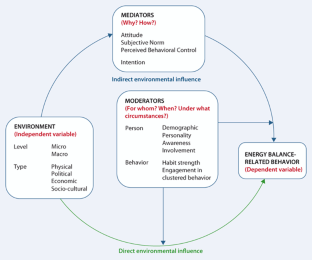 Literatur
1.

Wardle J, Carnell S, Haworth CM, Plomin R (2008) Evidence for a strong genetic influence on childhood adiposity despite the force of the obesogenic environment. Am J Clin Nutr 87(2):398–404

2.

Haworth CM, Plomin R, Carnell S, Wardle J (2008) Childhood obesity: genetic and environmental overlap with normal-range BMI. Obesity (Silver Spring) 16(7):1585–1590

3.

BMA (2005) Preventing childhood obesity. BMA publications unit, London

4.

Peters JC, Wyatt HR, Donahoo WT, Hill JO (2002) From instinct to intellect: the challenge of maintaining healthy weight in the modern world. Obes Rev 3(2):69–74

5.

Boulton TJ, Magarey AM, Cockington RA (1995) Tracking of serum lipids and dietary energy, fat and calcium intake from 1 to 15 years. Acta Paediatr 84(9):1050–1055

6.

Booth KM, Pinkston MM, Poston WS (2005) Obesity and the built environment. J Am Diet Assoc 105(5 Suppl 1): S110–S117

7.

Brug J, Lenthe FJ van, Kremers SP (2006) Revisiting Kurt Lewin: how to gain insight into environmental correlates of obesogenic behaviors. Am J Prev Med 31(6):525–529

8.

Beasley JM, Riley WT, Davis A, Singh J (2008) Evaluation of a PDA-based dietary assessment and intervention program: a randomized controlled trial. J Am Coll Nutr 27(2):280–286

9.

Beasley J, Riley WT, Jean-Mary J (2005) Accuracy of a PDA-based dietary assessment program. Nutrition 21(6):672–677

10.

Westerterp KR (2009) Assessment of physical activity: a critical appraisal. Eur J Appl Physiol 105(6):823–828

11.

Wells NM, Ashdown SP, Davies EHS, Cowett FD (2007) Environment, design, and obesity, opportunities for interdisciplinary collaborative research. Environ Behav 39(1):6–33

12.

Suminski RR, Fritzsinger J, Leck T, Hyder MM (2008) Observing physical activity in suburbs. Health Place 14(4):894–899

13.

Paffenbarger RS Jr, Hyde RT, Wing AL, Hsieh CC (1986) Physical activity, all-cause mortality, and longevity of college alumni. N Engl J Med 314(10):605–613

14.

Zimring C, Joseph A, Nicoll GL, Tsepas S (2005) Influences of building design and site design on physical activity: research and intervention opportunities. Am J Prev Med 28(2 Suppl 2):186–193

15.

Cohen D, Scott M, Wang FZ et al (2008) School design and physical activity among middle school girls. J Phys Act Health 5(5):719–731

16.

Nicoll G, Zimring C (2009) Effect of innovative building design on physical activity. J Public Health Policy 30(Suppl 1):S111–S123

17.

Dolan MS, Weiss LA, Lewis RA et al (2006) "Take the stairs instead of the escalator": effect of environmental prompts on community stair use and implications for a national "Small Steps" campaign. Obes Rev 7(1):25–32

18.

Butler P, Peppard J (1998) Consumer purchasing on the internet: processes and prospects. Eur Manage J 16(5):600–610

19.

Anderson SE, Whitaker RC (2010) Household routines and obesity in US preschool-aged children. Pediatrics 125(3):420–428

20.

Hattersley LA, Shrewsbury VA, King LA et al (2009) Adolescent-parent interactions and attitudes around screen time and sugary drink consumption: a qualitative study. Int J Behav Nutr Phys Act 6:61

21.

He M, Harris S, Piche L, Beynon C (2009) Understanding screen-related sedentary behavior and its contributing factors among school-aged children: a social-ecologic exploration. Am J Health Promot 23(5):299–308

22.

Lajous M, Chavarro J, Peterson KE et al (2009) Screen time and adiposity in adolescents in Mexico. Public Health Nutr 12(10):1938–1945

23.

Dwyer GM, Higgs J, Hardy LL, Baur LA (2008) What do parents and preschool staff tell us about young children's physical activity: a qualitative study. Int J Behav Nutr Phys Act 5:66

24.

Burdette HL, Wadden TA, Whitaker RC (2006) Neighborhood safety, collective efficacy, and obesity in women with young children. Obesity (Silver Spring) 14(3):518–525

25.

Saelens BE, Sallis JF, Black JB, Chen D (2003) Neighborhood-based differences in physical activity: an environment scale evaluation. Am J Public Health 93(9):1552–1558

26.

Saelens BE, Sallis JF, Frank LD (2003) Environmental correlates of walking and cycling: findings from the transportation, urban design, and planning literatures. Ann Behav Med 25(2):80–91

27.

Saelens BE, Handy SL (2008) Built environment correlates of walking: a review. Med Sci Sports Exerc 40(7 Suppl):S550–S566

28.

Edwards RD (2008) Public transit, obesity, and medical costs: assessing the magnitudes. Prev Med 46(1):14–21

29.

Gordon-Larsen P, Nelson MC, Page P, Popkin BM (2006) Inequality in the built environment underlies key health disparities in physical activity and obesity. Pediatrics 117(2):417–424

30.

Schmid TL, Pratt M, Howze E (1995) Policy as intervention: environmental and policy approaches to the prevention of cardiovascular disease. Am J Public Health 85(9):1207–1211

31.

WHO. Diet and physical activity: a public health priority [web site]. http://www who int/dietphysicalactivity/en 2009 April 13 (cited 2009 Apr 13); Available from: URL: http://www.who.int/dietphysicalactivity/en

32.

NHS. Physical activity and the environment: Guidance on the promotion and creation of physical environments that support increased levels of physical activity (web site). http://www nice org uk/Guidance/PH8 2009 April 13 (cited 2009 Apr 13); Available from: URL: http://www.nice.org.uk/Guidance/PH8

33.

Cardon G, Van Cauwenberghe E, Labarque V et al (2008) The contribution of preschool playground factors in explaining children's physical activity during recess. Int J Behav Nutr Phys Act 5:11

34.

De Cocker KA, De Bourdeaudhuij IM, Brown WJ, Cardon GM (2007) Effects of "10,000 steps Ghent": a whole-community intervention. Am J Prev Med 33(6):455–463

35.

De Cocker KA, De Bourdeaudhuij IM, Brown WJ, Cardon GM (2008) The effect of a pedometer-based physical activity intervention on sitting time. Prev Med 47(2):179–181

36.

Young LR, Nestle M (2002) The contribution of expanding portion sizes to the US obesity epidemic. Am J Public Health 92(2):246–249

37.

Berg C, Lappas G, Wolk A et al (2009) Eating patterns and portion size associated with obesity in a Swedish population. Appetite 52(1):21–26

38.

Johnson-Taylor WL, Everhart JE (2006) Modifiable environmental and behavioral determinants of overweight among children and adolescents: report of a workshop. Obesity (Silver Spring) 14(6):929–966

39.

Kubik MY, Lytle LA, Hannan PJ et al (2003) The association of the school food environment with dietary behaviors of young adolescents. Am J Public Health 93(7):1168–1173

40.

Neumark-Sztainer D, French S, Hannan P et al (2005) School lunch and snacking patterns among high school students: associations with school food environment and policies. Int J Behav Nutr Phys Act 2(1):14

41.

Coon KA, Tucker KL (2002) Television and children's consumption patterns. A review of the literature. Minerva Pediatr 54(5):423–436

42.

Taras HL, Sallis JF, Patterson TL et al (1989) Television's influence on children's diet and physical activity. J Dev Behav Pediatr 10(4):176–180

43.

Rolls ET (2007) Understanding the mechanisms of food intake and obesity. Obes Rev 8(S1):67–72

44.

Rose D, Richards R (2004) Food store access and household fruit and vegetable use among participants in the US food stamp program. Public Health Nutr 7(8):1081–1088

45.

Briggs M, Safaii S, Beall DL (2003) Position of the American Dietetic Association, Society for Nutrition Education, and American School Food Service Association – Nutrition services: an essential component of comprehensive school health programs. J Am Diet Assoc 103(4):505–514

46.

Cullen KW, Hartstein J, Reynolds KD et al (2007) Improving the school food environment: results from a pilot study in middle schools. J Am Diet Assoc 107(3):484–489

47.

Story M, Kaphingst KM, French S (2006) The role of schools in obesity prevention. Future Child 16(1):109–142

48.

French SA, Jeffery RW, Story M et al (1997) A pricing strategy to promote low-fat snack choices through vending machines. Am J Public Health 87(5):849–851

49.

French SA, Jeffery RW, Story M et al (2001) Pricing and promotion effects on low-fat vending snack purchases: the CHIPS study. Am J Public Health 91(1):112–117

50.

Fisher JO, Liu Y, Birch LL, Rolls BJ (2007) Effects of portion size and energy density on young children's intake at a meal. Am J Clin Nutr 86(1):174–179

51.

French SA (2003) Pricing effects on food choices. J Nutr 133(3):841S–843S

52.

Dixon HG, Scully ML, Wakefield MA et al (2007) The effects of television advertisements for junk food versus nutritious food on children's food attitudes and preferences. Soc Sci Med 65(7):1311–1323

53.

Sallis JF, Story M, Lou D (2009) Study designs and analytic strategies for environmental and policy research on obesity, physical activity, and diet: recommendations from a meeting of experts. Am J Prev Med 36(2 Suppl):S72–S77

54.

Kremers SP, Bruijn GJ de, Visscher TL et al (2006) Environmental influences on energy balance-related behaviors: a dual-process view. Int J Behav Nutr Phys Act 3:9

55.

Chinn DJ, White M, Harland J et al (1999) Barriers to physical activity and socioeconomic position: implications for health promotion. J Epidemiol Community Health 53(3):191–192

56.

Foster C, Hillsdon M, Thorogood M (2004) Environmental perceptions and walking in English adults. J Epidemiol Community Health 58(11):924–928

57.

Suminski RR, Poston WS, Petosa RL et al (2005) Features of the neighborhood environment and walking by U.S. adults. Am J Prev Med 28(2):149–155

58.

Giles-Corti B, Donovan RJ (2002) Socioeconomic status differences in recreational physical activity levels and real and perceived access to a supportive physical environment. Prev Med 35(6):601–611

59.

Eyler AA, Matson-Koffman D, Young DR et al (2003) Quantitative study of correlates of physical activity in women from diverse racial/ethnic groups: The women's cardiovascular health network project – summary and conclusions. Am J Prev Med 25(3 Suppl 1):93–103

60.

King AC, Castro C, Wilcox S et al (2000) Personal and environmental factors associated with physical inactivity among different racial-ethnic groups of U.S. middle-aged and older-aged women. Health Psychol 19(4):354–364

61.

Michaelsen KF, Weaver L, Branca F et al (2003) Feeding and nutrition of infants and young children: Guidelines for the WHO European region, with emphasis on the former Soviet countries. Copenhagen, Denmark, World Health Organization, Regional Office for Europe. WHO Regional Publications, European Series, No. 87
Additional information
___ ___
Aus dem Englischen übersetzt von C. Buck, Bremer Institut für Präventionsforschung.
About this article
Cite this article
Huybrechts, I., De Bourdeaudhuij, I., Buck, C. et al. Umweltbedingte Einflussfaktoren. Bundesgesundheitsbl. 53, 716–724 (2010). https://doi.org/10.1007/s00103-010-1085-0
Schlüsselwörter
Kinder

Jugendliche

Adipositas

Bewegung

Ernährung

Lebensumwelt
Keywords
Children

Adolescents

Obesity

Physical activity

Diet

Environment