Abstract
Background
Sevoflurane is one of the most widely used inhalation anesthetics in pediatric anesthesia. A large number of studies have demonstrated that repeated treatment with high concentrations or long durations of sevoflurane anesthesia during the neonatal period can induce neuroapoptosis and long-term learning disability. In clinical practice, we observed that a subset of patients underwent minor surgery under sevoflurane anesthesia more than once from birth to adolescence. Therefore, this research was conducted to investigate whether a 2% concentration of sevoflurane (clinically relevant usage of sevoflurane) for 1 h (a short duration) can induce neuroapoptosis and neurocognitive dysfunction in adolescent rats that received sevoflurane (2% for 1 h) during the neonatal period.
Material and methods
Group I: neonatal rats at postnatal day 7 (PND-7) were treated with oxygen under controlled conditions and then raised to PND-60. Group II: PND-7 rats were treated with 2% sevoflurane for 1 h and then raised to PND-60. Group III: the PND-60 rats were treated with 2% sevoflurane for 1 h and in group IV the PND-7 rats were treated with 2% sevoflurane for 1 h and then anesthetized with 2% sevoflurane for 1 h at PND-60 again. The expression of caspase-3, Bax and Bcl-2 in the hippocampal dentate gyrus (DG) were measured by Western blot analysis. Neuroapoptosis in the hippocampal DG was assessed using NeuN/caspase-3 double-immunofluorescence staining. Spatial reference memory was tested by the Morris water maze test.
Results
The present data showed that sevoflurane (2% for 1 h) did not induce obvious hippocampal neuroapoptosis in the PND-7 rats and PND-60 rats; their performance in hippocampal-dependent spatial memory was not significantly impaired; however, the rats in group IV showed poor performance in the Morris water maze test and the neuroapoptosis in group IV was significantly increased.
Conclusion
Our findings suggested that sevoflurane can induce neuroapoptosis and cognitive dysfunction in adolescent rats that received repeated sevoflurane (2% for 1 h) during the postnatal period. These findings will promote further studies to investigate the effects of repeated sevoflurane exposure on the development of the central nervous system and function of learning and memory, as well as the underlying mechanisms in vitro and in vivo.
Zusammenfassung
Hintergrund
Sevofluran ist eines der am häufigsten verwendeten Inhalationsanästhetika in der pädiatrischen Anästhesie. Zahlreiche Studien haben gezeigt, dass eine wiederholte Behandlung mit hohen Konzentrationen oder die Langzeitanwendung des Anästhetikums Sevofluran während in der neonatalen Phase Neuroapoptose und langfristige Lernbehinderungen verursachen kann. In der klinischen Praxis beobachteten wir, dass ein Teil der Patienten bei kleineren Operationen von der Geburt bis zur Adoleszenz mehrfach mit Sevofluran behandelt wurde. Diese Studie wurde daher durchgeführt, um zu untersuchen, ob eine 2 %ige Konzentration von Sevofluran (klinisch relevante Anwendung von Sevofluran) für 1 h (einen kurzen Zeitraum) Neuroapoptose und neurokognitive Dysfunktion bei adoleszenten Ratten induzieren kann, die Sevofluran (2 % für 1 h) während der neonatalen Phase erhielten.
Material und Methoden
Gruppe I: Neonatale Ratten wurden am 7. postnatalen Tag (PND-7) unter kontrollierten Bedingungen mit Sauerstoff behandelt und dann bis PND-60 aufgezogen. Gruppe II: PND-7-Ratten wurden mit Sevofluran 2 % für 1 h behandelt und dann bis PND-60 aufgezogen. Gruppe III: Die PND-60-Ratten wurden für 1 h mit Sevofluran 2 % behandelt, und in Gruppe IV wurden die PND-7-Ratten für 1 h mit Sevofluran 2 % behandelt und dann nochmals am PND-60 für 1 h mit Sevofluran 2 % anästhesiert. Die Expression von Caspase-3, Bax und Bcl-2 im Gyrus dentatus (GD) des Hippokampus wurde mittels Western-Blot-Analyse bestimmt. Die Neuroapoptose im GD des Hippokampus wurde mittels NeuN/Caspase-3-Doppelimmunofluoreszenzfärbung beurteilt.
Ergebnisse
Die vorliegenden Daten zeigten, dass Sevofluran (2 % für 1 h) keine ersichtliche Neuroapoptose im Hippokampus bei den PND-7-Ratten und den PND-60-Ratten induzierte; ihre Leistung im Hippokampus-abhängigen Raumgedächtnis war nicht signifikant eingeschränkt. Jedoch zeigten die Ratten in Gruppe IV eine schwache Leistung im Morris-Wasserlabyrinth-Test, und die Neuroapoptose in Gruppe IV war signifikant erhöht.
Schlussfolgerung
Unsere Ergebnisse zeigten, dass Sevofluran Neuroapoptose und kognitive Dysfunktion bei adoleszenten Ratten induzieren kann, die während der postnatalen Phase wiederholt mit Sevofluran (2 % for 1 h) behandelt wurden. Diese Ergebnisse werden weitere Studien vorantreiben, um die Effekte einer wiederholten Sevofluranexposition auf die Entwicklung des Zentralnervensystems und die Lern- und Gedächtnisfunktion sowie die zugrunde liegenden Mechanismen in vitro und in vivo zu untersuchen.
This is a preview of subscription content, log in to check access.
Access options
Buy single article
Instant access to the full article PDF.
US$ 39.95
Price includes VAT for USA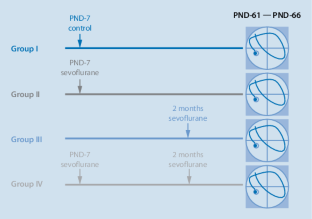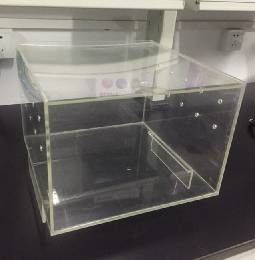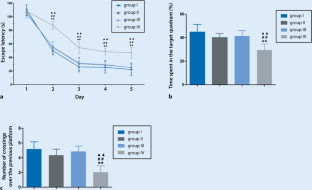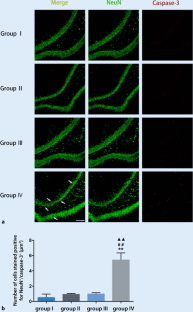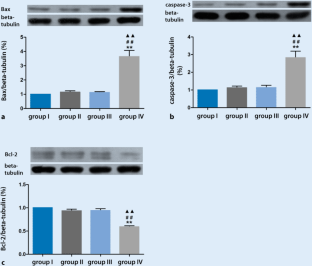 References
1.

Byrnes ML, Reynolds JN, Brien JF (2001) Effect of prenatal ethanol exposure during the brain growth spurt of the guinea pig. Neurotoxicol Teratol 23:355–364

2.

Guerra GG, Robertson CM, Alton GY, Joffe AR, Cave DA et al (2011) Neurodevelopmental outcome following exposure to sedative and analgesic drugs for complex cardiac surgery in infancy. Paediatr Anaesth 21:932–941

3.

Sun L (2010) Early childhood general anaesthesia exposure and neurocognitive development. Br J Anaesth 105(Suppl1):i61–8

4.

Wilder RT, Flick RP, Sprung J, Katusic SK, Barbaresi WJ, Mickelson C, Gleich SJ, Schroeder DR, Weaver AL, Warner DO (2009) Early exposure to anesthesia and learning disabilities in a population-based birth cohort. Anesthesiology 110:796–804

5.

Zou X, Patterson TA, Divine RL, Sadovova N, Zhang X et al (2009a) Prolonged exposure to ketamine increases neurodegeneration in the developing monkey brain. Int J Dev Neurosci 27:727–731

6.

Stratmann G, Sall JW, May LD, Bell JS, Magnusson KR et al (2009b) Isoflurane differentially affects neurogenesis and long-term neurocognitive function in 60-day-old and 7‑day-old rats. Anesthesiology 110:834–848

7.

Chung W, Park S, Hong J, Park S, Lee S, Heo J, Kim D, Ko Y (2015) Sevoflurane exposure during the neonatal period induces long-term memory impairment but not autism-like behaviors. Paediatr Anaesth 25(10):1033–1045

8.

Liu B, Gu Y, Xiao H, Lei X, Liang W, Zhang J (2015) Altered metabolomic profiles may be associated with sevoflurane-induced neurotoxicity in neonatal rats. Neurochem Res 40(4):788–799

9.

Amrock LG, Starner ML, Murphy KL, Baxter MG (2015) Long-term effects of single or multiple neonatal sevoflurane exposures on rat hippocampal ultrastructure. Anesthesiology 122(1):87–95

10.

Zhang X, Liu S, Newport GD, Paule MG, Callicott R, Thompson J, Liu F, Patterson TA, Berridge MS, Apana SM, Brown CC, Maisha MP, Hanig JP, Slikker W Jr, Wang C (2016) In vivo monitoring of Sevoflurane-induced adverse effects in neonatal nonhuman primates using small-animal positron emission Tomography. Anesthesiology 125(1):133–146

11.

Davidson AJ, Disma N, de Graaff JC et al (2016) Neurodevelopmental outcome at 2 years of age after general anaesthesia and awake-regional anaesthesia in infancy (GAS): an international multicentre, randomised controlled trial. Lancet 387:239–250

12.

Sun LS, Li G, Miller TL et al (2016) Association between a single general anesthesia exposure before age 36 months and neurocognitive outcomes in later childhood. JAMA 315:2312–2320

13.

Lu Y, Huang Y, Jiang J, Hu R, Yang Y, Jiang H, Yan J (2016) Neuronal apoptosis may not contribute to the long-term cognitive dysfunction induced by a brief exposure to 2 % sevoflurane in developing rats. Biomed Pharmacother 78:322–328

14.

Ashwell KWS, Paxinos G (2008) Atlas of the developing rat nervous system. Elsevier, San Diego

15.

Paxinos G, Watson C (1986) The rat brain in stereotaxic coordinates vol. 2. Academic Press, Sydney

16.

He Huang H, Liu C‑M, Jie S, Hao T, Xu C‑M, Wang D, Wu Y‑Q (2016) Ketamine affects the Neurogenesis of the Hippocampal dentate gyrus in 7‑day-old rats. Neurotox Res 30:185–198

17.

Chen C, Shen F‑Y, Zhao X, Zhou T, Xu D‑J, Wang Z‑R, Wang Y‑W (2015) Low-dose Sevoflurane promotes Hippocampal Neurogenesis and facilitates the development of dentate gyrus-dependent learning in neonatal rats. ASN Neuro 7(2):1–13

18.

Liang G, Ward C, Peng J, Zhao Y, Huang B, Wei H (2010) Isoflurane causes greater neurodegeneration than an equivalent exposure of sevoflurane in the developing brain of neonatal mice. Anesthesiology 112:1325–1334

19.

Andropoulos DB, Greene MF (2017) Anesthesia and developing brains-implications of the FDA warning. N Engl J Med. https://doi.org/10.1056/NEJMp1700196

20.

Cooper-Kuhn CM, Vroemen M, Brown J, Ye H, Thompson MA, Winkler J, Kuhn HG (2002) Impaired adult neurogenesis in mice lacking the transcription factor E2F1. Mol Cell Neurosci 21:312–323

21.

Sairanen M, Lucas G, Ernfors P, Castren M, Castren E (2005) Brain-derived neurotrophic factor and antidepressant drugs have different but coordinated effects on neuronal turnover, proliferation, and survival in the adult dentate gyrus. J Neurosci 25:1089–1094

22.

Cameron HA, McEwen BS, Gould E (1995) Regulation of adult neurogenesis by excitatory input and NMDA receptor activation in the dentate gyrus. J Neurosci 15:4687–4692

23.

Dupret D, Fabre A, Dobrossy MD, Panatier A, Rodriguez JJ et al (2007) Spatial learning depends on both the addition and removal of new hippocampal neurons. Plos Biol 5:e214

24.

Stone SS, Teixeira CM, Zaslavsky K, Wheeler AL, Martinez-Canabal A et al (2011) Functional convergence of developmentally and adult-generated granule cells in dentate gyrus circuits supporting hippocampus-dependent memory. Hippocampus 21:1348–1362

25.

Kee N, Teixeira CM, Wang AH, Frankland PW (2007) Preferential incorporation of adult-generated granule cells into spatial memory networks in the dentate gyrus. Nat Neurosci 10:355–362

26.

Ramirez-Amaya V, Marrone DF, Gage FH, Worley PF, Barnes CA (2006) Integration of new neurons into functional neural networks. J Neurosci 26:12237–12241

27.

Nakashiba T, Cushman JD, Pelkey KA, Renaudineau S, Buhl DL, McHugh TJ, Tonegawa S (2012) Young dentate granule cells mediate pattern separation, whereas old granule cells facilitate pattern completion. Cell 149:188–201
Funding
This work was supported by the National Natural Science Foundation of China (81171013), Key Subject of Colleges and Universities Natural Science Foundation of Jiangsu Province (10KJA320052).
Ethics declarations
Conflict of interest
H. Huang, C.‑M. Liu, J. Sun, W.‑J. Jin, Y.‑Q. Wu and J. Chen declare that they have no competing interests.
This article does not contain any studies with human participants performed by any of the authors. All applicable international, national, and/or institutional guidelines for the care and use of animals were followed.
About this article
Cite this article
Huang, H., Liu, C., Sun, J. et al. Repeated 2% sevoflurane administration in 7‑ and 60-day-old rats. Anaesthesist 66, 850–857 (2017). https://doi.org/10.1007/s00101-017-0359-4
Received:

Revised:

Accepted:

Published:

Issue Date:
Keywords
Sevoflurane

Neonatal

Adolescent

Neurotoxicity

Neurocognitive function
Schlüsselwörter
Sevofluran

Neonatal

Adoleszent

Neurotoxizität

Neurokognitive Funktion