Zusammenfassung
Angaben zur hohen Letalität der Propofolabhängigkeit medizinisch Tätiger beruhten bisher auf Befragungen Dritter oder auf Kasuistiken. Daher wurden in 48 rechtsmedizinischen deutschsprachigen Instituten (Deutschland, Österreich, Schweiz) die Zahlen der Obduktionen von verstorbenen Ärzten oder medizinisch Tätigen erfragt, die unter dem Verdacht auf Arzneimittelmissbrauch im Zeitraum 2002–2012 durchgeführt worden waren. In 16 der antwortenden 32 Abteilungen (Rücklaufquote 67 %) waren 39 Todesfälle bekannt (27 Männer), alle mit vorherigem Kontakt zu Anästhesie, Intensiv- oder Rettungsmedizin (22 Ärzte, 13 Pflegende, 2 sonstige, 2 unbekannt). Haupttodesursache war in einem Fall eine Monoopioidintoxikation, in 33 Fällen (85 %) Propofol (P), das auch von 11 der 14 Obduzierten mit bestätigtem chronischen Abusus verwendet wurde. Acht Fälle (7 unter P) wurden als nichtintendierter Unfalltod, 29 als Suizid (P: 24) bewertet. Bei 14 Fällen (P: 11) wurde ein Abusus verneint, aber nur 2‑mal toxikologisch ausgeschlossen. In 11 Fällen mit Suizid wurde die Frage eines Abusus überhaupt nicht geprüft. Diese Zahlen belegen die zentrale Rolle von Propofol für letal verlaufende Abhängigkeitserkrankungen und Suizide bei Anästhesisten und in diesem Arbeitsbereich Tätigen. Eine duale Präventionsstrategie mit niedrigschwelligen Angeboten für Gefährdete und Strategien zur Frühentdeckung wie z. B. Abgabekontrollen ist dringend erforderlich, ebenso eine Verbesserung der rechtsmedizinischen Dokumentation und der Einsatz toxikologischer Untersuchungen in jedem Verdachtsfall.
Abstract
Previous references suggesting a high mortality of propofol addiction in medical personnel were mostly based on surveys of the heads of medical departments or case reports; therefore, a questionnaire was sent to 48 forensic medicine departments in Germany, Austria and Switzerland concerning the number of autopsies carried out between 2002–2112 on medical personnel with the suspicion of abuse of propofol or other analgesics. The response rate was 67%. In 16 out of the 32 responding departments 39 deaths (27 males) were observed with previous connections to anesthesiology, intensive care or emergency departments of which 22 were physicians, 13 nurses, 2 other personnel and 2 were unknown. Propofol was the major cause of death in 33 cases (85%), in 8 cases including 7 with propofol, an unintentional accident was recorded and 29 were determined to be suicide. In 14 cases chronic abuse was denied but actually excluded by toxicological analysis in only 2 cases. In 11 cases involving suicide the question of abuse was not investigated. This survey confirmed previous data about the central role of propofol for the fatal outcome of addiction and suicide of anesthetists and other medical personnel. A dual prevention strategy with low-threshold offers for persons at risk and strategies for early detection is urgently needed including a stricter control of dispensing, improvement in forensic medical documentation and the use of toxicological investigations in every case of suspected abuse.
Access options
Buy single article
Instant access to the full article PDF.
USD 39.95
Price includes VAT (USA)
Tax calculation will be finalised during checkout.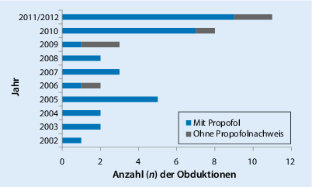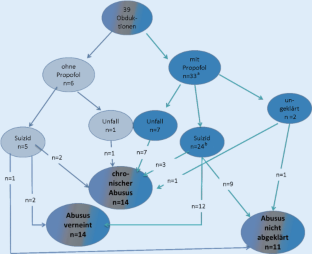 Literatur
1.

Berge KH, Seppala MD, Lanier WL (2008) The anesthesiology community's approach to opioid- and anesthetic-abusing personnel: time to change course. Anesthesiology 109:762–764

2.

Bonnet U, Scherbaum N (2012) Craving dominates propofol addiction of an affected physician. J Psychoactive Drugs 44:186–190

3.

Bryson EO, Silverstein JH (2008) Addiction and substance abuse in anesthesiology. Anesthesiology 109:905–917

4.

Canaday BR (1993) Amorous, disinhibited behavior associated with propofol. Clin Pharm 12:449–451

5.

Gatch MB, Forster MJ (2011) Behavioral and toxicological effects of propofol. Behav Pharmacol 22:718–722

6.

Gesellschaft für Toxikologische und Forensische Chemie (GTFCh) (2004) Richtlinie der GTFCh zur Qualitätssicherung bei forensisch-toxikologischen Untersuchungen; Anhang D. Toxichem Krimtech 71:101–105

7.

Goldstein RZ, Volkow ND (2002) Drug addiction and its underlying neurobiological basis: neuroimaging evidence for the involvement of the frontal cortex. Am J Psychiatry 159:1642–1652

8.

Fry RA, Fry LE, Castanelli DJ (2005) A retrospective survey of substance abuse in anaesthetists in Australia and New Zealand from 2004 to 2013. Anaesth Intensive Care 43:111–117

9.

http://www.bfarm.de/DE/Bundesopiumstelle/Betaeubungsmittel/Sachverst/Sitzungen/Ergebnisse_39.html. Zugegriffen: 25. September 2015

10.

http://www.land-der-traeume.de/trip_lesen.php?id=10172. Zugegriffen: 1. Dezember 2015

11.

Kim DK (2012) Propofol use for sedation or sedation for propofol use? J Anesth 26(2):289–291

12.

Kim J, In S, Park Y, Park M, Kim E, Lee S (2013) Quantitative analysis of propofol-glucuronide in hair as a marker for propofol abuse. Anal Bioanal Chem 405:6807–6814

13.

Kintz P, Villain M, Dumestre V, Cirimele V (2005) Evidence and addiction by anesthesiologists documented by hair analysis. Forensic Sci Int 153:81–84

14.

Kirby RR, Colaw JM, Douglas MM (2009) Death from Propofol: accident, suicide, or murder? Anesth Analg 108:1182–1184

15.

Koopmann A, von der Goltz C, Hermann D, Kiefer F (2011) Propofol addiction initiated by anesthetic use. Am J Psychiatry 168:211–212

16.

Luginbuhl M, Vuilleumier P, Schumacher P, Stueber F (2009) Anesthesia or sedation for gastroenterologic endoscopies. Curr Opin Anaesthesiol 22:524–531

17.

Maier C, Iwunna J, Bürkle H, Kaisers U, Scherbaum N, Schüttler J, Soukup J, Van Aken H (2010) Empfehlung zum Umgang mit abhängigkeitserkrankten Mitarbeitern im Krankenhaus. Anaesth Intensivmed 51:20–29

18.

Maier C, Iwunna J, Soukup J, Scherbaum N (2010) Abhängigkeitssyndrome bei Anästhesisten. Anasthesiol Intensivmed Notfallmed Schmerzther 45:648–654

19.

Maier C, Leclerc-Springer J (2012) Langjährige Tilidin-Naloxon-Abhängigkeit mündet in lebensbedrohliche Suchterkrankung mit intravenöser Selbstapplikation von Fentanyl und Propofol. Anaesthesist 61:601–607

20.

Menk EJ, Baumgarten RK, Kingsley CP, Culling RD, Middaugh R (1990) Success of reentry into anesthesiology training programs by residents with a history of substance abuse. JAMA 263:3060–3062

21.

Riezzo I, Centini F, Neri M, Rossi G, Spanoudaki E, Turillazzi E, Fineschi V (2009) Brugada-like EKG pattern and myocardial effects in a chronic propofol abuser. Clin Toxicol (Phila) 47:358–363

22.

Riphaus A, Bitter H (2010) Short version S3 guideline sedation for gastrointestinal endoscopy und medicolegal implications. Z Gastroenterol 50:407–410

23.

Roussin A, Montastruc JL, Lapeyre-Mestre M (2007) Pharmacological and clinical evidences on the potential for abuse and dependence of propofol: a review of the literature. Fundam Clin Pharmacol 21:459–466

24.

Stocks G (2011) Abuse of Propofol by anesthesia providers: the case for re-classification as a controlled substance. J Addict Nurs 22:57–62

25.

Vanlersberghe C, Camu F (2008) Propofol. In: Handbook of Experimental Pharmacol, S 227–252

26.

Ward CF (1992) Substance abuse. Now, and for some time to come. Anesthesiology 77(4):619–622

27.

Warner DO, Berge K, Sun H, Harman A, Hanson A, Schroeder DR (2013) Substance use disorder among anesthesiology residents, 1975–2009. JAMA 310:2289–2296

28.

Weetman DB, Mascardo LA, Ross MB, Abramowitz PW (2004) Propofol as a drug of diversion. Am J Health Syst Pharm 61:1185–1186

29.

Wischmeyer PE, Johnson BR, Wilson JE, Dingmann C, Bachman HM, Roller E, Tran ZV, Henthorn TK (2007) A survey of propofol abuse in academic anesthesia programs. Anesth Analg 105:1066–1071

30.

Wysowski DK, Pollock ML (2006) Reports of death with use of propofol (Diprivan) for non procedural (long-term) sedation and literature review. Anesthesiology 105:1047–1051

31.

Zacny JP, Lichtor JL, Thompson W, Apfelbaum JL (1993) Propofol at a subanesthetic dose may have abuse potential in healthy volunteers. Anesth Analg 77:544–552
Ethics declarations
Interessenkonflikt
C. Maier, J. Iwunna, M. Tsokos und F. Mußhoff geben an, dass kein Interessenkonflikt besteht.
Dieser Beitrag beinhaltet keine von den Autoren durchgeführten Studien an Menschen oder Tieren.
Caption Electronic Supplementary Material
About this article
Cite this article
Maier, C., Iwunna, J., Tsokos, M. et al. Todesfälle durch Propofolmissbrauch. Anaesthesist 66, 109–114 (2017). https://doi.org/10.1007/s00101-016-0260-6
Received:

Revised:

Accepted:

Published:

Issue Date:
Schlüsselwörter
Medikamentenabhängigkeit

Suizid

Nichtintendierter Todesfall

Anästhesisten

Obduktionen

Atemstillstand
Keywords
Drug abuse

Suicide

Non-intended death

Anesthetists

Autopsies

Respiratory arrest