Zusammenfassung
Hintergrund
Seit 2003/04 werden die in deutschen Krankenhäusern erbrachten Leistungen gegenüber den Krankenkassen mit DRG-basierten Fallpauschalen abgerechnet. Die Beatmung von Patienten und ihre Dauer stehen dabei immer wieder in Verdacht, als erlössteigernde Prozedur zu Unrecht kodiert bzw. unnötig lange durchgeführt zu werden.
Ziel der Arbeit
Ziel der vorliegenden Untersuchung ist es, die Anreize der DRG-basierten Vergütung in Hinblick auf die Beatmungsbehandlung zu untersuchen und Faktoren zu identifizieren, die in der Lage sind, die Zunahme der Beatmungsfälle in den vergangenen Jahren zu erklären.
Material und Methoden
Zur Beantwortung dieser Fragen wurden Daten der DRG-Statistik des Statistischen Bundesamts und vom Institut für das Entgeltsystem im Krankenhaus (InEK) veröffentlichte Daten im Hinblick auf die Entwicklung der Beatmungspatienten, der Beatmungsstunden, der Altersverteilung und der Beatmungs-DRGs mit den Methoden der deskriptiven und schließenden Statistik untersucht. Weiterhin wurden die Definitionen der Beatmungs-DRGs und die Veränderungen in der Beatmungsmedizin im Verlauf der Jahre 2005–2012 verglichen.
Ergebnisse
Seit Einführung der DRGs hat die Zahl der Beatmungsstunden und Beatmungspatienten bei gleichzeitig rückläufiger Mortalität zugenommen. Im gleichen Zeitraum setzte sich eine weniger invasive Beatmungsbehandlung durch. Die Altersverteilung hat sich zu höheren Altersgruppen hin verschoben.
Diskussion
Fortschritte in der Beatmungsmedizin führen dazu, dass durch eine weniger komplikationsbehaftete Behandlung beatmungspflichtige Patienten bei gleichzeitig verbesserter Überlebensrate schonender beatmet werden können. Nachhaltige Hinweise darauf, dass die Beatmungsdauer an den gruppierungsrelevanten Beatmungsintervallen ausgerichtet wird, fanden sich nicht. Hingegen besteht die Vermutung, dass der Zeitpunkt der Beendigung der Beatmungsbehandlung erheblich durch stationsinterne Abläufe beeinflusst wird.
Abstract
Background
Diagnosis-related groups (DRGs) have been used to reimburse hospitals services in Germany since 2003/04. Like any other reimbursement system, DRGs offer specific incentives for hospitals that may lead to unintended consequences for patients. In the German context, specific procedures and their documentation are suspected to be primarily performed to increase hospital revenues. Mechanical ventilation of patients and particularly the duration of ventilation, which is an important variable for the DRG-classification, are often discussed to be among these procedures.
Objectives
The aim of this study was to examine incentives created by the German DRG-based payment system with regard to mechanical ventilation and to identify factors that explain the considerable increase of mechanically ventilated patients in recent years. Moreover, the assumption that hospitals perform mechanical ventilation in order to gain economic benefits was examined.
Material and methods
In order to gain insights on the development of the number of mechanically ventilated patients, patient-level data provided by the German Federal Statistical Office and the German Institute for the Hospital Remuneration System were analyzed. The type of performed ventilation, the total number of ventilation hours, the age distribution, mortality and the DRG distribution for mechanical ventilation were calculated, using methods of descriptive and inferential statistics. Furthermore, changes in DRG-definitions and changes in respiratory medicine were compared for the years 2005–2012.
Results
Since the introduction of the DRG-based payment system in Germany, the hours of ventilation and the number of mechanically ventilated patients have substantially increased, while mortality has decreased. During the same period there has been a switch to less invasive ventilation methods. The age distribution has shifted to higher age-groups. A ventilation duration determined by DRG definitions could not be found.
Conclusion
Due to advances in respiratory medicine, new ventilation methods have been introduced that are less prone to complications. This development has simultaneously improved survival rates. There was no evidence supporting the assumption that the duration of mechanical ventilation is influenced by the time intervals relevant for DRG grouping. However, presumably operational routines such as staff availability within early and late shifts of the hospital have a significant impact on the termination of mechanical ventilation.
Access options
Buy single article
Instant access to the full article PDF.
USD 39.95
Price includes VAT (USA)
Tax calculation will be finalised during checkout.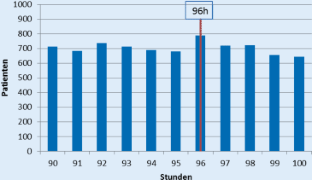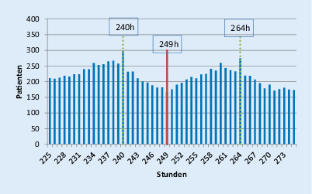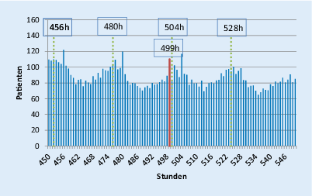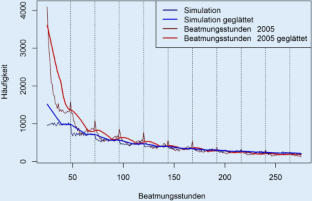 Literatur
1.

Biermann A, Geissler A (2013) Beatmungsfälle und Beatmungsdauer in deutschen Krankenhäusern – Eine Analyse von DRG-Anreizen und Entwicklungen in der Beatmungsmedizin. Working Papers in Health Policy and Management Bd. 7. Universitätsverlag der Technischen Universität Berlin, Berlin

2.

Billing A, Thalhammer M, Eissner H‑J, Jauch K‑W, Inthorn D (2004) Ökonomische Aspekte in der Intensivmedizin: Kosten und Reimbursement unter DRG-Bedingungen 2004. Zentralbl Chir 129:440–446

3.

Carson SS, Cox CE, Holmes GM, Howard A, Carey TS (2006) The changing epidemiology of mechanical ventilation: a population-based study. J Intensive Care Med 21:173–182

4.

Esteban A, Ferguson ND, Meade MO, Frutos-Vivar F, Apezteguia C, Brochard L et al (2008) Evolution of mechanical ventilation in response to clinical research. Am J Respir Crit Care Med 177:170–177

5.

Franz D, Bunzemeier H, Roeder N, Reinecke H (2010) Krankenhausfinanzierung unter DRG-Bedingungen. Med Klin 105:13–19

6.

Geissler A, Scheller-Kreinsen D, Busse R (2011) Germany: Understanding G‑DRGs. In: Busse R, Geissler A, Quentin W, Wiley M (Hrsg) Diagnosis-related groups in Europe: moving towards transparency, efficiency and quality in hospitals. Open University Press, WHO Regional Office for Europe, Maidenhead, S 243–271

7.

Geissler A, Scheller-Kreinsen D, Quentin W, Busse R (2012) DRG-Systeme in Europa: Anreize, Ziele und Unterschiede in zwölf Ländern. Bundesgesundheitsbl Gesundheitsforsch Gesundheitsschutz 55:633–642

8.

Institut für das Entgeltsystem im Krankenhaus (2012) G‑DRG, German diagnosis related groups. Definitions-Handbuch. http://g-drg.de/cms/Archiv/DRG_Systemjahr_2012_Datenjahr_2010#sm3. Zugegriffen: 20. Aug. 2015

9.

Institut für das Entgeltsystem im Krankenhaus (2014) Deutsche Kodierrichtlinien. Allgemeine und spezielle Kodierrichtlinien für die Verschlüsselung von Krankheiten und Prozeduren. http://g-drg.de/cms/Archiv/DRG_Systemjahr_2014_Datenjahr_2012#sm5. Zugegriffen: 20. Aug. 2015

10.

Moran JL, Solomon PJ (2012) Mortality and intensive care volume in ventilated patients from 1995 to 2009 in the Australian and New Zealand binational adult patient intensive care database. Crit Care Med 40:800–812

11.

Nielson C, Wingett D (2004) Intensive care and invasive ventilation in the elderly patient, implications of chronic lung disease and comorbidities. Chron Respir Dis 1:43–54

12.

Rau F, Roeder N, Hensen P (2009) Zum Stand der deutschen DRG-Einführung: Erkenntnisse, Erfahrungen und Meinungen. In: Rau F, Roeder N, Hensen P (Hrsg) Auswirkungen der DRG-Einführung in Deutschland. Standortbestimmung und Perspektiven. Kohlhammer, Stuttgart, S 9–22

13.

Schreyögg J, Bäuml M, Krämer J, Dette T, Busse R, Geissler A (2014) Endbericht zum Forschungsauftrag gem. § 17 b Abs. 9 KHG. http://www.g-drg.de/cms/Begleitforschung_gem._17b_Abs._8_KHG/Forschungsauftrag_gem._17b_Abs._9_KHG. Zugegriffen: 20. Aug. 2015

14.

Storre JH, Schönhofer B (2008) Noninvasive mechanical ventilation in chronic respiratory failure: ventilators and interfaces. In: Muir J, Ambrosino N, Simonds AK (Hrsg) Noninvasive Ventilation (European Respiratoy Monograph). European Respiratory Society Journals Ltd, Sheffield, S 319–337

15.

Tuschen KH (2012) Entstehung, Darstellung und Bewertung des DRG-Systems sowie Perspektiven der Weiterentwicklung aus bundesweiter Sicht. In: Baum G (Hrsg) Krankenhausentgeltsystem. Deutsche Krankenhaus Verlagsgesellschaft, Düsseldorf, S 3–30

16.

Zilberberg MD, de Wit M, Shorr AF (2012) Accuracy of previous estimates for adult prolonged acute mechanical ventilation volume in 2020. Crit Care Med 40:18–20
Ethics declarations
Interessenkonflikt
A. Biermann und A. Geissler geben an, dass kein Interessenkonflikt besteht.
Dieser Beitrag beinhaltet keine von den Autoren durchgeführten Studien an Menschen oder Tieren.
About this article
Cite this article
Biermann, A., Geissler, A. Beatmungsfälle und Beatmungsdauer in deutschen Krankenhäusern. Anaesthesist 65, 663–672 (2016). https://doi.org/10.1007/s00101-016-0208-x
Received:

Revised:

Accepted:

Published:

Issue Date:
Schlüsselwörter
DRG

Beatmung

Vergütung

Kodierung

Fallpauschale
Keywords
Diagnosis-related groups

Ventilation

Payment

Respiration

Case mix