Zusammenfassung
Hintergrund
Patient Blood Management (PBM) ist ein interdisziplinäres Therapiekonzept, welches durch ein umfangreiches präoperatives Anämiemanagement, die Minimierung iatrogener Blutverluste sowie die Ausschöpfung der Anämietoleranz zu einer verbesserten Patientenversorgung beiträgt. Kostenaspekte von verschiedenen PBM-Maßnahmen wurden bislang kaum analysiert.
Fragestellung
Im Rahmen dieser Arbeit werden die Kosten eines umfassenden PBM-Konzepts und die mit der Einführung assoziierten Projektkosten dargestellt.
Material und Methoden
Es wurden die Sach- und Personalkosten der aus verschiedenen Einzelmaßnahmen bestehenden PBM-Säulen sowie der Transfusion von Erythrozytenkonzentraten aus dem Jahr 2013 am Universitätsklinikum Frankfurt analysiert. Zudem wurden die allgemeinen Projektkosten betrachtet.
Ergebnisse
Die patientenbezogenen Mindestkosten einer Erythrozytenkonzentrattransfusion betrugen 147,43 €. Die Kosten von PBM variierten in Abhängigkeit der umgesetzten Einzelmaßnahmen. Die Kosten pro Patient betrugen für die Anämiediagnostik 48,69–123,88 €, Anämietherapie 12,61–127,99 €, Minimierung von Blutverlusten 3,39–1901,81 € und Ausschöpfung der Anämietoleranz 28,62 €. Die Projektkosten der Implementierung von PBM beliefen sich auf 24.998,24 €.
Diskussion
PBM kombiniert verschiedene Maßnahmen, für deren Realisierung finanzielle Aufwendungen nötig sind, während transfusionsassoziierte Kosten durch Ausschöpfung der Anämietoleranz gesenkt werden können. Im Fokus steht die Optimierung der Patientenversorgung, gleichzeitig spielen gesundheitsökonomische Aspekte eine Rolle, um eine potenzielle Allokation von Ressourcen zu ermöglichen.
Abstract
Background
Patient blood management (PBM) is a multidisciplinary approach focusing on the diagnosis and treatment of preoperative anaemia, the minimisation of blood loss, and the optimisation of the patient-specific anaemia reserve to improve clinical outcomes. Economic aspects of PBM have not yet been sufficiently analysed.
Objectives
The aim of this study is to analyse the costs associated with the clinical principles of PBM and the project costs associated with the implementation of a PBM program from an institutional perspective.
Materials and methods
Patient-related costs of materials and services were analysed at the University Hospital Frankfurt for 2013. Personnel costs of all major processes were quantified based on the time required to perform each step. Furthermore, general project costs of the implementation phase were determined.
Results
Direct costs of transfusing a single unit of red blood cells can be calculated to a minimum of €147.43. PBM-associated costs varied depending on individual patient requirements. The following costs per patient were calculated: diagnosis of preoperative anaemia €48.69–123.88; treatment of preoperative anaemia (including iron-deficiency anaemia and megaloblastic anaemia) €12.61–127.99; minimising perioperative blood loss (including point-of-care diagnostics, coagulation management and cell salvage) €3.39–1,901.81; and costs associated with the optimisation of the tolerance to anaemia (including patient monitoring and volume therapy) €28.62. General project costs associated with the implementation of PBM were €24,998.24.
Conclusions
PBM combines various alternatives to the transfusion of red blood cells and improves clinical outcome. Costs of PBM vary from institution to institution and depend on the extent to which different aspects of PBM have been implemented. The quantification of costs associated with PBM is essential in order to assess the economic impact of PBM, and thereby, to efficiently re-allocate health care resources. Costs were determined at a single university hospital. Thus, further analyses of both the costs of transfusion and the costs of PBM-principles will be necessary to evaluate the cost-effectiveness of PBM.
This is a preview of subscription content, log in to check access.
Access options
Buy single article
Instant access to the full article PDF.
US$ 39.95
Price includes VAT for USA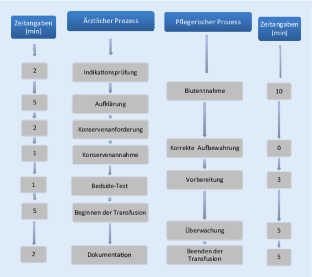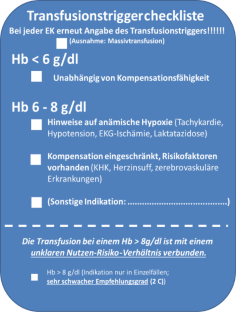 Literatur
1.

Abraham I, Sun D (2012) The cost of blood transfusion in Western Europe as estimated from six studies. Transfusion 52(9):1983–1988

2.

Bundesärztekammer (2010) Richtlinien zur Gewinnung von Blut und Blutbestandteilen und zur Anwendung von Blutprodukten (Hämotherapie), Zweite Richtlinienanpassung 2010. http://www.bundesaerztekammer.de/fileadmin/user_upload/downloads/RiliHaemotherapie2010.pdf. Abgerufen am 23.03.2016

3.

Farmer SL, Towler SC, Leahy MF, Hofmann A (2013) Drivers for change: Western Australia Patient Blood Management Program (WA PBMP), World Health Assembly (WHA) and Advisory Committee on Blood Safety and Availability (ACBSA). Best Pract Res Clin Anaesthesiol 27(1):43–58

4.

Freedman J, Luke K, Escobar M, Vernich L, Chiavetta JA (2008) Experience of a network of transfusion coordinators for blood conservation (Ontario Transfusion Coordinators [ONTraC]). Transfusion 48(2):237–250

5.

Gesundheitsberichterstattung des Bundes (2015) Verbrauch von Blutprodukten durch Transfusionen. Jahr 2013. www.gbe-bund.de. Abgerufen am 23.04.2015

6.

Goodnough LT (2012) Iron deficiency syndromes and iron-restricted erythropoiesis. Transfusion 52(7):1584–1592

7.

Goodnough LT, Maggio P, Hadhazy E, Shieh L, Hernandez-Boussard T, Khari P, Shah N (2014) Restrictive blood transfusion practices are associated with improved patient outcomes. Transfusion 54:2753–2759

8.

Hofmann A, Ozawa S, Farrugia A, Farmer SL, Shander A (2013) Economic considerations on transfusion medicine and patient blood management. Best Pract Res Clin Anaesthesiol 27(1):59–68

9.

Hönemann C, Bierbaum M, Heidler J, Doll D, Schöffski O (2013) Kosten der Verabreichung von Blutkonserven im Krankenhaus. Chirurg 84(5):426–432

10.

Kotze A, Carter LA, Scally AJ (2012) Effect of a patient blood management programme on preoperative anaemia, transfusion rate, and outcome after primary hip or knee arthroplasty: a quality improvement cycle. Br J Anaesth 108(6):943–952

11.

Metzgeroth G, Hastka J (2015) Eisenmangelanämie und Anämie der chronischen Erkrankungen (Iron deficiency anemia and anemia of chronic disorders). Internist (Berl) 56(9):978–988

12.

Meybohm P, Fischer D, Geisen C, Müller M, Weber C, Hermann E, Steffen B, Seifried E, Zacharowski K (2014) Safety and effectiveness of a Patient Blood Management (PBM) program in surgical patients – the study design for a multi-centre prospective epidemiologic non-inferiority trial. BMC Health Serv Res 14:576

13.

Munoz M, Gomez-Ramirez S, Martin-Montanez E, Naveira E, Seara J, Pavia J (2014) Cost of post-operative intravenous iron therapy in total lower limb arthroplasty: a retrospective, matched cohort study. Blood Transfus 12:40–49

14.

Musallam KM, Tamim HM, Richards T, Spahn DR, Rosendaal FR, Habbal A, Khreiss M, Dahdaleh FS, Khavandi K, Sfeir PM, Soweid A, Hoballah JJ, Taher AT, Jamali FR (2011) Preoperative anaemia and postoperative outcomes in non-cardiac surgery: a retrospective cohort study. Lancet 378(9800):1396–1407

15.

Odak S, Raza A, Shah N, Clayson A (2013) Clinical efficacy and cost effectiveness of intraoperative cell salvage in pelvic trauma surgery. Ann R Coll Surg Engl 95(5):357–360

16.

Rohde JM, Dimcheff DE, Blumberg N, Saint S, Langa KM, Kuhn L, Hickner A, Rogers, Mary AM (2014) Health care – associated infection after red blood cell transfusion. JAMA 311(13):1317

17.

Shander A, Hofmann A, Gombotz H, Theusinger OM, Spahn DR (2007) Estimating the cost of blood: past, present, and future directions. Best Pract Res Clin Anaesthesiol 21(2):271–289

18.

Shander A, Hofmann A, Ozawa S, Theusinger OM, Gombotz H, Spahn DR (2010) Activity-based costs of blood transfusions in surgical patients at four hospitals. Transfusion 50(4):753–765

19.

Shander A, Spence RK, Adams D, Shore-Lesserson L, Walawander CA (2009) Timing and incidence of postoperative infections associated with blood transfusion: analysis of 1,489 orthopedic and cardiac surgery patients. Surg Infect (Larchmt) 10(3):277–283

20.

Shander A, van Aken H, Colomina MJ, Gombotz H, Hofmann A, Krauspe R, Lasocki S, Richards T, Slappendel R, Spahn DR (2012) Patient blood management in Europe. Br J Anaesth 109(1):55–68

21.

Sixty-third World Health Assembly (2010) Resolution WHA63.12. Availability, quality and safety of blood products. http://apps.who.int/gb/ebwha/pdf_files/WHA63/A63_R12-en.pdf?ua=1. Abgerufen am 23.03.2016

22.

Spahn DR, Goodnough LT (2013) Blood transfusion 2. Alternatives to blood transfusion. Lancet 381:1855–1865

23.

Stokes ME, Ye X, Shah M, Mercaldi K, Reynolds MW, Rupnow MFT, Hammond J (2011) Impact of bleeding-related complications and/or blood product transfusions on hospital costs in inpatient surgical patients. BMC Health Serv Res 11(1):135

24.

Theusinger OM, Kind SL, Seifert B, Borgeat A, Gerber C, Spahn DR (2014) Patient blood management in orthopaedic surgery: a four-year follow-up of transfusion requirements and blood loss from 2008 to 2011 at the Balgrist University Hospital in Zurich, Switzerland. Blood Transfus 12:195–203

25.

Vigna-Taglianti F, Basso L, Rolfo P, Brambilla R, Vaccari F, Lanci G, Russo R (2014) Tranexamic acid for reducing blood transfusions in arthroplasty interventions: a cost-effective practice. Eur J Orthop Surg Traumatol 24(4):545–551

26.

Weber C, Görlinger K, Meininger D, Hermann E, Bingold T, Moritz A, Cohn L, Zacharowski K (2012) Point-of-care testing. A prospective, randomized clinical trial of efficacy in Coagulopathic cardiac surgery patients. Anesthesiology 117(3):531–547

27.

Williamson LM, Devine DV (2013) Challenges in the management of the blood supply. Lancet 381(9880):1866–1875
Ethics declarations
Interessenkonflikt
A.G. Kleinerüschkamp, C. Ettwein geben an, dass kein Interessenkonflikt besteht. Für die Durchführung des epidemiologischen Begleitforschungsprojektes zum PBM-Programm erhielten K. Zacharowski, M.M. Müller, C. Geisen und P. Meybohm eine Sachmittelunterstützung von B.Braun, CSL Behring, Fresenius Kabi, und Vifor Pharma. K. Zacharowski, C.F. Weber und P. Meybohm erhielten teilweise für wissenschaftliche Fortbildungsveranstaltungen Vortragshonorare und Reisekostenübernahmen von B. Braun, CSL Behring, Ferring, Fresenius Kabi, und Vifor Pharma.
Dieser Beitrag beinhaltet keine von den Autoren durchgeführten Studien an Menschen oder Tieren.
About this article
Cite this article
Kleinerüschkamp, A.G., Zacharowski, K., Ettwein, C. et al. Kostenanalyse eines Patient-Blood-Management-Konzepts. Anaesthesist 65, 438–448 (2016). https://doi.org/10.1007/s00101-016-0152-9
Received:

Revised:

Accepted:

Published:

Issue Date:
Schlüsselwörter
Patient Blood Management

Anämie

Kosten

Transfusion

Projektmanagement
Keywords
Patient blood management

Anaemia

Costs

Transfusion

Project management