Zusammenfassung
Unerwünschte Wachzustände während einer Allgemeinanästhesie mit Erinnerung als Folge einer situativ bedingten nichtausreichenden Narkosetiefe wird als sog. Awareness bezeichnet. Inzidenzen und resultierende mögliche Folgeschäden im Sinne eines posttraumatischen Belastungssyndroms (PTBS) sind Gegenstand kontroverser Diskussionen über nunmehr Jahrzehnte.
Studienergebnisse zu Awareness, die nach evidenzbasierten Kriterien (Level 1) eine Prävalenz von 0,1–0,2 % (1–2:1000) betragen, wurden jüngst vom 5. Nationalen Audit Projekt (5th National Audit Project, NAP5) aus Großbritannien/Irland infrage gestellt. Hierzu wurden Patientenberichte bezüglich "Accidental Awareness during General Anaesthaesia" (AAGA) über monatliche Abfragen öffentlicher Krankenhäuser in einer zentralen Datenbank von über 2,7 Mio. Anästhesien erhoben. Irreführend und unwahrscheinlich erscheinen die postulierten Häufigkeiten für Awareness, die um etwa den Faktor 20 geringer mit "nur" 1:19.600 (0,005 %) angegeben werden. Mit aller Wahrscheinlichkeit wird NAP5 auf nationale und internationale Kontroversen stoßen, da nicht auszuschließen ist, dass angesichts fehlender strukturierter Interviews nur die "Spitze des Eisbergs" erfasst und hierdurch die wahre Prävalenz des Problems unterschätzt sowie verharmlost wird. Umgekehrt ist angesichts der Daten aus NAP5 nicht sicher auszuschließen, dass die Erfassung von Awareness mithilfe bisheriger, prospektiver evidenzbasierter Kriterien die wirkliche Prävalenz überschätzt.
Bislang existiert keine offizielle Empfehlung der Deutschen Gesellschaft für Anästhesie und Intensivmedizin e. V. (DGAI) zu dieser Thematik. Der vorliegende Beitrag fasst daher das gegenwärtige Wissen zum Problem Awareness zusammen und legt in der klinischen Routine nutzbare Vermeidungsstrategien dar. Letztlich liegt es in der Verantwortung des einzelnen Anästhesisten, Risikofaktoren zu erkennen und – sofern keine Kontraindikationen vorliegen – die hier dargelegten evidenzbasierten präventiven Strategien einzusetzen, um Awareness und assoziierte Folgeschäden mit großer Wahrscheinlichkeit zu vermeiden.
Abstract
Patient awareness during general anesthesia and the later recall of what happened during surgery can be experienced by patients as horrifying events that leave lasting mental trauma in the form of posttraumatic stress syndrome (PTSS). Awareness is related to a temporary insufficient depth of anesthesia. This phenomenon has been discussed for more than 20 years. According to randomized controlled studies, in the absence of risk factors awareness phenomena occur in 1-2 per 1000 operations involving general anesthesia (0.1–0.2 %) and are classified as occasionally occurring critical events. An astonishing twist occurred elicited by the recent data from the 5th National Audit Project from Great Britain (NAP5) published in the British Journal of Anaesthesia and in Anaesthesia. The NAP5 evaluated patient reports of accidental awareness during general anesthesia (AAGA) in a multicenter manner in more than 2.7 million cases and indicated incidences of awareness of only 1:19,600, a frequency 20 times less than previously reported. These results gave rise to some controversy. It seems likely that, due to the absence of structured interviews, the NAP5 data only demonstrated the tip of the iceberg and may have vastly underestimated the real incidence of intraoperative awareness. The present overview summarizes the current knowledge about awareness. Furthermore, it addresses the question whether the awareness problem has been overestimated by evidence-based criteria or underestimated by the results of the NAP5. The responsibility for sufficient anesthesia in the clinical routine requires knowledge of awareness risks and potential sequelae. A formal recommendation from the German Society of Anesthesia and Intensive Care Medicine (DGAI) concerning awareness is not yet available; however, the recognition of evidence-based strategies in the management of anesthesia may minimize the occurrence of awareness and its sequelae.
This is a preview of subscription content, log in to check access.
Access options
Buy single article
Instant access to the full article PDF.
US$ 39.95
Price includes VAT for USA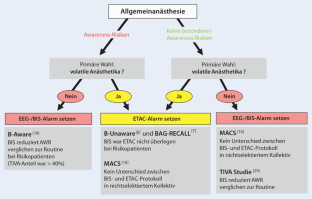 Literatur
1.

Absalom AR, Green D (2014) NAP5: the tip of the iceberg, or all we need to know? Br J Anaesth 113:527–530

2.

Aceto P, Perilli V, Lai C et al (2013) Update on posttraumatic stress syndrome after anaesthesia. Eur Re Med Pharmacol Sci 17:1730–1737

3.

ASA Task Force on Intraoperative Awareness (2006) Practice advisory for intraoperative awareness and brain function monitoring: a report by the american society of anesthesiologists task force on intraoperative awareness. Anesthesiology 104:847–864

4.

Avidan MS, Mashour GA (2013) Prevention of intraoperative awareness with explicit recall – making sense of evidence. Anesthesiology 118:449–456

5.

Avidan MS, Sleigh JW (2014) Beware the Boojum: the NAP5 audit of accidental awareness during intended general anaesthesia. Anaesthesia 69:1065–1067

6.

Avidan MS, Zhang L, Burnside BA et al (2008) Anesthesia awareness and the bispectral index. N Engl J Med 358:1097–1108

7.

Avidan MS, Jacobsohn E, Glick D et al (2011) Prevention of intraoperative awareness in a high-risk surgical population. N Engl J Med 365:591–600

8.

Bischoff P, Rundshagen I (2011) Unerwünschte Wachheit während der Narkose. Dtsch Arztebl Int 108:1–7

9.

Brice DD, Hetherington RR, Utting JE (1970) A simple study of awareness and dreaming during anaesthesia. Br J Anaesth 42:535–542

10.

Cook TM, Andrade J, Bogod DG et al (2014) 5th National Audit Project (NAP5) on accidental awareness during general anaesthesia: patient experiences, human factors, sedation, consent, and medicolegal issues. Br J Anaesth 113:560–574. (Anesthesia 69:1102–1116)

11.

Dahl V, Spreng UJ (2009) Anaesthesia for urgent (grad 1) caesarean section. Curr Opin Anaesthesiol 22:352–356

12.

Errando CI, Sigl JC, Robles M et al (2008) Awareness with recall during general anaesthesia: a prospective observational elevation of 4001 patients. Br J Anaesth 101:178–185

13.

Ghoneim MM, Block RI, Haffarnan M, Matews MJ (2009) Awareness during anesthesia: risk factors, causes and sequelae: a review of reported cases in the literature. Anesth Analg 108:527–535

14.

Lennmarken C, Sydsjo G (2007) Psychological consequences of awareness and their treatment. Best Pract Res Clin Anaesthesiol 21:356–367

15.

Leslie K, Chan MT, Myles PS et al (2010) Posttraumatic stress disorder in aware patients from the B-aware trial. Anesth Analg 110:823–828

16.

Mashour GA, Shanks A, Tremper KK et al (2012) Prevention of intraoperative awareness with explicit recall in an unselected surgical population: a randomized comparative effectiveness trial (MACS). Anesthesiology 117:717–725

17.

Mashour GA, Kent C, Picton P et al (2013) Assessment of intraoperative awareness with explicit recall: a comparison of 2 methods. Anesth Analg 116:889–891

18.

Myles PS, Leslie K, McNeil J, Forbes A, Chan MT (2004) Bispectral index monitoring to prevent awareness during anaesthesia: the B-Aware randomised controlled trial. Lancet 363:1757–1763

19.

Nordström O, Engström AM, Persson S et al (1997) Incidence of awareness in total i.v. anaesthesia based on propofol, alfentanil and neuromuscular blockade. Acta Anaesthesiol Scand 41:978–984

20.

Pandit JJ, Andrade J, Bogod DG et al (2014) 5th National Audit Project (NAP5) on accidental awareness during general anaesthesia: protocol, methods, and analysis of data. Br J Anaesth 113:540–548. (Anesthesia 69:1078–1088)

21.

Pandit JJ, Andrade J, Bogod DG et al (2014) 5th National Audit Project (NAP5) on accidental awareness during general anaesthesia: summary of main findings and risk factors. Br J Anaesth 113(4):549–559. (Anesthesia 69:1089–1101)

22.

Pilge S, Schneider G (2013) Awareness – Klinische Relevanz. Anasthesiol Intensivmed Notfallmed Schmerzther 48:48–55

23.

Rundshagen I, Bischoff P (2013) Awareness – even today, a problem? Anaesthesiol Intensivmed Notfallmed Schmerzther 48:38–39

24.

Samuelsson P, Brudin L, Sandin RH (2008) Intraoperative dreams reported after general anaesthesia are not early interpretations of delayed awareness. Acta Anaesthesiol Scand 52:805–809

25.

Schmidt GN, Müller J, Bischoff P (2008) Messung der Narkosetiefe. Anaesthesist 57:9–30

26.

Schünemann H (2013) Awareness – Aktuelle juristische Aspekte. Anasthesiol Intensivmed Notfallmed Schmerzther 48:58–62

27.

Sebel PS, Bowdle TA, Ghoneim MM et al (2004) The incidence of awareness during anesthesia: a multicenter United States study. Anesth Analg 99:833–839

28.

Xu L, Wu AS, Yue Y (2009) The incidence of intra-operative awareness during general anesthesia in China: a multi-center observational study. Acta Anaesthesiol Scand 53:873–882

29.

Zhang C, Xu L, Ma YQ et al (2011) Bispectral index monitoring prevent awareness during total intravenous anesthesia: a prospective, randomized, double-blinded, multi-center controlled trial. Chin Med J (Engl) 124:3664–3669

30.

Ziętkiewicz M, Nestorowicz A (2012) Intraoperative awareness – recommendations of the Committee on Quality and Safety in Anaesthesia, Polish Society of Anaesthesiology and Intensive Therapy. Anaesthesiol Intensive Ther 44(2):57–62
Ethics declarations
Interessenkonflikt
P. Bischoff, I. Rundshagen und G. Schneider geben an, dass kein Interessenkonflikt besteht.
Dieser Beitrag beinhaltet keine Studien an Menschen oder Tieren.
About this article
Cite this article
Bischoff, P., Rundshagen, I. & Schneider, G. Unerwünschte Wachphänomene ("Awareness") während Allgemeinanästhesie. Anaesthesist 64, 732–739 (2015). https://doi.org/10.1007/s00101-015-0095-6
Schlüsselwörter
Anästhesiekomplikationen

Bewusstlosigkeit

Anästhetikaeffekte

EEG, ETAC

Narkose-Monitoring
Keywords
Anesthesia complications

Unconsciousness

Anesthesia drug effects

EEG, end tidal anesthetic concentration

Anesthesia monitoring