Zusammenfassung
Hintergrund
Neben einer zuverlässigen Wirkung bei hoher Patientenzufriedenheit gewinnt die Wirtschaftlichkeit der in der postoperativen Schmerztherapie eingesetzten Verfahren zunehmend an Bedeutung.
Ziel der Arbeit
Die vorliegende Studie untersucht die Effektivität von 2 Schmerzpumpensystemen und vergleicht die bei der Behandlung entstehenden Kosten.
Material und Methoden
Vierzig Patienten wurden vor einer Schulteroperation mit einem interskalenären Plexuskatheter versorgt und bekamen eine elektronische Schmerzpumpe (EP) mit Bolusfunktion oder eine mechanische Schmerzpumpe (MP) ohne Bolusfunktion zur postoperativen Schmerzversorgung. Die Patienten führten ein Schmerztagebuch und wurden nach dem Behandlungsende zu ihrer Zufriedenheit mit dem Pumpensystem befragt. Zudem wurden der Verbrauch an Arzneimitteln und Verbrauchsmaterialien sowie der Zeitaufwand des Pflegepersonals (Versorgung der Pumpen und Richten von Bedarfsmedikation) für eine 2-tägige Schmerztherapie erfasst.
Ergebnisse
Es ergaben sich keinerlei Unterschiede zwischen beiden Pumpensystemen hinsichtlich postoperativer Schmerzen und Patientenzufriedenheit. Für eine angenommene Behandlungsdauer von ein und 2 Tagen zeigten sich unter ökonomischen Gesichtspunkten jedoch Vorteile für die EP, die v. a. im Hinblick auf Verbrauchsmaterialien geringe Kosten als die MP verursachte. Bei einer Behandlungsdauer von 2 Tagen unterschieden sich die Gesamtkosten für beide Pumpensysteme nicht. Zudem ermöglichte die Bolusfunktion der EP eine Reduktion der Einnahme systemisch wirksamer Bedarfsanalgetika.
Schlussfolgerung
Die EP bietet bei geringeren Kosten eine vergleichbar effektive Schmerzbehandlung wie die MP. Beide Pumpensysteme bieten Vor- und Nachteile, die je nach Anforderungsbedingungen gegeneinander abgewogen werden sollten.
Abstract
Background
Besides reliable efficacy and patient satisfaction, economic efficiency is becoming increasingly more important in postoperative pain management.
Aim
The present study investigated the effectiveness of two pain pump systems and compared the running costs in treatment.
Material and methods
In this study 40 patients received an interscalene catheter prior to shoulder surgery. Postoperative pain management was provided via an electronic pump with patient-controlled analgesia (PCA) or a mechanical pump without PCA. Patients kept a pain log. After treatment they were interviewed about their satisfaction with the pump. In addition drug consumption, nursing material, staff time for handling and maintenance of the pumps and preparation of medications pro re nata were assessed.
Results
Postoperative pain levels and patient satisfaction were comparable in both groups. Economically, the electronic pump was more cost-effective than the electronic model for a duration of treatment of 1 and 2 days. With treatment duration of 2 days the costs of both pumps were equivalent; however, the PCA feature of the electronic pump allowed a reduced intake of systemic analgesics on demand.
Conclusion
Both pain pump systems provide equally effective pain management, while the electronic model caused less costs. Both pumps offer advantages and disadvantages that should be considered based on local circumstantial demands.
Access options
Buy single article
Instant access to the full article PDF.
USD 39.95
Price excludes VAT (USA)
Tax calculation will be finalised during checkout.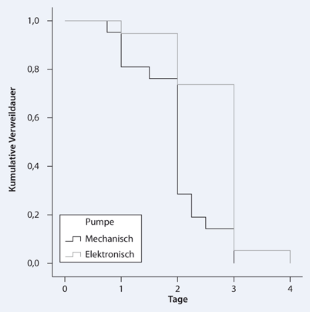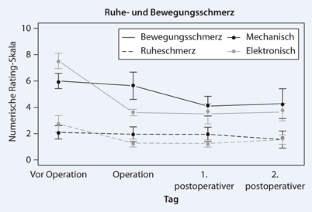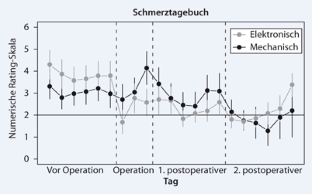 Literatur
Apfelbaum JL, Chen C, Mehta SS et al (2003) Postoperative pain experience: results from a national survey suggest postoperative pain continues to be undermanaged. Anesth Analg 97:534–540

Beattie WS, Badner NH, Choi P (2001) Epidural analgesia reduces postoperative myocardial infarction: a meta-analysis. Anesth Analg 93:853–858

Borgeat A, Perschak H, Bird P et al (2000) Patient-controlled interscalene analgesia with ropivacaine 0.2% versus patient-controlled intravenous analgesia after major shoulder surgery: effects on diaphragmatic and respiratory function. Anesthesiology 92:102–108

Borgeat A, Schappi B, Biasca N et al (1997) Patient-controlled analgesia after major shoulder surgery: patient-controlled interscalene analgesia versus patient-controlled analgesia. Anesthesiology 87:1343–1347

Borgeat A, Tewes E, Biasca N et al (1998) Patient-controlled interscalene analgesia with ropivacaine after major shoulder surgery: PCIA vs PCA. Br J Anaesth 81:603–605

Breivik H (1995) Benefits, risks and economics of post-operative pain management programmes. Baillière's Clin Anaesthesiol 9:403–422

Capdevila X, Barthelet Y, Biboulet P et al (1999) Effects of perioperative analgesic technique on the surgical outcome and duration of rehabilitation after major knee surgery. Anesthesiology 91:8–15

Elannaz A, Chaumeron A, Viel E et al (2004) Morphine overdose due to cumulative errors leading to ACP pump dysfunction. Ann Fr Anesth Reanim 23:1073–1075

Etches R (1994) Respiratory depression associated with patient-controlled analgesia: a review of eight cases. Can J Anaesth 41:125–132

Fieseler HG, Bodenschatz K, Petermann C (1998) Long-term experiences with mechanical patient-controlled analgesia pumps for therapy of postoperative pain in general surgery. Chirurg 69:859–864

Grant SA, Nielsen KC, Greengrass RA et al (2001) Continuous peripheral nerve block for ambulatory surgery. Reg Anesth Pain Med 26:209–214

Hecker BR, Albert L (1988) Patient-controlled analgesia: a randomized, prospective comparison between two commercially available PCA pumps and conventional analgesic therapy for postoperative pain. Pain 35:115–120

Ilfeld BM, Morey TE, Wright TW et al (2003) Continuous interscalene brachial plexus block for postoperative pain control at home: a randomized, double-blinded, placebo-controlled study. Anesth Analg 96:1089–1095

Ilfeld BM, Wright TW, Enneking FK et al (2005) Joint range of motion after total shoulder arthroplasty with and without a continuous interscalene nerve block: a retrospective, case-control study. Reg Anesth Pain Med 30:429–433

Kehlet H, Wilmore DW (2002) Multimodal strategies to improve surgical outcome. Am J Surg 183:630–641

Laubenthal HN, Neugebauer E (2009) S3-Leitlinie "Behandlung akuter perioperativer und posttraumatischer Schmerzen. In: AWMF-online, S 1–396

Lempa M, Neugebauer E (1998) Kommentar auf Anforderung der Schriftleitung. Chirurg 69:864–865

Ma C, Lin D (1991) Patient controlled analgesia: drug options, infusion schedules, and other considerations. Hosp Formul 26:198–201, 205–196

Meier G, Bauereis C, Heinrich C (1997) Der interskalenäre Plexuskatheter zur Anästhesie und postoperativen Schmerztherapie. Anaesthesist 46:715–719

Schäfer M, Stein C (1997) Schmerz in der postoperativen Phase. Medizinische und ökonomische Aspekte. Anaesthesist 46(Suppl 2):120–123

Singelyn FJ, Gouverneur JM (2000) Extended "three-in-one" block after total knee arthroplasty: continuous versus patient-controlled techniques. Anesth Analg 91:176–180

Singelyn FJ, Seguy S, Gouverneur JM (1999) Interscalene brachial plexus analgesia after open shoulder surgery: continuous versus patient-controlled infusion. Anesth Analg 89:1216–1220

Skryabina EA, Dunn TS (2006) Disposable infusion pumps. Am J Health Syst Pharm 63:1260–1268

Strohbuecker B, Mayer H, Evers GC et al (2005) Pain prevalence in hospitalized patients in a German university teaching hospital. J Pain Symptom Manag 29:498–506

Vogelsang H, Nitz P, Laubenthal H (2008) Postoperative Schmerztherapie in der Orthopädie und Traumatologie. In: Pogatzki-Zahn EM, Van Aken HK, Zahn PK (Hrsg) Postoperative Schmerztherapie. Pathophysiologie, Pharmakologie und Therapie. Thieme, Stuttgart, S 219–237

Wilson AT, Nicholson E, Burton L et al (2004) Analgesia for day-case shoulder surgery. Br J Anaesth 92:414–415
Einhaltung ethischer Richtlinien
Interessenkonflikt. Die in der Studie verwendeten Schmerzpumpen der Fa. Baxter Healthcare wurden zu einem reduzierten Preis zur Verfügung gestellt. A.-K. Bräscher, J. Blunk, S. Söhle, R.E. Feldmann Jr., M. Bauer und J. Benrath geben an, dass darüber hinaus kein Interessenkonflikt besteht.
Alle beschriebenen Untersuchungen am Menschen wurden mit Zustimmung der zuständigen Ethikkommission, im Einklang mit nationalem Recht sowie gemäß der Deklaration von Helsinki von 1975 (in der aktuellen, überarbeiteten Fassung) durchgeführt. Von allen beteiligten Patienten liegt eine Einverständniserklärung vor.
Additional information
A.-K. Bräscher und J. Blunk trugen zu gleichen Teilen zum Manuskript bei.
About this article
Cite this article
Bräscher, AK., Blunk, J., Söhle, S. et al. Kostenminimierungsanalyse in der postoperativen Schmerztherapie. Anaesthesist 63, 783–792 (2014). https://doi.org/10.1007/s00101-014-2368-x
Published:

Issue Date:

DOI: https://doi.org/10.1007/s00101-014-2368-x
Schlüsselwörter
Keywords