Zusammenfassung
Infektionen mit dem "respiratory syncytial virus" (RSV) sind für einen Großteil der saisonalen, winterlichen Atemwegserkrankungen verantwortlich. Eine RSV-Infektion hinterlässt keine bleibende Immunität. Erwachsene weisen keine oder nur geringe Symptome auf; sie leiden unter einem "banalen Schnupfen". Bei Frühgeborenen und kleinen Säuglingen hingegen führen RSV-Infektionen zu einer schweren, gelegentlich lebensbedrohlichen Bronchiolitis. Diese Kinder sind sauerstoffbedürftig und werden nicht selten beatmungspflichtig. Eine RSV-Infektion erhöht das Risiko von Anästhesiekomplikationen bei Säuglingen erheblich – viel mehr als ein "banaler Schnupfen" bei größeren Kindern. Dies wurde in der anästhesiologischen Literatur bisher kaum erwähnt. Es wird über einen Säugling mit RSV-Erkrankung, der nach einer Narkose wegen einer Bagatellverletzung 9 Tage lang beatmungspflichtig war, berichtet.
Abstract
Infections with respiratory syncytial virus (RSV) are responsible for a large proportion of seasonal winter airway diseases. After an infection with RSV no persistent immunity remains. Adults show no or only a few symptoms similar to the common cold. However, in preterm and newborn children RSV infections lead to severe and even life-threatening bronchiolitis. These children require supplementary oxygen and often need respiratory support. The infection with RSV considerably enhances the risk of anaesthesia-related complications in infants. So far this problem has rarely been mentioned in the literature. We report on an infant with a RSV infection who was ventilation-dependent for 9 days after anaesthesia for a minor intervention.
Access options
Buy single article
Instant access to the full article PDF.
US$ 39.95
Tax calculation will be finalised during checkout.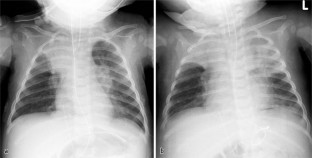 Literatur
1.

Tait AR, Malviya S (2005) Anesthesia for the child with an upper respiratory tract infection: still a dilemma? Anesth Analg 100:59–65

2.

Cohen MM, Cameron CB (1991) Should you cancel the operation when a child has an upper respiratory tract infection? Anesth Analg 72:282–288

3.

Bordet F, Allaouchiche B, Lansiaux S et al (2002) Risk factors for airway complications during general anaesthesia in paediatric patients. Paediatr Anaesth 12:762–769

4.

Tait AR, Malviya S, Voepel-Lewis T et al (2001) Risk factors for perioperative adverse respiratory events in children with upper respiratory tract infections. Anesthesiology 95:299–306

5.

Tartari S, Fratantonio R, Bomben R et al (2000) Laryngeal mask vs tracheal tube in pediatric anesthesia in the presence of upper respiratory tract infection. Minerva Anestesiol 66:439–443

6.

Tait AR, Pandit UA, Voepel-Lewis T et al (1998) Use of the laryngeal mask airway in children with upper respiratory tract infections: a comparison with endotracheal intubation. Anesth Analg 86:706–711

7.

Ungern-Sternberg BS, Boda K, Schwab C et al (2007) Laryngeal mask airway is associated with an increased incidence of adverse respiratory events in children with recent upper respiratory tract infections. Anesthesiology 107:714–719

8.

Shaw CA, Kelleher AA, Gill CP (2000) Comparison of the incidence of complications at induction and emergence in infants receiving oral atropine vs no premedication. Br J Anaesth 84:174–178

9.

Berger TM, Aebi C, Duppenthaler A et al (2009) Prospective population-based study of RSV-related intermediate care and intensive care unit admissions in Switzerland over a 4-year period (2001–2005). Infection 37:109–116

10.

Thorburn K (2009) Pre-existing disease is associated with a significantly higher risk of death in severe respiratory syncytial virus infection. Arch Dis Child 94:99–103

11.

Jorgensen J, Wei JL, Sykes KJ et al (2007) Incidence of and risk factors for airway complications following endotracheal intubation for bronchiolitis. Otolaryngol Head Neck Surg 137:394–399

12.

Stensballe LG, Simonsen JB, Thomsen SF et al (2009) The causal direction in the association between respiratory syncytial virus hospitalization and asthma. J Allergy Clin Immunol 123:131–137

13.

Jöhr M (2009) Kinderanästhesie, 7. Aufl. Elsevier, Urban Fischer, München, S 104

14.

Manworren RC, Conner C, Myers M et al (1999) Clinical impact of preoperative respiratory syncytial virus testing. AORN J 69:1003–1013

15.

Khongphatthanayothin A, Wong PC, Samara Y (1999) Impact of respiratory syncytial virus infection on surgery for congenital heart disease: postoperative course and outcome. Crit Care Med 27:1974–1981

16.

Cox RG (2004) Repair of incarcerated inguinal hernia in an infant with acute viral bronchiolitis. Can J Anaesth 51:68–71

17.

Anas N, Boettrich C, Hall CB et al (1982) The association of apnea and respiratory syncytial virus infection in infants. J Pediatr 101:65–68

18.

Kneyber MC, Brandenburg AH, de Groot R et al (1998) Risk factors for respiratory syncytial virus associated apnoea. Eur J Pediatr 157:331–335

19.

Flamant C, Hallalel F, Nolent P et al (2005) Severe respiratory syncytial virus bronchiolitis in children: from short mechanical ventilation to extracorporeal membrane oxygenation. Eur J Pediatr 164:93–98

20.

Prodhan P, Westra SJ, Lin J et al (2009) Chest radiological patterns predict the duration of mechanical ventilation in children with RSV infection. Pediatr Radiol 39:117–123

21.

Davison C, Ventre KM, Luchetti M Randolph AG (2004) Efficacy of interventions for bronchiolitis in critically ill infants: a systematic review and meta-analysis. Pediatr Crit Care Med 5:482–489

22.

American Academy of Pediatrics (2006) Diagnosis and management of bronchiolitis. Pediatrics 118:1774–1793

23.

Mallory GB Jr, Motoyama EK, Koumbourlis AC et al (1989) Bronchial reactivity in infants in acute respiratory failure with viral bronchiolitis. Pediatr Pulmonol 6:253–259
Interessenkonflikt
Der korrespondierende Autor gibt an, dass kein Interessenkonflikt besteht.
About this article
Cite this article
Wörner, J., Jöhr, M., Berger, T. et al. Infektionen mit dem "respiratory syncytial virus". Anaesthesist 58, 1041 (2009). https://doi.org/10.1007/s00101-009-1598-9
Schlüsselwörter
Bronchiolitis

Anästhesie

Intubation

Komplikation
Keywords
Bronchiolitis

Anaesthesia

Intubation

Complication