Abstract
Purpose
To evaluate changes in the management and outcome of severe liver injury after trauma center implementation.
Methods
Trauma patients with severe liver injury (organ injury scale score ≥ 4) treated between January 2011 and December 2020 were retrospectively reviewed. A trauma center was built in 2016 at our institution, and patients were dichotomized into two groups: before trauma center (BTC) and after trauma center (ATC) group. Treatment methods and outcomes were compared between the groups with 1:1 propensity score matching.
Results
We included 50 patients in the BTC group and 104 patients in the ATC group. Patients in the ATC group had frequent utilization of angiography (16% vs 47.1%, p < 0.001), faster transfusion [84 (37–152) min vs 17 (10–79) min, p < 0.001], and less fluid administration within 24 h [8.3 (5.7–13.7) L vs 5.7 (3.1–10.1) L, p = 0.002]. However, mortality rate was not significantly different between the groups (26.0% vs 20.2%, p = 0.416). 1:1 propensity score matching was performed using the variables of age, injury severity score, systolic blood pressure, Glasgow Coma Scale, and initial base excess level. After matching, the mortality rate (26.0% vs 10.0%, p = 0.037) and ventilator application (74.0% vs 54.0%, p = 0.037) significantly improved.
Conclusion
Severe liver injury management improved after trauma center implementation.
Access options
Buy single article
Instant access to the full article PDF.
USD 39.95
Price excludes VAT (USA)
Tax calculation will be finalised during checkout.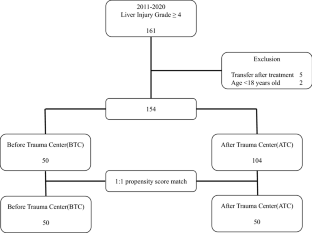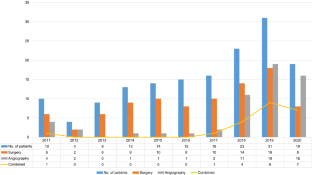 References
Boese CK, Hackl M, Müller LP, Ruchholtz S, Frink M, Lechler P. Nonoperative management of blunt hepatic trauma: a systematic review. J Trauma Acute Care Surg. 2015;79:654–60.

Carrillo EH, Richardson JD. The current management of hepatic trauma. Adv Surg. 2001;35:39–59.

Piper GL, Peitzman AB. Current management of hepatic trauma. Surg Clin North Am. 2010;90:775–85.

Ward J, Alarcon L, Peitzman AB. Management of blunt liver injury: what is new? Eur J Trauma Emerg Surg. 2015;41:229–37.

Hollands MJ, Little JM. Perihepatic packing: its role in the management of liver trauma. Aust N Z J Surg. 1989;59:21–4.

Mattox KL. Introduction, background, and future projections of damage control surgery. Surg Clin North Am. 1997;77:753–9.

Rotondo MF, Schwab CW, McGonigal MD, Phillips GR, 3rd, Fruchterman TM, Kauder DR, et al. "Damage control": an approach for improved survival in exsanguinating penetrating abdominal injury. J Trauma. 1993;35:375–82 (discussion 82–3).

Mohr AM, Lavery RF, Barone A, Bahramipour P, Magnotti LJ, Osband AJ, et al. Angiographic embolization for liver injuries: low mortality, high morbidity. J Trauma. 2003;55:1077–81 (discussion 81–2).

Sivrikoz E, Teixeira PG, Resnick S, Inaba K, Talving P, Demetriades D. Angiointervention: an independent predictor of survival in high-grade blunt liver injuries. Am J Surg. 2015;209:742–6.

Coccolini F, Coimbra R, Ordonez C, Kluger Y, Vega F, Moore EE, et al. Liver trauma: WSES 2020 guidelines. World J Emerg Surg. 2020;15:24.

Jung K, Kim Y, Heo Y, Lee JC, Youn S, Moon J, et al. Management of severe blunt liver injuries by applying the damage control strategies with packing-oriented surgery: experiences at a single institution in Korea. Hepatogastroenterology. 2015;62:410–6.

Kang BH, Jung K, Choi D, Kwon J. Early re-laparotomy for patients with high-grade liver injury after damage-control surgery and perihepatic packing. Surg Today. 2021;51:891–6.

Moore EE, Cogbill TH, Jurkovich GJ, Shackford SR, Malangoni MA, Champion HR. Organ injury scaling: spleen and liver (1994 revision). J Trauma. 1994 revision. 1995;38:323–4.

Huh Y, Kwon J, Moon J, Kang BH, Kim S, Yoo J, et al. An evaluation of the effect of performance improvement and patient safety program implemented in a new regional trauma Center of Korea. J Korean Med Sci. 2021;36:e149.

Gaski IA, Skattum J, Brooks A, Koyama T, Eken T, Naess PA, et al. Decreased mortality, laparotomy, and embolization rates for liver injuries during a 13-year period in a major Scandinavian trauma center. Trauma Surg Acute Care Open. 2018;3:e000205.

Feliciano DV, Mattox KL, Moore EE, Ball CG, Kozar R, Alam HB, et al. Trauma. 9th ed. New York: McGraw-Hill; 2020.

Polanco P, Leon S, Pineda J, Puyana JC, Ochoa JB, Alarcon L, et al. Hepatic resection in the management of complex injury to the liver. J Trauma. 2008;65:1264–9 (discussion 9–70)

Tsugawa K, Koyanagi N, Hashizume M, Ayukawa K, Wada H, Tomikawa M, et al. Anatomic resection for severe blunt liver trauma in 100 patients: significant differences between young and elderly. World J Surg. 2002;26:544–9 (discussion 9).

Flint LM, Mays ET, Aaron WS, Fulton RL, Polk HC. Selectivity in the management of hepatic trauma. Ann Surg. 1977;185:613–8.

Doklestić K, Stefanović B, Gregorić P, Ivančević N, Lončar Z, Jovanović B, et al. Surgical management of AAST grades III–V hepatic trauma by Damage control surgery with perihepatic packing and Definitive hepatic repair-single centre experience. World J Emerg Surg. 2015;10:34.

Kaptanoglu L, Kurt N, Sikar HE. Current approach to liver traumas. Int J Surg. 2017;39:255–9.

Baldoni F, Di Saverio S, Antonacci N, Coniglio C, Giugni A, Montanari N, et al. Refinement in the technique of perihepatic packing: a safe and effective surgical hemostasis and multidisciplinary approach can improve the outcome in severe liver trauma. Am J Surg. 2011;201:e5–14.

MacKenzie S, Kortbeek JB, Mulloy R, Hameed SM. Recent experiences with a multidisciplinary approach to complex hepatic trauma. Injury. 2004;35:869–77.

Suen K, Skandarajah AR, Knowles B, Judson R, Thomson BN. Changes in the management of liver trauma leading to reduced mortality: 15-year experience in a major trauma centre. ANZ J Surg. 2016;86:894–9.

Wise R, Faurie M, Malbrain MLNG, Hodgson E. Strategies for intravenous fluid resuscitation in trauma patients. World J Surg. 2017;41:1170–83.
Ethics declarations
Conflict of interest
All authors have no conflict of interest
Ethical approval
The study was reviewed and approved by the Institutional Review Board of our institution (AJIRB-MED-21-384).
Informed consent
Because of retrospective nature of this study, informed consent was waived by our Institutional Review Board.
About this article
Cite this article
Choi, D., Kwon, J., Jung, K. et al. Improvement of mortality in severe liver injury after trauma center implementation: a propensity score matched study. Eur J Trauma Emerg Surg 48, 3349–3355 (2022). https://doi.org/10.1007/s00068-022-01909-y
Received:

Accepted:

Published:

Issue Date:

DOI: https://doi.org/10.1007/s00068-022-01909-y
Keywords
Liver

Wounds and injuries

Trauma center

Therapeutics

Treatment outcome