Abstract
Purpose
Early geriatric involvement is recommended for older trauma patients. We wished to determine the impact of geriatric consultation on mortality, hospital length of stay and discharge disposition in older patients who were admitted to our Level 1 trauma unit.
Methods
We completed a health records review of trauma unit patients, age ≥ 75 years old with Injury Severity Score (ISS) ≥ 12, before (11/2015–10/2017) and after (11/2017–10/2019) implementation of a geriatric trauma consultation initiative. Primary outcomes were mortality, hospital length of stay and discharge destination. Secondary objectives were adherence to the geriatric trauma consult process and identification of geriatric-specific issues. A multivariable analysis controlling for age, gender, multi-morbidity and ISS was undertaken.
Results
157 patients pre-implementation and 172 post-implementation with mean age 83.8 years and 53.8% females were included. Geriatric consultation had no impact on in-hospital mortality [OR 0.70 (95% CI 0.31–1.58)] or length of stay [ß 0.68 (95%CI − 1.35–2.72)]. Patients who received a geriatric consultation were more likely to be discharged home (OR 2.01 (95% CI 1.24–3.24). The adherence to consultation process was 99.4%. Mobility, pain and cognitive impairment were the most common geriatric concerns, identified in 76.6, 61.1 and 50.0% of older trauma patients, respectively.
Conclusion
Older trauma patients that receive geriatric trauma consultation are more likely to be discharged home. Collaboration between trauma and geriatric specialists is beneficial and may lead to meaningful improvements in outcomes for older trauma patients.
Access options
Buy single article
Instant access to the full article PDF.
US$ 39.95
Tax calculation will be finalised during checkout.
Subscribe to journal
Immediate online access to all issues from 2019. Subscription will auto renew annually.
US$ 159
Tax calculation will be finalised during checkout.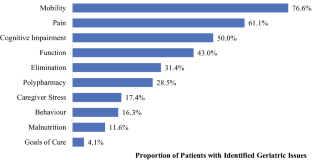 Data availability
We do not have consent from patients or hospital research ethics boards to share individual case data. We can make summary data available upon request.
References
1.

Mann NC, Cahn RM, Mullins RJ, Brand DM, Jurkovich GJ. Survival among injured geriatric patients during construction of a statewide trauma system. J Trauma. 2001;50(6):1111–6.

2.

Grossman MD, Miller D, Scaff DW, Arcona S. When is an elder old? Effect of preexisting conditions on mortality in geriatric trauma. J Trauma. 2002;52(2):242–6.

3.

Taylor MD, Tracy JK, Meyer W, Pasquale M, Napolitano LM. Trauma in the elderly: intensive care unit resource use and outcome. J Trauma. 2002;53(3):407–14.

4.

Cheung A, Haas B, Ringer TJ, McFarlan A, Wong CL. Canadian study of health and aging clinical frailty scale: does It predict adverse outcomes among geriatric trauma patients? J Am Coll Surg. 2017;225(5):658–65.

5.

Bryant EA, Tulebaev S, Castillo-Angeles M, Moberg E, Senglaub SS, O'Mara L, McDonald M, Salim A, Cooper Z. Frailty identification and care pathway: an interdisciplinary approach to care for older trauma patients. J Am Coll Surg. 2019;228(6):852–9.

6.

Katz M, Silverstein N, Coll P, Sullivan G, Girard E, Sachs A, Gross JB, Girard E, Liang J, Ristau BT, Stevenson C, Smith PP, Shames BD, Millea R, Ali I, Poulos CM, Ramaraj AB, Otukoya AO, Nolan J, Wahla Z, Hardy C, Al-Naggar I, Bliss LA, McFadden DW. Surgical care of the geriatric patient. Curr Probl Surg. 2019;56(7):260–329.

7.

Cooper Z, Maxwell CA, Fakhry SM, Joseph B, Lundebjberg N, Burke P, Baracco R. A position paper: the convergence of aging and injury and the need for a Geriatric Trauma Coalition (GeriTraC). J Trauma Acute Care Surg. 2017;82(2):419–22.

8.

Tillou A, Kelley-Quon L, Burruss S, Morley E, Cryer H, Cohen M, Min L. Long-term postinjury functional recovery: outcomes of geriatric consultation. JAMA Surg. 2014;149(1):83–9.

9.

Lenartowicz M, Parkovnick M, McFarlan A, Haas B, Straus SE, Nathens AB, Wong CL. An evaluation of a proactive geriatric trauma consultation service. Ann Surg. 2012;256(6):1098–101.

10.

Eagles D, Godwin B, Cheng MJ, Figueira S, Khoury L, Fournier K, Lampron J. A systematic review and meta-analysis evaluating geriatric consultation on older trauma patients. J Trauma Acute Care Surg. 2020;88(3):446–53.

11.

Akpan A, Roberts C, Bandeen-Roche K, Batty B, Bausewein C, Bell D, Bramley D, Bynum J, Cameron ID, Chen LK, Ekdahl A, Fertig A, Gentry T, Harkes M, Haslehurst D, Hope J, Hurtado DR, Lyndon H, Lynn J, Martin M, Isden R, Raso FM, Shaibu S, Shand J, Sherrington C, Sinha S, Turner G, De Vries N, Yi GJ, Young J, Banerjee J. Standard set of health outcome measures for older persons. BMC Geriatr. 2018;18(1):36.

12.

Ellis G, Whitehead MA, O'Neill D, Langhorne P, Robinson D. Comprehensive geriatric assessment for older adults admitted to hospital. Cochrane Database Syst Rev. 2011;7:CD006211.

13.

Grigoryan KV, Javedan H, Rudolph JL. Orthogeriatric care models and outcomes in hip fracture patients: a systematic review and meta-analysis. J Orthop Trauma. 2014;28(3):e49-55.

14.

Saha S, Saha S, DiRusso SM, Welle S, Lieberman B, Sender J, Shabsigh R, Baltazar GA. Integration of geriatrician consultation for trauma admissions may benefit patient outcomes. Gerontol Geriatr Med. 2019;21(5):2333721419858735.
Acknowledgements
We thank Irina Podinic and Vicki Thomson for assisting with the data collection. We are grateful to Mathieu Lebreton (trauma coordinator) and Laura Wilding (geriatric nurse practitioner) for providing enduring support to the initiative.
Funding
This study was funded by a TOHAMO Quality Patient Safety grant from The Ottawa Hospital. The funder had no role in study design, data collection and analysis, decision to publish, or preparation of the manuscript.
Ethics declarations
Conflict of interest
None.
Ethical approval
We obtained local Research Ethics Board approval for this study.
Consent to participate
Not applicable.
Consent for publication
Not applicable.
Supplementary Information
Below is the link to the electronic supplementary material.
About this article
Cite this article
Lampron, J., Khoury, L., Moors, J. et al. Impact of a geriatric consultation service on outcomes in older trauma patients: a before–after study. Eur J Trauma Emerg Surg (2021). https://doi.org/10.1007/s00068-021-01724-x
Received:

Accepted:

Published:
Keywords
Trauma

Geriatric

Mortality

Cohort