Abstract
Purpose
The purpose was to investigate long-term health impacts of trauma and the aim was to describe the functional outcome and health status up to 7 years after trauma.
Methods
We conducted a prospective, multi-centre cohort study of adult trauma patients admitted to three regional trauma centres with moderate or major trauma (ISS ≥ 9) in Hong Kong (HK). Patients were followed up at regular time points (1, 6 months and 1, 2, 3, 4, 5, 6, and 7 years) by telephone using extended Glasgow Outcome Scale (GOSE) and the Short-Form 36 (SF36). Observed annual mortality rate was compared with the expected mortality rate estimated using the HK population cohort. Linear mixed model (LMM) analyses examined the changes in SF36 with subgroups of age ≥ 65 years, ISS > 15, and GOSE ≥ 5 over time.
Results
At 7 years, 115 patients had died and 48% (138/285) of the survivors responded. The annual mortality rate (AMR) of the trauma cohort was consistently higher than the expected mortality rate from the general population. Forty-one percent of respondents had upper good recovery (GOSE = 8) at 7 years. Seven-year mean PCS and MCS were 45.06 and 52.06, respectively. LMM showed PCS improved over time in patients aged < 65 years and with baseline GOSE ≥ 5, and the MCS improved over time with baseline GOSE ≥ 5. Higher mortality rate, limited functional recovery and worse physical health status persisted up to 7 years post-injury.
Conclusion
Long-term mortality and morbidity should be monitored for Asian trauma centre patients to understand the impact of trauma beyond hospital discharge.
Access options
Buy single article
Instant access to the full article PDF.
US$ 39.95
Tax calculation will be finalised during checkout.
Subscribe to journal
Immediate online access to all issues from 2019. Subscription will auto renew annually.
US$ 159
Tax calculation will be finalised during checkout.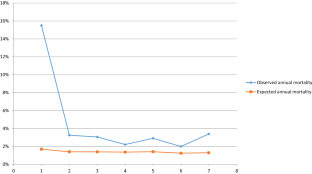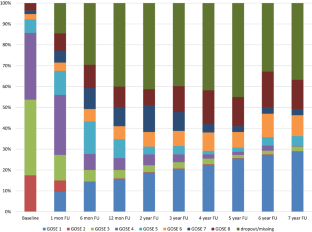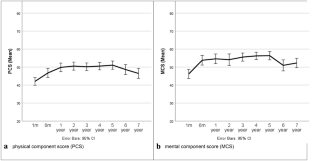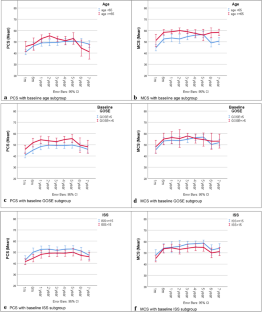 Data availability
Data may be available from the corresponding author on specific request.
References
1.

Haagsma JA, Graetz N, Bolliger I, Naghavi M, Higashi H, Mullany EC, Abera SF, Abraham JP, Adofo K, Alsharif U, Ameh EA. The global burden of injury: incidence, mortality, disability-adjusted life years and time trends from the Global Burden of Disease study 2013. Inj Prev. 2016;22:3–18.

2.

Wesson HK, Boikhutso N, Bachani AM, Hofman KJ, Hyder AA. The cost of injury and trauma care in low-and middle-income countries: a review of economic evidence. Health Policy Plan. 2013;29(6):795–808.

3.

Corso P, Finkelstein E, Miller T, Fiebelkorn I, Zaloshnja E. Incidence and lifetime costs of injuries in the United States. Inj Prev. 2006;12(4):212–8.

4.

Hoffman K, Cole E, Playford ED, Grill E, Soberg HL, Brohi K. Health outcome after major trauma: what are we measuring? PLoS ONE. 2014;9(7):e103082.

5.

Ardolino A, Sleat G, Willett K. Outcome measurements in major trauma—results of a consensus meeting. Injury. 2012;43(10):1662–6.

6.

Gruen RL, Gabbe BJ, Stelfox HT, Cameron PA. Indicators of the quality of trauma care and the performance of trauma systems. Br J Surg. 2012;99(S1):97–104.

7.

Willis CD, Gabbe BJ, Cameron PA. Measuring quality in trauma care. Injury. 2007;38(5):527–37.

8.

World Health Organization. International classification of functioning, disability and health: ICF. Geneva: World Health Organization; 2001.

9.

Sleat GK, Ardolino AM, Willett KM. Outcome measures in major trauma care: a review of current international trauma registry practice. Emerg Med J. 2011;28:1008–12.

10.

Davidson GH, Hamlat CA, Rivara FP, Koepsell TD, Jurkovich GJ, Arbabi S. Long-term survival of adult trauma patients. JAMA. 2011;305(10):1001–7.

11.

Gabbe BJ, Simpson PM, Cameron PA, Ponsford J, Lyons RA, Collie A, Fitzgerald M, Judson R, Teague WJ, Braaf S, Nunn A. Long-term health status and trajectories of seriously injured patients: a population-based longitudinal study. PLoS Med. 2017;14(7):e1002322.

12.

Gabbe BJ, Sutherland AM, Hart MJ, Cameron PA. Population-based capture of long-term functional and quality outcomes after major trauma: the experiences of the Victorian state registry. J Trauma. 2010;69(3):532–6.

13.

Gabbe BJ, Simpson PM, Sutherland AM, Wolfe R, Lyons RA, Cameron PA. Evaluating time points for measuring recovery after major trauma in adults. Ann Surg. 2013;257(1):166–72.

14.

Van Beeck EF, Larsen CF, Lyons RA, Meerding WJ, Mulder S, Essink-Bot ML. Guidelines for the conduction of follow-up studies measuring injury-related disability. J Trauma Acute Care Surg. 2007;62(2):534–50.

15.

Soberg HL, Bautz-Holter E, Finset A, Roise O, Andelic N. Physical and mental health 10 years after multiple trauma: a prospective cohort study. J Trauma Acute Care Surg. 2015;78(3):628–33.

16.

McMillan TM, Teasdale GM, Stewart E. Disability in young people and adults after head injury: 12–14 year follow-up of a prospective cohort. J Neurol Neurosurg Psychiatry. 2012;83:1086–91.

17.

Andelic N, Howe EI, Hellstrøm T, Sanchez MF, Lu J, Løvstad M, Røe C. Disability and quality of life 20 years after traumatic brain injury. Brain Behav. 2018;8:e01018.

18.

Rainer TH, Yeung JH, Cheung SK, Yuen YK, Poon WS, Ho HF, Kam CW, Cattermole GN, Chang A, So FL, Graham CA. Assessment of quality of life and functional outcome in patients sustaining moderate and major trauma: a multicentre, prospective cohort study. Injury. 2014;45(5):902–9.

19.

Rainer TH, Graham CA, Yeung HH, Poon WS, Ho HF, Kam CW, Cameron P. Assessment of long-term functional outcome in patients who sustained moderate or major trauma: a 4-year prospective cohort study. Hong Kong Med J. 2018;24(1 Suppl 2):30–3.

20.

Rainer TH, Hung KK, Yeung JH, Cheung SK, Leung YK, Leung LY, Goggins WB, Ho HF, Kam CW, Cheung NK, Graham CA. Trajectory of functional outcome and health status after moderate-to-major trauma in Hong Kong: a prospective 5 year cohort study. Injury. 2019;50(5):1111–7.

21.

Lam CL, Eileen YY, Gandek B, Fong DY. The SF-36 summary scales were valid, reliable, and equivalent in a Chinese population. J Clin Epidemiol. 2005;58(8):815–22.

22.

Census and Statistics Department, The Government of the Hong Kong SAR. The mortality trend in Hong Kong, 1981 to 2015. https://www.statistics.gov.hk/pub/B71612FA2016XXXXB0100.pdf. Accessed 31 May 2021.

23.

Eriksson M, Brattström O, Larsson E, Oldner A. Causes of excessive late death after trauma compared with a matched control cohort. Br J Surg. 2016;103(10):1282–9.

24.

Peetz AB, Brat GA, Rydingsward J, Askari R, Olufajo OA, Elias KM, Mogensen KM, Lesage JL, Horkan CM, Salim A, Christopher KB. Functional status, age, and long-term survival after trauma. Surgery. 2016;160(3):762–70.

25.

Mitchell RJ, Cameron CM, McClure R. Higher mortality risk among injured individuals in a population-based matched cohort study. BMC Public Health. 2017;17(1):150.

26.

Probst C, Zelle BA, Sittaro NA, Lohse R, Krettek C, Pape HC. Late death after multiple severe trauma: when does it occur and what are the causes? J Trauma Acute Care Surg. 2009;66(4):1212–7.

27.

Callcut RA, Wakam G, Conroy AS, Kornblith LZ, Howard BM, Campion EM, Nelson MF, Mell MW, Cohen MJ. Discovering the truth about life after discharge: long-term trauma related mortality. J Trauma Acute Care Surg. 2016;80(2):210.

28.

Albrecht JS, Al Kibria GM, Greene CR, Dischinger P, Ryb GE. Post-discharge mortality of older adults with traumatic brain injury or other trauma. J Am Geriatr Soc. 2019;67(11):2382–6.

29.

Mitchell RJ, Cameron CM, McClure R. Quantifying the hospitalised morbidity and mortality attributable to traumatic injury using a population-based matched cohort in Australia. BMJ Open. 2016;6(12):e013266.

30.

Redmill DA, McIlwee A, McNicholl B, Templeton C. Long term outcomes 12 years after major trauma. Injury. 2006;37(3):243–6.

31.

Probst C, Zelle B, Panzica M, Lohse R, Sitarro NA, Krettek C, Pape HC. Clinical re-examination 10 or more years after polytrauma: is there a gender related difference? J Trauma Acute Care Surg. 2010;68(3):706–11.

32.

Hung KCK, Lai CY, Yeung JHH, et al. RISC II is superior to TRISS in predicting 30-day mortality in blunt major trauma patients in Hong Kong. Eur J Trauma Emerg Surg. 2021. https://doi.org/10.1007/s00068-021-01667-3.

33.

Hung KK, Yeung JH, Cheung CS, Leung LY, Cheng RC, Cheung NK, Graham CA. Trauma team activation criteria and outcomes of geriatric trauma: 10 year single centre cohort study. Am J Emerg Med. 2019;37(3):450–6.

34.

Inaba K, Goecke M, Sharkey P, Brenneman F. Long-term outcomes after injury in the elderly. J Trauma Acute Care Surg. 2003;54(3):486–91.

35.

Tan CP, Ng A, Civil I. Co-morbidities in trauma patients: common and significant. N Z Med J. 2004;117(1201):U1044.

36.

Cameron CM, Purdie DM, Kliewer EV, McClure RJ. Differences in prevalence of pre-existing morbidity between injured and non-injured populations. Bull World Health Organ. 2005;83:345–52.

37.

Rockwood K, Song X, MacKnight C, Bergman H, Hogan DB, McDowell I, Mitnitski A. A global clinical measure of fitness and frailty in elderly people. CMAJ. 2005;173:489–95.

38.

Zumsteg DM, Chu CE, Midwinter MJ. Radiographic assessment of sarcopenia in the trauma setting: a systematic review. Trauma Surg Acute Care Open. 2020;5(1):e000414.

39.

Gausden EB, Nwachukwu BU, Schreiber JJ, Lorich DG, Lane JM. Opportunistic use of CT imaging for osteoporosis screening and bone density assessment: a qualitative systematic review. JBJS. 2017;99(18):1580–90.

40.

National Academies of Sciences, Engineering, and Medicine. A national trauma care system: integrating military and civilian trauma systems to achieve zero preventable deaths after injury. Washington, DC: The National Academies Press; 2016.

41.

Haider AH, Herrera-Escobar JP, Al Rafai SS, Harlow AF, Apoj M, Nehra D, Kasotakis G, Brasel K, Kaafarani HM, Velmahos G, Salim A. Factors associated with long-term outcomes after injury: results of the functional outcomes and recovery after trauma emergencies (forte) multicenter cohort study. Ann Surg. 2020;271(6):1165–73.

42.

Sakran JV, Ezzeddine H, Schwab CW, Bonne S, Brasel KJ, Burd RS, Cuschieri J, Ficke J, Gaines BA, Giacino JT, Gibran NS. Proceedings from the consensus conference on trauma patient-reported outcome measures. J Am Coll Surg. 2020;230(5):819–35.

43.

Leukhardt WH, Golob JF, McCoy AM, Fadlalla AM, Malangoni MA, Claridge JA. Follow-up disparities after trauma: a real problem for outcomes research. Am J Surg. 2010;199(3):348–53.

44.

Stone ME Jr, Marsh J, Cucuzzo J, Reddy SH, Teperman S, Kaban JM. Factors associated with trauma clinic follow-up compliance after discharge: experience at an urban level I trauma center. J Trauma Acute Care Surg. 2014;76(1):185–90.
Acknowledgements
We thank all our patients and their families for their participation in the study. We are grateful for the administrative support and facilitation in patient recruitment given by colleagues in Prince of Wales, Queen Elizabeth and Tuen Mun Hospitals in the study.
Funding
This study was supported by the Health and Health Services Research Funds (HHSRF 07080261, HHSRF 10110251), Food and Health Bureau, Hong Kong SAR Government for the first 4 years of the study.
Ethics declarations
Conflict of interest
The authors declare that they have no competing interests.
Ethical approval and consent to participate
Ethical approval obtained from the Joint CUHK-NTEC Clinical Research Ethics Committee (CREC), NTWC CREC, KCC/KEC CREC. Written consent was obtained from the patient or their legal guardian.
Consent for publication
The manuscript did not contain individuals' person detailed data in any form.
Supplementary Information
Below is the link to the electronic supplementary material.
About this article
Cite this article
Hung, K.K.C., Rainer, T.H., Yeung, J.H.H. et al. Seven-year excess mortality, functional outcome and health status after trauma in Hong Kong. Eur J Trauma Emerg Surg (2021). https://doi.org/10.1007/s00068-021-01714-z
Received:

Accepted:

Published:
Keywords
Wounds and injuries

Glasgow Outcome Scale

Short-form 36

Trauma centre