Abstract
Introduction
This study aimed to report the surgical outcomes in patients with high-energy induced subtrochanteric fracture and determine the risk factors for nonunion using statistical analysis.
Methods
This study evaluated 88 patients with high-energy induced subtrochanteric fractures who underwent surgeries with indirect reduction technique and intramedullary nailing between March 2015 and December 2020. Outcome measures, including union time and nonunion incidence, were assessed by radiologic evaluation. Multiple logistic regression analyses were performed to identify the risk factors for nonunion, using age, sex, injury severity score, body mass index, preoperative mobility score, implant, and isthmic fixation as covariates.
Results
Five nonunions and two delayed unions were identified. The average union time was 17.4 weeks. Multiple logistic regression analyses showed that poor isthmic fixation was the only risk factor for nonunion (odds ratio 15.294, 95% confidence interval 1.603–145.894, P value 0.018). Out of five nonunion cases, four were confirmed as hypertrophic, and one was confirmed as atrophic.
Conclusion
Although surgical treatment using an indirect reduction technique and intramedullary nailing showed good outcomes, hypertrophic nonunion due to distal instability could occur if a firm fixation at the level of the isthmus cannot be achieved.
Level of evidence
Level III, retrospective cohort study
Access options
Buy single article
Instant access to the full article PDF.
US$ 39.95
Tax calculation will be finalised during checkout.
Subscribe to journal
Immediate online access to all issues from 2019. Subscription will auto renew annually.
US$ 159
Tax calculation will be finalised during checkout.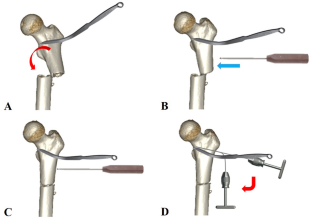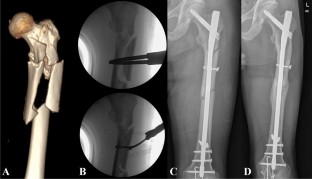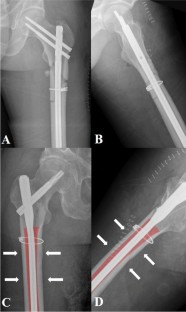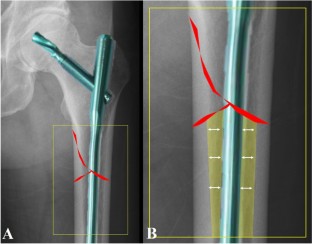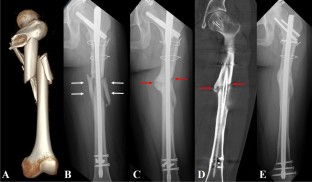 References
1.

Yoon YC, Oh CW, Oh JK. Biomechanical comparison of proximal interlocking screw constructs in different subtrochanteric fracture models. J Orthop Sci. 2021;26(2):266–70.

2.

Wu X, Yang M, Wu L, Niu W. A biomechanical comparison of two intramedullary implants for subtrochanteric fracture in two healing stages: a finite element analysis. Appl Bionics Biomech. 2015. https://doi.org/10.1155/2015/475261.

3.

Fissel B, Moed BR, Bledsoe JG. Biomechanical comparison of a 2 and 3 proximal screw-configured antegrade piriformis intramedullary nail with a trochanteric reconstruction nail in an unstable subtrochanteric fracture model. J Orthop Traum. 2008;22(5):337–41.

4.

Bredbenner TL, Snyder SA, Mazloomi FR, Le T, Wilber RG. Subtrochanteric fixation stability depends on discrete fracture surface points. Clin Orthop Relat Res. 2005;432:217–25.

5.

Vaidya SV, Dholakia DB, Chatterjee A. The use of a dynamic condylar screw and biological reduction techniques for subtrochanteric femur fracture. Injury. 2003;34(2):123–8.

6.

Freigang V, Gschrei F, Bhayana H, Schmitz P, Weber J, Kerschbaum M, et al. Risk factor analysis for delayed union after subtrochanteric femur fracture: quality of reduction and valgization are the key to success. BMC Musculoskelet Disord. 2019;20(1):391.

7.

Mattisson L, Bojan A, Enocson A. Epidemiology, treatment and mortality of trochanteric and subtrochanteric hip fractures: data from the Swedish fracture register. BMC Musculoskelet Disord. 2018;19(1):369.

8.

Jiang L, Zheng Q, Pan Z. What is the fracture displacement influence to fracture non-union in intramedullary nail treatment in subtrochanteric fracture? J Clin Orthop Trauma. 2018;9(4):317–21.

9.

Jang JH, Ahn JM, Lee HJ, Moon NH. Surgical outcomes of biologic fixation for subtrochanteric fracture using locking compression plates. Hip Pelvis. 2017;29(1):68–76.

10.

Lo YC, Su YP, Hsieh CP, Huang CH. Augmentation plate fixation for treating subtrochanteric fracture nonunion. Indian J Orthop. 2019;53(2):246–50.

11.

Charnley GJ, Ward AJ. Reconstruction femoral nailing for nonunion of subtrochanteric fracture: a revision technique following dynamic condylar screw failure. Int Orthop. 1996;20(1):55–7.

12.

Hak DJ, Wu H, Dou C, Mauffrey C, Stahel PF. Challenges in subtrochanteric femur fracture management. Orthopedics. 2015;38(8):498–502.

13.

Sun Q, Ge W, Li RL, Li SH, Cai M. Intramedullary fixation with minimally invasive clamp-assisted reduction for the treatment of ipsilateral femoral neck and subtrochanteric fractures: a technical trick. J Orthop Trauma. 2017;31(11):E390–4.

14.

Oh CW, Kim JJ, Byun YS, Oh JK, Kim JW, Kim SY, et al. Minimally invasive plate osteosynthesis of subtrochanteric femur fractures with a locking plate: a prospective series of 20 fractures. Arch Orthop Trauma Surg. 2009;129(12):1659–65.

15.

Papakostidis C, Grotz MR, Papadokostakis G, Dimitriou R, Giannoudis PV. Femoral biologic plate fixation. Clin Orthop Relat Res. 2006;450:193–202.

16.

Shin WC, Moon NH, Jang JH, Lee HJ, Suh KT. Comparative study between biologic plating and intramedullary nailing for the treatment of subtrochanteric fractures: Is biologic plating using LCP-DF superior to intramedullary nailing? Injury. 2017;48(10):2207–13.

17.

Hoskins W, Bingham R, Joseph S, Liew D, Love D, Bucknill A, et al. Subtrochanteric fracture: the effect of cerclage wire on fracture reduction and outcome. Injury. 2015;46(10):1992–5.

18.

Stern LC, Gorczyca JT, Kates S, Ketz J, Soles G, Humphrey CA. Radiographic review of helical blade versus lag screw fixation for cephalomedullary nailing of low-energy peritrochanteric femur fractures: there is a difference in cutout. J Orthop Trauma. 2017;31(6):305–10.

19.

Saarenpaa I, Heikkinen T, Jalovaara P. Treatment of subtrochanteric fractures. A comparison of the Gamma nail and the dynamic hip screw: short-term outcome in 58 patients. Int Orthop. 2007;31(1):65–70.

20.

Shin WC, Moon NH, Jang JH, Jeong JY, Suh KT. Technical note and surgical outcomes of percutaneous cable fixation in subtrochanteric fracture: a review of 51 consecutive cases over 4 years in two institutions. Injury. 2019;50(2):409–14.

21.

Corrales LA, Morshed S, Bhandari M, Miclau T. Variability in the assessment of fracture-healing in orthopaedic trauma studies. J Bone Jt Surg Am Vol. 2008;90(9):1862–8.

22.

Weber BG, Brunner C. The treatment of nonunions without electrical-stimulation. Clin Orthop Relat Res. 1981;161:24–32.

23.

Rupp M, Biehl C, Budak M, Thormann U, Heiss C, Alt V. Diaphyseal long bone nonunions—types, aetiology, economics, and treatment recommendations. Int Orthop. 2018;42(2):247–58.

24.

Krappinger D, Wolf B, Dammerer D, Thaler M, Schwendinger P, Lindtner RA. Risk factors for nonunion after intramedullary nailing of subtrochanteric femoral fractures. Arch Orthop Trauma Surg. 2019;139(6):769–77.

25.

Marmor M, Liddle K, Buckley J, Matityahu A. Effect of varus and valgus alignment on implant loading after proximal femur fracture fixation. Eur J Orthop Surg Traumatol. 2016;26(4):379–83.

26.

Afsari A, Liporace F, Lindvall E, Infante A Jr, Sagi HC, Haidukewych GJ. Clamp-assisted reduction of high subtrochanteric fractures of the femur: surgical technique. J Bone Jt Surg Am. 2010;92(Suppl 1):217–25.

27.

Haidukewych GJ, Berry DJ. Nonunion of fractures of the subtrochanteric region of the femur. Clin Orthop Relat Res. 2004;419:185–8.
Funding
There is no funding source for this study.
Ethics declarations
Conflict of interest
There is no conflict of interest in the present study.
About this article
Cite this article
Shin, W.C., Lee, S.M., Jang, J.H. et al. Importance of firm isthmic fixation in high-energy induced subtrochanteric fracture of the femur: retrospective observational study in a level I trauma center. Eur J Trauma Emerg Surg (2021). https://doi.org/10.1007/s00068-021-01709-w
Received:

Accepted:

Published:
Keywords
Isthmic fixation

Subtrochanteric fracture

High-energy injury

Intramedullary nailing

Nonunion