Abstract
Purpose and background
The posterior tibial artery perforator-plus fasciocutaneous (PTAPF) flap is commonly used for defects over the distal lower extremity. However, the causes of partial necrosis of the PTAPF flap are unknown. This paper aimed to explore the factors related to the partial necrosis of the PTAPF flap.
Methods
A retrospective study was conducted on 59 patients who received the PTAPF flap for soft-tissue defects between September 2007 and September 2017. The clinical outcomes of the flap were evaluated, and the patient and surgical factors related to flap survival were analyzed.
Results
Of the 59 patients, 9 (15.25%) flaps exhibited partial necrosis. No significant differences were found between the survival and partial necrosis groups regarding gender, age, soft tissue defect site, length and width of the fascia pedicle, length of the skin island, length–width ratio (LWR), and pivot point (P > 0.05). However, the survival group showed significantly less width of the skin island and total length of the flap than the partial necrosis group (P < 0.05). Multiple logistic regression analysis revealed that the width of the skin island was an independent risk factor affecting partial flap necrosis (OR = 4.028; P = 0.041).
Conclusions
The PTAPF flap can be effectively used to repair small and medium wounds of the lower and middle leg, ankle and foot. As the width of the skin island exceeds 6 cm, the risk of partial flap necrosis significantly increases.
Access options
Buy single article
Instant access to the full article PDF.
US$ 39.95
Tax calculation will be finalised during checkout.
Subscribe to journal
Immediate online access to all issues from 2019. Subscription will auto renew annually.
US$ 159
Tax calculation will be finalised during checkout.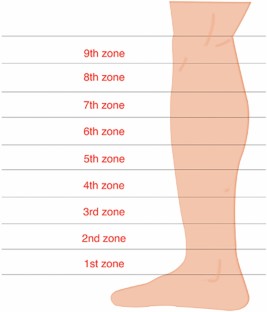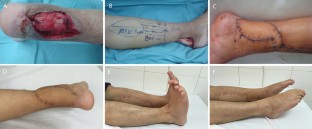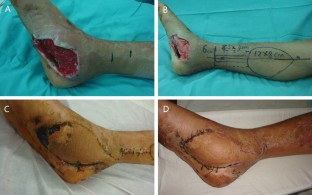 Availability of data and materials
References
1.

Wei JW, Ni JD, Dong ZG, Liu LH, Luo ZB, Zheng L. Distally based perforator-plus sural fasciocutaneous flap for soft-tissue reconstruction of the distal lower leg, ankle, and foot: comparison between pediatric and adult patients. J Reconstr Microsurg. 2014;30(04):249–54.

2.

Zheng L, Zheng J, Dong ZG. Reverse sural flap with an adipofascial extension for reconstruction of soft tissue defects with dead spaces in the heel and ankle. Eur J Trauma Emerg Surg. 2016;42:503–11.

3.

Cheng L, Yang X, Chen T, Li Z. Peroneal artery perforator flap for the treatment of chronic lower extremity wounds. J Orthop Surg Res. 2017;12:170.

4.

Balan JR. Medial sural artery perforator free flap for the reconstruction of leg, foot and ankle defect: an excellent option. ANZ J Surg. 2018;88:E132–6.

5.

Seth AK, Iorio ML. Super-thin and suprafascial anterolateral thigh perforator flaps for extremity reconstruction. J Reconstr Microsurg. 2017;33(07):466–73.

6.

Amarante J, Costa H, Reis J, Soares R. A new distally based fasciocutaneous flap of the leg. Br J Plast Surg. 1986;39(03):338–40.

7.

Erdmann MW, Court-Brown CM, Quaba AA. A five years review of islanded distally based fasciocutaneous flaps on the lower limb. Br J Plast Surg. 1997;50(06):421–7.

8.

Nenad T, Reiner W, Michael S, Reinhard H, Hans H. Saphenous perforator flap for reconstructive surgery in the lower leg and the foot: a clinical study of 50 patients with posttraumatic osteomyelitis. J Trauma. 2010;68(05):1200–7.

9.

Dai JZ, Chai YM, Wang CY, Wen G. Distally based saphenous neurocutaneous perforator flap for reconstructive surgery in the lower leg and the foot: a long-term follow-up study of 70 patients. J Reconstr Microsurg. 2013;29(07):481–6.

10.

Dong ZG, Wei JW, Ni JD, et al. Anterograde-retrograde method for harvest of distally based sural fasciocutaneous flap: report of results from 154 patients. Microsurgery. 2012;32(08):611–6.

11.

Mehrotra S. Perforator-plus flaps: a new concept in traditional flap design. Plast Reconstr Surg. 2007;119(02):590–8.

12.

Lu TC, Lin CH, Lin CH, Lin YT, Chen RF, Wei FC. Versatility of the pedicled peroneal artery perforator flaps for soft-tissue coverage of the lower leg and foot defects. J Plast Reconstr Aesthet Surg. 2011;64(03):386–93.

13.

Wei JW, Dong ZG, Ni JD, Liu LH, Luo ZB, Zheng L. The importance of a skin bridge in peripheral tissue perfusion in perforator flaps. Plast Reconstr Surg. 2012;130(05):757e–8e.

14.

Parrett B, Pribaz JJ, Matres E, Przylecki W, Sampson CE, Orgill DP. Risk analysis for the reverse sural fasciocutaneous flap in distal leg reconstruction. Plast Reconstr Surg. 2009;123(05):1499–504.

15.

Baumeister SP, Spierer R, Erdmann D, Sweis R, Levin LS, Germann GK. A realistic complication analysis of 70 sural artery flaps in a multimorbid patient group. Plast Reconstr Surg. 2003;112(01):129–40.

16.

Saint-Cyr M, Wong C, Schaverien MV, Mojallal A, Rohrich RJ. The perforasome theory: vascular anatomy and clinical implications. Plast Reconstr Surg. 2009;124(05):1529–44.

17.

Taylor GI, Chubb DP, Ashton MW. True and "choke" anastomoses between perforator angiosomes: part I. anatomical location. Plast Reconstr Surg. 2013;132(06):1447–56.

18.

Gascoigne AC, Taylor GI, Corlett RJ, Briggs C, Ashton MW. The relationship of superficial cutaneous nerves and interperforator connections in the leg: a cadaveric anatomical study. Plast Reconstr Surg. 2017;139(04):994e–1002e.

19.

Cheng Z, Wu W, Hu P, Wang M. Distally based saphenous nerve-greater saphenous venofasciocutaneous flap for reconstruction of soft tissue defects in distal lower leg. Ann Plast Surg. 2016;77(01):102–5.

20.

Bulla A, De Luca L, Campus GV, Rubino C, Montella A, Casoli V. The localization of the distal perforators of posterior tibial artery: a cadaveric study for the correct planning of medial adipofascial flaps. Surg Radiol Anat. 2015;37(01):19–25.

21.

Hupkens P, Westland PB, Schijns W, van Abeelen MHA, Kloeters O, Ulrich DJO. Medial lower leg perforators: An anatomical study of their distribution and characteristics. Microsurgery. 2017;37(04):319–26.
Funding
National Natural Science Foundation of China, Grant/Award Number: 81672188; Health and Family Planning Commission of Hunan Province, Grant/Award Number: B20180313.
Ethics declarations
Conflict interest
The authors declare that they have no competing interests.
Ethics approval
This study was approved by the medical ethics committee of the Second Xiangya Hospital Central South University. All patients involved in this study gave informed written consent to participate.
Consent for publication
Written informed consent was obtained from all participants.
About this article
Cite this article
Peng, P., Dong, Z., Wei, J. et al. Risk factors related to the partial necrosis of the posterior tibial artery perforator-plus fasciocutaneous flap. Eur J Trauma Emerg Surg (2021). https://doi.org/10.1007/s00068-021-01616-0
Received:

Accepted:

Published:
Keywords
Posterior tibial artery

Perforator flap

Risk factors

Soft-tissue defect

Survival