Abstract
Aim
The aim of this study was to test and validate a new hospital Mass Casualty Incident (MCI) training using MACSIM® (MAss Casualty SIMulation) system adapted to the specifications and MCI plan of a single hospital.
Methods
The original MCI training format called MACSIM-PEMAF (Piano di Emergenza per il Massiccio Afflusso di Feriti, i.e., hospital disaster plan for massive influx of casualties) was developed for the Italian Society for Trauma and Emergency Surgery (SICUT) in 2016. It uses MACSIM®, a simulation tool for the training and assessment of healthcare professionals in MCI management. Between 2016 and 2018 the course was held several times at a university hospital in the Milan metropolitan area. The MACSIM® tool was used to reproduce different MCI scenarios with actual hospital resources. During the simulations, participants acted in their usual professional functions, testing both the local MCI plan as well as the individuals' knowledge and skills. Course effectiveness was validated by a pre- and post-curse self-assessment questionnaire.
Results
MACSIM-PEMAF was tested over 7 courses, with a total of 258 participants. Pre- and post-course questionnaires showed a significant improvement for hospital staff in self-reported perceptions of knowledge and skills in MCI management. In total, on a 1–10 scale, all the staff increased their competencies from a value of 4.4 ± 2.5 to 7.5 ± 1.9 (p < 0.001).
Conclusion
MACSIM-PEMAF demonstrated efficacy in fulfilling the requirements of Italian law for PEMAF implementation, testing local resources and resilience, as well as increasing the self-reported perception of the hospital staff ability to respond to a MCI.
This is a preview of subscription content, log in to check access.
Access options
Buy single article
Instant access to the full article PDF.
US$ 39.95
Tax calculation will be finalised during checkout.
Subscribe to journal
Immediate online access to all issues from 2019. Subscription will auto renew annually.
US$ 199
Tax calculation will be finalised during checkout.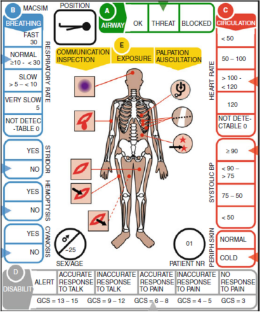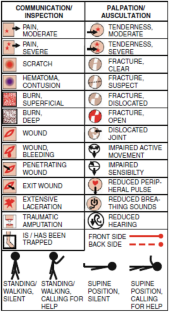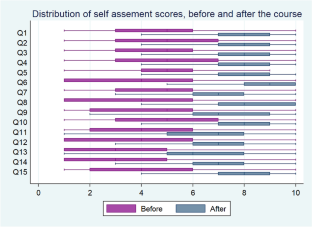 Abbreviations
ATLS® :

Advanced Trauma Life Support

ED:

Emergency Department

ESTES:

European Society for Trauma and Emergency Surgery

HCG:

Hospital Command Group

HDM:

Hospital Disaster Manager

ICU:

Intensive Care Unit

MACSIM® :

MAss Casualty SIMulation

MCI:

Mass Casualty Incident

MRMI:

Medical Response to Major Incident

OR:

Operating Room

PEMAF:

Piano di Emergenza per il Massiccio Afflusso di Feriti (hospital disaster plan for massive influx of casualties)

SICUT:

Italian Society of Trauma and Emergency Surgery

VR:

Virtual Reality
References
1.

2018 Review of Disaster Events. EM-DAT: The Emergency Events Database - Université catholique de Louvain (UCL) – CRED. Retrieved from https://www.emdat.be/publications. (Accessed 25 Jan 2019)

2.

National Consortium for the Study of Terrorism and Responses to Terrorism (START). (2018). Global Terrorism Database [Data file]. Retrieved from https://www.start.umd.edu/gtd. (Accessed 25 Jan 2019)

3.

Lennquist S. Education and training in disaster medicine. Scand J Surg. 2005;94:300–10.

4.

O'Neill PA. The ABC's of disaster response. Scand J Surg. 2005;94:259–66.

5.

UNDRR (United Nations Office for Disaster Risk Reduction) Terminology. Retrieved from https://www.unisdr.org/we/inform/terminology. (Accessed 29 Jan 2019)

6.

Cohen DC, Sevdalis N, Patel V, et al. Major Incident Preparation for acute hospitals: current state-of-the-art, training needs analysis, and the role of novel virtual world simulation technologies. J Emerg Med. 2012;43(6):1029–37.

7.

Linee Guida N°54 (1998) Presidenza del Consiglio dei Ministri, Dipartimento della protezione civile. Servizio Emergenza Sanitaria, "Pianificazione dell'emergenza intraospedaliera a fronte di una maxi-emergenza."

8.

Paganini M, Borrelli F, Cattani J, et al. Assessment of disaster preparedness among emergency departments in Italian hospitals: a caution warning for disaster risk reduction and management capacity. Scand J Trauma ResuscitEmerg Med. 2016;24:101.

9.

WHO Simulation Exercise Manual. Geneva: World Health Organization; 2017. Licence: CC BY-NCSA 3.0 IGO. https://apps.who.int/iris/bitstream/handle/10665/254741/WHO-WHE-CPI-2017.10-eng.pdf;jsessionid=E166C39437B676666987637BC7A384D2?sequence=1. (Accessed 9 June 2019)

10.

Emergency Medical Services Division-Department of Medical Services-Ministry of Health Royal Government of Bhutan- Thimphu. Guideline for cnducting emergency and disaster simulations and drills. P.T. Printing and Publishing House, 2018 https://www.health.gov.bt/wp-content/uploads/afd-files/2017/10/drill.pdf. (Accessed 9 June 2019)

11.

Olson DK, Hoeppner MH, Scaletta K, et al. Games, simulations and learning in emergency preparedness: a review of the literature. Am J Disast Med. 2012;7(2):145–54.

12.

LennquistMontán K, Khorram-Manesh A, Örtenwall P, Lennquist S. Experience from a new simulation model designed both for training and evaluation of methodology in major incident response. Eur J Trauma EmergSurg. 2010;1:11.

13.

American College of Surgeons Committee on Trauma. Advanced trauma life support program for doctors course manual. Chicago: American College of Surgeons; 2018.

14.

Lennquist Montán K, Ortenwall P, Lennquist S. Assessment of the accuracy f the MRMI-course for interactive training of the response to major incidents and disasters. Am J Disaster Med. 2015;10(2):93–107.

15.

Turègano-Fuentes F, Pèrez-Diaz F, Sanz-Sanchèz M, et al. Overall assessment of the response to terrorist bombings in trains, Madrid, 11 March 2004. Eur J Trauma EmergSurg. 2008;34:433–41.

16.

Hsu EB, Li Y, Bayram JD, et al. State of virtual reality based disaster preparedness and response training. PLoSCurr. 2013. https://doi.org/10.1371/currents.dis.1ea2b2e71237d5337fa53982a38b2aff (Accessed 18 June 2019).

17.

Stevens G, Jones A, Smith G, et al. Determinants of paramedic response readiness for CBRN threats. Biosecur Bioterror. 2010;8:193–202.

18.

Reilly MG, Markenson D, DiMaggio C. Comfort level of emergency medical service providers in responding to weapons of mass destruction events: impact of training and equipment. Prehosp Disaster Med. 2007;22(4):297–303.

19.

The Learning Pyramid - developed by NTL Institute for Applied Behavioral Science, 300 N. Lee Street, Suite 300, Alexandria, VA 22314. 1–800-777–5227. (Accessed 11 May 2019)

20.

Boettcher J, Conrad R-M. Faculty guide for moving teaching and learning to the Web. Mission Viejo (CA): League for Innovation in the Community College; 1999.

21.

Taylor DCM, Hamdy H. Adult learning theories: implications for learning and teaching in medical education: AMEE guide n°83. Med Teach. 2013;35(11):e1561–72. https://doi.org/10.3109/0142159X.2013.828153 (Accessed 7 July 2019).

22.

McGaghie WC, Issenberg SB, Cohen ER, et al. Does simulation-based education with deliberate practice yield better results then traditional clinical education? A meta-analytic comparative review of the evidence. Acad Med. 2011;86:706–11.

23.

Khorram-Manesh A, Ashkenazi M, Djalali A, et al. Education in disaster management and emergencies: defining a new european course. Dis Med Public Health Preparedness. 2015;9:245–55.

24.

Cohen DC, Sevdalis N, Taylor D, et al. Emergency preparedness in the 21st century: training and preparation modules in virtual environments. Resuscitation. 2013;84:78–84.

25.

Kyaw BM, Saxena N, Posadzki P, et al. Virtual reality for health professions education: systematic review and meta-analysis by the digital health education collaboration. J Med Internet Res. 2019;21(1):12959. https://doi.org/10.2196/12959 (Accessed 20 Dec 2019).

26.

Lennquist Montán K, Hreckovski B, Dobson B, et al. Development and evaluation of a new simulation model for interactive training of the medical response to major incidents and disaster. Eur J Trauma. 2014;40:429–43.

27.

Bank I, Khalil E. Are pediatric emergency physicians more knowledgeable and confident to respond to a pediatric disaster after an experiential learning experience? Prehspital Dis Med. 2016;31:551–6.

28.

Khorram-Manesh A, Berlin J, Carlstrom E. Two validate ways of improving the ability of decision-making in emergencies: results from a literature review. Bull Emerg Trauma. 2016;4(4):186–96.

29.

McNamara G, Joyce P, O'Hara J. Evaluation of adult education and training programs. Internat EncyclEduc (Elsevier). 2010. https://doi.org/10.1016/B978-0-08-044894-7.01647-X (Accessed 6 June 2019).

30.

Ross JA. The reliability, validity, and utility of self-assessment. Pract Assess Res Eval. 2006;11:10.

31.

Gowing JR, Walker KN, Elmer SL, Cummings EA. Disaster preparedness among health professionals and support staff: what is effective? An integrative literature review. Prehosp Disaster Med. 2017;32(3):321–8.

32.

Chandler T, Qureshi K, Gebbie KM, Morse SS. Teaching emergency preparedness to public health workers: use of blended learning in web-based training. Public Health Rep. 2008;123(5):676–8.

33.

Parker CL, Barnett DJ, Fews AL, et al. The road map to preparedness: a competency-based approach to all-hazard emergency readiness training for the public health workforce. Public Health Rep. 2005;120:504–14.

34.

Hansoti B, Kellogg DS, Aberle DS, et al. Preparing emergency physicians for acute disaster response: a review of current training opportunities in the US. Prehosp Disaster Med. 2016;31(6):643–7.

35.

Issenberg SB, Mcgaghie WC, Petrusa ER, et al. Features and uses of high-fidelity medical simulations that lead to effective learning: a BEME systematic review. Med Teach. 2005;27(1):10–28. https://doi.org/10.1080/01421590500046924.
Acknowledgements
The authors thank Dr. George Formenti-Ujlaki for the English language proofreading.
Ethics declarations
Conflict of interest
The authors declare that they have no competing interests.
Electronic supplementary material
Below is the link to the electronic supplementary material.
About this article
Cite this article
Castoldi, L., Greco, M., Carlucci, M. et al. Mass Casualty Incident (MCI) training in a metropolitan university hospital: short-term experience with MAss Casualty SIMulation system MACSIM®. Eur J Trauma Emerg Surg (2020). https://doi.org/10.1007/s00068-020-01541-8
Received:

Accepted:

Published:
Keywords
MCI

Emergency response

Disaster management

Preparedness

MRMI