Abstract
Purpose
Hemodynamically unstable trauma patients who would benefit from angioembolization (AE) typically also require emergent surgery for their injuries. The critical decision of transferring a patient to the operating room versus the interventional radiology (IR) suite can be bypassed with the advent of intra-operative AE (IOAE). Previously limited by the availability of costly rooms termed RAPTOR (resuscitation with angiography, percutaneous techniques and open repair) suites, it has been suggested that using C-arm digital subtraction angiography (DSA) is a comparable alternative. This case series aims to establish the feasibility and safety of IOAE.
Methods
We conducted a retrospective analysis of all trauma patients at our level 1 trauma center who underwent IOAE with a concomitant surgical intervention from January 2011 to May 2019. Descriptive analyses were conducted.
Results
A total of 49 patients (80% male, 44 ± 17 years, 92% blunt) underwent IOAE using the C-arm DSA during the study period. All but one patient underwent exploratory laparotomy, 56% of which underwent an additional surgical procedure (ex. exploratory thoracotomy, orthopedic). Either Gelfoam® (Pfizer, New York, USA) (90%), coils (2.0%), or a combination (8.2%) were used for embolization. Internal iliac embolization was performed in 88% of cases (59% bilateral). IOAE was successful in all but four cases (8.2%) and thirty-day mortality was 31%.
Conclusion
IOAE appears to be a feasible and safe management option in severe trauma patients with the advantage of concurrent operative intervention and ongoing active resuscitation with good success in hemorrhage control.
Access options
Buy single article
Instant access to the full article PDF.
US$ 39.95
Tax calculation will be finalised during checkout.
Subscribe to journal
Immediate online access to all issues from 2019. Subscription will auto renew annually.
US$ 159
Tax calculation will be finalised during checkout.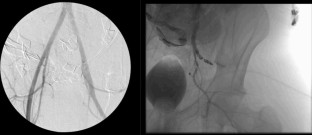 Availability of data and materials
Any materials and data that are reasonably requested by others are available from a publicly accessible collection or will be made available in a timely fashion, and in limited quantities to members of the scientific community for non-commercial purposes.
References
1.

Salcedo ES, Brown IE, Corwin MT, Galante JM. Angioembolization for solid organ injury: a brief review. Int J Surg. 2016;33:225–30.

2.

Zealley IA, Chakraverty S. The role of interventional radiology in trauma. BMJ. 2010;340:c497.

3.

Fang J-F, Shih L-Y, Wong Y-C, Lin B-C, Hsu Y-P. Angioembolization and laparotomy for patients with concomitant pelvic arterial hemorrhage and blunt abdominal trauma. Langenbecks Arch Surg. 2011;396:243–50.

4.

Thorson CM, Ryan ML, Otero CA, Vu T, Borja MJ, Jose J, et al. Operating room or angiography suite for hemodynamically unstable pelvic fractures? J Trauma Acute Care Surg. 2012;72:364–70 ((discussion 371–372)).

5.

Kirkpatrick AW, Vis C, Dubé M, Biesbroek S, Ball CG, Laberge J, et al. The evolution of a purpose designed hybrid trauma operating room from the trauma service perspective: the RAPTOR (resuscitation with angiography percutaneous treatments and operative resuscitations). Injury. 2014;45:1413–21.

6.

Cherry RA, Goodspeed DC, Lynch FC, Delgado J, Reid SJ. Intraoperative angioembolization in the management of pelvic-fracture related hemodynamic instability. J Trauma Manag Outcomes. 2011;5:6.

7.

Morozumi J, Homma H, Ohta S, Noda M, Oda J, Mishima S, et al. Impact of mobile angiography in the emergency department for controlling pelvic fracture hemorrhage with hemodynamic instability. J Trauma. 2010;68:90–5.

8.

Morozumi J, Ohta S, Homma H, Sasaki H, Oda J, Suzuki K, et al. Introduction of mobile angiography into the trauma resuscitation room. J Trauma. 2009;67:245–51.

9.

Teo LT, Punamiya S, Chai CY, Go KTS, Yeo YT, Wong D, et al. Emergency angio-embolisation in the operating theatre for trauma patients using the C-Arm digital subtraction angiography. Injury. 2012;43:1492–6.

10.

Kataoka Y, Minehara H, Kashimi F, Hanajima T, Yamaya T, Nishimaki H, et al. Hybrid treatment combining emergency surgery and intraoperative interventional radiology for severe trauma. Injury. 2016;47:59–63.

11.

Ho KM, Rao S, Honeybul S, Zellweger R, Wibrow B, Lipman J, et al. A multicenter trial of vena cava filters in severely injured patients. N Engl J Med. 2019;381:328–37.
Acknowledgements
We would like to thank Johanne Prud'homme, medical archivist for the Montreal General Hospital Trauma program, for her help with cleaning and dealing with missing data.
Funding
This research did not receive any specific grant from funding agencies in the public, commercial, or not-for-profit sectors.
Ethics declarations
Conflict of interest
The authors declare that they have no conflict of interest.
About this article
Cite this article
Alnumay, A., Caminsky, N., Eustache, J.H. et al. Feasibility of intraoperative angioembolization for trauma patients using C-arm digital subtraction angiography. Eur J Trauma Emerg Surg (2021). https://doi.org/10.1007/s00068-020-01530-x
Received:

Accepted:

Published:
Keywords
Intraoperative angioembolization

Feasibility

Hemorrhage

Trauma