Abstract
Purpose
Traumatic hip dislocation can be isolated or associated with acetabular fracture. Both injuries require emergency reduction of the dislocated hip. Avascular necrosis of the femoral head (AVN) is a potential complication that accompanies these severe injuries. Our objective is to identify the risk factors that cause AVN.
Methods
We retrospectively analyzed 44 patients with traumatic hip dislocations (Group A) and patients with posterior fracture–dislocation of the acetabulum (Group B). The average follow-up was 5.38 years in Group A, 5.59 years in Group B. We used the Thompson–Epstein classification for hip dislocation and the Harris Hip Score (HHS) for evaluating final outcomes.
Results
In Group A, we analyzed 21 patients with isolated posterior hip dislocation. We had one (4.76%) case of AVN. In Group B, we analyzed 23 patients with posterior acetabular fracture–dislocation. We had eight (34.78%) patients with AVN (p = 0.016, p < 0.05). With hip reduced 6–12 h after injury, we had AVN in one (4.34%) patient, with reduction 12–24 h, AVN was present in two (8.69%), while in hip reduction done after 24 h of injury, AVN was present in five (21.73%) patients (p = 0.030, p < 0.05).
Conclusion
An essential prerequisite for the prevention of AVN of the femoral head after hip dislocation is emergency hip reduction. In acetabular fracture–dislocation, emergency hip reduction, anatomical reduction of the acetabular fracture and early stable osteosynthesis are also important. Main factor affecting the development of AVN is late reduction of the hip.
This is a preview of subscription content, log in to check access.
Access options
Buy single article
Instant access to the full article PDF.
US$ 39.95
Price includes VAT for USA
Subscribe to journal
Immediate online access to all issues from 2019. Subscription will auto renew annually.
US$ 199
This is the net price. Taxes to be calculated in checkout.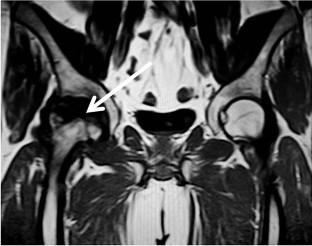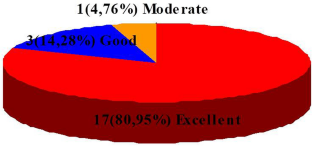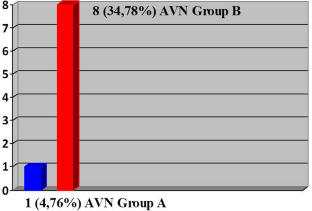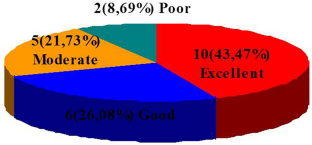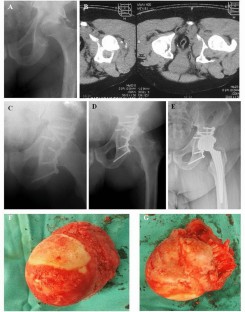 References
1.

Sahin V, Karakaş ES, Atlihan D, Turk CY, Halici M. Traumatic dislocation and fracture-dislocation of the hip: a long term follow-up study. J Trauma. 2003;54(3):520–9.

2.

Gänsslen A, Steinke B, Krettek C. Internal fixation of acetabular posterior wall fractures. Oper Orthop Traumatol. 2009;21(3):283–95.

3.

Rommens PM, Giménez MV, Hessmann M. Posterior wall fractures of the acetabulum: characteristics, management, prognosis. Acta Chir Belg. 2001;101(6):287–93.

4.

Scheinfeld HM, Dym AA, Spektor M, Avery LL, Dym RJ, Amanatullah FD. Acetabular fractures: what radiologists should know and how 3D CT can aid classification. Radiographics. 2015;35(2):555–77.

5.

Lamberti PM, Rabin SI. Open anterior-inferior hip dislocation. J Orthop Trauma. 2003;17(1):65–6.

6.

Pascarella R, Cerbasi S, Politano R, Balato G, Fantasia R, Orabona G, Mariconda M. Surgical results and factors influencing outcome in patients with posterior wall acetabular fracture. Injury. 2017;48(8):1819–24.

7.

Cornwall R, Radomisli TE. Nerve injury in traumatic dislocation of the hip. Clin Orthop Relat Res. 2000;377:84–91.

8.

Dwyer AJ, John B, Singh SA, Mam MK. Complications after posterior dislocation of the hip. Int Orthop. 2006;30:224–7.

9.

Brooks RA, Ribbans WJ. Diagnosis and imaging studies of traumatic hip dislocations in the adult. Clin Orthop Relat Res. 2000;377:15–23.

10.

Kellam P, Ostrum RF. Systematic review and meta-analysis of avascular necrosis and posttraumatic arthritis after traumatic hip dislocation. J Orthop Trauma. 2016;30(1):10–6.

11.

Harris WH. Traumatic arthritis of the hip after dislocation and acetabular fractures: treatment by mold arthroplasty. J Bone Jt Surg Am. 1969;51A:737–55.

12.

Thompson VP, Epstein HC. Traumatic dislocation of the hip; a survey of two hundred and four cases covering a period of twenty-one years. J Bone Jt Surg Am. 1951;33A(3):746–78.

13.

Clegg ET, Roberts SC, Greene WJ, Prather AB. Hip dislocations-epidemiology, treatment, and outcomes. Injury. 2010;41(4):329–34.

14.

Suraci AJ. Distribution and severity of injuries associated with hip dislocations secondary to motor vehicle accidents. J Trauma. 1986;26:458–60.

15.

Ziran N, Soles LG, Matta MJ. Outcomes after surgical treatment of acetabular fractures: a review. Patient Saf Surg. 2019;13:16.

16.

Scaglione M, Fabbri L, Celli F, Casella F, Guido G. Hip replacement in femoral head osteonecrosis: current concepts. Clin Cases Miner Bone Metab. 2015;12(Suppl 1):51–4.

17.

Hougaard K, Thomsen PB. Traumatic posterior dislocation of the hip-prognostic factors influencing the incidence of avascular necrosis of the femoral head. Arch Orthop Trauma Surg. 1986;106:32–5.

18.

Massoud EIE. Neglected traumatic hip dislocation: influence of the increased intracapsular pressure. World J Orthop. 2018;9(3):35–40.

19.

Ahmet G, Shiraz S, Riaz M, Ibrahim T. Late versus early reduction in traumatic hip dislocations: a meta-analysis. Eur J Orthop Surg Traumatol. 2017;27(8):1109–16.

20.

Mandell CJ, Marshall AR, Weaver JM, Harris MB, Sodickson DA, Khurana B. Traumatic hip dislocation: what the orthopedic surgeon wants to know. RadioGraphics. 2017;37:2181–201.

21.

Swiontkowski MF, Thorpe M, Seller JG, Hansen ST. Operative management of displaced femoral head fractures, case match comparison of anterior versus posterior approaches for Pipkin I and Pipkin II fractures. J Orthop Trauma. 1992;6:437–42.

22.

Nicholson JA, Scott CEH, Annan J, Ahmed I, Keating JF. Native hip dislocation at acetabular fracture predicts poor long-term outcome. Injury. 2018;49(10):1841–7.

23.

Letournel E, Judet R. Fracture of the acetabulum. 2nd ed. Berlin: Springer; 1993.

24.

Pantazopoulos T, Nicolopoulos CS, Babis GC, Theodoropoulos T. Surgical treatment of acetabular posterior wall fractures. Injury. 1993;24(5):319–23.

25.

Sapkas G, Pantazopoulos T, Karanikas E, Hartofilakidis-Garofalidis G. Effect of hip dislocation on the blood supply to the femoral head. An experimental study in rabbits. Acta Orthop Scand. 1983;54(2):204–9.

26.

Matta JM. Fractures of the acetabulum: accuracy of reduction and clinical results in patients managed operatively within three weeks after the injury. J Bone Jt Surg Am. 1996;78A(11):1632–45.

27.

Mears DC, Velyvis JH, Chang CP. Displaced acetabular fractures managed operatively: indicators of outcome. Clin Orthop Relat Res. 2003;407:173–86.

28.

Clarke-Jenssen J, Røise O, Storeggen SAØ, Madsen JE. Long-term survival and risk factors for failure of the native hip joint after operatively treated displaced acetabular fractures. Bone Jt J. 2017;99B(6):834–40.

29.

Liebergall M, Mosheiff R, Low J, Goldvirt M, Matan Y, Segal D. Acetabular fractures. Clinical outcome of surgical treatment. Clin Orthop Relat Res. 1999;366:205–16.

30.

Alonso JE, Volgas DA, Giordano V, Stannard JP. A review of the treatment of hip dislocations associated with acetabular fractures. Clin Orthop Relat Res. 2000;377:32–43.

31.

Rommens PM, Ingelfinger P, Nowak TE, Kuhn S, Hessman MH. Traumatic damage to the cartilage influences outcome of anatomically reduced acetabular fractures: a medium-term retrospective analysis. Injury. 2011;42:1043–8.
Acknowledgements
This manuscript is supported by the Medical faculty, University of Niš, internal project titled "Total hip arthroplasty after earlier acetabular fractures" and the project "Virtual human osteoarticular system and its application in preclinical and clinical practice" (project no. III41017) funded by the Ministry of Education, Science and Technological Development of the Republic of Serbia.
Funding
No financial support was received for this study.
Ethics declarations
Conflict of interest
The authors declare that they have no conflict of interest.
Compliance with ethical requirements
This study was approved by the appropriate ethics committee.
Informed consent
Informed consent was not necessary for this study with its retrospective design and anonymised data and thus not requested from our patients.
About this article
Cite this article
Milenkovic, S., Mitkovic, M. & Mitkovic, M. Avascular necrosis of the femoral head after traumatic posterior hip dislocation with and without acetabular fracture. Eur J Trauma Emerg Surg (2020). https://doi.org/10.1007/s00068-020-01495-x
Received:

Accepted:

Published:
Keywords
Traumatic hip dislocation

Acetabular fracture–dislocation

Avascular necrosis of the femoral head