Abstract
Background
Trauma remains a leading cause of death and effective trauma management within a well-developed trauma system has been shown to reduce morbidity and mortality. A trauma registry, as an integral part of a mature trauma system, can be used to monitor the quality of trauma care and to provide a means to compare local versus international standards. Hong Kong and Germany both have highly developed health care services. We compared the performance of trauma systems including outcomes among major trauma victims (ISS > 15) over a 3-year period (2013–2015) in both settings using trauma registry data.
Methods
This study was a retrospective analysis of prospectively collected data from trauma registries in Hong Kong and Germany. Data from 01/2013 to 12/2015 were extracted from the trauma registries of the five trauma centers in Hong Kong and the TraumaRegister DGU® (TR-DGU). The study cohort included adults (≥ 18 years) with major trauma (ISS > 15). Data related to patient characteristics, nature of the injury, prognostic parameters to calculate the RISC II score, outcomes and clinical management were collected and compared.
Results
Datasets from 1,864 Hong Kong and 10,952 German trauma victims were retrieved from respective trauma registries. The unadjusted mortality in Hong Kong (22.4%) was higher compared to Germany (19.2%); the difference between observed and expected mortality was higher in Hong Kong (+ 2.7%) than in Germany (– 0.5%). The standardized mortality ratio (SMR) in Hong Kong and Germany were 1.138 (95% CI 1.033–1.252) and 0.974 (95% CI 0.933–1.016), respectively, and the adjusted death rate in Hong Kong was significantly higher compared to the calculated RISC II data. However, patients in Hong Kong were significantly older, had more pre-trauma co-morbidities, more head injuries, shorter hospital and ICU stays and lower ICU admission rates.
Conclusion
Hong Kong had a higher mortality rate and a statistically significantly higher standardized mortality ratio (SMR) after RISC II adjustment. However, multiple differences existed between trauma systems and patient characteristics.
Access options
Buy single article
Instant access to the full article PDF.
US$ 39.95
Tax calculation will be finalised during checkout.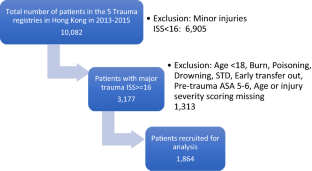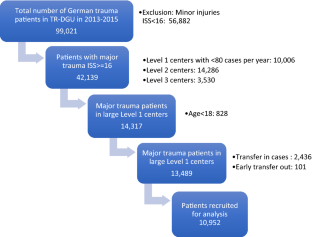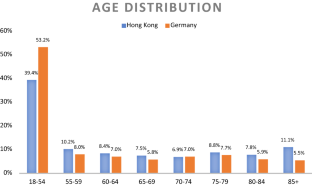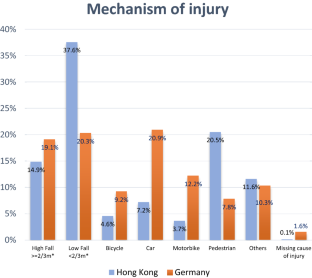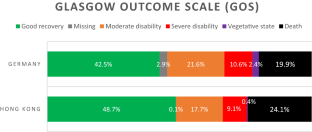 References
1.

Hong Kong Census and Statistics Division. The Mortality Trend in Hong Kong, 1981 to 2015. 2016. https://www.statistics.gov.hk/pub/B71612FA2016XXXXB0100.pdf.

2.

20 years TraumaRegister DGU((R)): Development, aims and structure. Injury. 2014; 45 Suppl 3:S6-S13.

3.

Tohira H, Jacobs I, Mountain D, Gibson N, Yeo A. International comparison of regional trauma registries. Injury. 2012;43(11):1924–30.

4.

Sleat GK, Ardolino AM, Willett KM. Outcome measures in major trauma care: a review of current international trauma registry practice. Emerg Med J. 2011;28(12):1008–122.

5.

Cameron PA, Gabbe BJ, McNeil JJ, Finch CF, Smith KL, Cooper DJ, et al. The trauma registry as a statewide quality improvement tool. J Trauma. 2005;59(6):1469–76.

6.

Handolin L, Leppaniemi A, Lecky F, Bouamra O, Hienonen P, Tirkkonen S, et al. Helsinki Trauma Outcome Study 2005: audit on outcome in trauma management in adult patients in southern part of Finland. Eur J Trauma Emerg Surg. 2008;34(6):570–6.

7.

Boyd CR, Tolson MA, Copes WS. Evaluating trauma care: The TRISS method. Trauma Score and the Injury Severity Score. J Trauma. 1987;27(4):370–8.

8.

Lefering R, Huber-Wagner S, Nienaber U, Maegele M, Bouillon B. Update of the trauma risk adjustment model of the TraumaRegister DGU: the revised injury severity classification, version II. Crit Care. 2014;18(5):476.

9.

Cheng CH, Graham CA, Gabbe BJ, Yeung JH, Kossmann T, Judson RT, et al. Trauma care systems: a comparison of trauma care in Victoria, Australia, and Hong Kong, China. Ann Surg. 2008;247(2):335–42.

10.

Engel DC, Mikocka-Walus A, Cameron PA, Maegele M. Pre-hospital and in-hospital parameters and outcomes in patients with traumatic brain injury: a comparison between German and Australian trauma registries. Injury. 2010;41(9):901–6.

11.

Kam CW, Kitchell AK, Yau HH, Kan CH. Outcome of major trauma patients in a Hong Kong general hospital. Eur J Emerg Medi. 1998;5(3):297–306.

12.

Leung GKK. Trauma system in Hong Kong. Surg Pract. 2010;14(2):38.

13.

Trunkey DD. Trauma. Accidental and intentional injuries account for more years of life lost in the U.S. than cancer and heart disease. Among the prescribed remedies are improved preventive efforts, speedier surgery and further research. Sci Am. 1983;249(2):28–35.

14.

American Trauma Society. Trauma Center Levels Explained—American Trauma Society. 2000. https://www.amtrauma.org/page/traumalevels.

15.

Cheung NK, Yeung JH, Chan JT, Cameron PA, Graham CA, Rainer TH. Primary trauma diversion: initial experience in Hong Kong. J Trauma. 2006;61(4):954–60.

16.

Suen K, Chang A, Au C. A regional study on primary trauma diversion in Hong Kong. Hong Kong J Emerg Med. 2011;18(2):92–100.

17.

Wong C, Lui C, So F, Tsui K, Tang S. Prevalence and predictors of under-diversion in the primary trauma diversion system in Hong Kong. Hong Kong J Emerg Med. 2013;20(5):276–86.

18.

Lui TW, Fan KL, Leung LP. Performance of a prehospital trauma diversion system in Hong Kong, China. Chin J Traumatol. 2015;18(3):137–40.

19.

Leung GK, Chang A, Cheung FC, Ho HF, Ho W, Hui SM, et al. The first 5 years since trauma center designation in the Hong Kong Special Administrative Region, People's Republic of China. J Trauma. 2011;70(5):1128–33.

20.

20 years of trauma documentation in Germany. Actual trends and developments. Injury. 2014;45(Suppl 3):S14–S1919.

21.

Champion HR, Copes WS, Sacco WJ, Lawnick MM, Keast SL, Bain LW, et al. The Major Trauma Outcome Study: establishing national norms for trauma care. J Trauma. 1990;30(11):1356–65.

22.

Chang W-H, Tsai S-H, Su Y-J, Huang C-H, Chang K-S, Tsai C-H. Trauma mortality factors in the elderly population. Int J Gerontol. 2008;2(1):11–7.

23.

Yeung JH, Chang AL, Ho W, So FL, Graham CA, Cheng B, et al. High risk trauma in older adults in Hong Kong: a multicentre study. Injury. 2008;39(9):1034–41.

24.

Rainer TH, Yeung JH, Cheung SK, Yuen YK, Poon WS, Ho HF, et al. Assessment of quality of life and functional outcome in patients sustaining moderate and major trauma: a multicentre, prospective cohort study. Injury. 2014;45(5):902–9.

25.

Rainer TH, Hung KKC, Yeung JHH, Cheung SKC, Leung YK, Leung LY, et al. Trajectory of functional outcome and health status after moderate-to-major trauma in Hong Kong: a prospective 5 year cohort study. Injury. 2019;50(5):1111–7.
Ethics declarations
Conflict of interest
Rolf Lefering declares that his institution receives an ongoing support from the AUC GmbH (owner of the TraumaRegister DGU®) which includes the statistical support for scientific analyses. All other authors declare no conflict of interest.
About this article
Cite this article
Lai, C.Y., Maegele, M., Yeung, J.H.H. et al. Major trauma care in Hong Kong and Germany: a trauma registry data benchmark study. Eur J Trauma Emerg Surg 47, 1581–1590 (2021). https://doi.org/10.1007/s00068-020-01311-6
Received:

Accepted:

Published:

Issue Date:
Keywords
Major trauma

Trauma registry

Registry comparison

Quality of trauma care

RISC II

Mortality

Hong Kong

Germany