Abstract
Aim
This study reviews a single centre experience with penetrating femoral artery injuries.
Patients and methods
The records of all patients with femoral artery injuries admitted to the Trauma Centre at Groote Schuur Hospital from January 2002 to December 2012 were reviewed. These were analysed for demographics, injury mechanism, perioperative, and surgical management. Outcome was categorised by limb salvage.
Results
One-hundred and fifty-eight (158) patients with femoral artery injuries were identified. There were 144 (91%) men and 14 women with a mean age of 28 years. Ninety-five percent (N = 150) sustained penetrating injuries. The superficial femoral artery (87%) was most commonly injured. The most common type of arterial injury was a laceration (39%) and transection (37%). Eighty-one (51%) patients had a primary repair, 53 (33%) patients had a vein interposition graft, and 16 patients (10%) had a prosthetic graft. There were 78 (51%) concomitant venous injuries, 11 were repaired, and 1 vein patch repair was performed (15.4%). There were 4 (2.5%) primary amputations and 10 (6.5%) secondary amputations. There were no deaths. Statistically significant risk factors for secondary amputation derived by univariate analysis were: ischaemia (p < 0.0001), neurological deficit due to ischemia (p < 0.001), temporary vascular shunting (p < 0.001), and the absence of a palpable pulse post-repair (p < 0.01).
Conclusion
This study has a primary and secondary amputation rate of 2.5 and 6.5%, respectively. There was greater than 90% limb salvage rate. The outcome of threatened limbs due to femoral artery injury is good, provided that there is no delay to surgery.
Access options
Buy single article
Instant access to the full article PDF.
USD 39.95
Price includes VAT (USA)
Tax calculation will be finalised during checkout.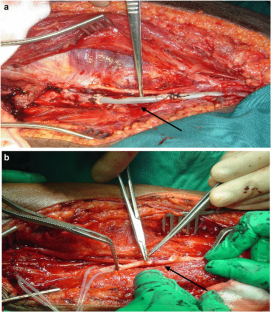 References
1.

Ball CG, Nicol AJ, Beningfield SJ, Navsaria PH. Emergency room arteriography: an updated digital technology. Scand J Surg. 2007;96(1):67–71.

2.

Asensio JA, Kuncir EJ, García-Núñez LM, Petrone P. Femoral vessel injuries: analysis of factors predictive of outcomes. J Am Coll Surg. 2006;203(4):512–20.

3.

Zellweger R, Hess F, Nicol A, Omoshoro-Jones J, Kahn D, Navsaria P. An analysis of 124 surgically managed brachial artery injuries. Am J Surg. 2004;188(3):240–5.

4.

Murugan N, Navsaria PH, Edu S, Nicol AJ. Femoral vessel injury: an audit of 64 patients. S Afr J Surg. 2008;46(4):120.

5.

Gill H, Jenkins W, Edu S, Bekker W, Nicol AJ, Navsaria PH. Civilian penetrating axillary artery injuries. World J Surg. 2011; 35:962–6.

6.

Banderker MA, Navsaria PH, Edu S, Bekker W, Nicol AJ, Naidoo N. Civilian popliteal artery injuries. S Afr J Surg. 2012; 50(4):119–23. https://doi.org/10.7196/sajs.1257.

7.

Sobnach S, Nicol AJ, Nathire H, Edu S, Kahn D, Navsaria PH. An analysis of 50 surgically managed penetrating subclavian artery injuries. Eur J Vasc Endovasc Surg. 2010;39(2):155–9. https://doi.org/10.1016/j.ejvs.2009.10.013.

8.

Cargile JS, Hunt JL, Purdue GF. Acute trauma of the femoral artery and vein. J Trauma. 1992;32(3):361–4.

9.

Degiannis E. Penetrating injuries to the femoral artery. Br J Surg. 1995;82(4):492–5.

10.

Hafez HM, Woolgar J, Robbs JV. Lower extremity arterial injury: results of 550 cases and review of risk factors associated with limb loss. J Vasc Surg. 2001;33(6):1212–9.

11.

Subramanian A, Vercruysse G, Dente C, Wyrzykowski A, King E, Feliciano DV. A decade's experience with temporary intravascular shunts at a civilian level I trauma center. J Trauma. 2008;65(2):316-324-326.

12.

Baylor Woodward ME, Colonel Darrin Clouse LW, Jonathan Eliason ML, Michael Peck MA, Colonel Andrew Bowser LN, Mitchell Cox MW, et al. Penetrating femoropopliteal injury during modern warfare: experience of the Balad Vascular Registry. J Vasc Surg. 2008;47(6):1259–65.

13.

Chowdhury S, Nicol AJ, Moydien MR, Navsaria PH, Montoya-Pelaez LF. Is case triaging a useful tool for emergency surgeries? A review of 106 trauma surgery cases at a level 1 trauma center in South Africa. World J Emerg Surg. 2018;13(4):4. https://doi.org/10.1186/s13017-018-0166-5. (eCollection 2018).

14.

Farber A, Tan T-W, Hamburg NM, Kalish JA, Joglar F, Onigman T, et al. Early fasciotomy in patients with extremity vascular injury is associated with decreased risk of adverse limb outcomes: a review of the National Trauma Data Bank. Injury. 2012;43:1486–91.

15.

Percival TJ, White JM, Ricci MA. Compartment syndrome in the setting of vascular injury. Perspect Vasc Surg Endovasc Ther [Internet]. 2011; 23(2):119–24.
Funding
There is no funding source.
Ethics declarations
Conflict of interest
Drs. Pradeep Navsaria, Andrew Nicol, Shreya Rayamajhi, Nivashini Murugan, Juan Kloppers, Sorin Edu, and Sharfuddin Chowdhury declare that they have no conflict of interest.
Ethical approval
The study has been approved by the institutional ethics committee and has been performed in accordance with the ethical standards as laid down in the 1964 Declaration of Helsinki and its later amendments or comparable ethical standards: University of Cape Town Human Research Ethics Committee approved study: 177/2010.
Informed consent
This was a retrospective chart/database review; therefore, no consent was taken. The patients were managed according to the standard Unit protocols. All data were collected by the first and second authors on a password protected computer and Excel sheet. None of the patients could be identified in the database as they were numbered consecutively from 1 to 158. The privacy and confidentiality interests of participants were preserved. No information can identify an individual.
About this article
Cite this article
Rayamajhi, S., Murugan, N., Nicol, A. et al. Penetrating femoral artery injuries: an urban trauma centre experience. Eur J Trauma Emerg Surg 45, 909–917 (2019). https://doi.org/10.1007/s00068-018-0951-6
Received:

Accepted:

Published:

Issue Date:
Keywords
Femoral artery

Penetrating trauma

Amputation